COOL INTERIORS AND FESTIVE TREATS
Posted on
With Christmas in mind, I hope, that my latest Blog will give you a few ideas, to spruce up your home in time for the winter season, with some gift ideas thrown in.
'Something Old, Something New' is very much the basis of the work I do and my approach to turning a house into a home. Whether I am researching for clients or for my Blog, I am always on the lookout for new, vintage and quirky products and suppliers which I enjoy sharing. Whether you need new lighting and furniture or just some accessories for your living space, no job is too small, when it comes to finding suitable pieces for your home. I am keen to work with what you have and only add pieces which will result in the improvements, you like to achieve.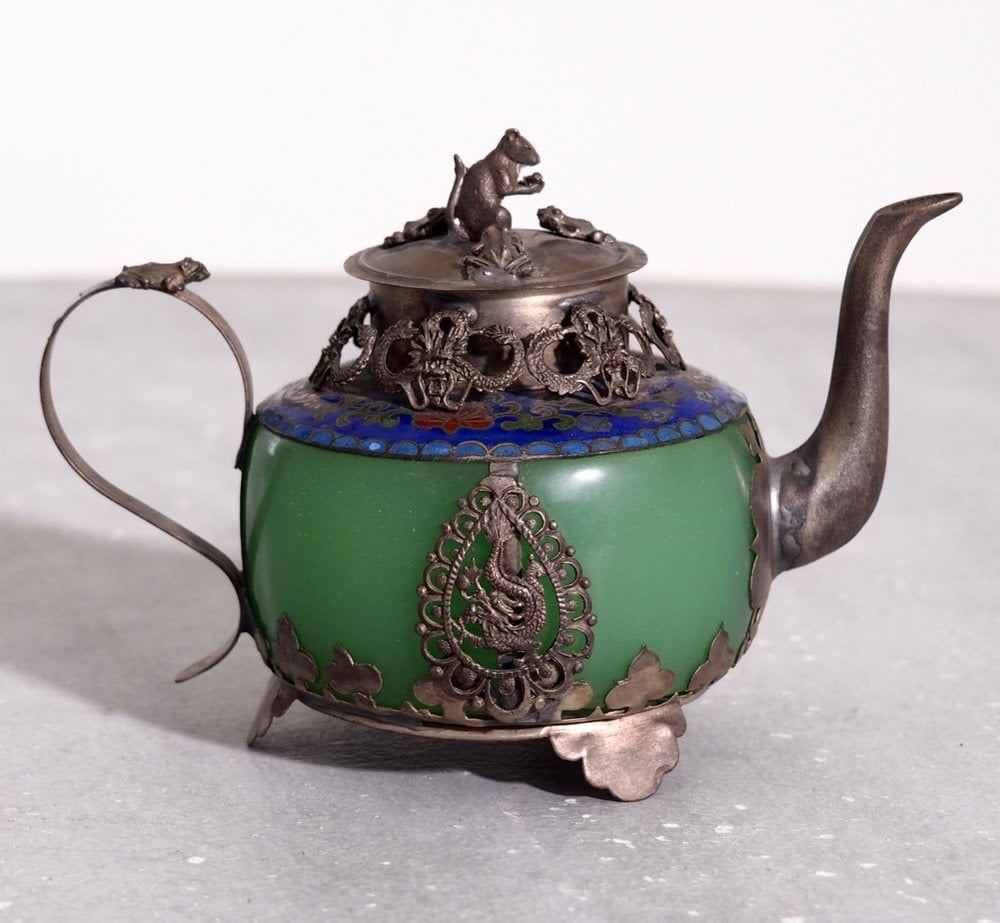 Your tea parties will become the talk of the town with this unique antique Chinese jade and tin tea pot, Ref. 12718-2D, EUROS 1.500, www.selected-design-antiques.com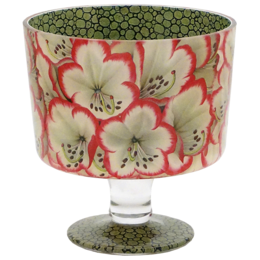 I love John Derians imaginative designs. Wheter offering nibbles, adding a plant or a candle, his pretty cache pot can be used in a number of ways, Rhodudendron Neige & Cerise Cache Pot, www.johnderian.com
Give your sofa a little makeover with this pretty embroided cushion, £ 22.85, https://www.etsy.com/uk/listing/666466229/boho-green-throw-pillow-for-couch-bed?ref=user_profile&pro=1&frs=1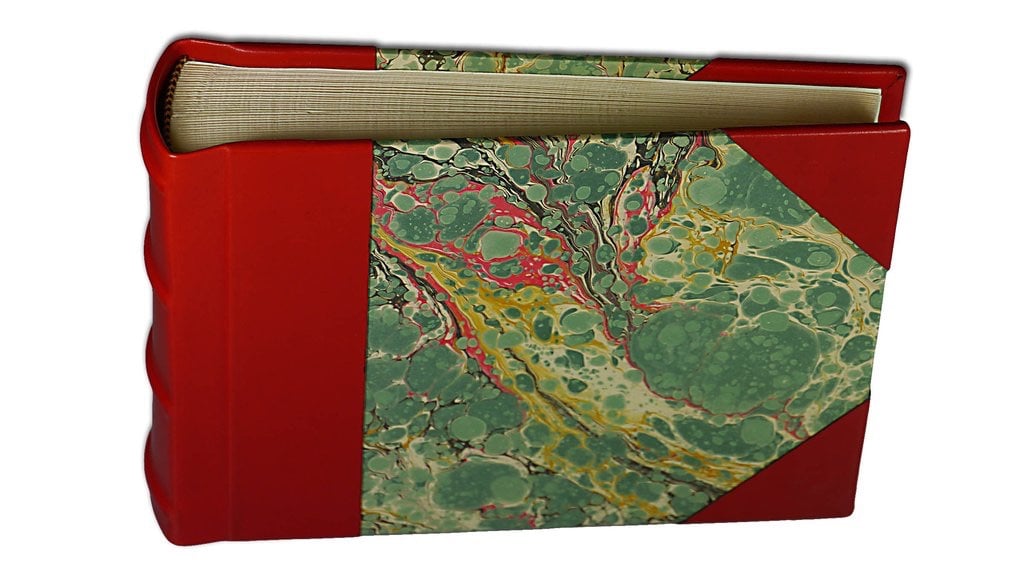 Having been dormant for a number of years, Italian marbling designs have recently seen a big return to the designer hot list. Whether lampshades, notebooks or albums, you can proudly show off these stunning traditional designs, without feeling like a dinosaur, Marbled Photo Album, scriptum.co.uk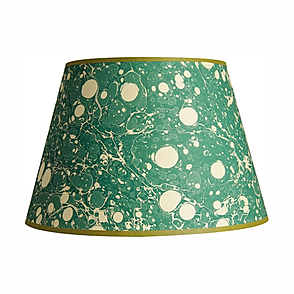 I am always on the lookout for new lampshades and have just come across a local Bath based designer, offering bespoke marbled lampshades. She is very happy to adapt colours and patterns to any interior, www.inqstudio.co.uk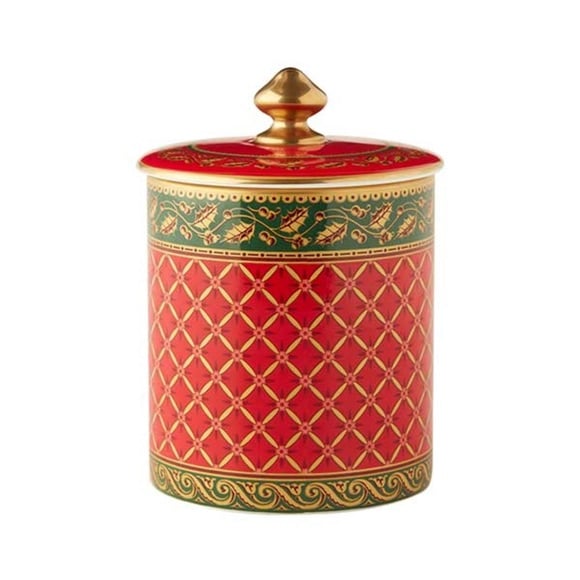 This decorative candle will fill your rooms with a wonderful festive scent of zesty orange, cinnamon and black tea, Georgian Christmas Tea Candle, £75, www.fortnumandmason.com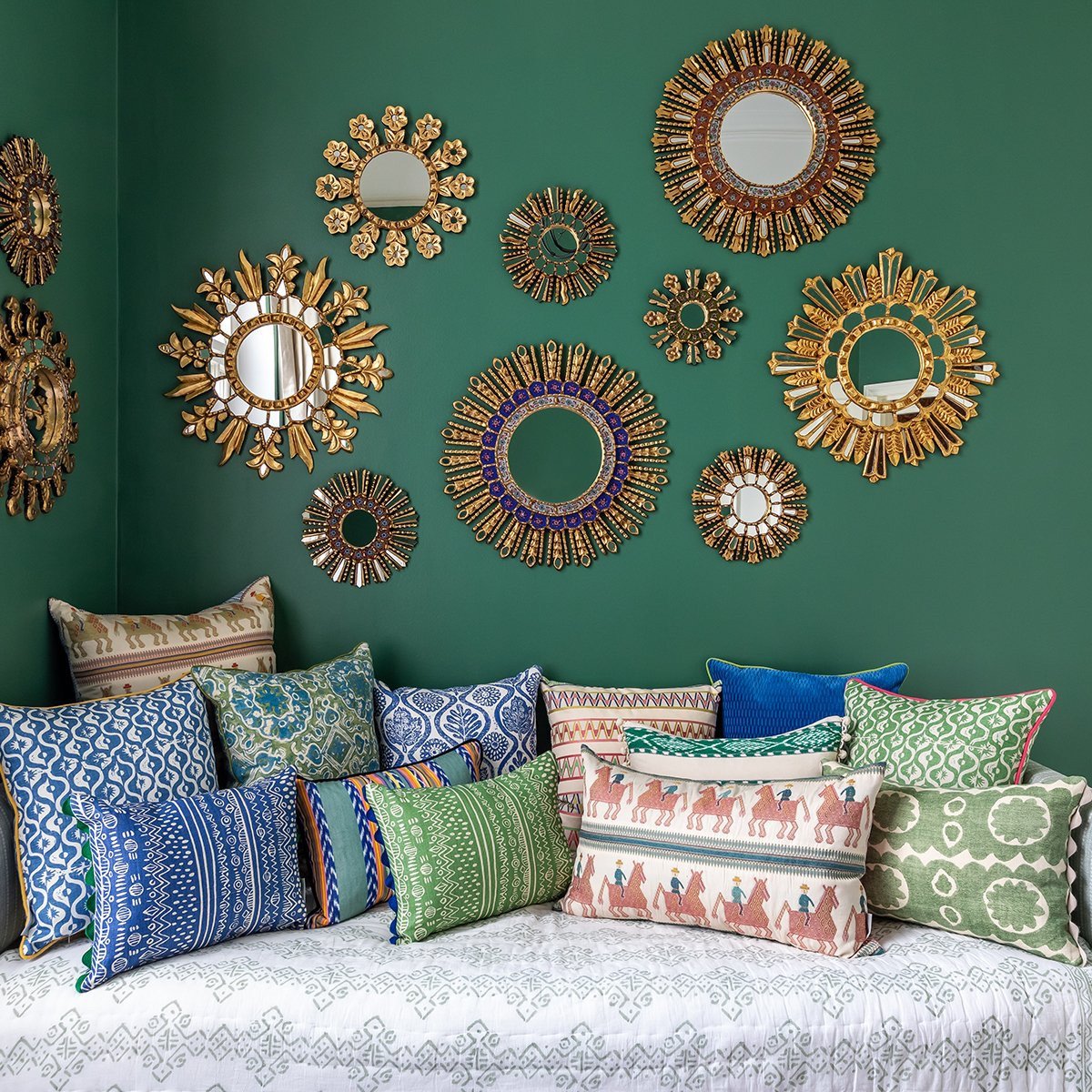 Beautifully mixed and matched is this collection of cushions made from Blithfield original designs, www.wicklewood.com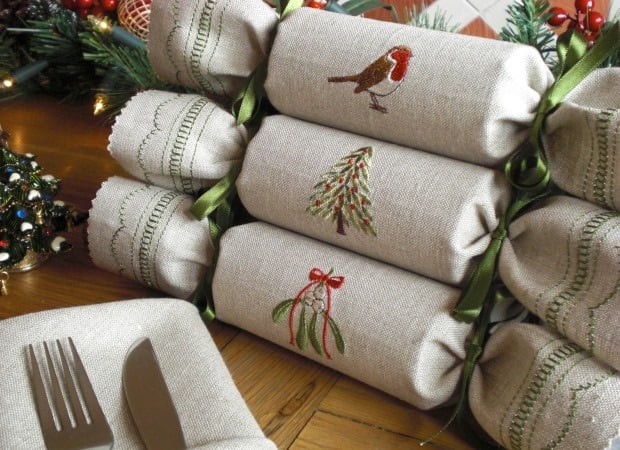 Capturing the essence of the festive season, these reusable crackers will last year after year. With a durable plastic inner tube, fill with sweets or a little toy, and use as a place maker at the Christmas Dinner Table. Alternatively they are the perfect container for a piece of jewellery or trinket to give to your most beloved. Made from natural linen and embroidered with satin thread, each cracker is tied either end with a green satin ribbon and has a durable plastic inner tube, www.katesprostondesign.com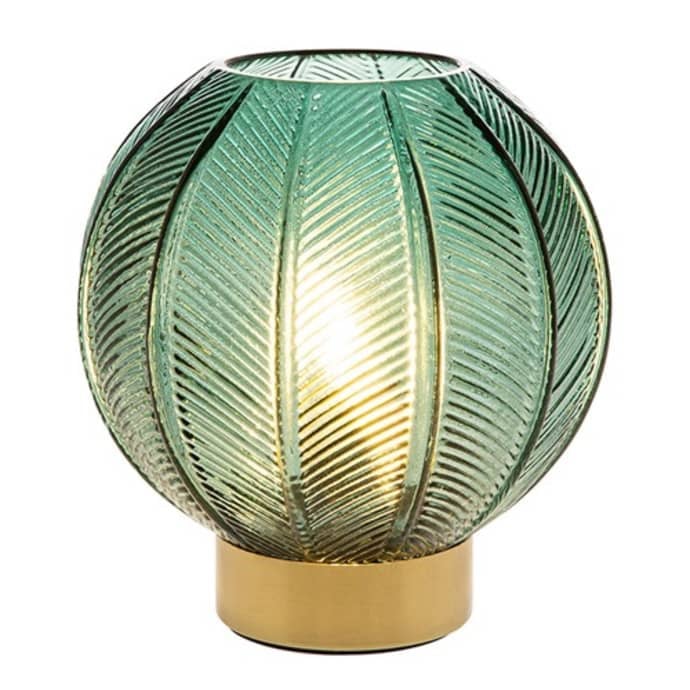 This decorative battery operated lamp is a perfect choice if you need to light up spaces which have no plug nearby,, Dark Green Striped Glass LED Lamp, £ 22, www.trouva.com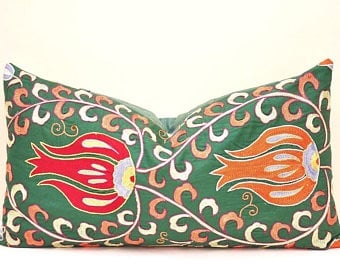 For a touch of colour, this pretty embroiled Suzani cushion offered a lovely colourspot on your sofa, Green and Orange embroided Suzani Cushion, £18.57, https://www.etsy.com/uk/listing/623525977/green-and-orange-suzani-embroidery?ref=user_profile&pro=1

These very jolly and colourful Christmas baubles will add some colour to your Christmas tree for years to come, Portmeirion's Ceramic Christmas Decorations, www.portmeirion.co.uk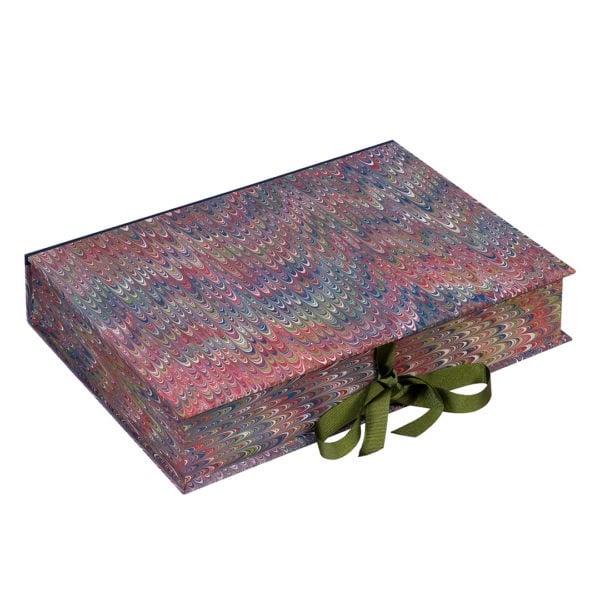 Declutter your desk and keep things tidy in style with this very decorative storage box, A4 Keepsake in Rawny, £29.95, https://comptonmarbling.co.uk/product/a4-keepsakes-rawny/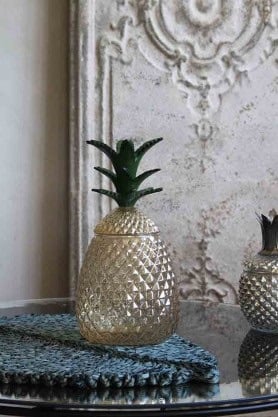 Useful and decorative is this pretty Glass Pineapple storage vase, which also makes for a lovely present, Glass Pineapple Storage Vase with Lid, £36, www.rockettstgeorge.co.uk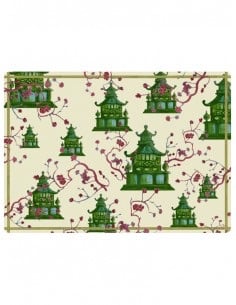 This Pagoda placemat will show off your dinner service beautifully, Masonite Green Pagodas American Placemat, EUROS 29, flomour.com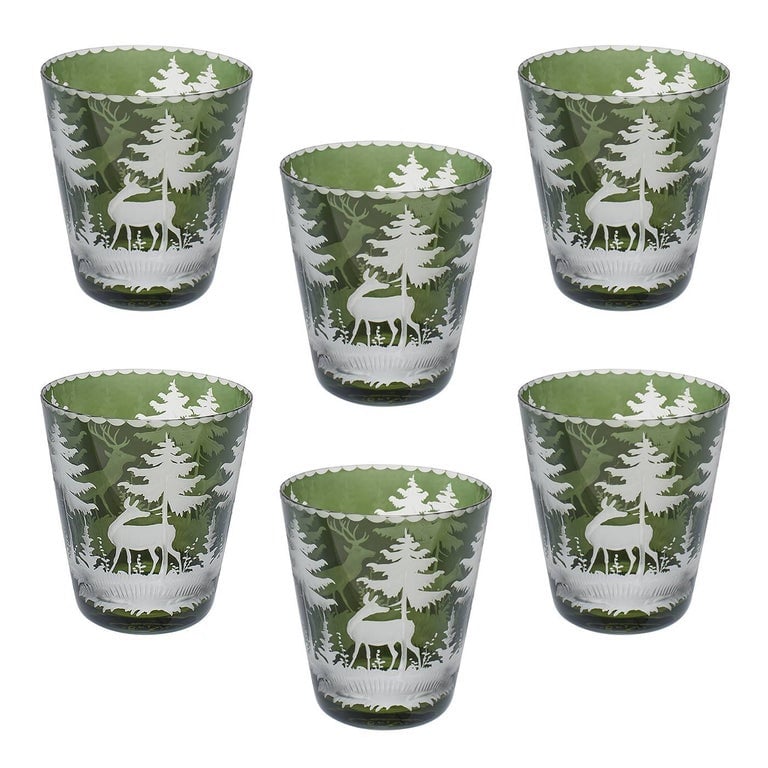 For the 'hostess with the mostest' when planning seasonal entertaining, this set of handblown and hand engraved crystal glasses will be the perfect way, to offer your guests their drink, Set of 6 Green Crystal Glasses with Hunting Scene, Sofina Boutique Kitzbuehel, https://www.1stdibs.co.uk/furniture/dining-entertaining/glass/set-of-six-tumbler-green-crystal-hunting-scene-sofina-boutique-kitzbuehel/id-f_10882003/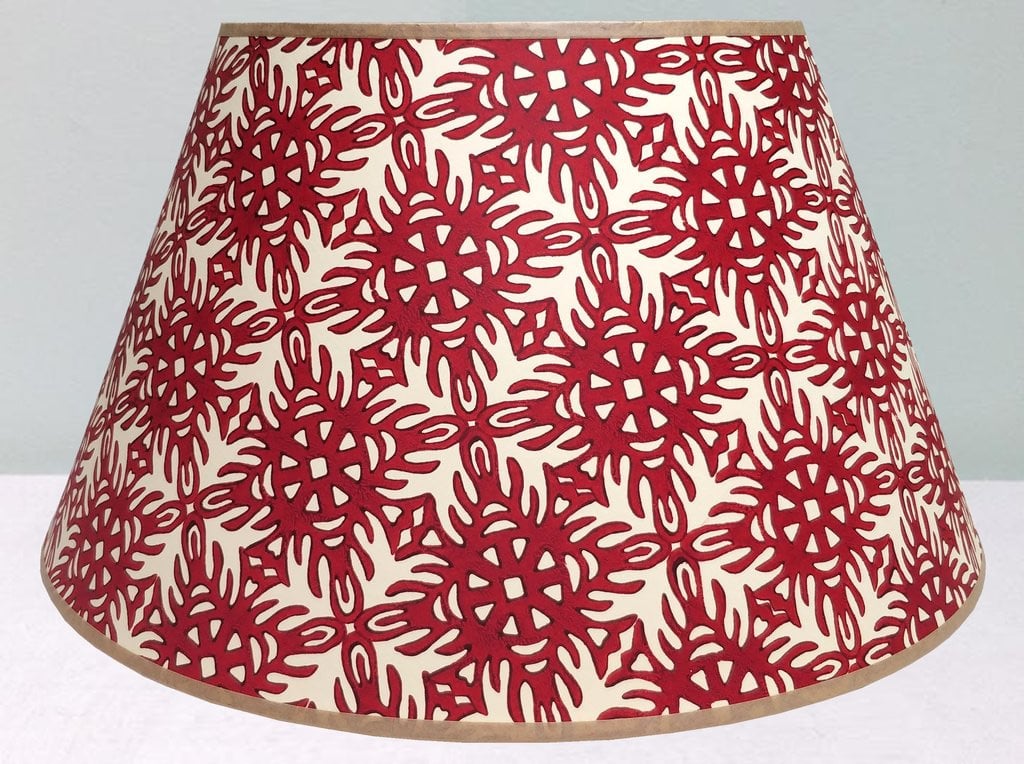 This lovely lampshade brings a wonderfull warm touch to your interior, Polish Tile Purple Red Mix Lampshade: £175, www.tobiasandtheangel.com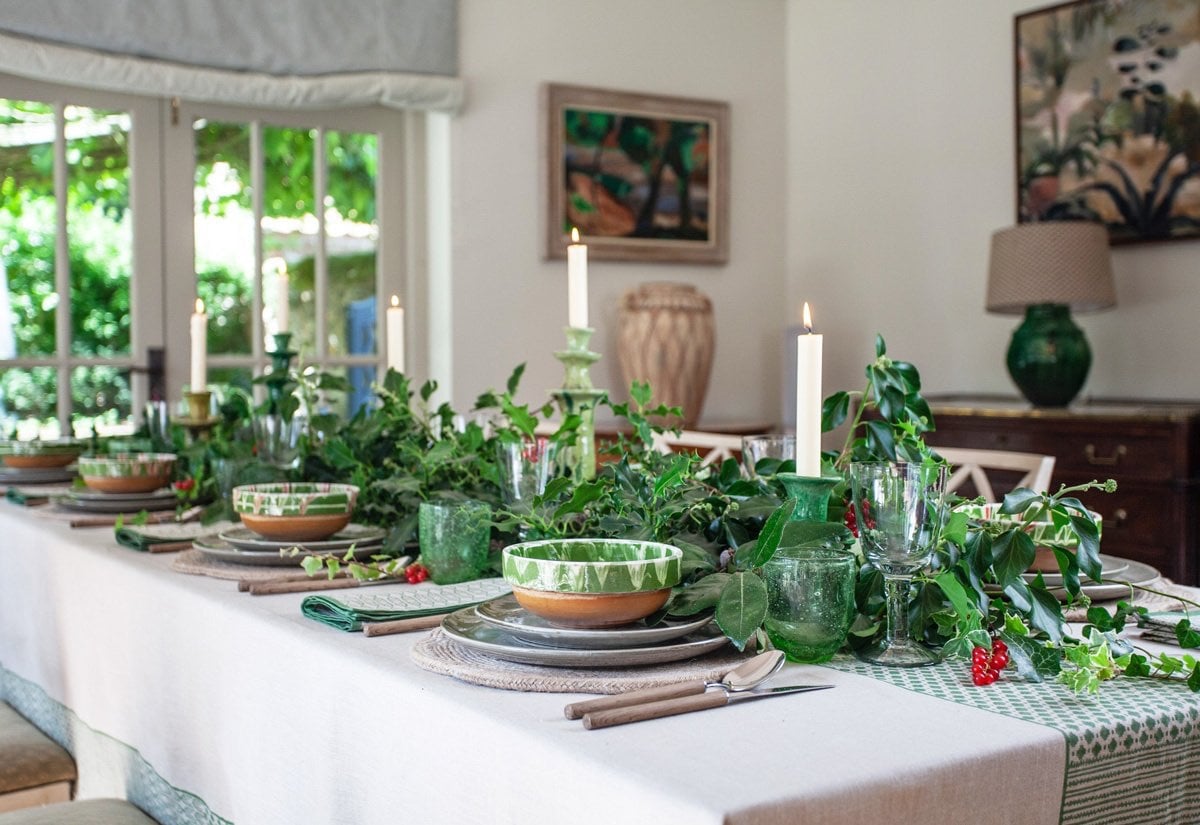 This company offers a wonderful collection of tableware, ideal for a festive dinnerparty, www.birdiefortescue.co.uk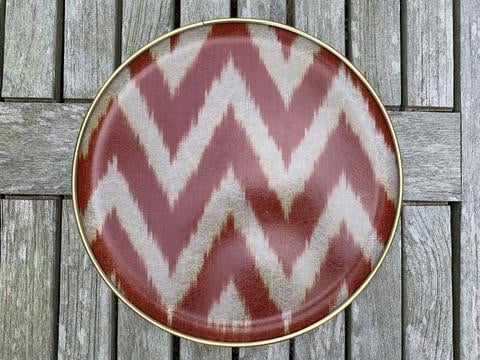 The perfect way to serve drinks to your guests or treat someone else and offer it as a gift, Orange Silk Ikat Fibreglass Tray, £28, www.punica.co.uk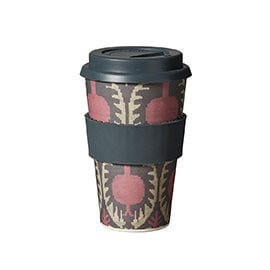 The ideal and stylish accessory for those having to do regular journeys. The bamboo mug is very environmentally friendly and dishwasher safe, £8, www.oka.com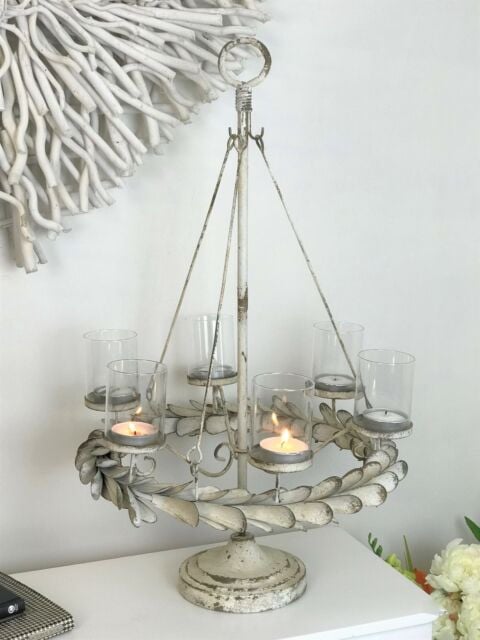 Complete the festive look in your living room with this gorgeous hanging chandelier, £73.95, www.mulberry-moon.co.uk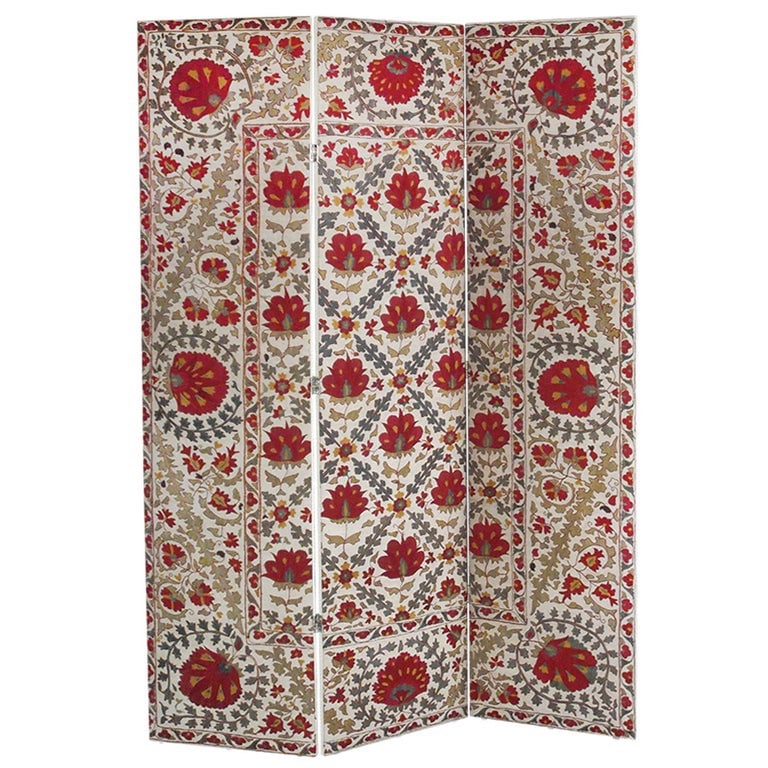 This three panel hand embroiled suzani screen is a one of a kind 'object d'art', £1488, https://www.1stdibs.co.uk/furniture/more-furniture-collectables/home-accents/screens-room-dividers/hand-embroidery-suzani-textile-screen/id-f_1155964/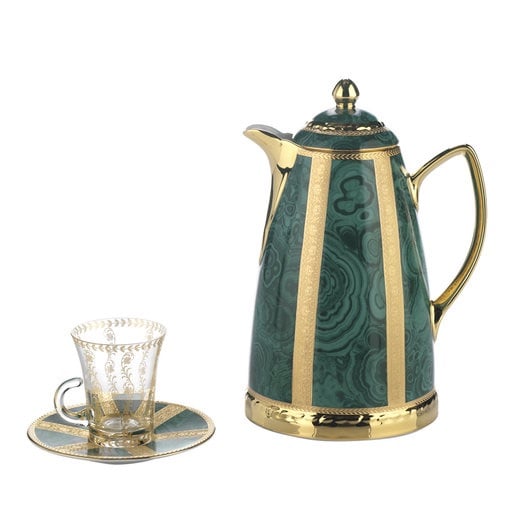 Practical and very decorative is this stunning thermos pot and crystal cups with saucers, Mangani 1958, £1450, www.artemest.com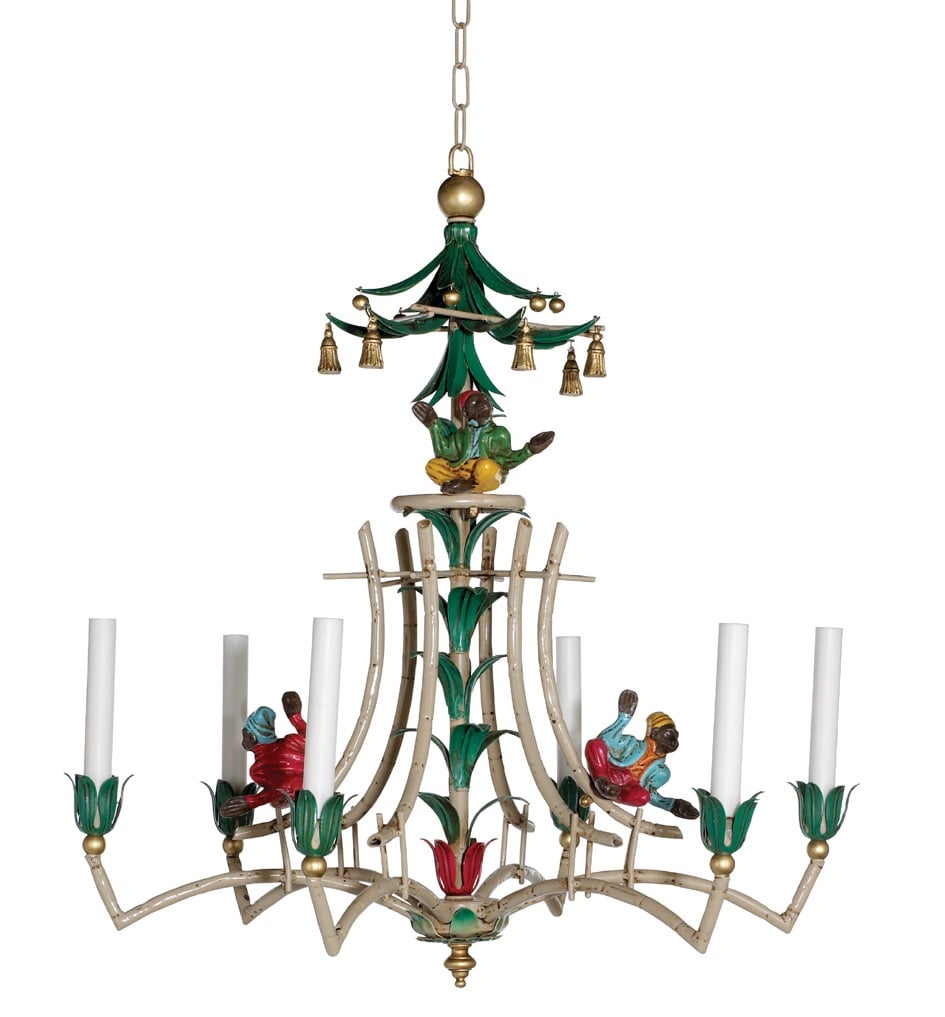 Add some fun to your ceiling with these lively monkeys, Bamboo and Monkey Chandelier, www.richardtaylordesign.co.uk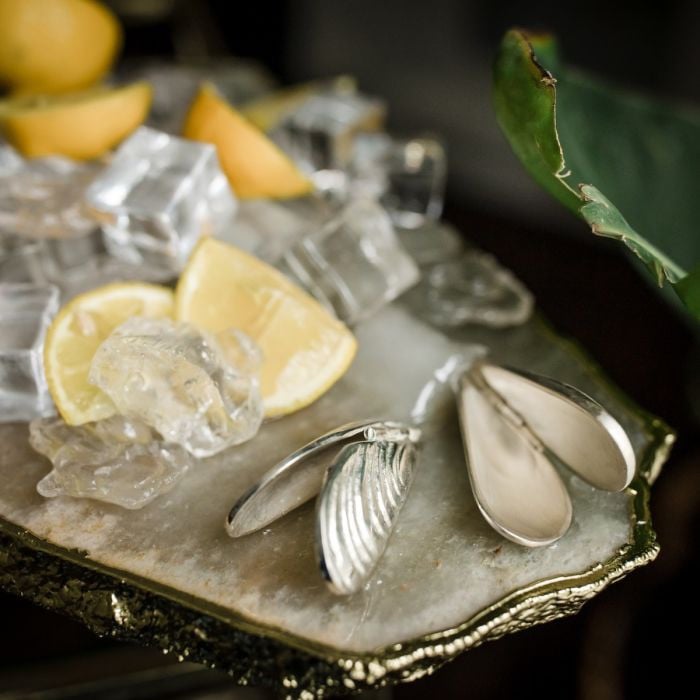 The perfect accessory for a glamorous table setting or a wonderful gift for for someone special, Pair of Mussel Eaters, £34.95, https://www.culinaryconcepts.co.uk/pair-of-mussel-eaters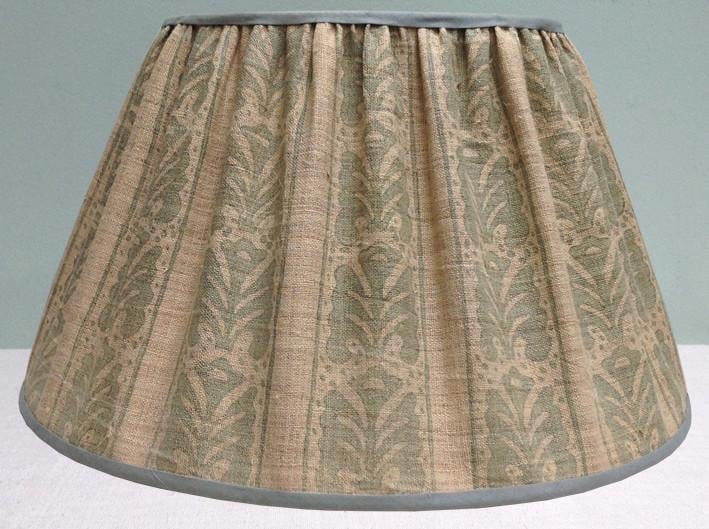 I absolutely love the natural look and feel of this hemp lampshade, which adds a wonderfully warm and luxurious touch to a room, Hand Blocked Vintage Hemp Lampshade, £585, www.tobiasandtheangel.com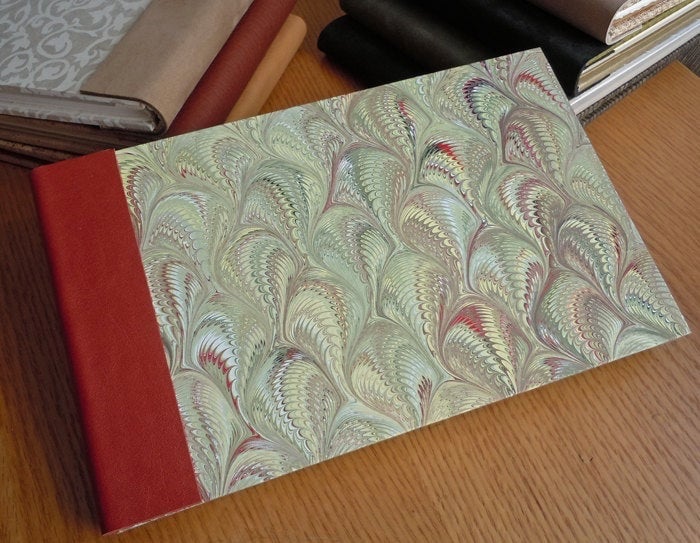 Keep a record of all your guests or treat someone to a beautiful present with this very decorative visitors book, Hand Marbled Peacock Pattern Guest Book, £51.53, https://www.etsy.com/uk/listing/225775279/hand-marbled-peacock-pattern-guest-bookga_order=most_relevant&ga_search_type=all&ga_view_type=gallery&ga_search_query=hand-marbled+paper+visitors+book&ref=sr_gallery-1-2&organic_search_click=1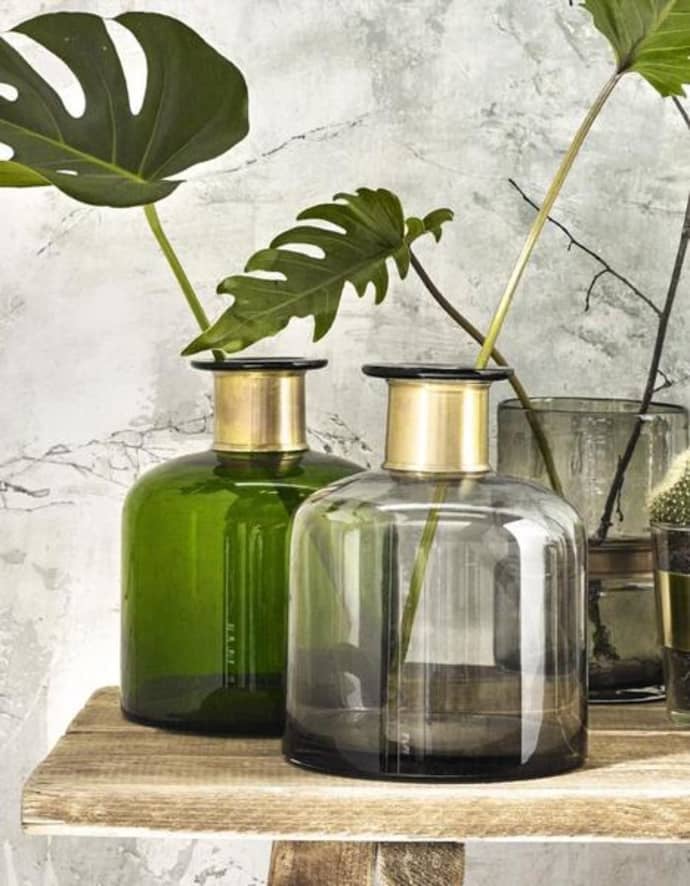 The perfect match to display your flowers on a mantlepiece or side table, Inlaid Gold and Glass Stem Vase, £42, www.trouva.com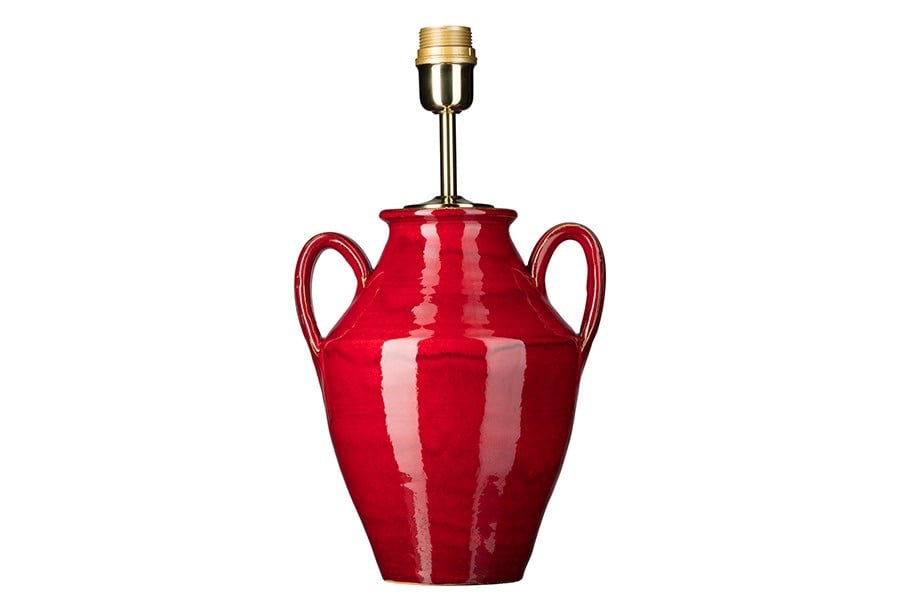 This deliciously red table lamp will be a visual treat on your living room tables and is so easy to pear up with a wide variety of colours and patterns, Pedro Lamp Base, Red, EUROS 250, www.casalopez.com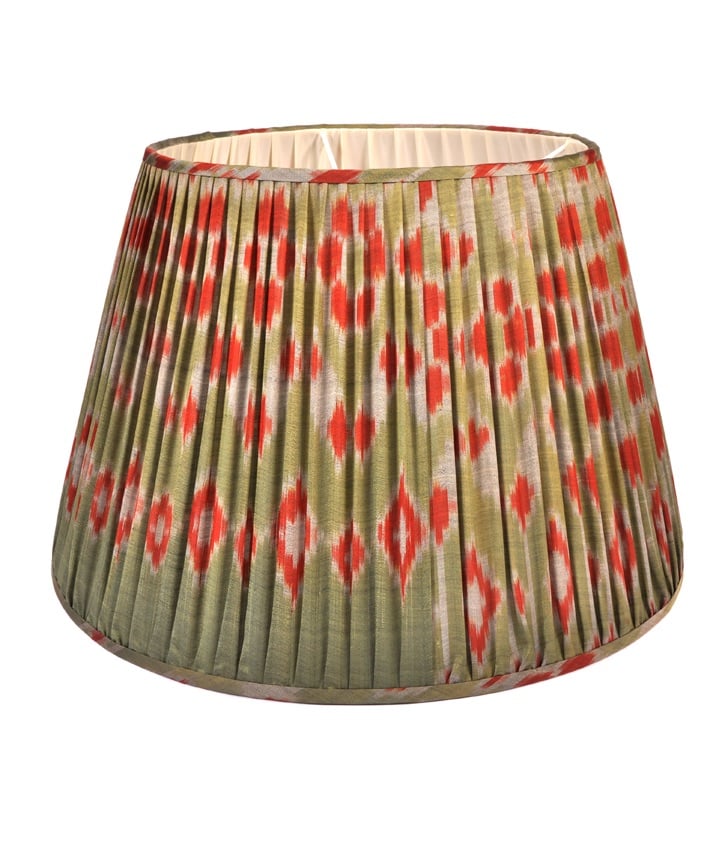 Although a perfect addition for your Christmas interior look, this lampshade looks stunning all year round, Green and Red Silk Sari Shade, www.joannawood.co.uk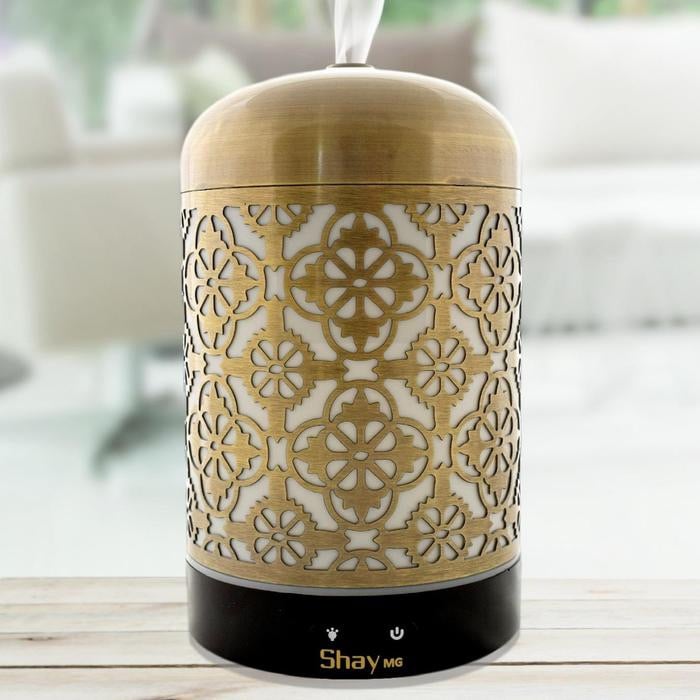 Relax with this very stylish Ultrasonic Aroma Diffuser & Humidifier, which converts water and essential oil drops into a cool fine mist, Shay MG02 Ultrasonic Aroma Diffuser & Humidifier, www.raregear.co.uk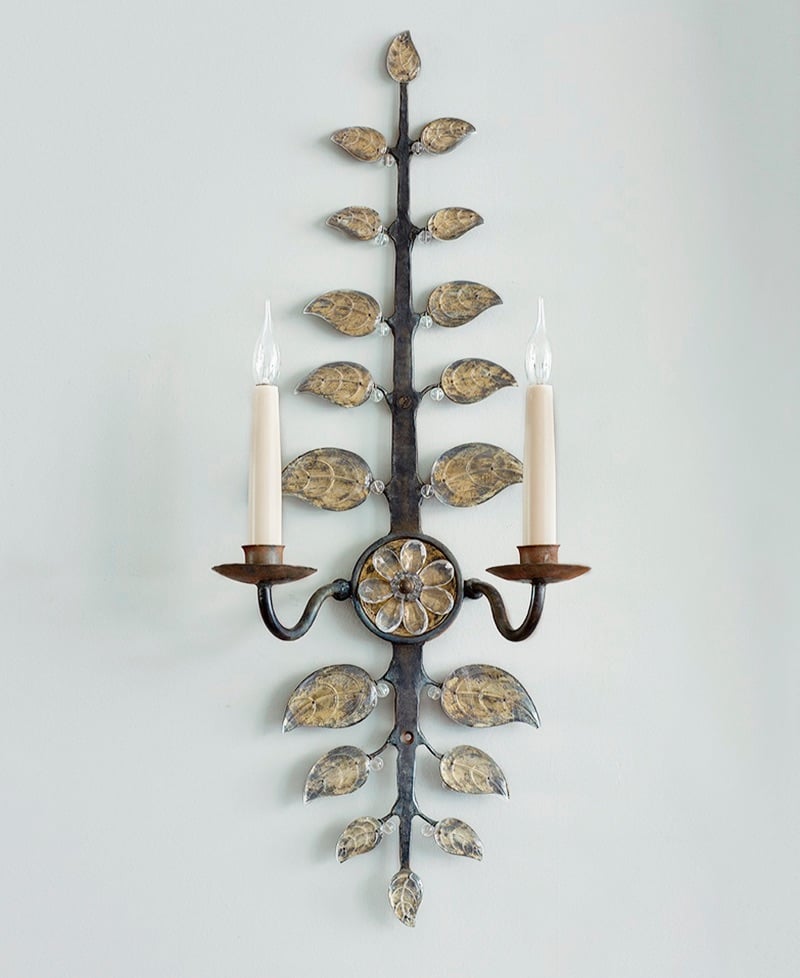 Give your wall a glamerous makeover, with these luxurious and stunning wall lights, Hanbury Wall Light, £4728, www.coxlondon.com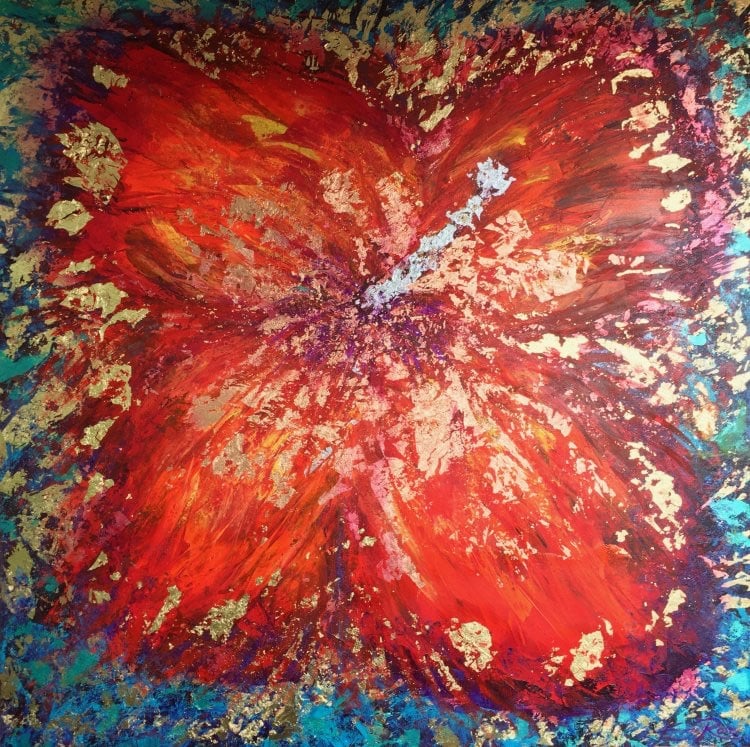 Give your living space an instant new look with this fantastically vibrant painting by award winning local Bath artist Emma Rose. If you have something special in mind, you can also commission her to make it personal and create artwork, which works with your interior, Hibiscus III, www.emmaroseartworks.com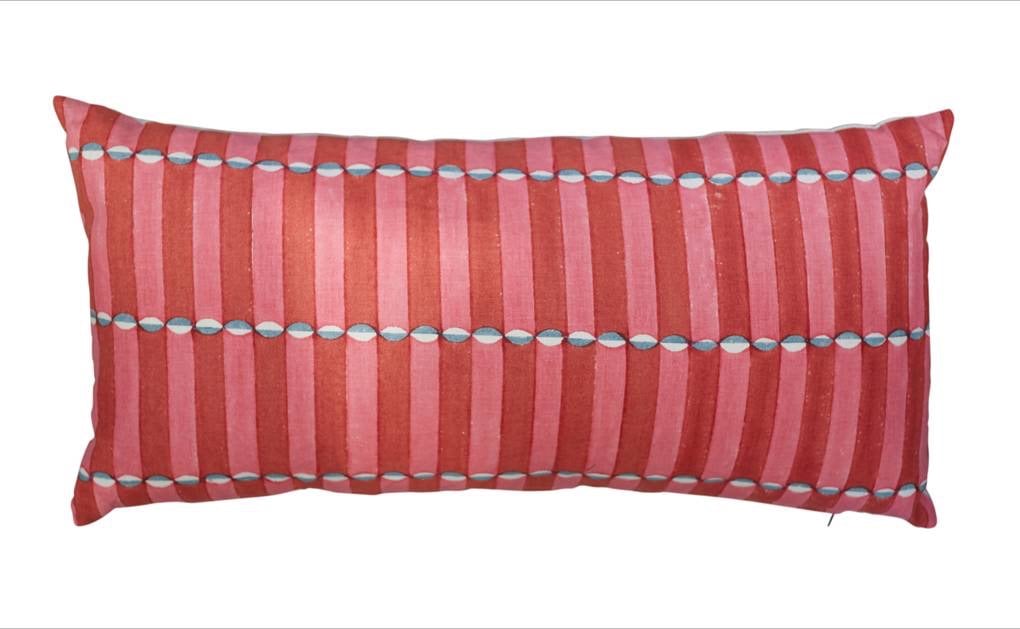 The perfect cushion for a smaller sofa. It is longer than the standard size, only one is needed, Luna Pink Cushion (70 x 35cm), £90, www.mollymahon.com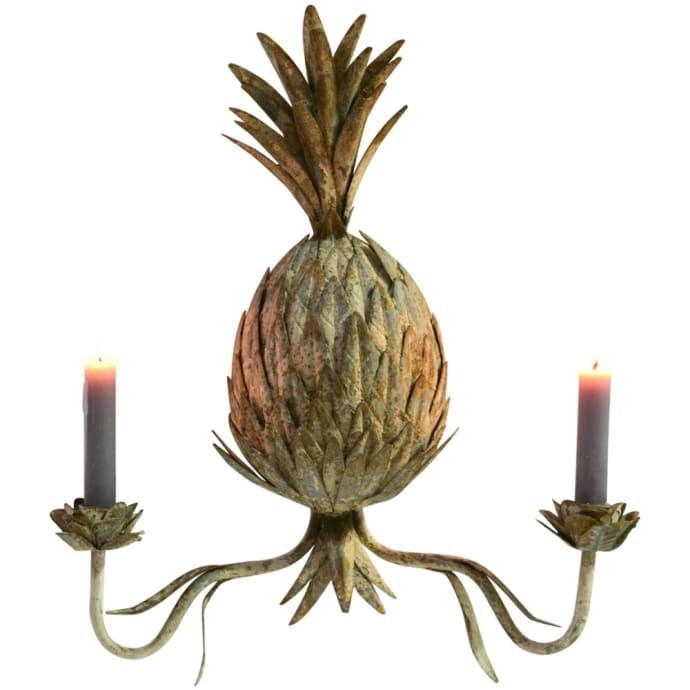 You have to be quick, to get your hands on one of these very decorative candle wall sconces. They seem to be in and out of stock. You might have to be patient and wait your turn, if the last one has been snapped up! Pineapple Wall Sconce Candle Holder, £59.95, www.trouva.com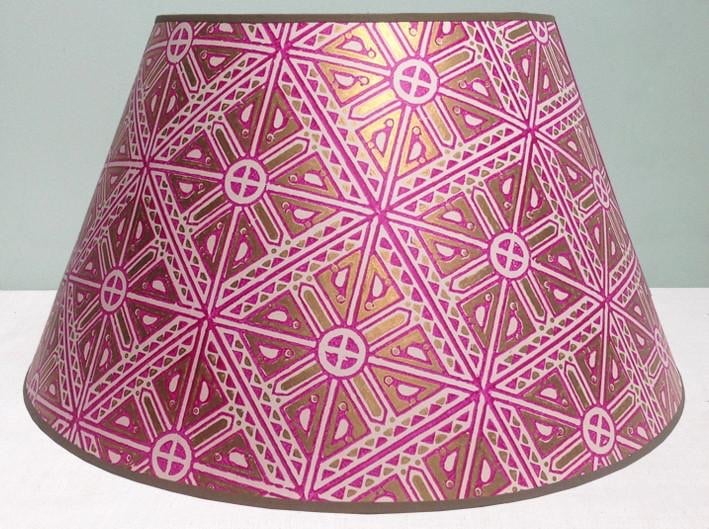 This is the time of year, to take a break from all neutral and try out a little bit of colour. I would very happily treat my interior to this stunning vintage lampshade, Lampshade of Vintage Hand Blocked Indian Paper, £285, www.tobiasandtheangel.com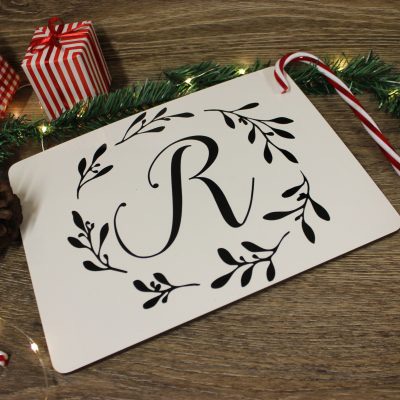 These personalised placemats make a lovely gift or could be a decorative addition to your dinner table, Personalised Initial Placemat, £10.99 per placemat, www.gifts.fmbranding.co.uk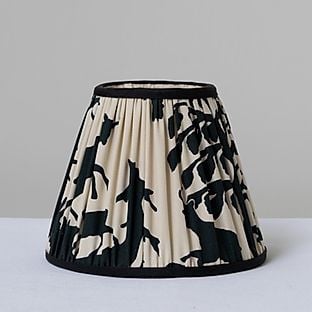 A small but perfectly formed and beautifully designed hand gathered shade in a Pierre Frey chalet/ski fabric, Mini Black and Cream Shade, £130, www.susandeliss.com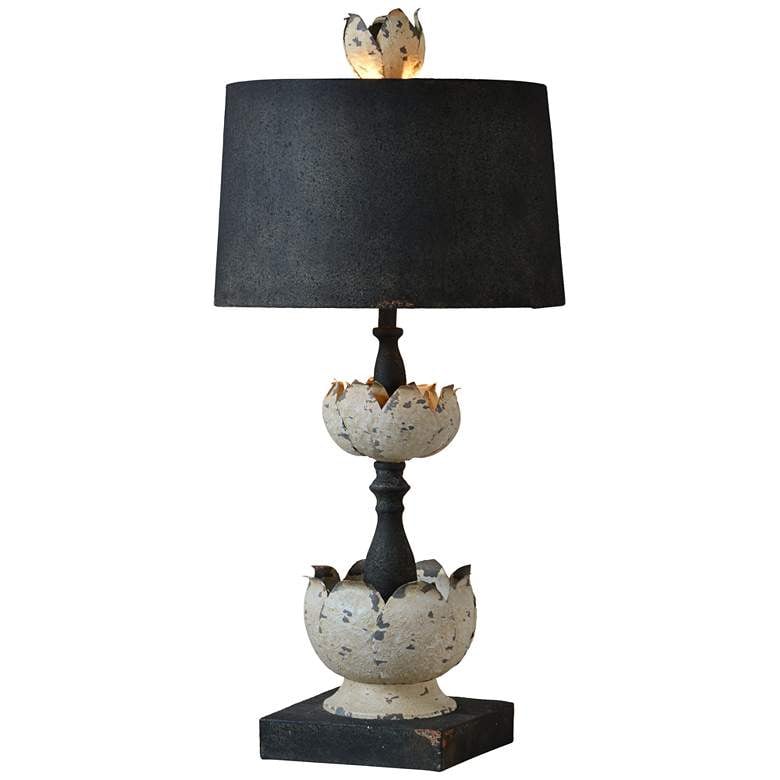 Blooming with character, the Hallie lamp is a feminine yet sophisticated all round lotus lamp, Hallie Table Lamp, £183, https://www.overstock.com/Lighting-Ceiling-Fans/Hallie-Table-Lamp-N-A/29486738/product.html?refccid=KMI7QXHINZM3NECG3YXK7EK3SM&searchidx=0&kwds=hallie%20table%20lamp&rfmt=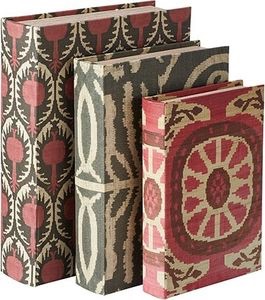 This box file set is ideal for those, who like to keep things tidy, be it for yourself or as a gift, Set of Three Ikat Box Files, £50, www.oka.com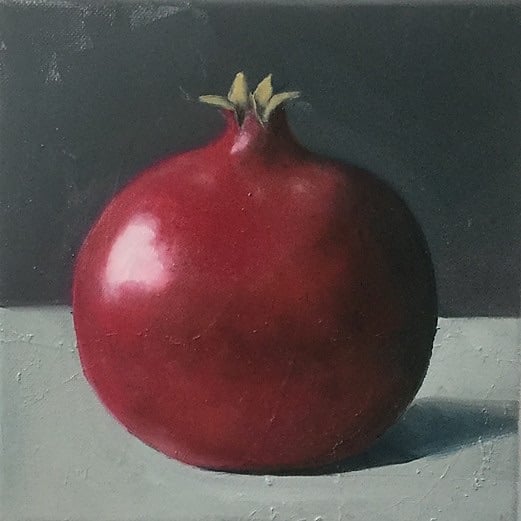 For those who love still life or portrait paintings, Bath based Agnes Pollock is the one to watch out for. You can also commission a painting, if you have something very special you would like to see on canvas, www.agnespollock.com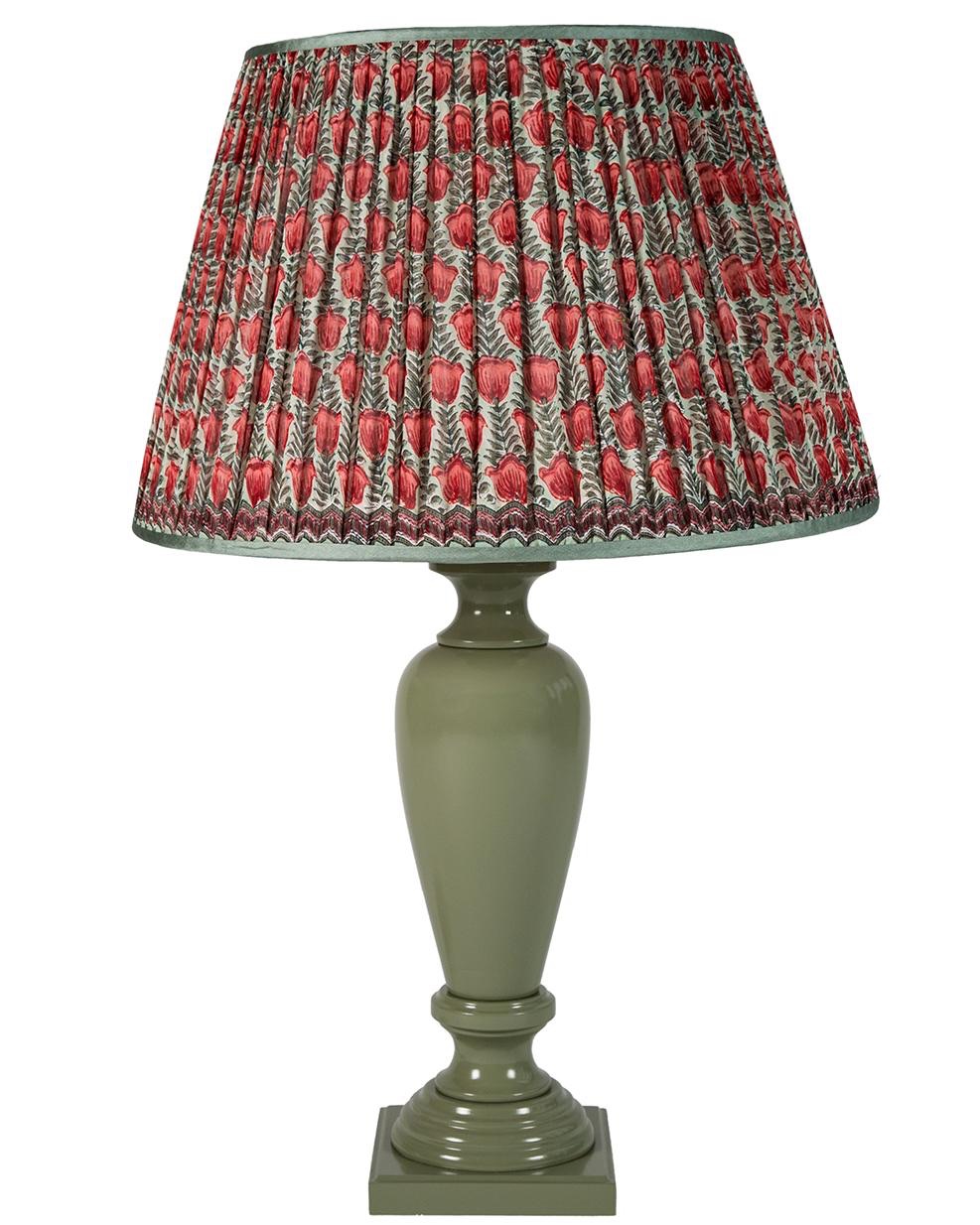 One of my top picks for that warm cozy look is one of Kelling Design's lampshades and base in a warm red, green and burgundy colour, Lampshade: Nerissa, !175, Lamp Base: Sarah (other colourways available), £275, www.kdloves.com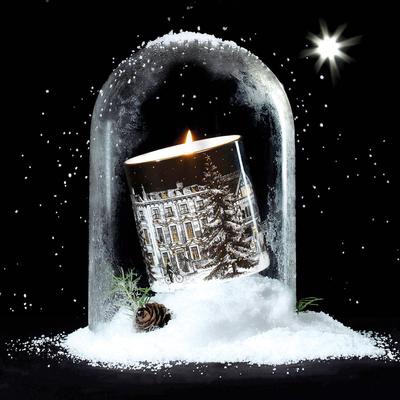 This decorative candle is produced with Soya wax rather than paraffin, which is more environmentally friendly, as it is 100% biodegradable. Soya wax candles burn slower and therefore last longer. It releases fragrance easier, giving a richer fragrance. Soya wax releases no toxins, carcinogens or pollutants which means it is less likely to trigger allergies…..the perfect gift for allergy prone recipients, The Starry Night Ceramic Candle, £50, www.chaseandwonder.com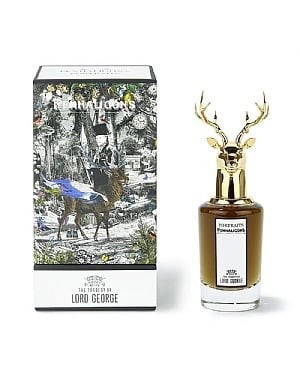 This is an old favourite and has the royal seal of approval. The Penhaligons fragrance and Eau de Parfum range with stunning and imaginative bottle designs, make a wonderful gift for someone special or a fantastic treat for yourself, The Tragedy of Lord George Eau de Parfum, £188, www.penhaligons.com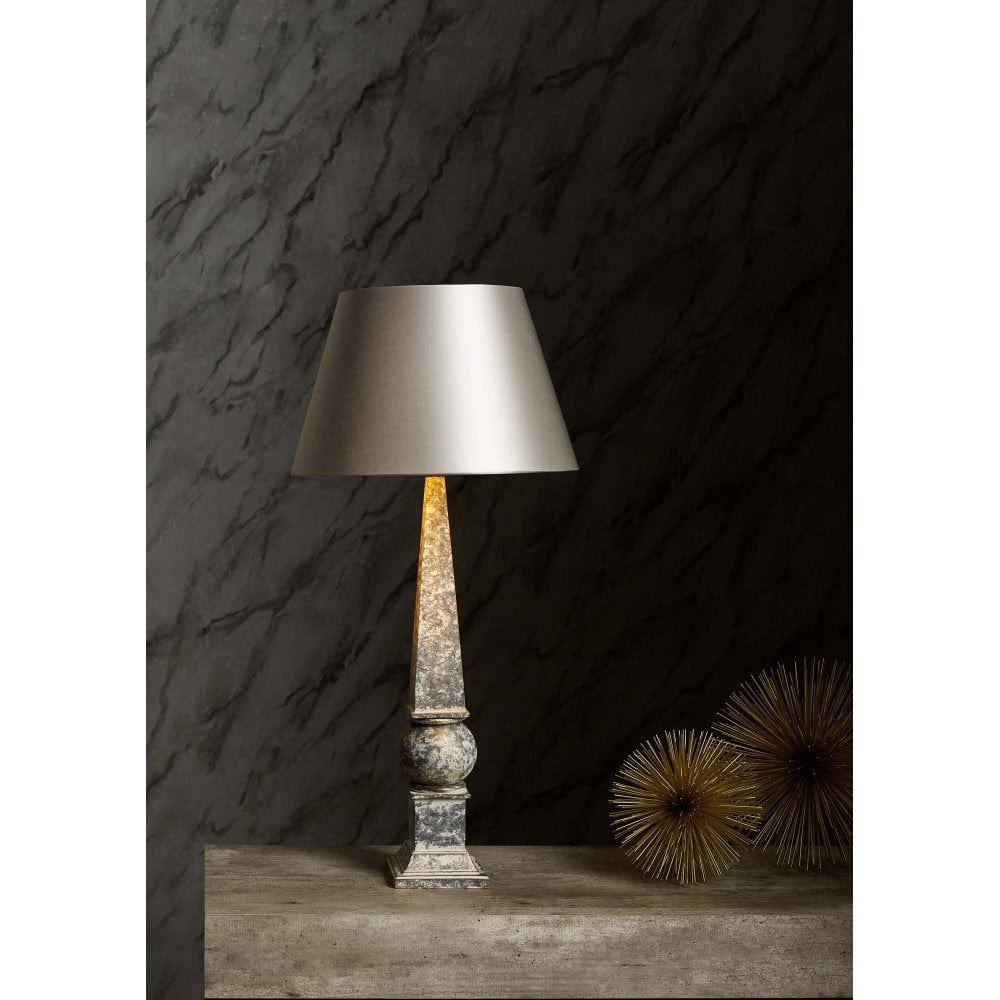 If you are looking for a timeless statement table lamp, this is it! The design and colour works with almost absolutely everything, Cream Gold Paphos Greco Roman Style Table Lamp (p15915), www.designerlightingcompany.co.uk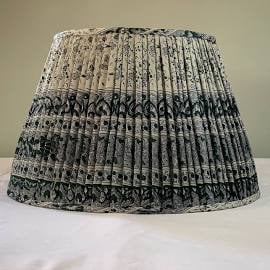 Despite the more traditional design, the relatively neutral colours work with classic as well as contemporary interiors, Blue, Green and White Saree Lampshade, £120, www.delevanandcompany.co.uk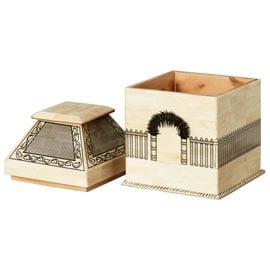 Store smaller items in style with this stunning storage box, Bone Temple Box - Black/White, £145, www.oka.com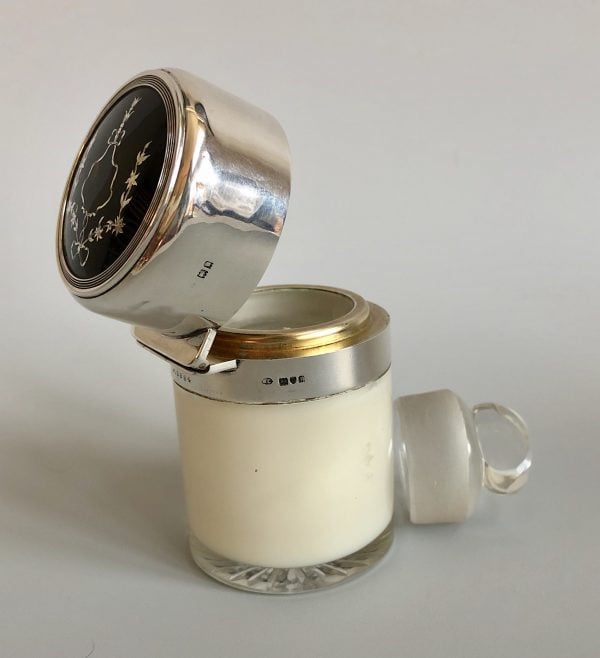 This is a quite unique perfume bottle, which would make a wonderful gift for someone special, Silver and Tortoiseshell Perfume Bottle 1912/13, £360, www.fimi.co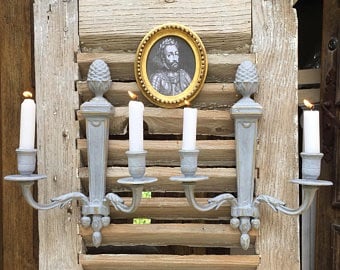 Add some atmospheric lighting to your interior with these decorative antique wall sconces, Grey Distressed Pair of Antique French Bronze Wall sconces, £53.56, https://www.etsy.com/uk/listing/728821355/grey-distress-painted-pair-of-antique?ref=user_profile&cns=1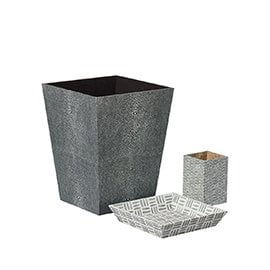 This trio add a very classy element to any study or living space, Wastepaper Bin, Pot and Tray in Gray, £50, www.oka.com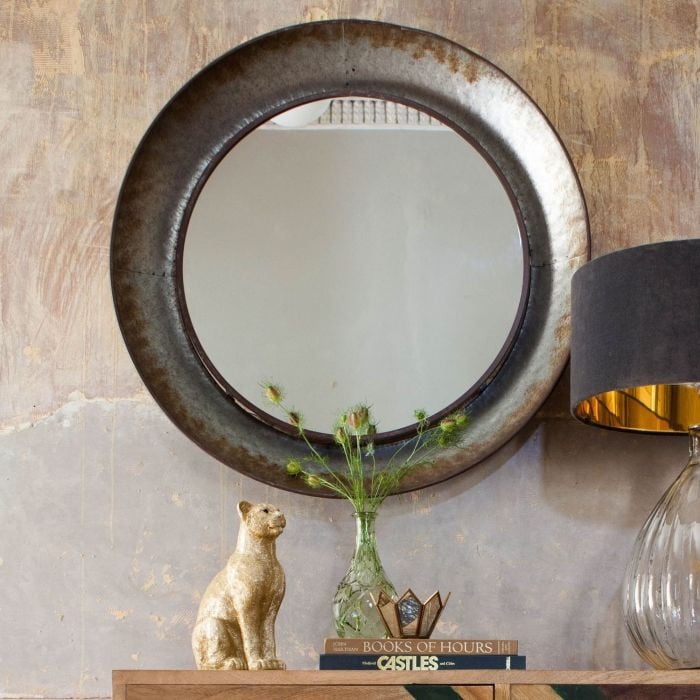 For a vintage look, this rustic mirror, made of iron metal with a distressed rust finish, will work really well, Distressed Round Mirror, £115, www.grahamandgreen.co.uk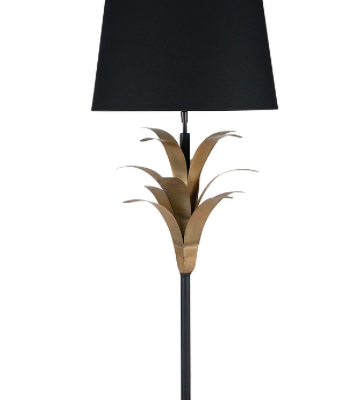 This palm tree table lamp should give you warm thoughts during those cold winter days, Palm Tree Gold Table Base, £79.99, www.holdcroftlighting.co.uk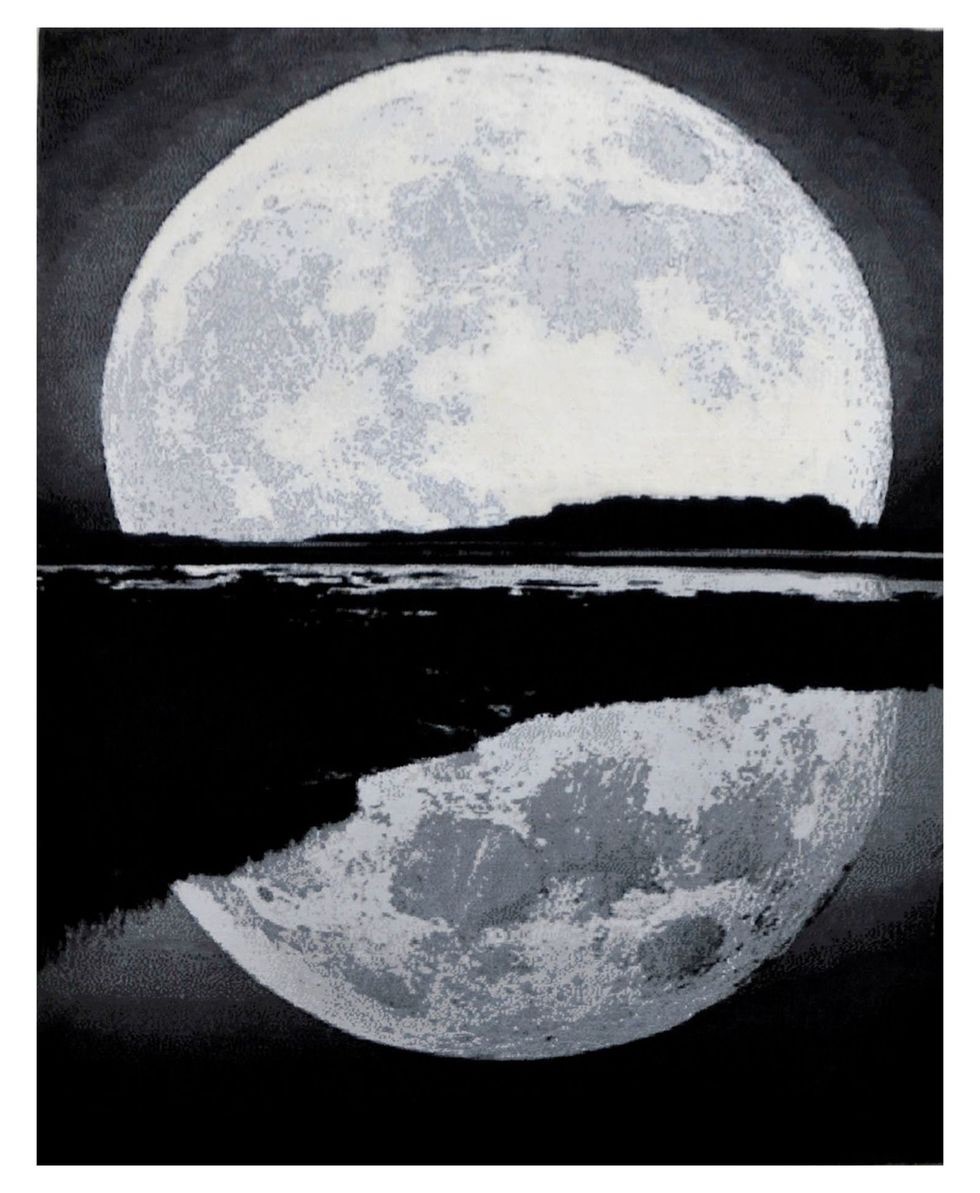 You will be over the moon, if you happen to own one of these rugs. This Super Moon by Sterling Rugs was honoured with a Carpet Design Award in the Best Modern Design Superior category….just something I had to share!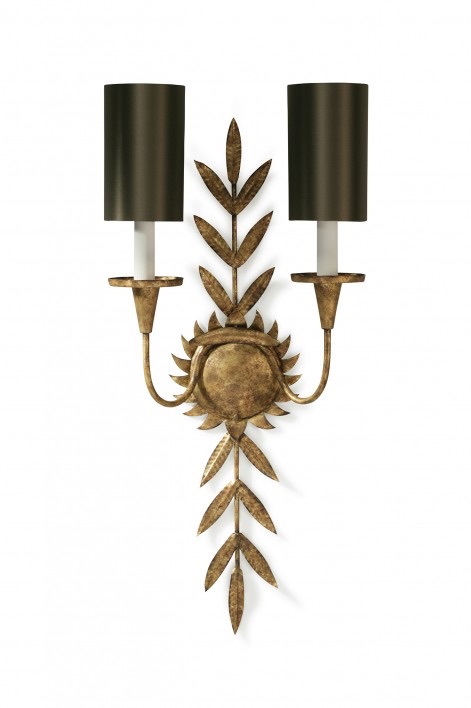 One of my top picks in this blog must be this absolutely stunning Porta Romana luxury wall sconce, which is well worth the investment, Beatrice Wall Light, www.portaromana.com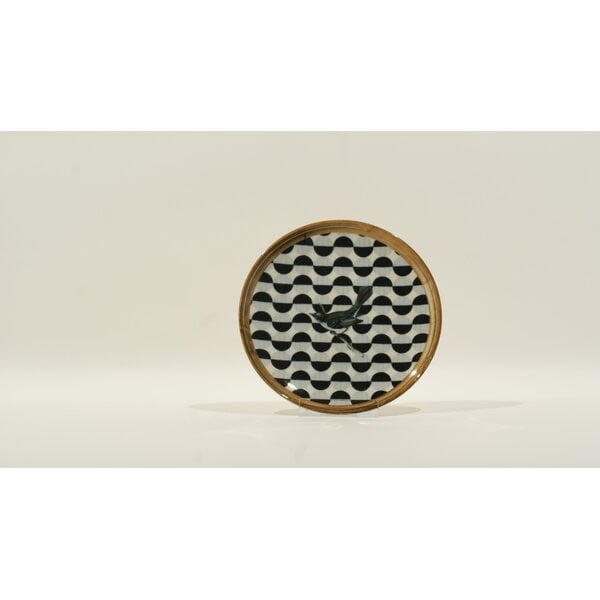 If your dinner service is not quite up to the mark anymore, to feed family and friends over the Christmas period and beyond, these plates which come in slightly varied designs, will no doubt impress and entertain your guests throughout the evening, Evelynn Plate, £43.56, https://www.wayfair.co.uk/kitchenware-tableware/pdp/world-menagerie-evelynn-195cm-dessert-plate-u001769810.html?piid=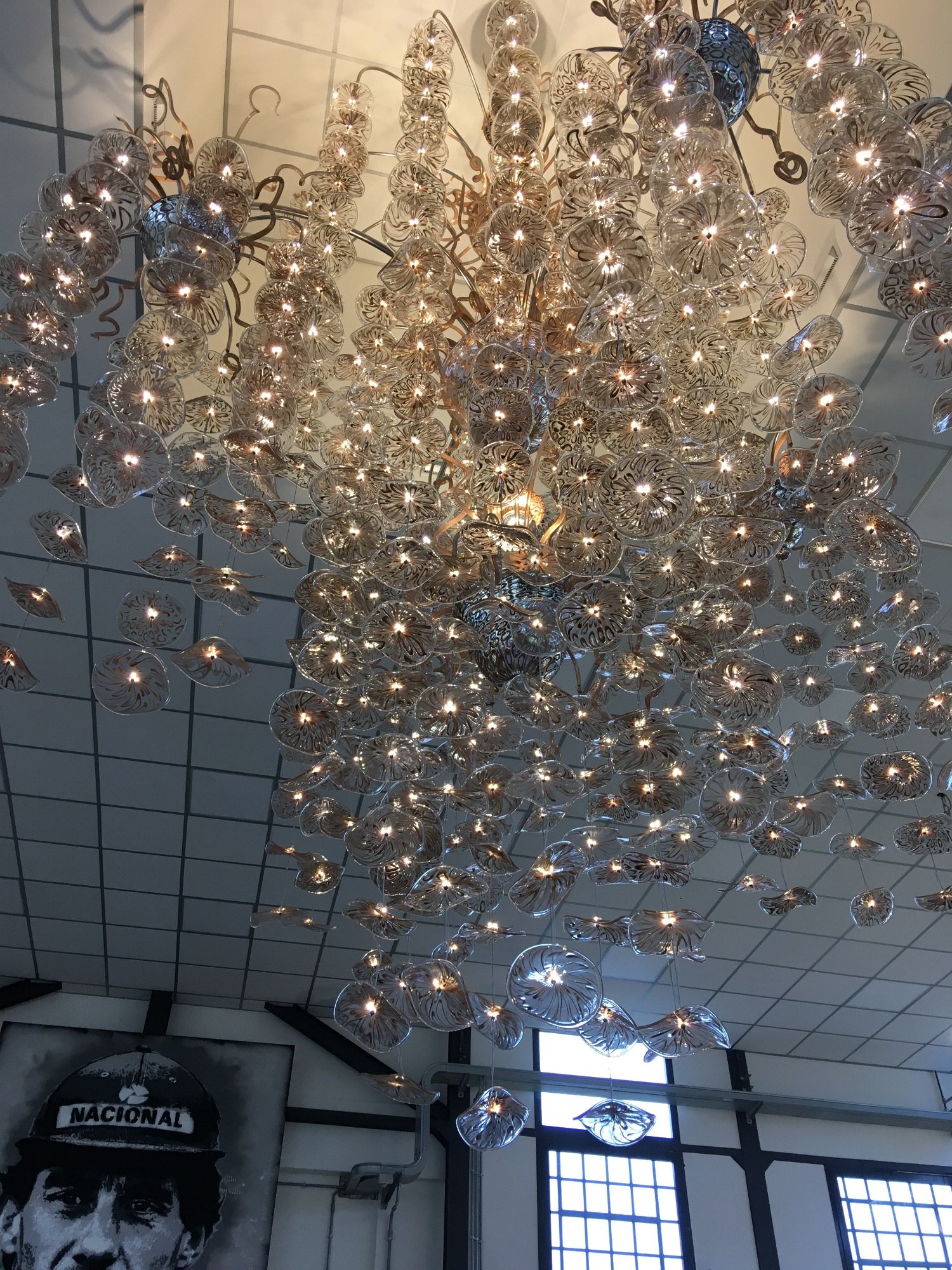 This chandelier is the Tesla amongst the ceiling light fraternity……you might find, that the car is cheaper thant the bespoke chandelier. We spotted this amazing work of art at one of the glass factories on a recent trip to Murano, Italys centre of excellence for handblown glass. Each of the countless pieces of glass is hand blown and unlike chandeliers in general, gives off a very warm and atmospheric light, www.massimillianoschiavon.com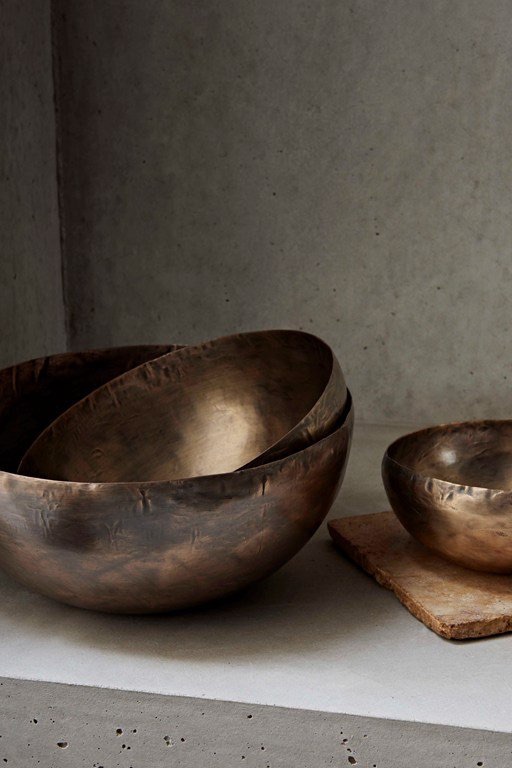 Entertain and present your nibbles in style with these very chic iron bowls. This versatile set will look stunning on your coffee or side table or double up for storing of smaller items on your desk. Should you be in the Bath area, you can buy them directly in the shop. Set of 4 Iron Bowls, £27, www.frenchconnection.com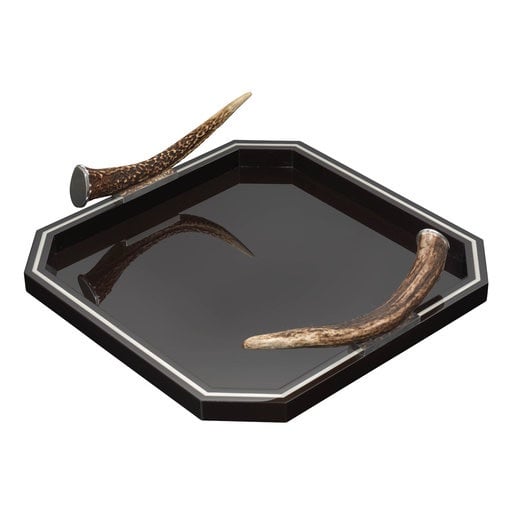 This stunning tray is the perfect way to serve drinks to your guests, whether you entertain in your house in the country or your chalet in the Alps, Diana Tray, £715, www.artemest.com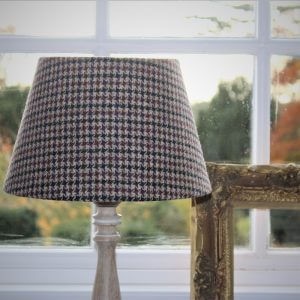 For that country house look, this tweed lampshade is a perfect match, Tweed Wool Empire Lampshade, £44, www.hillhousedesign.co.uk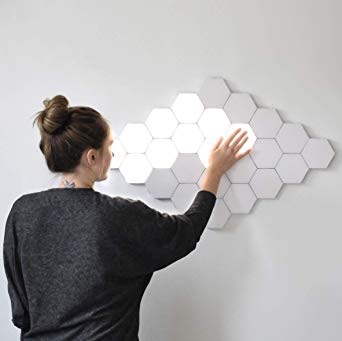 This design and concept is absolutely brilliant and will be perfect for a contemporary or minimalist interior….or loved to bits by students or teenagers alike. These modules have a proximity sensor which detects the distance of your body. As you come into contact with the with the module, it will toggle on/off. you can use any body part or other conductive materials, Helios Touch Sensitive Modular Lighting System (starter pack), £59, https://www.amazon.co.uk/Hexagonal-Sensitive-Lighting-Magnetic-Decoration/dp/B07WPDXPQY/ref=asc_df_B07WPDXPQY/?tag=googshopuk-21&linkCode=df0&hvadid=375418948447&hvpos=1o5&hvnetw=g&hvrand=1956450847702028816&hvpone=&hvptwo=&hvqmt=&hvdev=c&hvdvcmdl=&hvlocint=&hvlocphy=1006567&hvtargid=pla-830740998635&psc=1&tag=&ref=&adgrpid=83648335344&hvpone=&hvptwo=&hvadid=375418948447&hvpos=1o5&hvnetw=g&hvrand=1956450847702028816&hvqmt=&hvdev=c&hvdvcmdl=&hvlocint=&hvlocphy=1006567&hvtargid=pla-830740998635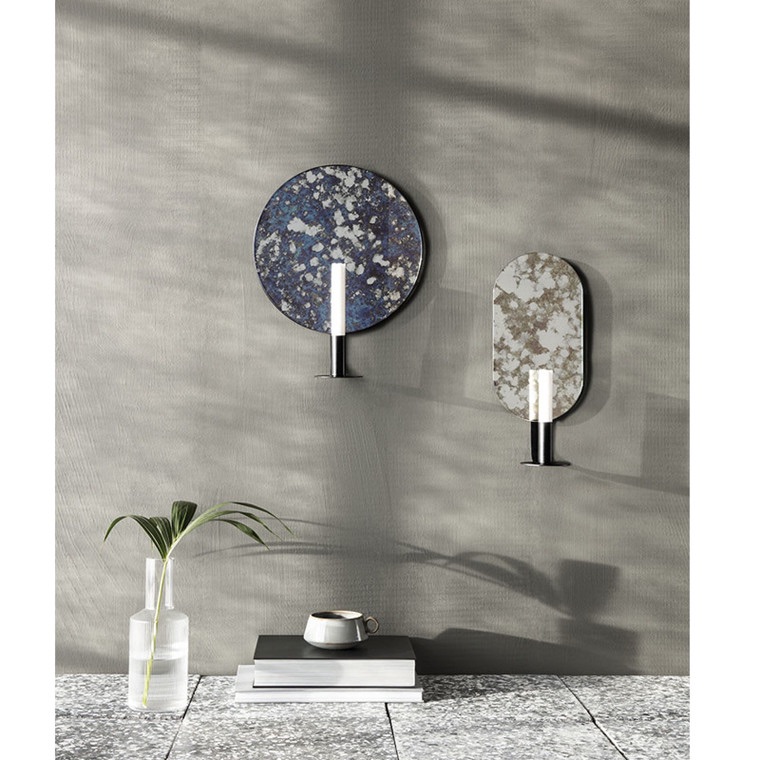 If you are on the lookout for a more contemporary wall candle sconce, these two are a great find. The mirrored back is slightly aged and look super cool, Ferm Living Coupled Candleholder, www.naken.co.uk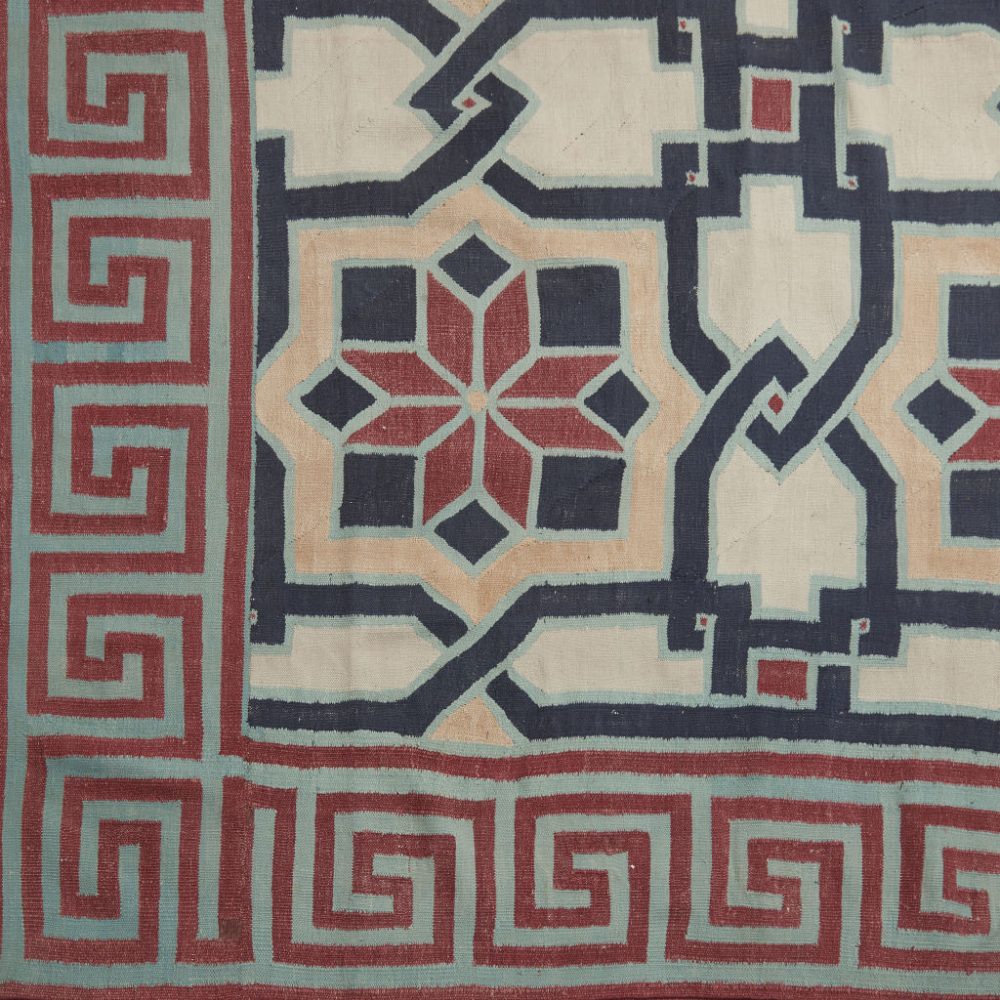 This is not a tile but part of a dhurrie rug which will provide a stunning layer on your floor, Star Design With Borders, www.guinevere.co.uk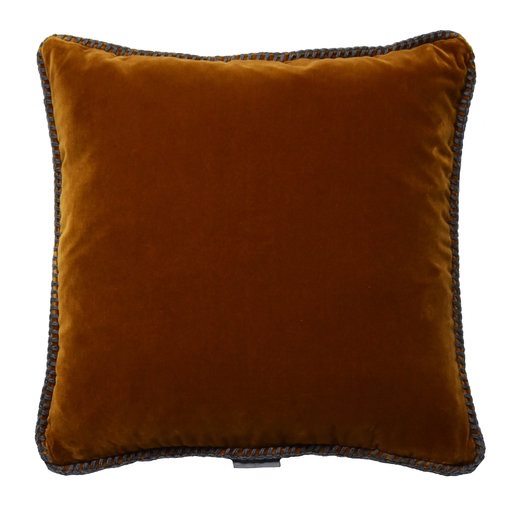 For a cozy and warm injection of colour, this cushion would just to the trick, Punto Cavallo Cinnamon Burgundy Square Cushion, £85, www.artemest.com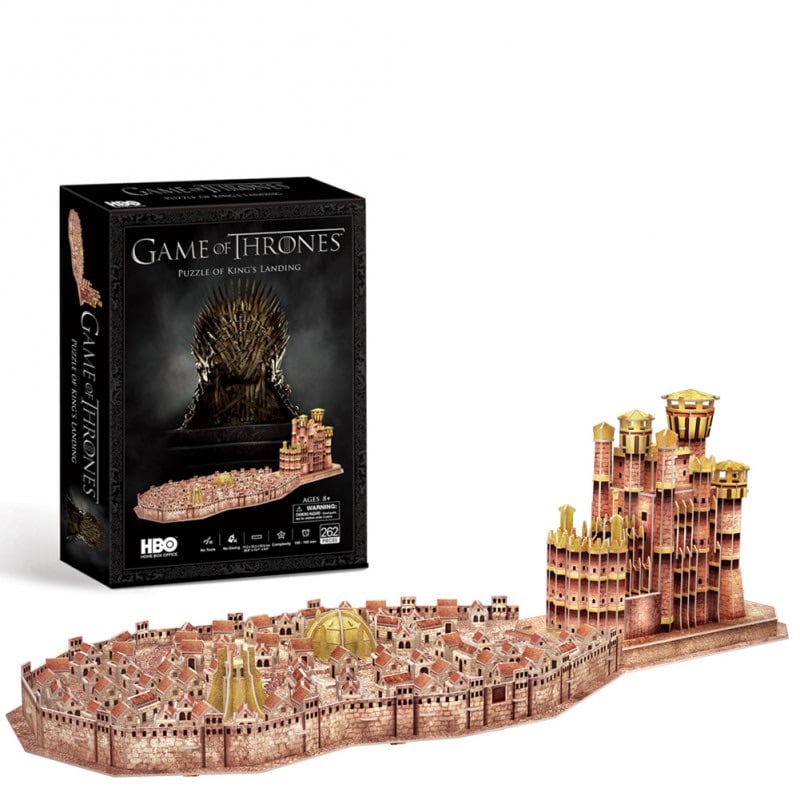 This puzzle will make a stunning gift and keep the entire family entertained, Games of Thrones King's Landing 3D Puzzle, www.paul-lamond.com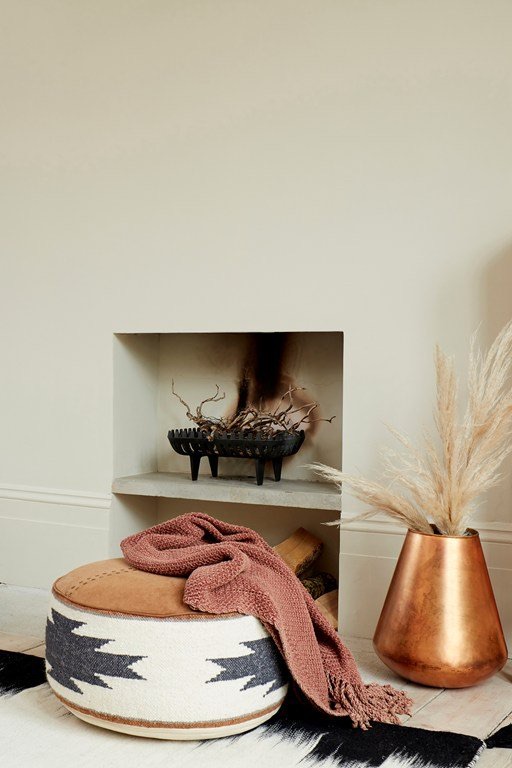 I spotted this super puff at our local French Connection shop here in Bath and absolutely love it. It has a cool and relaxed look which works well with classic and contemporary interiors, Rodeo Pouff, £120, www.frenchconnection.com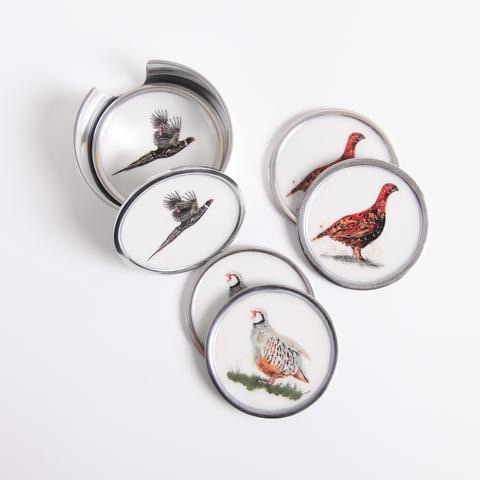 You can buy something new and still feel, that you are giving something with the environment in mind with this recycled coaster set, Tilnar Art Recycled Coasters (2 game Birds, 2 Pheasants, 2 Partridges, 2 Grouse), £27.99, www.tutco.co.uk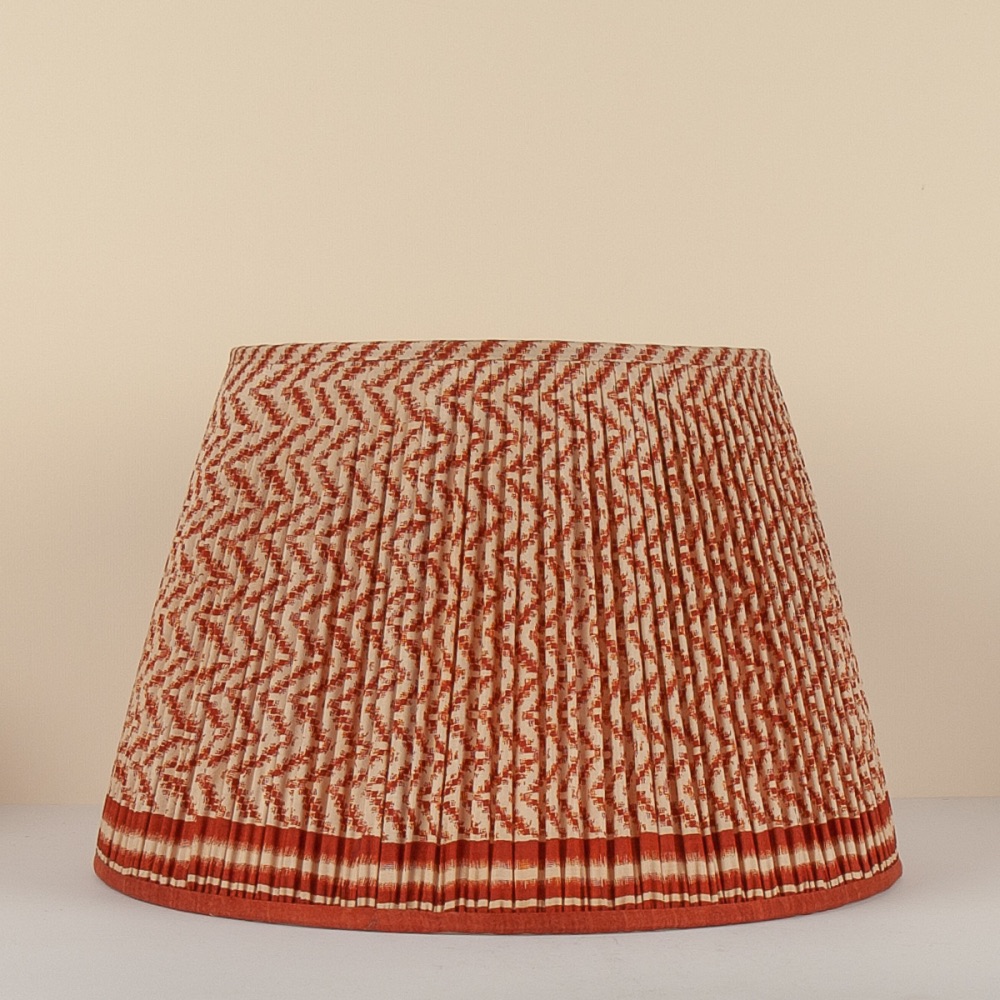 If your table lamp is asking for a makeover, this pattern will put most other models in the shade, Nushka Brown Silk Geometric Design Sari Lampshade, £230, www.trouva.com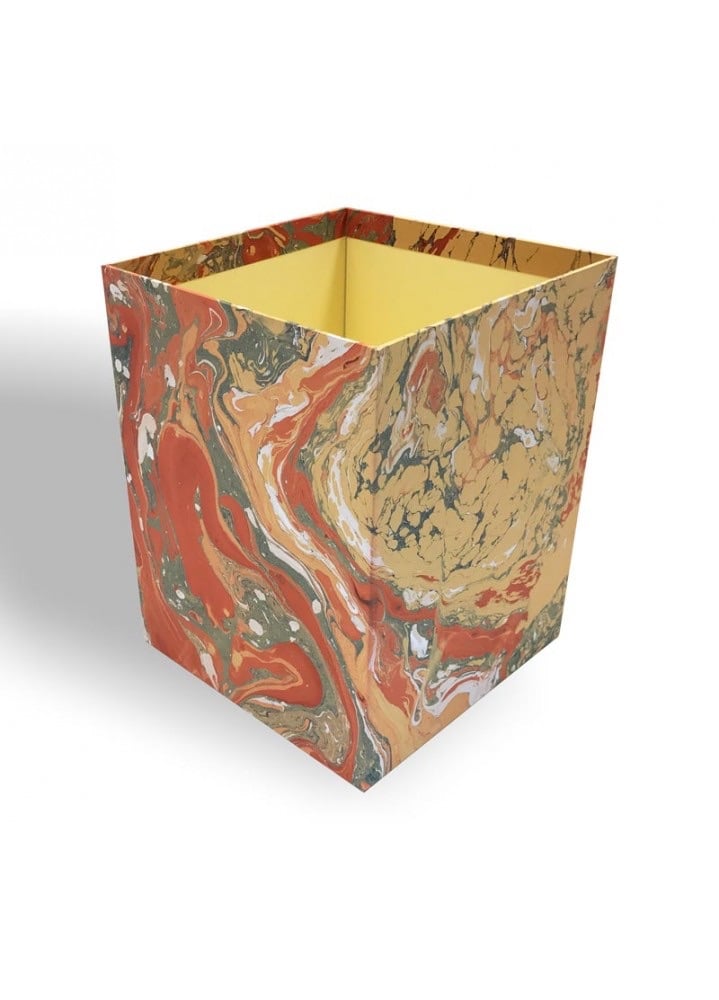 No need to loose out on style with this functional but also decorative is this marbled waste paper bin, Marbled Waste Paper Basket Carmen, EUROS 49.50, contiborbone.com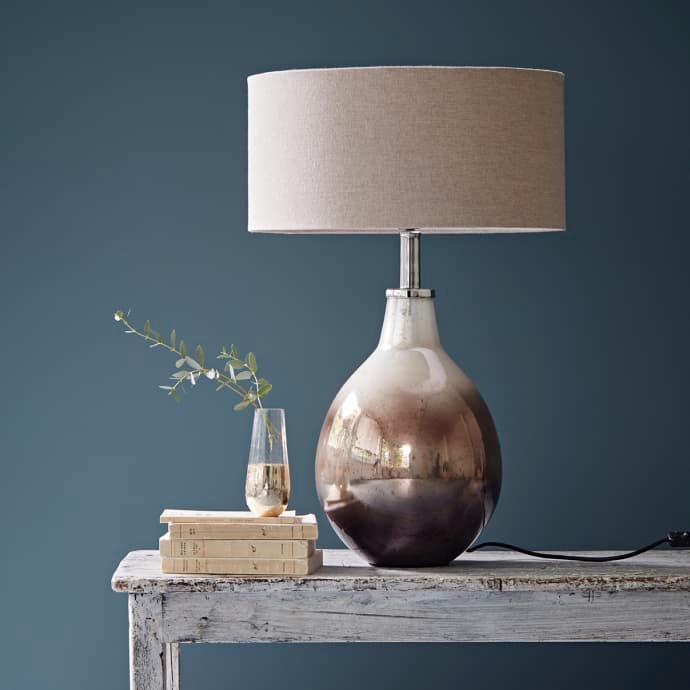 I love this mercury lamp with a colourful twist which is a perfect choice for a more neutral look, Ombre Mercurised Glass Lamps, £195, www.trouva.com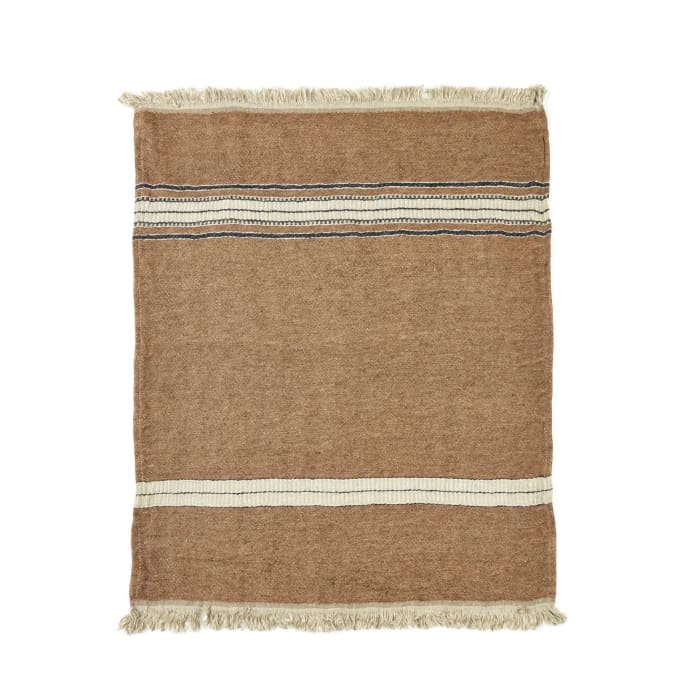 Add something cool to your cloakroom with this linen guest towel, Libeco Bruges Stripe Linen Guest Towel, £28.99, www.trouva.com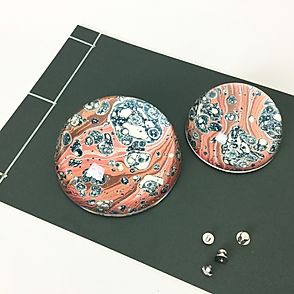 This hand marbled paperweight makes for a stylish gift and desk accessory, Sandy Stormont Paperweight, £45 www.inqstudio.co.uk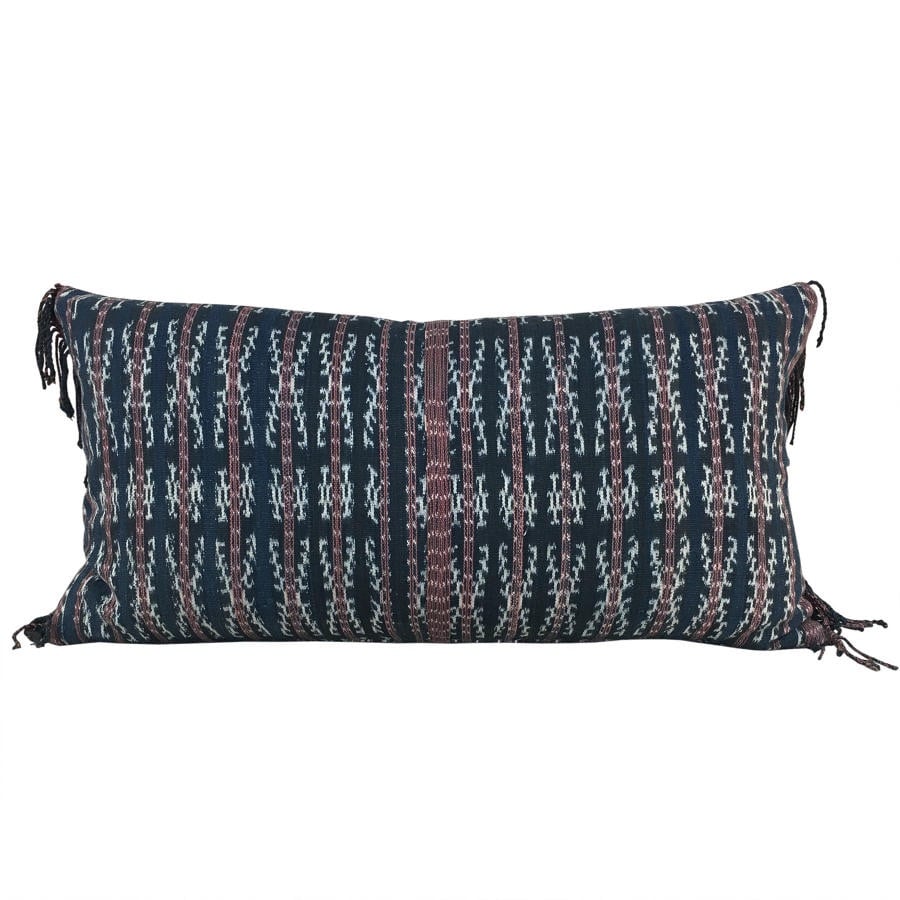 Pair up this large vintage Ikat cushion with a neutral velvet cushion and you achieve the perfect warm look on your sofas and armchairs, Ikat Cushion, £160, www.pennyworrall.com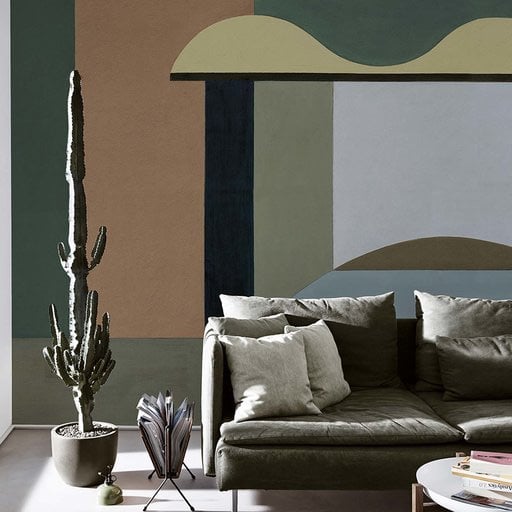 No need for any additional painting as this wallpaper speaks for itself and turns your entire wall into a work of art, Texturae Stage 1 2016 Wallpaper, £80, www.artemest.com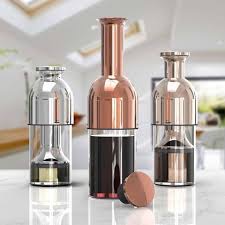 This is another fantastic gift idea for those who love their wine and entertaining. Decant your wine into one of these very stylish bottles and preserve what is left by pushing the leaver down. The remainder of the wine will keep for at least another 7 days, Etowine, £159, www.kickstarter.com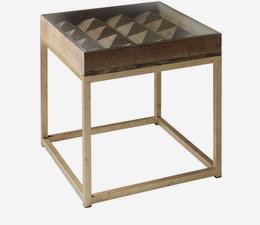 Inspired by the Alpine mountains, this rich dark wood side table is full of charm and authenticity, Alpine Side Table, £395, www.den-living.co.uk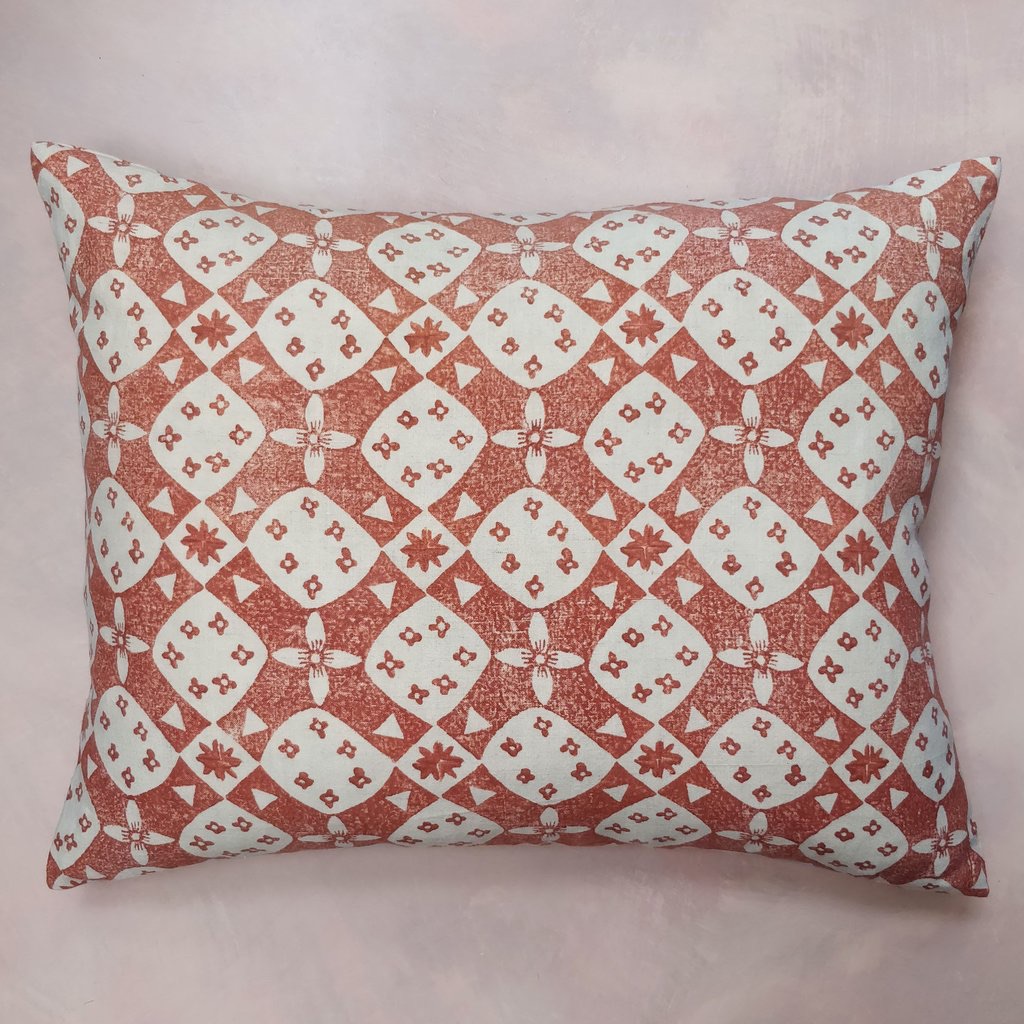 You can change the look of your living space, with just a few small touches, such as this decorative cushion, Foxy Cross & Daisy Hand Block cushion, £95, www.tobiasandtheangel.com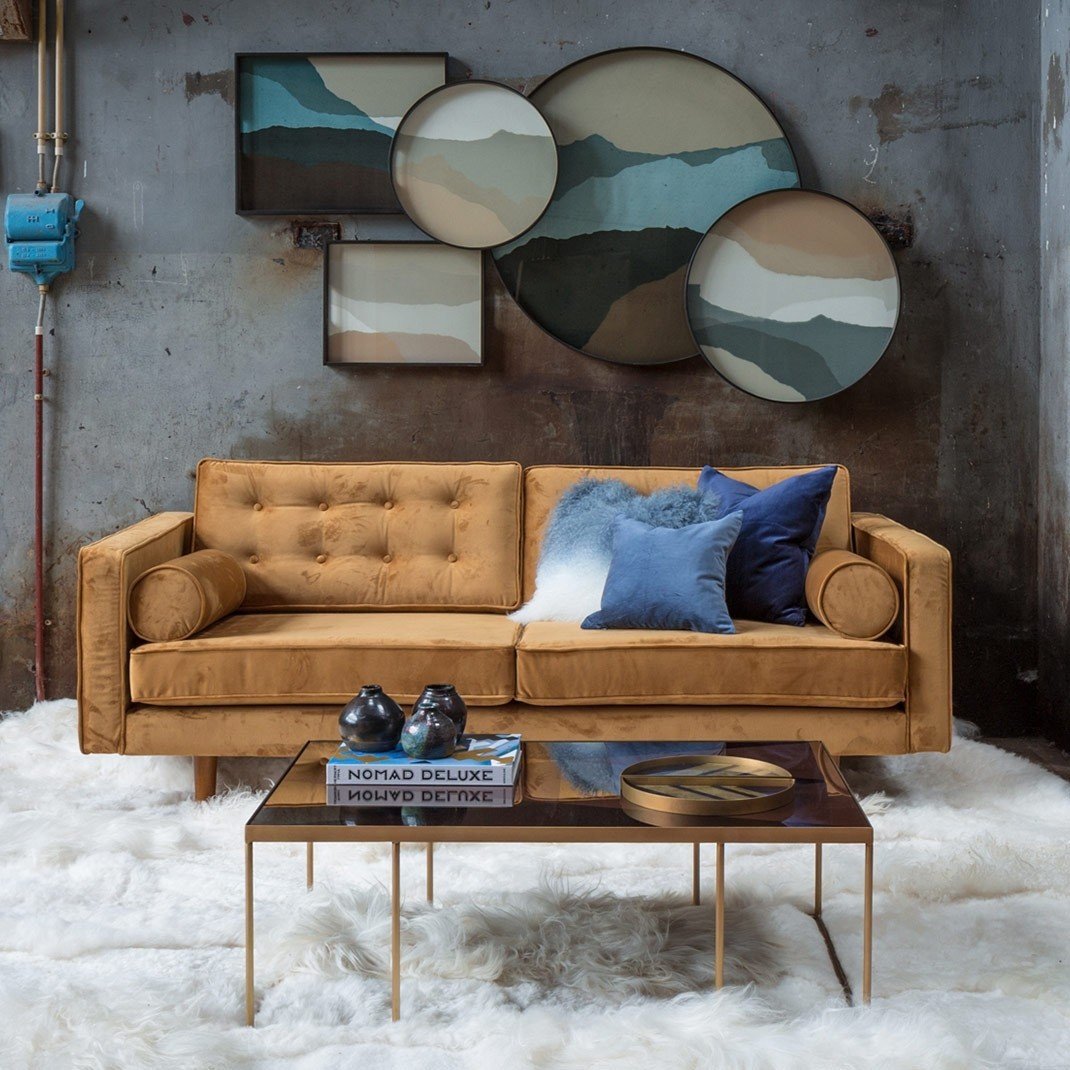 For those, who like a more contemporary look, this coffee table is a super choice, Notre Monde Geometric Rectangular Coffee Table, www.aif.london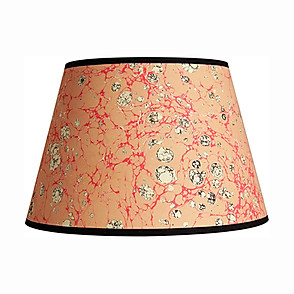 Bath based paper and lampshade designer Florence Saumarez has a wonderful collection of lampshades. If the colours on offer don't work with your interior, she is happy to produce bespoke papers and lampshades, Italian Vein Design Lampshade, £90, https://www.inqstudio.co.uk/product-page/italian-coral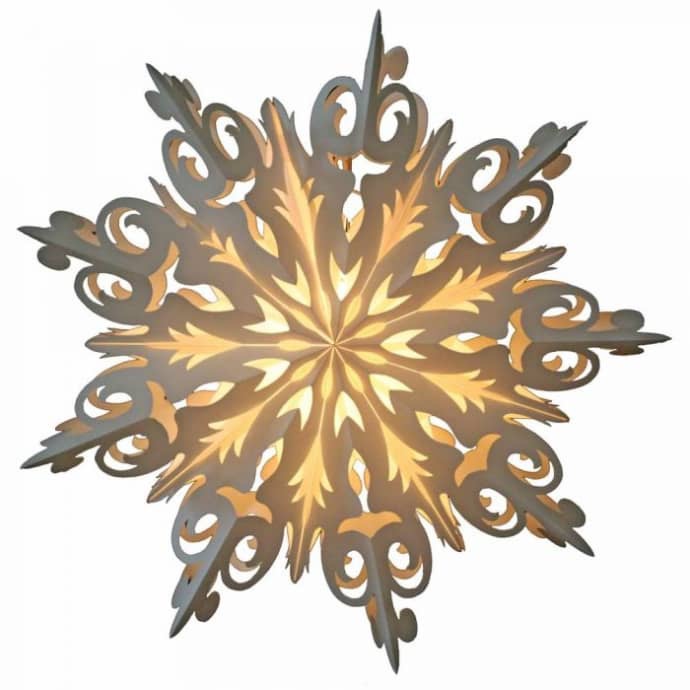 This paper cut out paper hanging lampshade provides a cozy and festive atmosphere, MoreThanHip White Paper Tiara Hanging Lampshade, £27.49, www.trouva.com

These colourful handblown glasses are the result of a collaboration between Carolina Bucci and historic Murano glass manufacture Laguna B, www.carolinabucci.com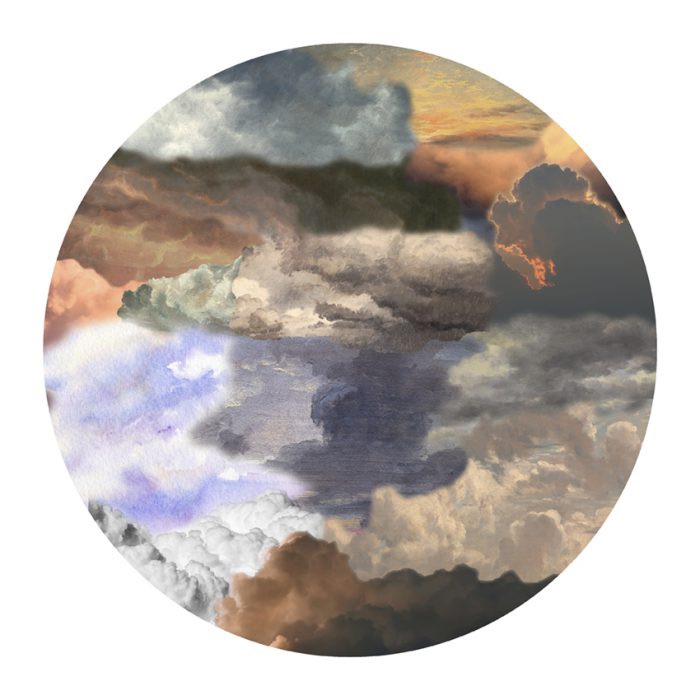 As part of Mooi Carpet's Collection, Front studied the representation of clouds in hundreds of classic and contemporary work, reproducing the very best to create a statement rug of epic proportions, £2976, www.chaplins.co.uk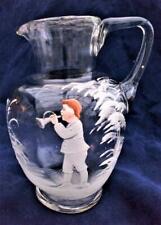 A little festive addition to your dinner table to help make the meal even more special, Antique Bohemian Glass Jug Enameled Trumpet Player, Mary Gregory Style c 1880, £35, https://www.ebay.co.uk/itm/Antique-Bohemian-Glass-Jug-Enameled-Trumpet-Player-Mary-Gregory-Style-c-1880/293207147432?_trkparms=aid%3D111001%26algo%3DREC.SEED%26ao%3D1%26asc%3D20160908105057%26meid%3Dbf61c9669c5e4b0b85af9d80bec26d14%26pid%3D100675%26rk%3D2%26rkt%3D15%26sd%3D264481612435%26itm%3D293207147432%26pmt%3D1%26noa%3D1%26pg%3D2380057&_trksid=p2380057.c100675.m4236&_trkparms=pageci%3A88a52ab8-11e5-11ea-83b0-74dbd180f9cd%7Cparentrq%3Ab243b70b16e0a4e922a92aacffd83caa%7Ciid%3A1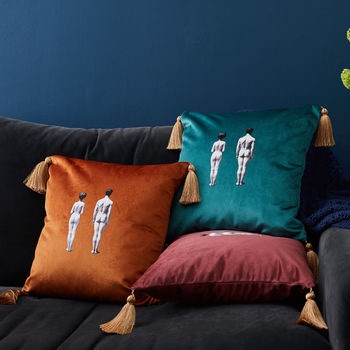 Impossible to ignore these rather funky cushions. They are perfect, if you like to give your old sofa or chair a lift or just get your dinner guests talking, Melody Rose London Models Velvet Cushion, £85, www.wolfandbager.com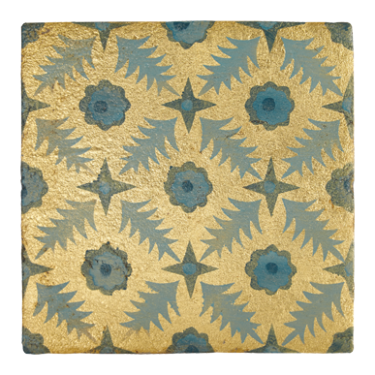 This gorgeous tile is hard to resist, if your kitchen needs a little makeover, Neisha Crosland Atlas Pine-Flower-Nile, www.firedearth.com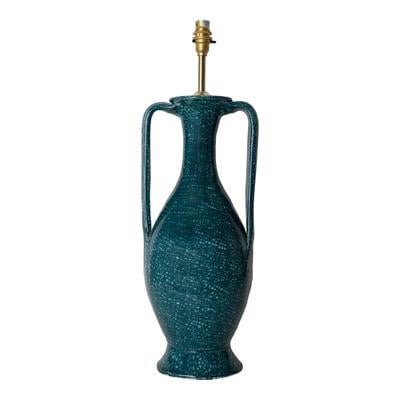 Both, colour and shape of this table lamp are absolutely stunning and wonderfully timeless, Blue Mosaic Tall Urn With Handles Ceramic Lamp Base, £410, www.pennymorrison.com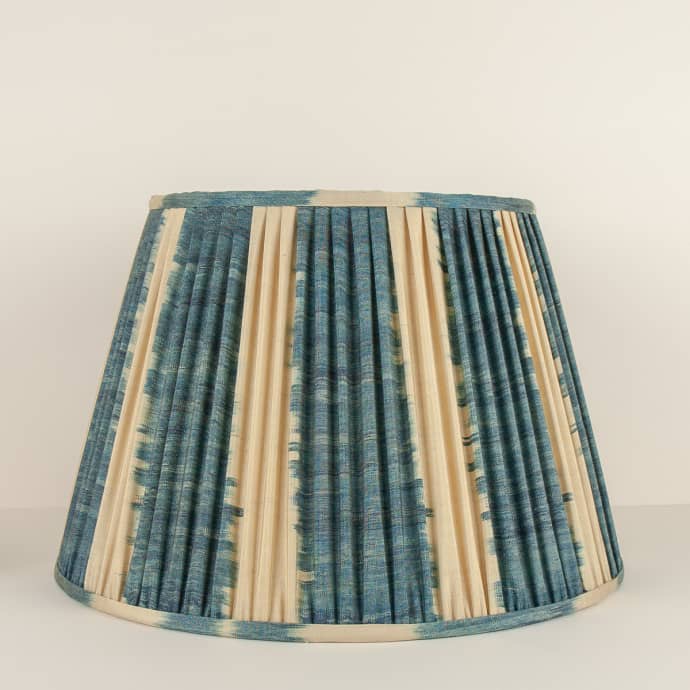 This lampshade does not feature the usual strip but is just one of a kind, Nushka Blue and Cream Strie Cotton and Silk Ikat Lampshade, £280, www.trouva.com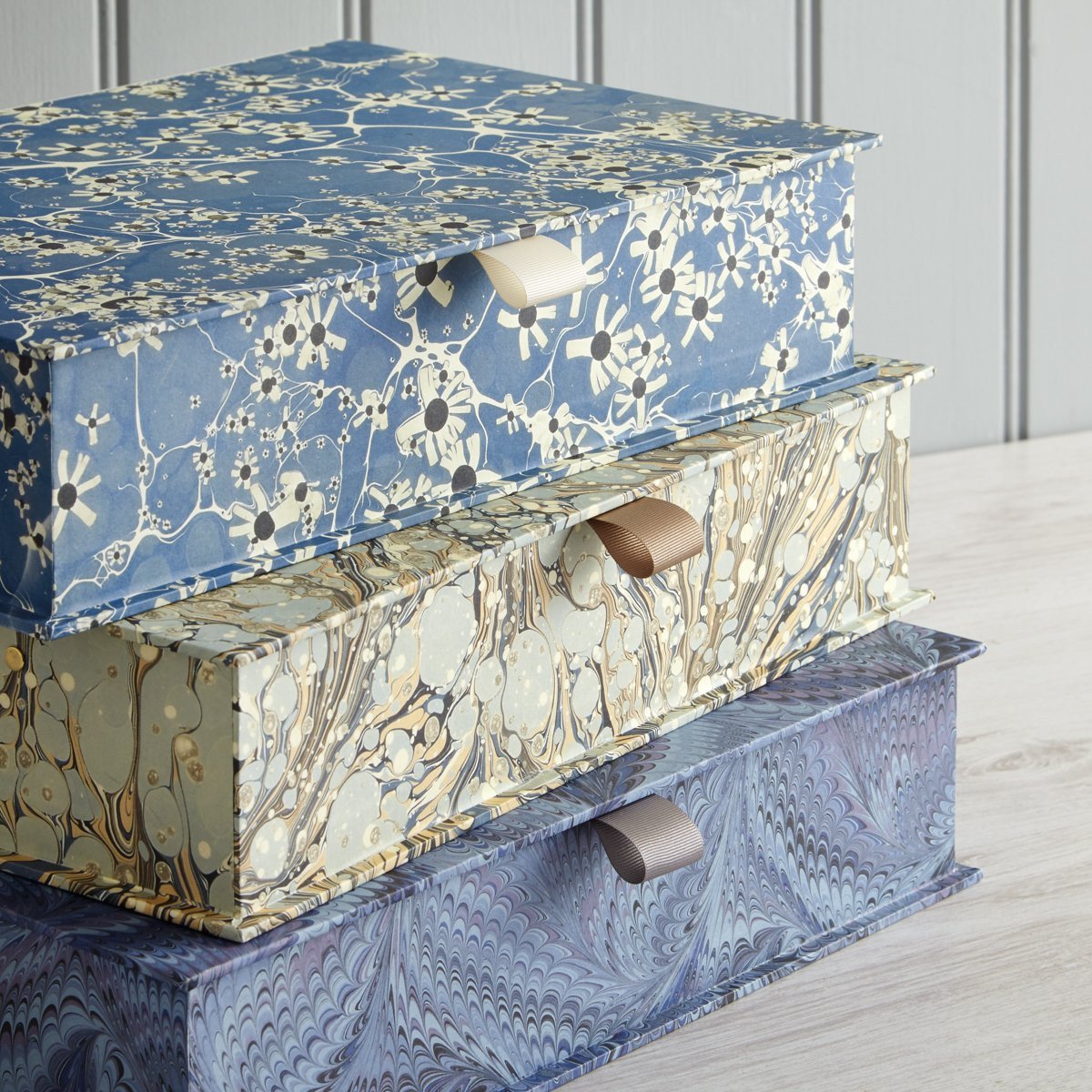 No need to loose out on style, if your documents need tidying up. These boxfiles come in a wide variety of colours and patterns, £29, www.harrisandjones.co.uk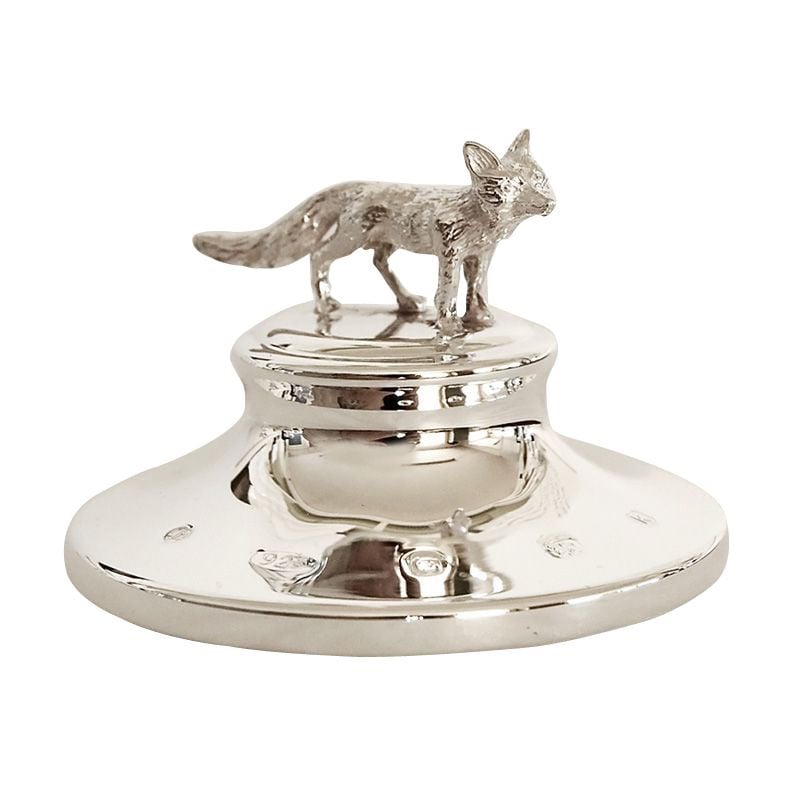 If you are still short of a gift for a lover of country sports, this little fox will come to the rescue, Sterling Silver Fox Paperweight, £115, https://www.silverplace.co.uk/sterling-silver-fox-paperweight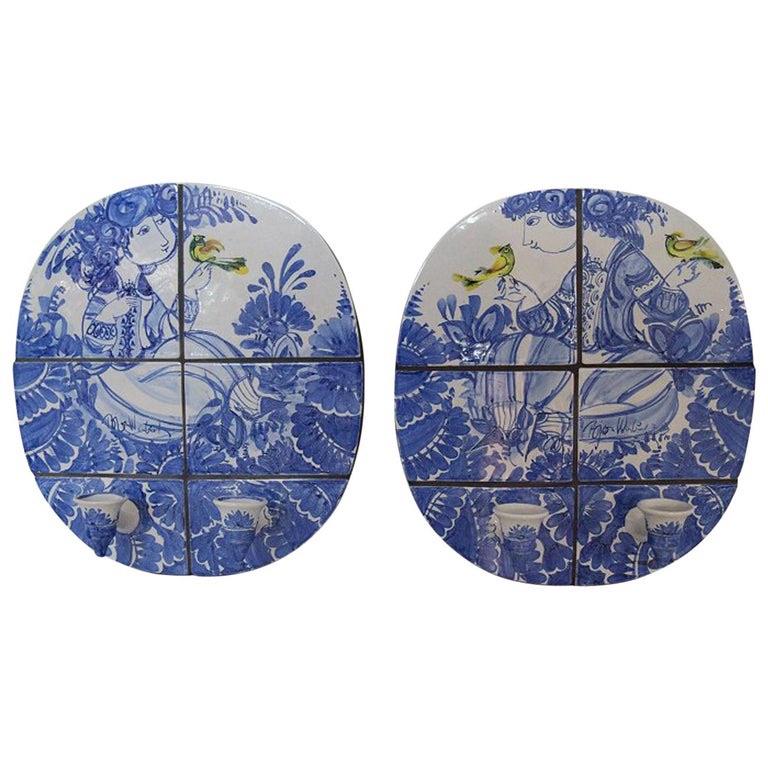 Wall lights always add to atmospheric lighting. This set is truly unique and rare and will transform your walls, Bjorn Wiinblad, 'The Blue House' Very Rare Set of Unique Ceramic Wall Lights, 1971 (signed and dated), £2475.34, https://www.1stdibs.co.uk/furniture/decorative-objects/candle-holders/candle-sconces/bjrn-wiinblad-very-rare-unique-wall-lights-pair-1971/id-f_11373101/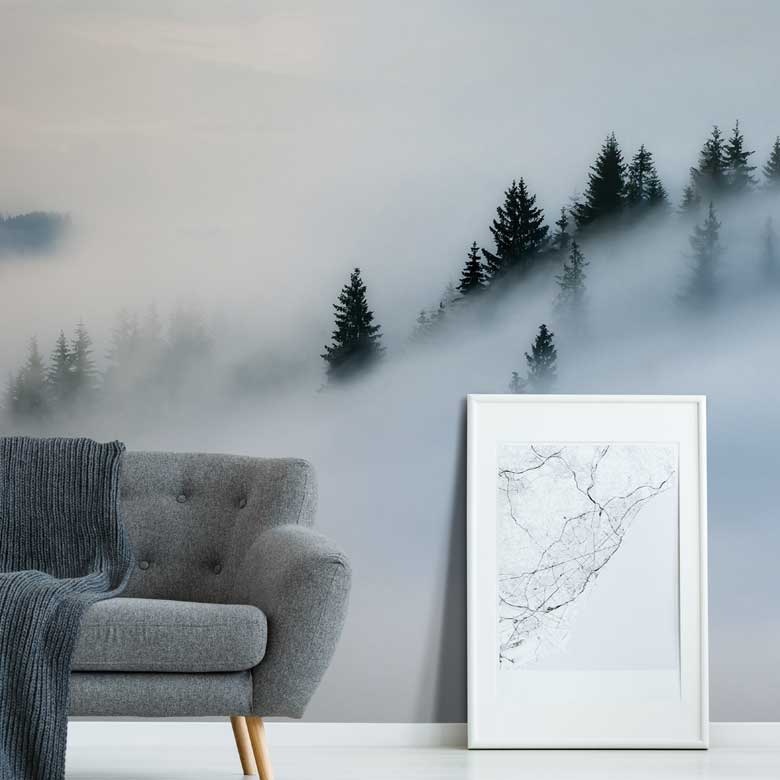 Shimmering through the mist above the Carpathian mountains, a row of pine trees rising through the clouds. This charming wall mural evokes a wonderfully calm and reflective mood, making it ideal as a mood piece in a bedroom or living room, Carphathia by La Feature Wall Mural, from £36, www.feathr.com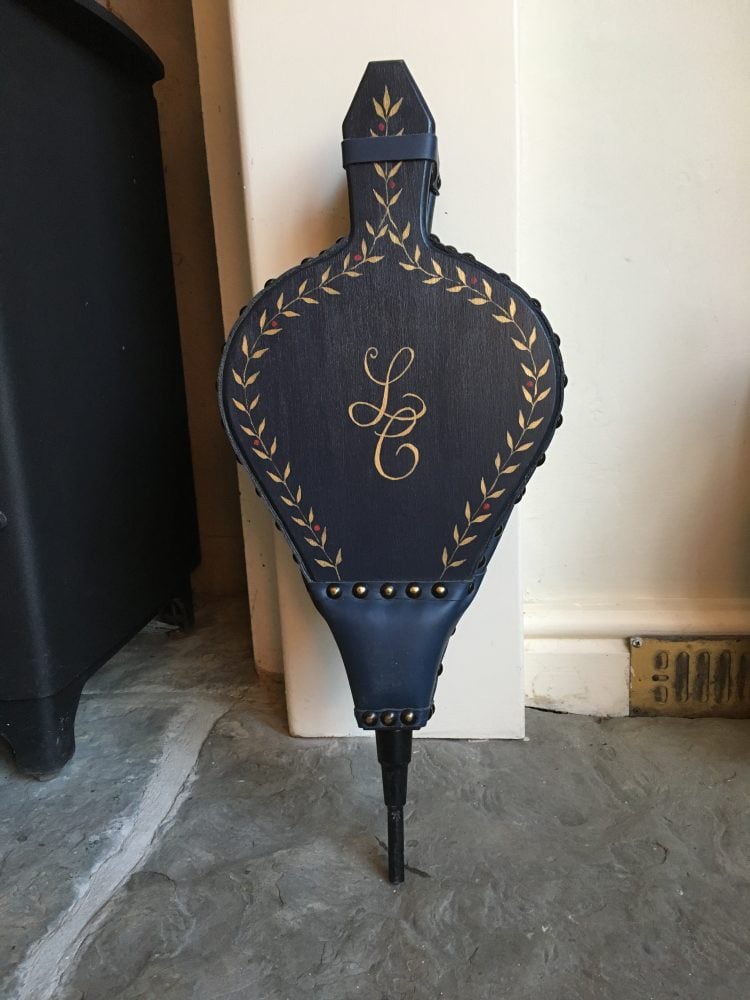 This is a super gift for those frequent users of fireplaces, especially at this time of year. Whether you like to add an initial, a family crest or other images, this is a wonderful idea, to treat someone to something very special, www.morganbellows.co.uk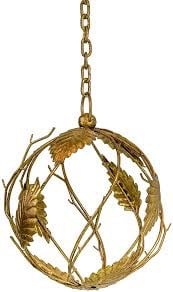 Give your ceiling a touch of glamour with this pretty French lantern, Lanterne Boule Chene, www.misendemeure.com (please contact me for further information)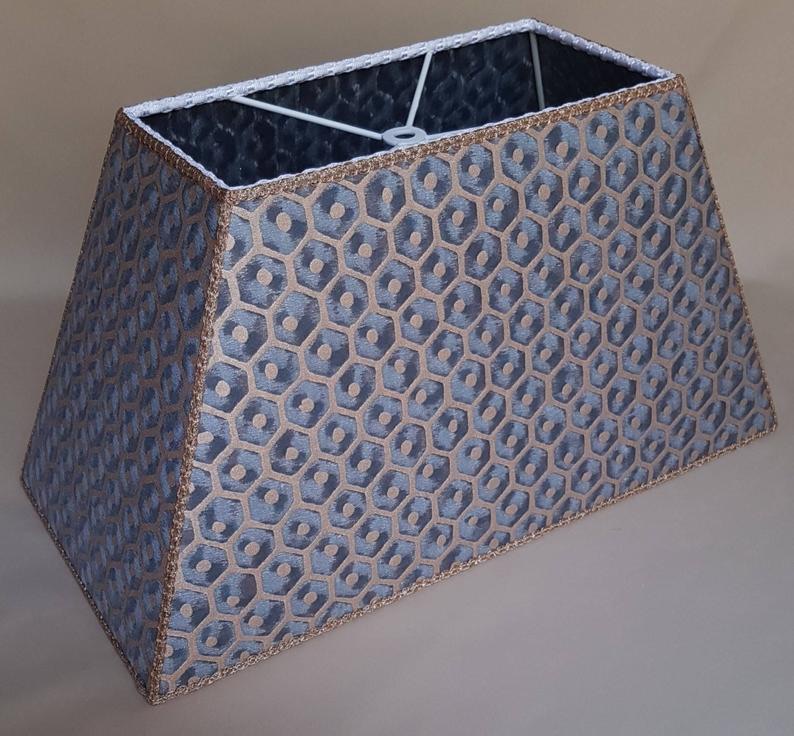 If your lamp looks better with a rectangular shade, this will provide a stunning option, Rectangle Lamp Shade Fortuny Fabric (hand made in Italy), £340.08, https://www.etsy.com/uk/listing/536990063/rectangle-lamp-shade-fortuny-fabric?ref=user_profile&frs=1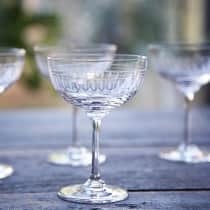 Toast the new year with this very glitzy set of hand engraved crystal glasses, Six Hand Engraved Crystal Glasses, £75, www.wolfandbadger.com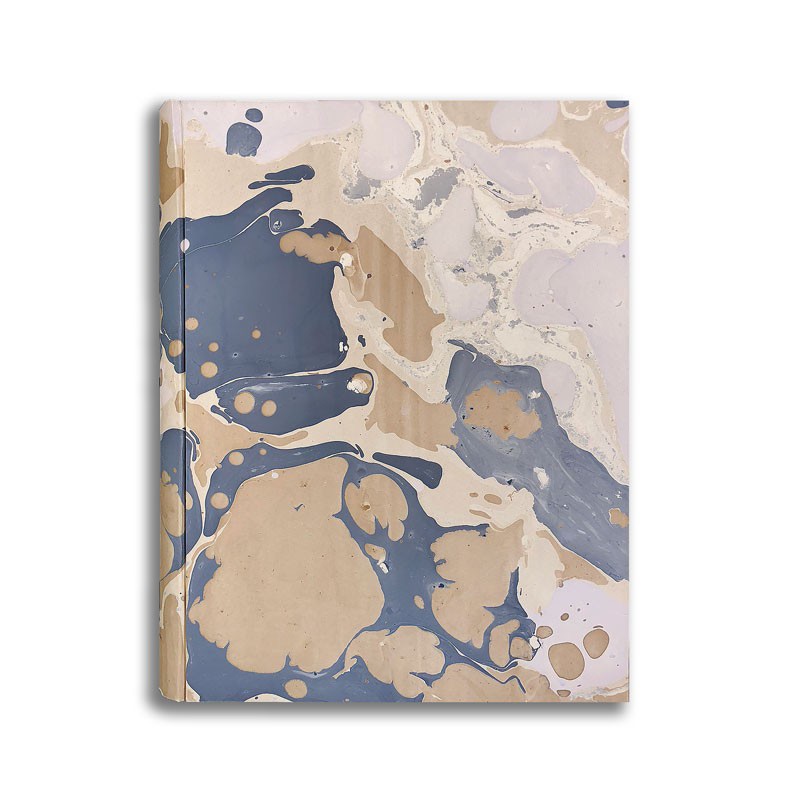 Despite living in the digital photo age, it is still rather wonderful, to pick up a beautiful album and remind you of those special moments in your life, Conti Borbone Photo Album EUROS 44.10, contiborbone.com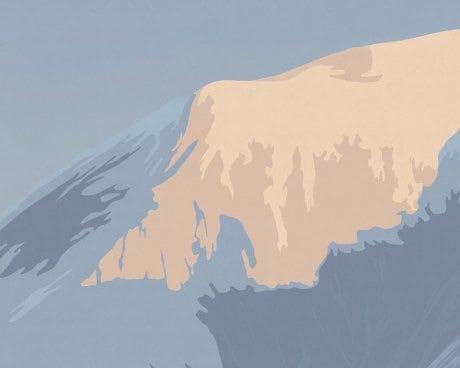 If you can't get to the Alps this winter, bring the Alps to you with this fun wallpaper, Mont Blanc Papier Paint, www.papiersdeparis.com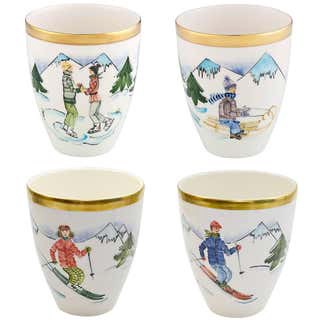 Whether you own a chalet, a house in the country or just like to add some winter decoration to your home, this set of hand painted vases with a 24 carat gold line, which are hand crafted in Germany, will provide a little bit of that 'winter wonderland' feel, Set of Four Porcelain Vases with Skier Decor Sofina Boutique Kitzbuehel, £1390, https://www.1stdibs.co.uk/furniture/decorative-objects/vases-vessels/vases/set-of-four-porcelain-vases-skier-decor-sofina-boutique-kitzbuehel/id-f_8935573/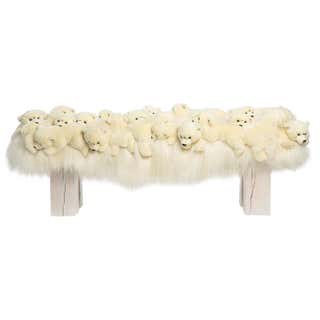 This is the ultimate hand crafted 'Piece de Resistance' when it comes to winter wonderland furniture. Given the rather large price tag, this should probably kept well away from your younger offspring, Polar Bear Bench (limited edition), £9055.73, https://www.1stdibs.co.uk/furniture/seating/benches/polar-bear-bench-limited-edition/id-f_14078781/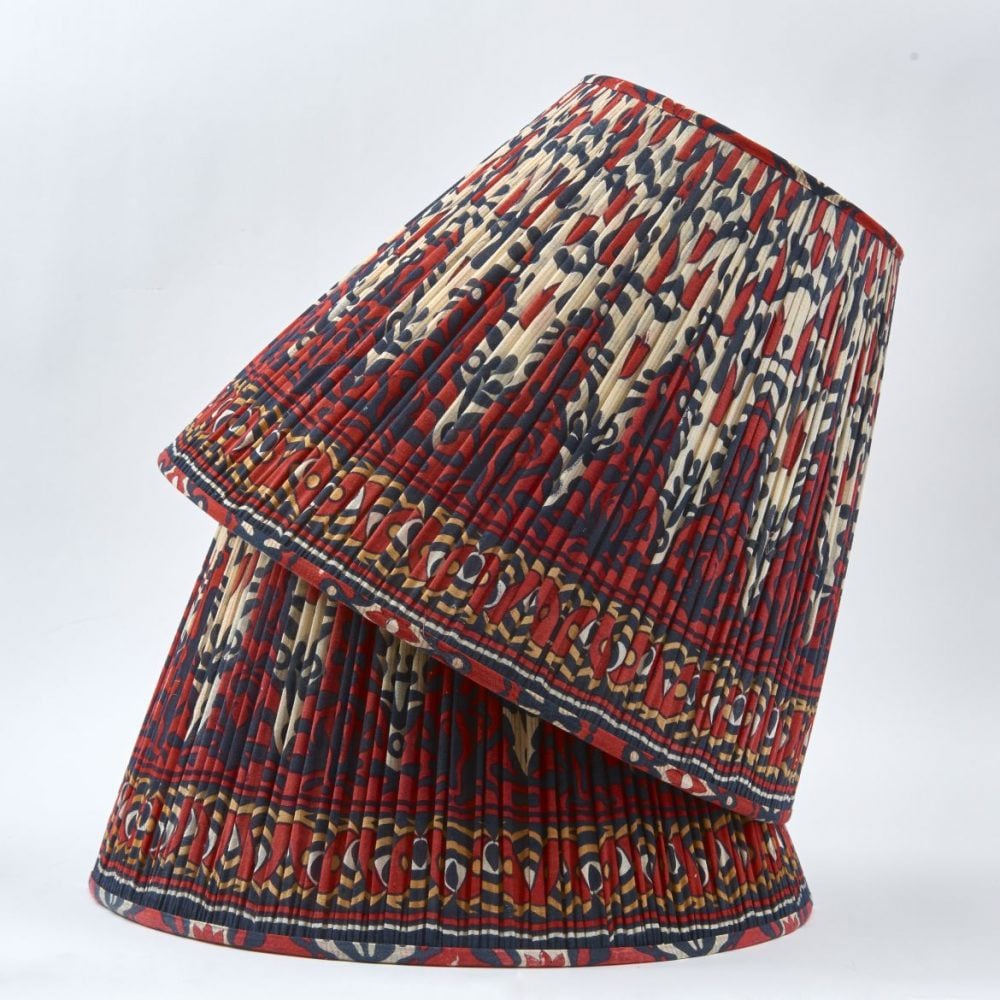 If your drawing room is in need of cozy lighting, these gorgeous sari lampshades will come to the rescue, Red, Blue and White Vintage Sari Shades, www.guinevere.co.uk
FESTIVE INTERIORS TO INSPIRE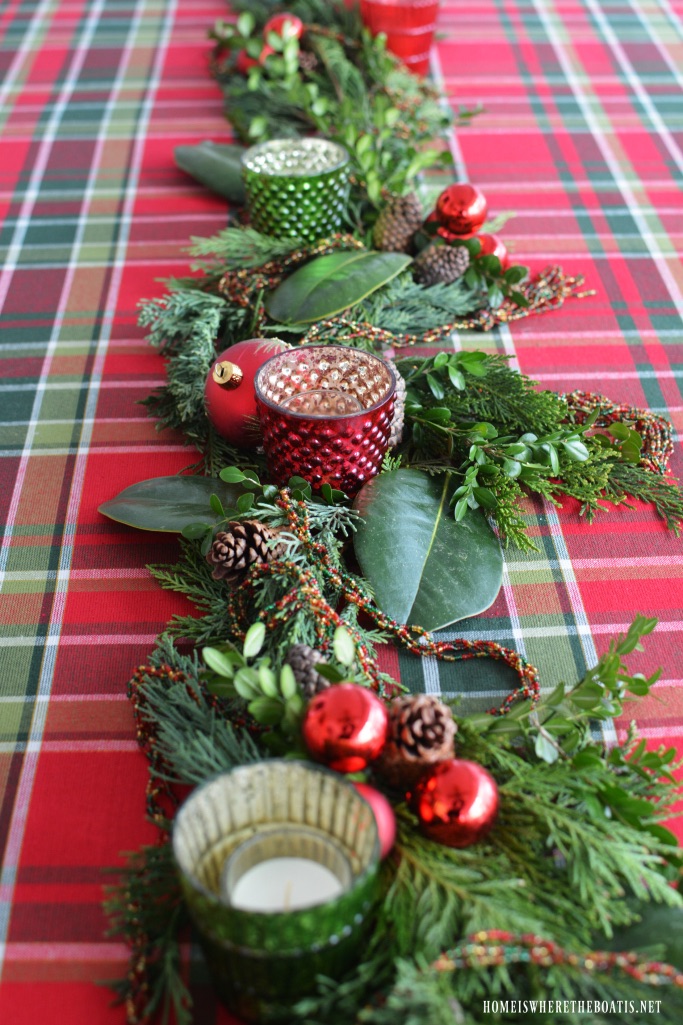 Via: homeiswheretheboatis.net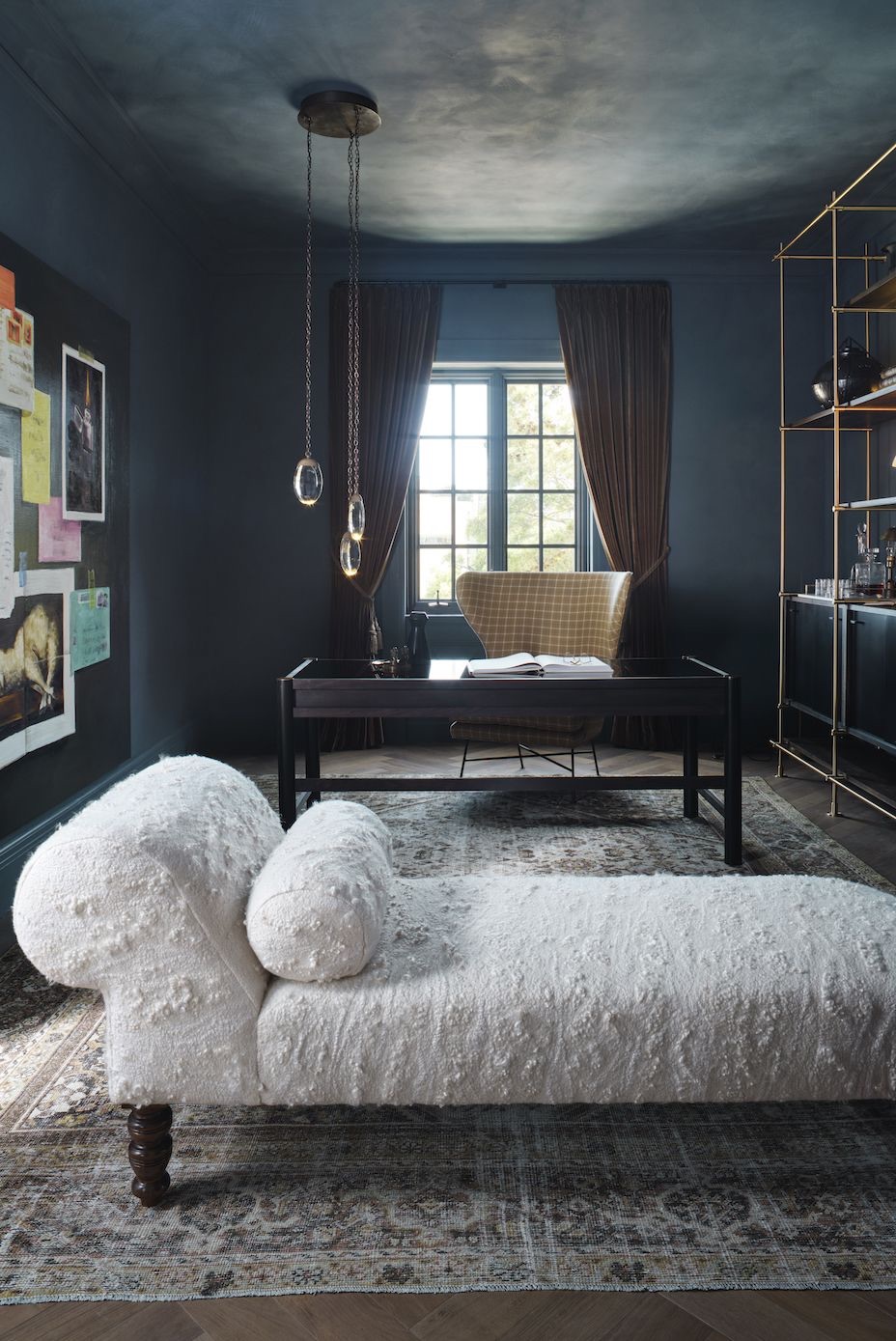 Via: www.elledecor.com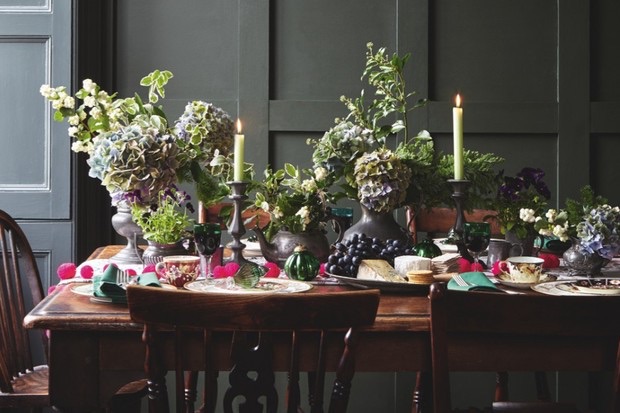 Via: www.homesandantiques.com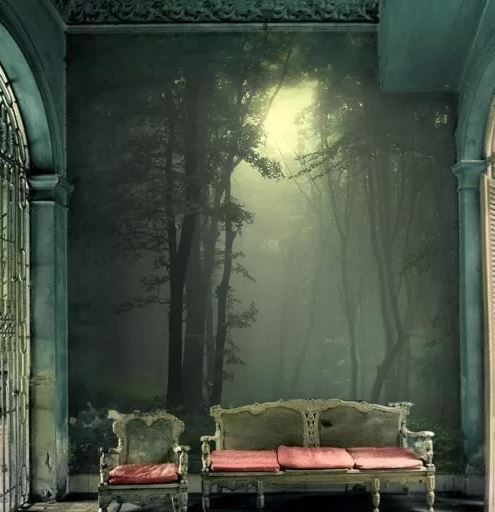 Via: www.google.com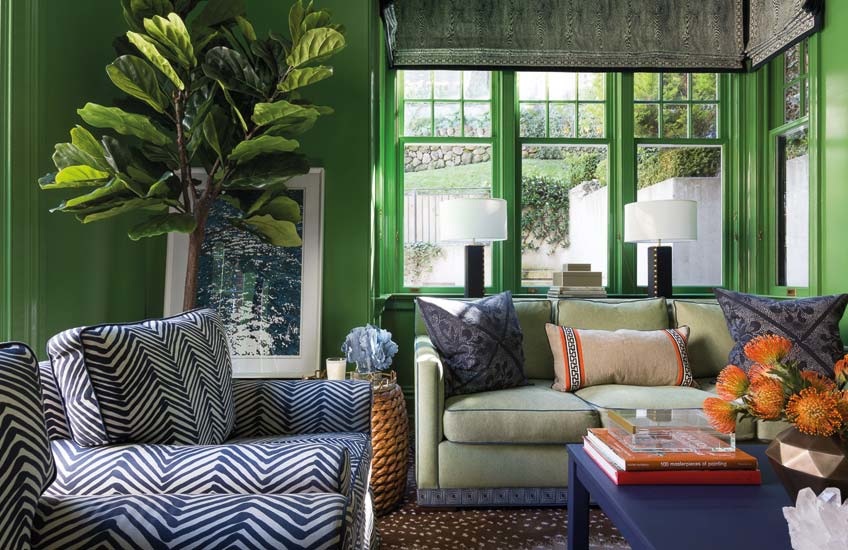 Via: www.luxdeco.com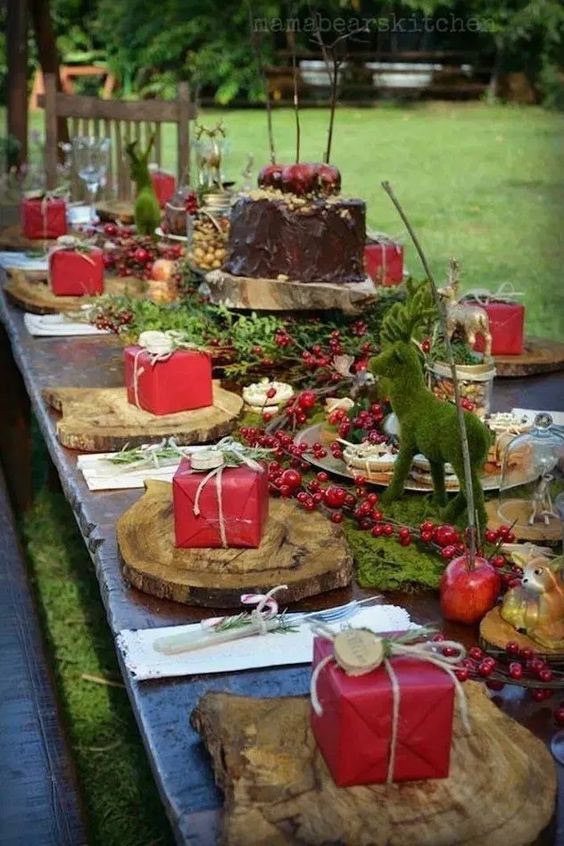 Via: www.pinterest.ch (Alesya Jasmine)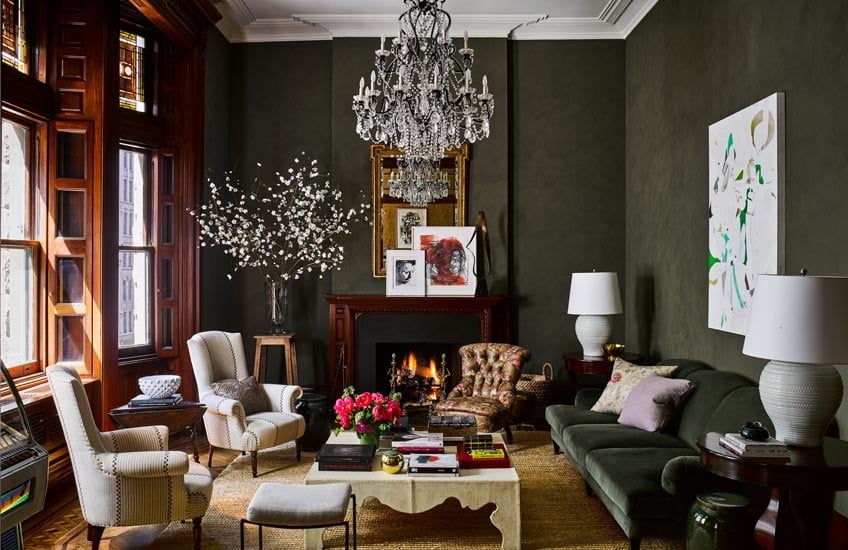 Via: www.luxdeco.com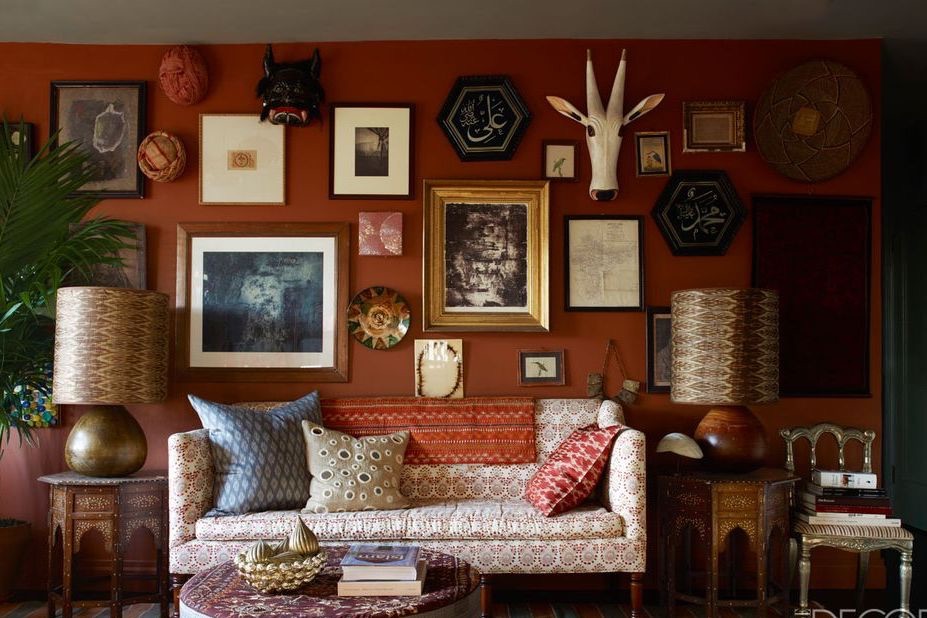 Via: www.google.com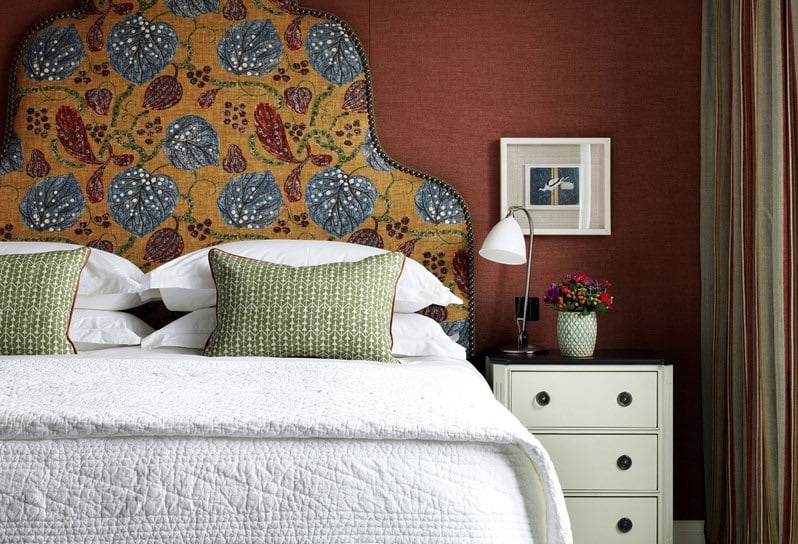 Via: www.firmdalehotels.com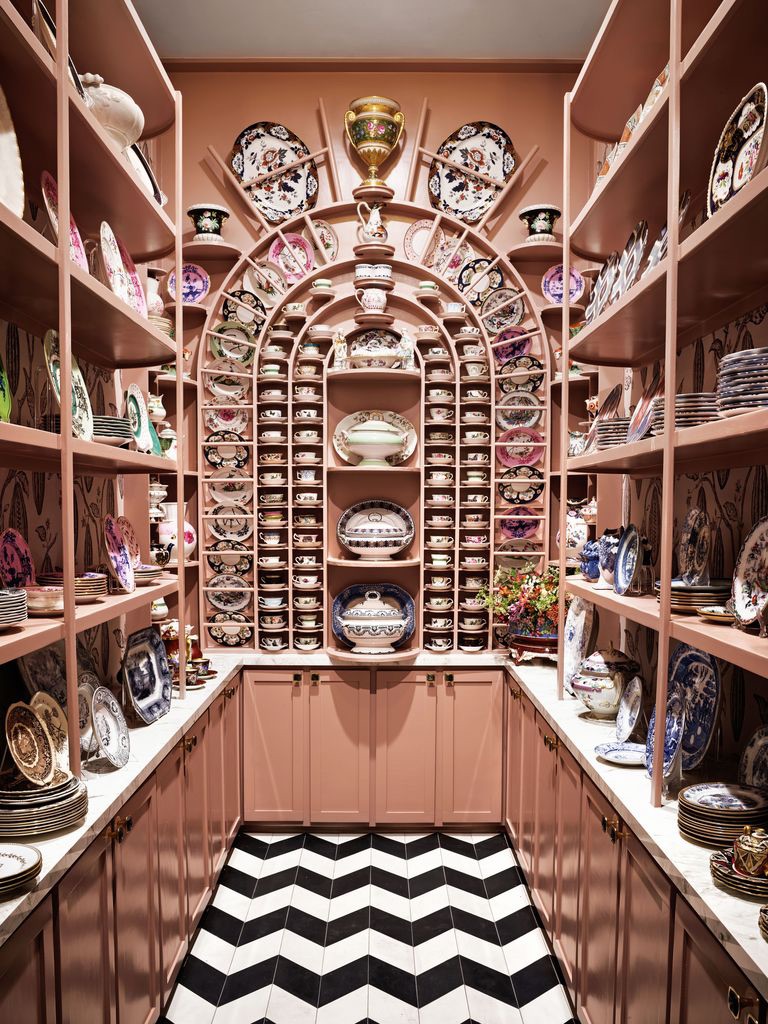 Via: www.housebeautiful.com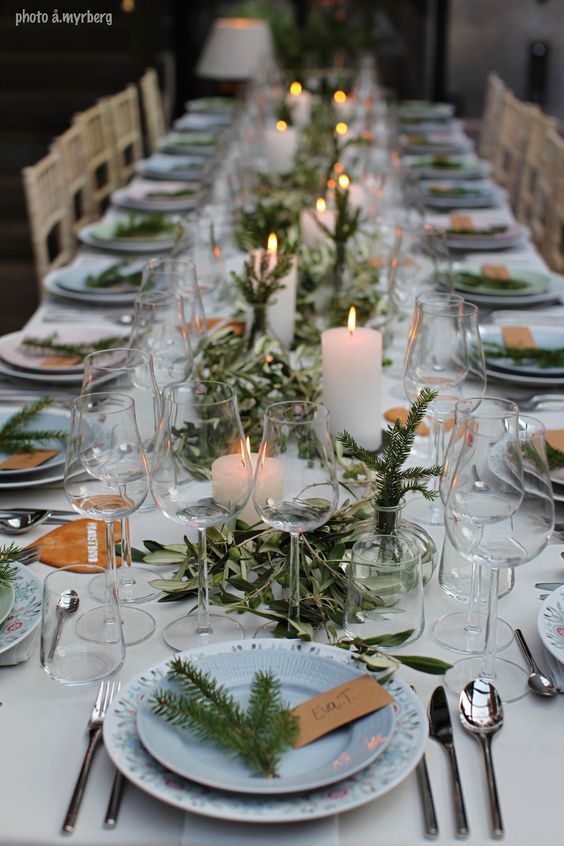 Via: www.pinterest.ch (Kurbits, blogg.skonahem.om)