Handcrafted Lampshades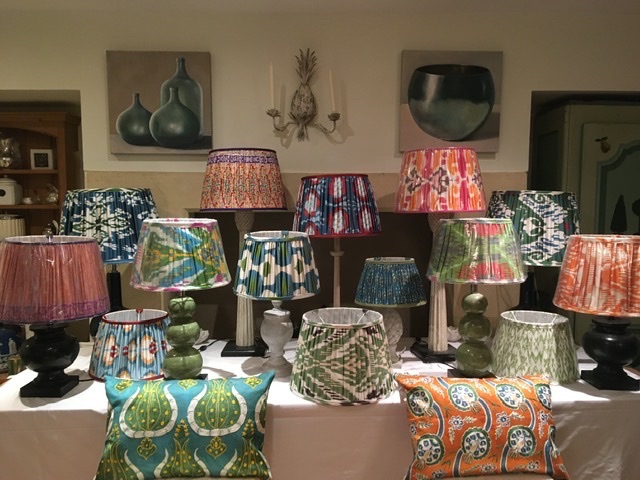 Many of my fabrics are sourced from far flung places. My Ikat fabrics are hand woven and dyed and come from Uzbekistan or Turkiye, where the suppliers are often local artisans or smaller outlets. My Indian Silk Sari fabrics are all vintage and I hugely enjoy, giving these beautiful silks a new lease of life. I also use carefully selected blockprint fabrics from India.
At the same time, I am always on the lookout for antique, vintage or recycled natural hand crafted and beautiful materials, which I enjoy bringing back to life. Not only do these fabrics look stunning, you can be sure, that the lampshades I create, are quite unique.
If you have any questions regarding the lampshades featured on this page or are interested in two of the same pattern or different sizes, please quote the name given to your selected lampshade. Many of my fabrics are one offs or are produced in small quantities. The vintage Silk Saris are one offs, although there can be enough fabric for 2-4 lampshades, depending on the size of the shades. Ikats vary, some suppliers can offer additional meterage.

For enquiries and further advise, please contact me on:
Email: [email protected]
Mob: +44 7510 843232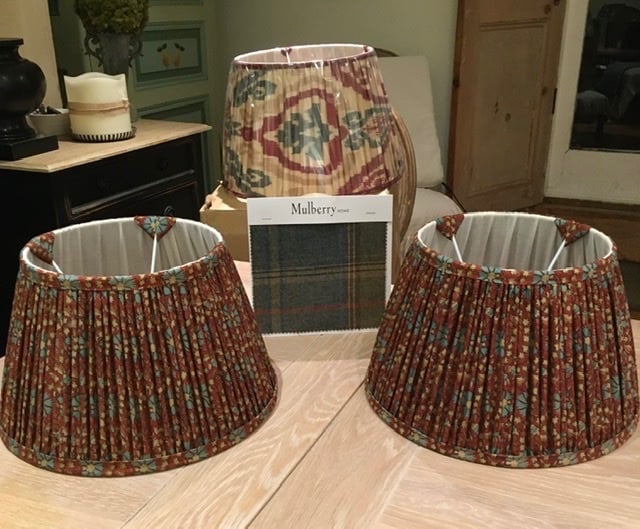 The above combination of fabrics and colours was one of my projects for a chalet in the Swiss Alps.
I can also offer a bespoke lampshade service, with a fabric of your choice or find sutable fabrics, which work with colours, furniture and decoration of your home.
Please note though, hand stitching lampshades is a craft which takes time. If you are interested in having a lampshade made, which is not in stock, please allow time for this. The same applies to those fabrics, not in stock, which need to be ordered. Given the destination from which my fabrics are supplied, it can take some time for them to reach the UK. So far, all my customers were happy to wait and have rather enjoyed the anticipation of knowing, that they will be receiving a unique and hand crafted lampshade especially made for them. For lampshade commissions, I will require a 50% of the total price upfront band the remaining 50% when the lampshade is ready to be shipped.
To compliment my lampshades, I have selected a small number of decorative cushions, especially Ikats and Suzanis from Uzbekistan and Turkiye, which I have added to my collection. The cushion covers can be sold with or without the inner cushion pads. All my cushion inner pads are made of cotton cover with duck feather.
When choosing fabrics for my lampshades and cushions, I am looking for quality pieces which are either unique and one offs, or have very limited availability. My aim is to add something beautiful to a room, which one doesn't see elsewhere.
Lampshade Frame Measurements
BASE TOP HEIGHT
10": 260mm 178mm 167mm
12": 310mm 204mm 182mm
14": 360mm 250mm 231mm
16": 410mm 305mm 275mm
18": 460mm 356mm 321mm
Lampshade Carriers
All my lampshades require a lampshade carrier, which are sold seperately. I supply models with a European fitting which come with a Plastic Reducer, enabling the carrier to be used both on UK as well as European Lamp Holders. Please find below the most popular sizes and price list:
3 Inch Carrier: £3.00
4 Inch Carrier: £3.50
5 Inch Carrier: £4.00
6 Inch Carrier: £4.50
7 Inch Carrier: £5.00
MEDIA
I am very pleased to have received very positive feedback from client's as well as local media and have had features in 'The Bath Magazine', one of the main local magazines reaching at least 15.000 households in and around Bath.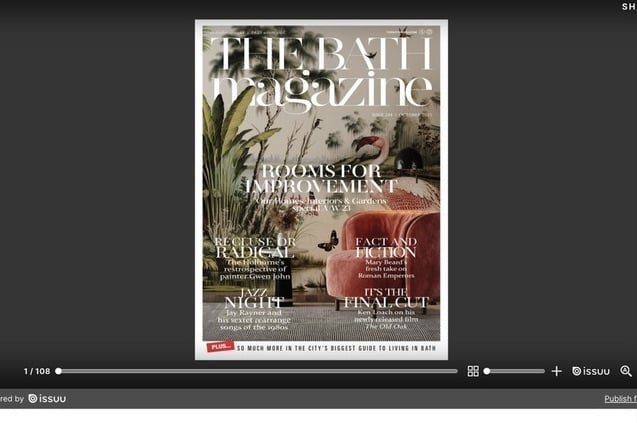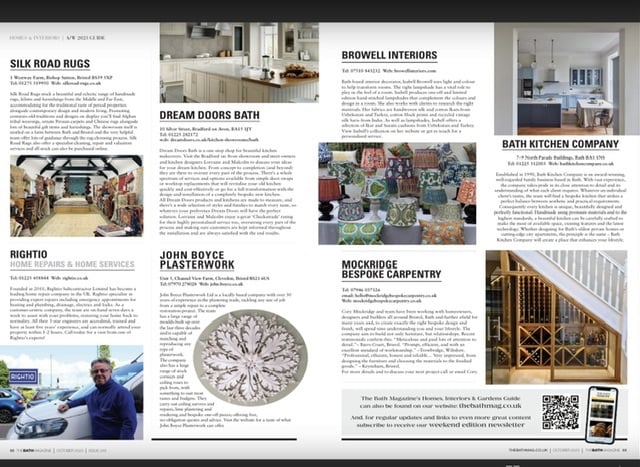 The Bath Magazine: October 2023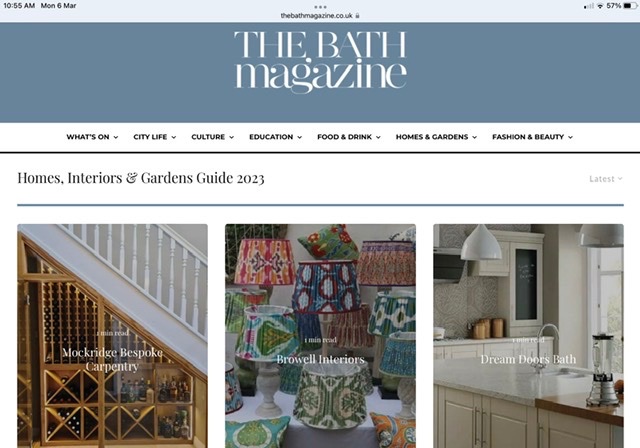 Feature in The Bath Magazine online shopping guide, March 2023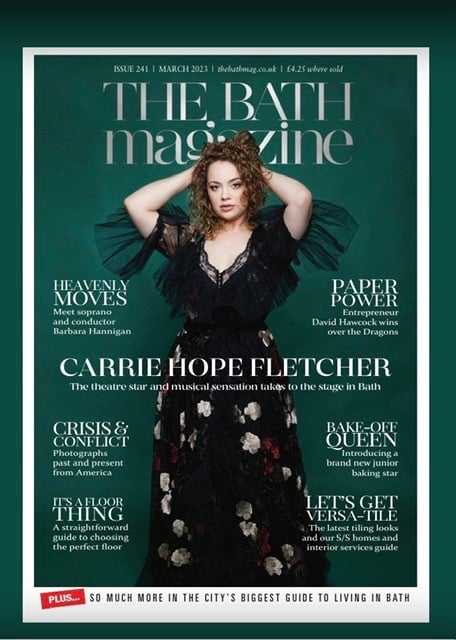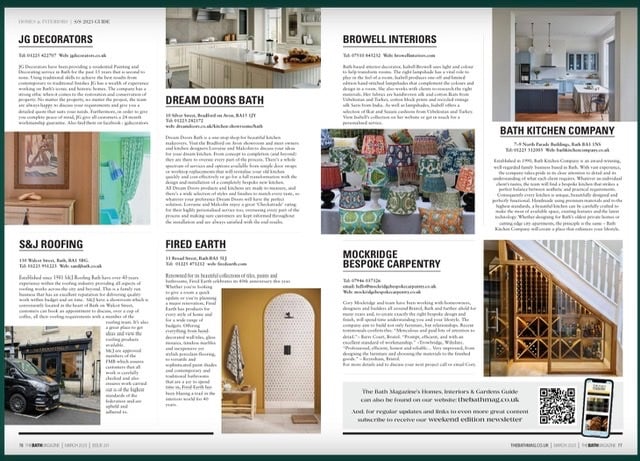 The Bath Magazine, March 2023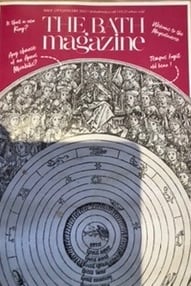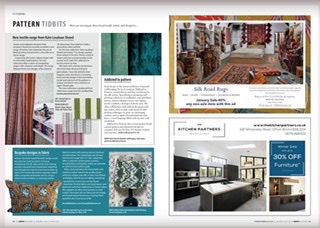 The Bath Magazine, January 2023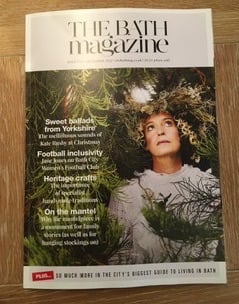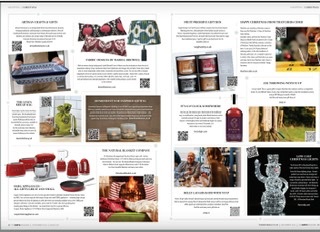 The Bath Magazine, December 2022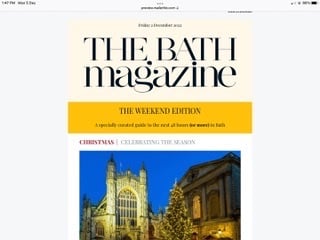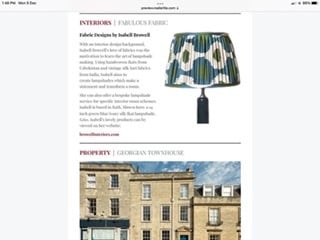 The Bath Magazine, online feature, December 2022
Shipping: I can ship my products to any address within the UK, Scotland and Northern Ireland. Costs depend on size and quantity of lampshades and cushions and will be confirmed prior to payment.

International Shipping: Depending on the country, I might be able to arrange shipment, subject to quotes and destination country.
Returns: Lampshades and cushions can be returned in exchange for either other products or Credit vouchers. Returns must be made withing 2 weeks of receipt and returned undamaged.
PLEASE NOTE: If I dont have the required fabric quantities in stock, I will have to order it from my supplyers in Uzbekistan and Turkiye. As this is a handwoven fabric produced in limited quantities, I will need to check at the time of placing the order, whether the quantity needed for new lampshades order is in stock. Please be also aware, that these fabrics will be produced and shipped from regions, where it can take from 2 up to 5 weeks to be delivered in the UK.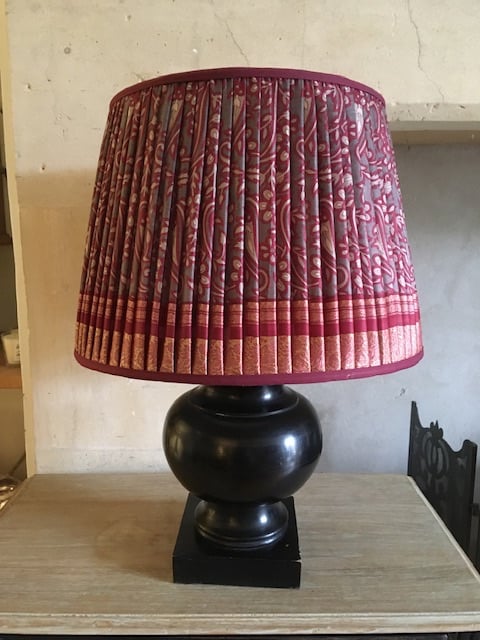 Kate: Vintage silk sari fabric from India (16" Lampshade) £225
(1 Lampshade in stock and one further Lampshade can be made to order)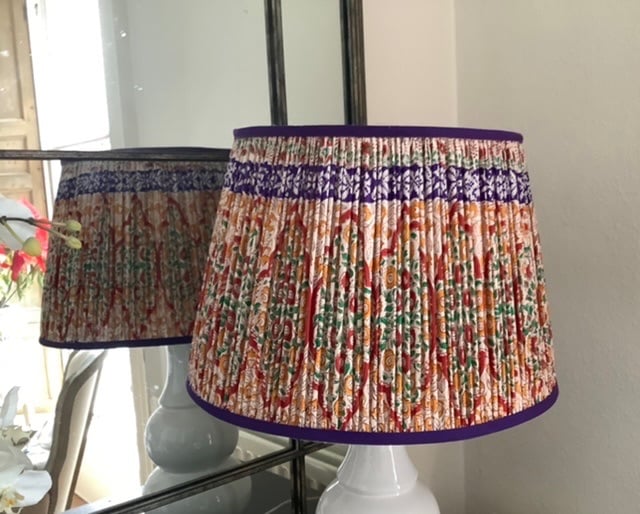 Selina: Vintage silk sari fabric from India (16" Lampshade) £225
(1 Lampshade in stock and one further Lampshade can be made to order)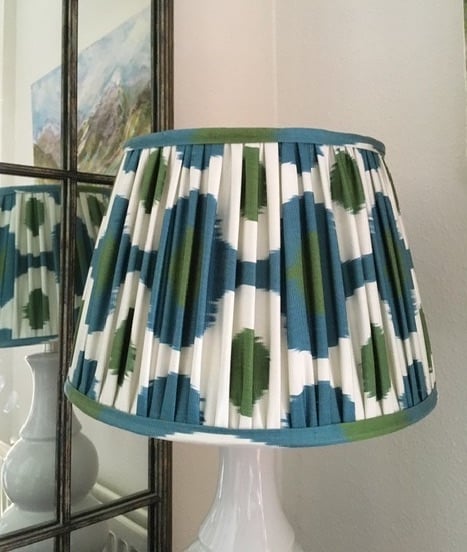 Betty: Silk Ikat fabric from Turkiye (14" Lampshade) £195
(Sold but can be made to order.)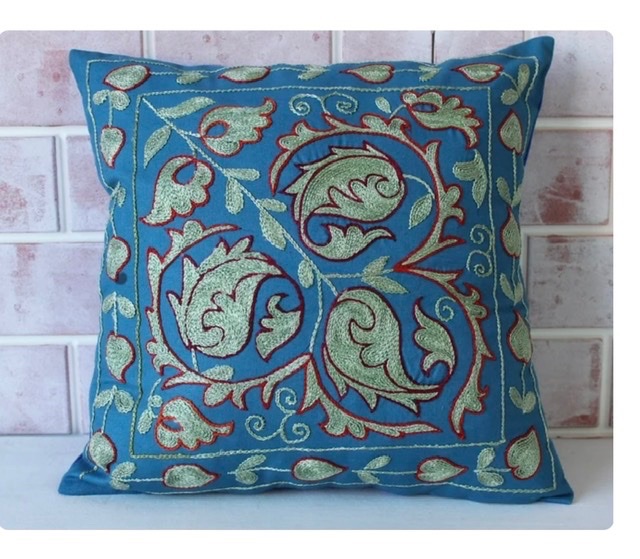 Hand embroided Suzani cushion with cotton backing from Turkiye, 43cm x 43cm £130each ( 2 cushions available)
(Cushion cover only. Cushion inner pad can be supplied for an additional £10 per cushion)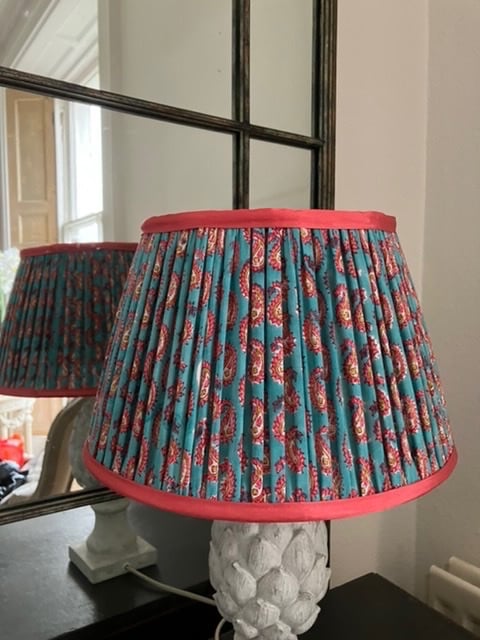 Rose: Blockprint fabric from India (12" Lampshade) £140
(1 Lampshade in stock and one further Lampshade can be made to order)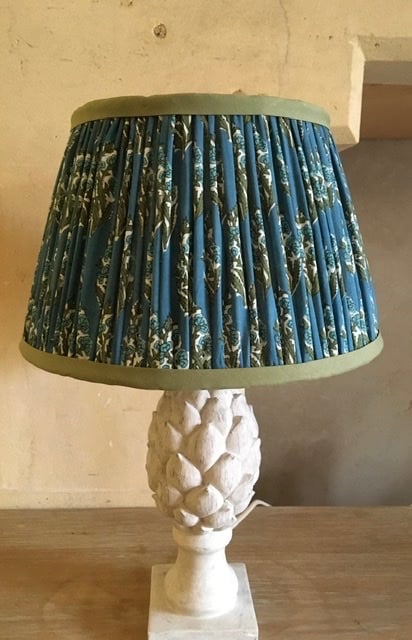 Agneta: Blockprint fabric from India (12" Lampshade) £140
(1 Lampshade in stock and one further Lampshade can be made to order)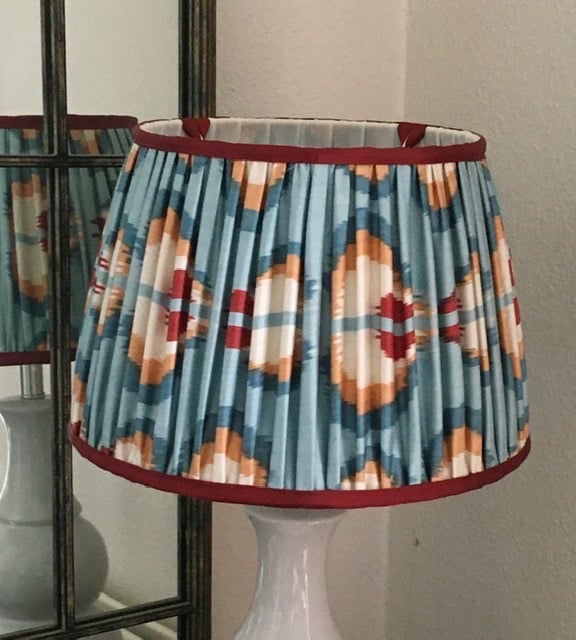 Bernadette: Silk Ikat fabric from Uzbekistan (14" Lampshade) £195
(1 Lampshade in stock and one further Lampshade can be made to order)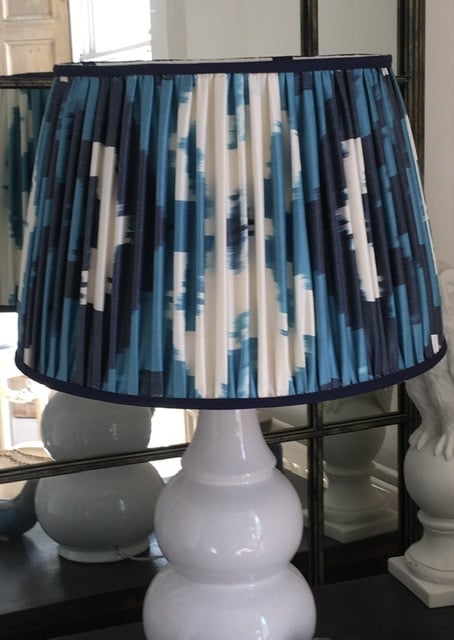 Paros: Silk Ikat fabric from Uzbekistan (16" Lampshade) £225
( Lampshade sold but fabric can be re-ordered)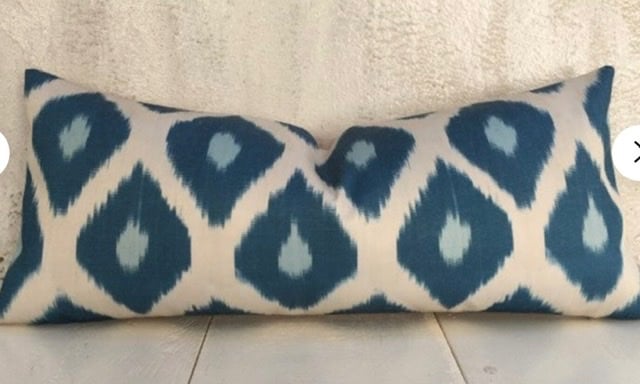 Ikat cushion with cotton backing from Turkey, 10" x 24", (80% silk / 20% cotton), 79£
(Cushion cover only. Cushion inner pad can be supplied for an additional £10)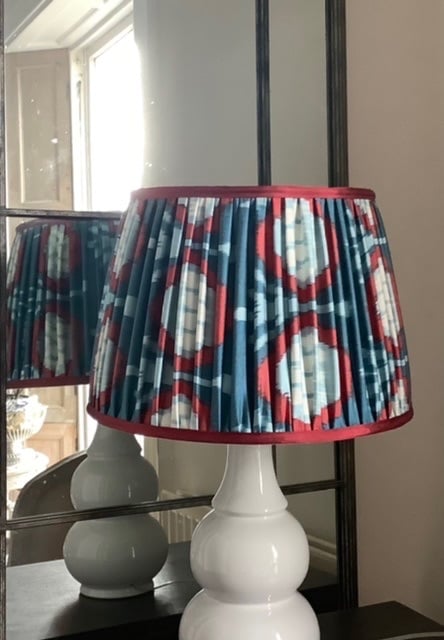 Samantha: Silk Ikat fabric from Uzbekistan (16" Lampshade) £225
(1 Lampshade in stock and one further Lampshade can be made to order)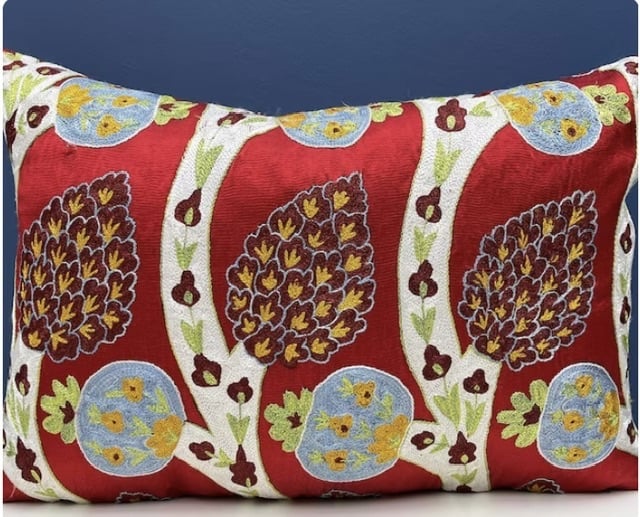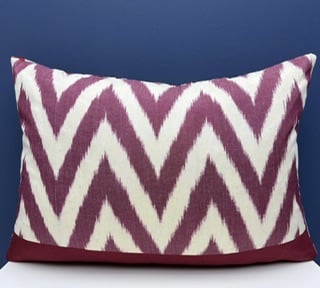 Hand embroided silk Suzani Cushion from Turkey, 16" x 24" (Silk embroidery on silk fabric with cotton backing): £140 (1 cushion cover available)
(Cushion inner pad can be supplied for an additional £10 per cushion)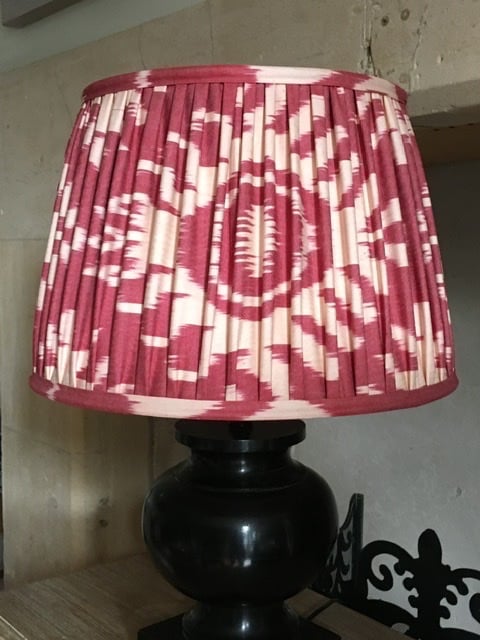 Nikolaus: Ikat fabric from Uzbekistan (16" Lampshade) £225
(1 Lampshade in stock and one further Lampshade can be made to order)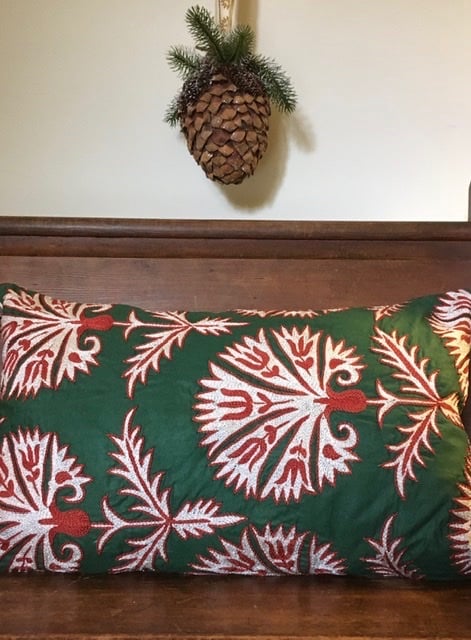 Silk Suzani embroidery on cotton cushion with ivory cotton backing 58cm x 38cm. £160 - Rare find in these colours (1 cushion available)
(Cushion pad not included but can be supplied for a further £10)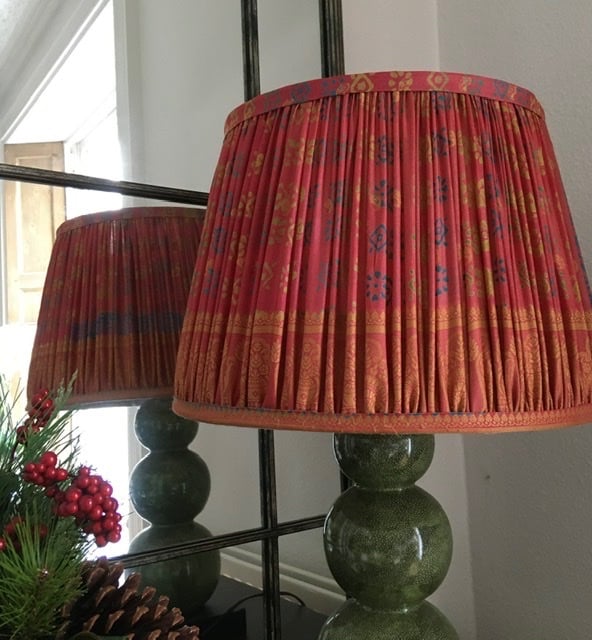 Sabrina: Vintage silk sari fabric from India (16" Lampshade) £225
(1 Lampshade in stock and one further Lampshade can be made to order)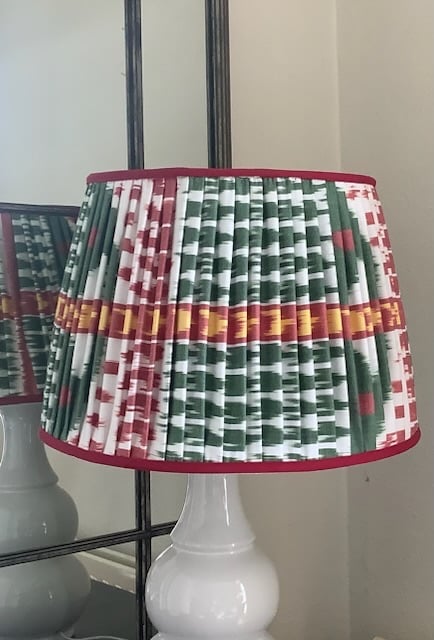 Gabriella: Ikat fabric from Uzbekistan (16" Lampshade) £225
(1 Lampshade in stock and one further Lampshade can be made to order)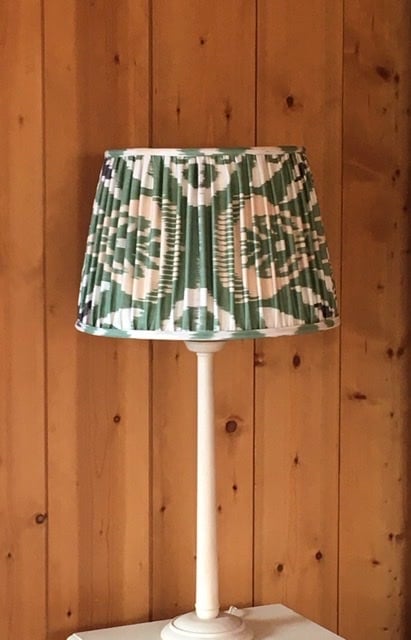 Florentine: Ikat fabric from Uzbekistan (16" Lampshade) £225
(1 Lampshade in stock and one further Lampshade can be made to order)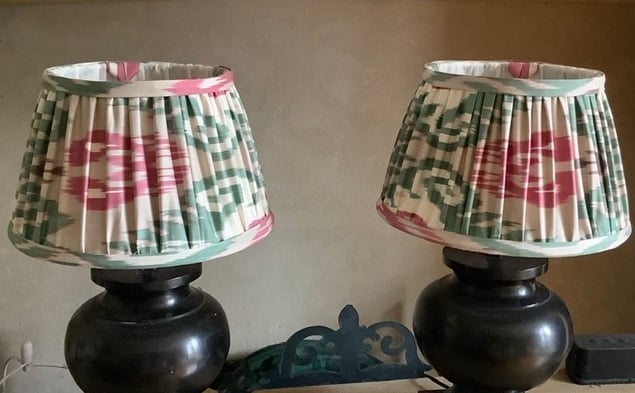 Penelope: Ikat fabric from Uzbekistan (12" Lampshade) £140 each
(1 Lampshades sold, one in stock)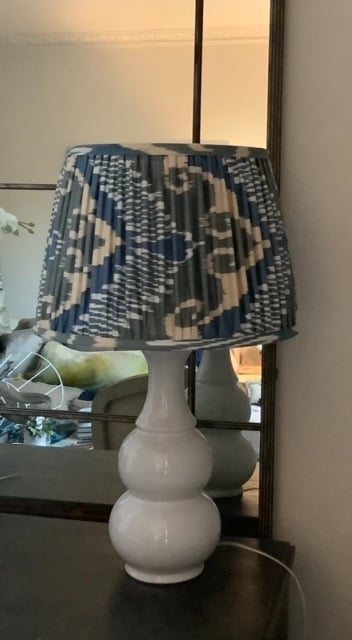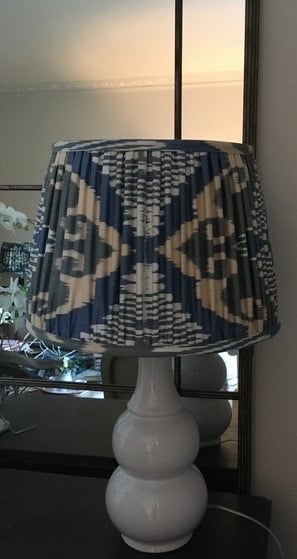 Jimmy: Ikat fabric from Uzbekistan (16" Lampshade) £225
(Sold but can be made to order)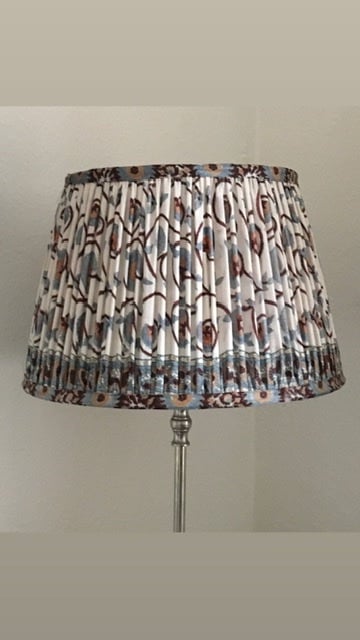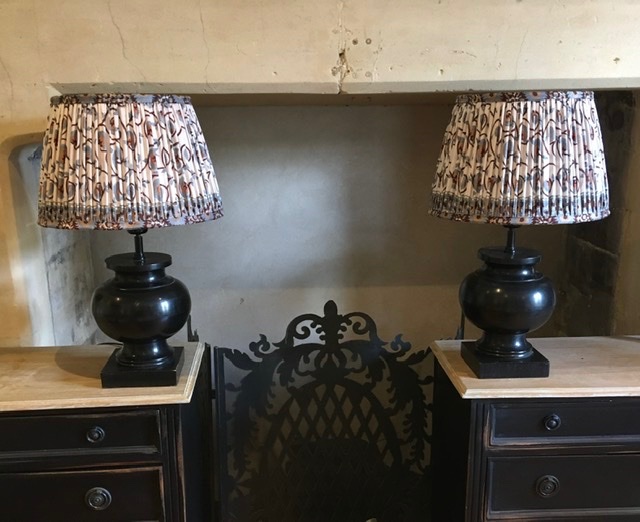 Zinzi: Vintage Indian Silk Sari set (14" Lampshade) £195 each
(2 Lampshades sold and 1-2 further Lampshades can be made to order in this fabric but without the bottom border)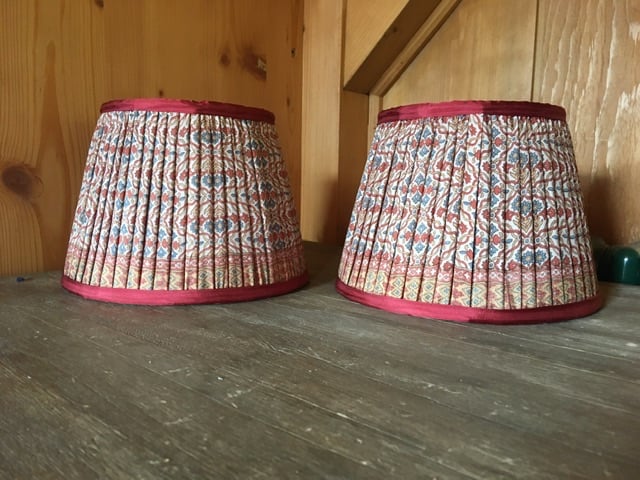 Morrillon: Vintage Indian Silk Sari set (8" Lampshade) £90 each
(2 Lampshades sold and 1-2 further Lampshades can be made to order in this fabric but without the bottom border)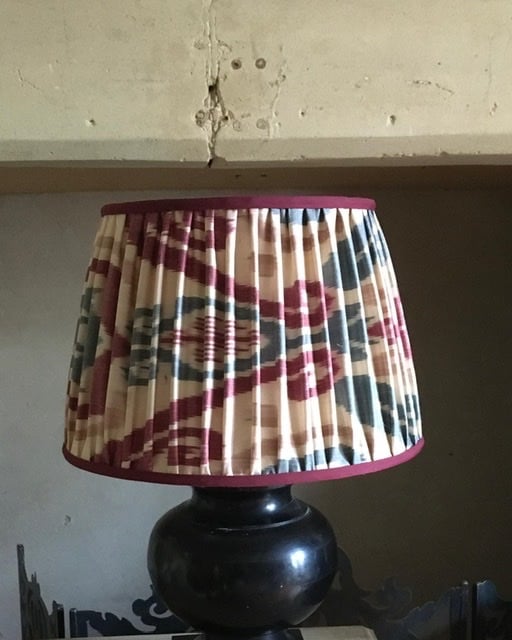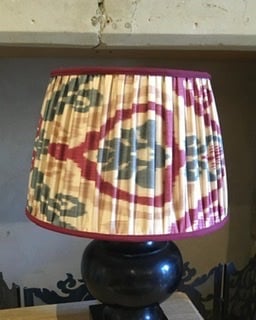 Mirabel: Ikat fabric from Uzbekistan (14" Lampshade): £195
(Sold but can be made to order)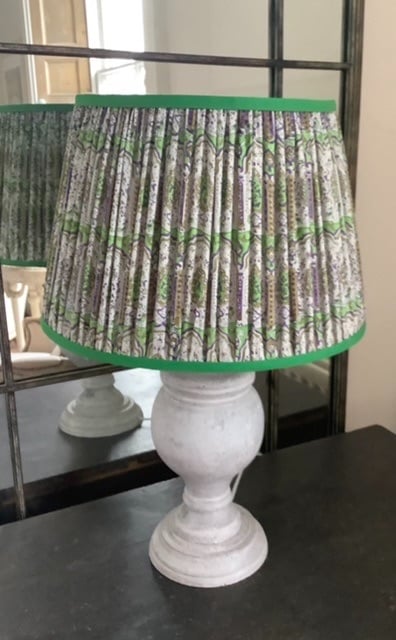 Cat: Vintage Indian Silk Sari (14" Lampshade) £195

(1 Lampshade in stock and one further lampshade can be made to order)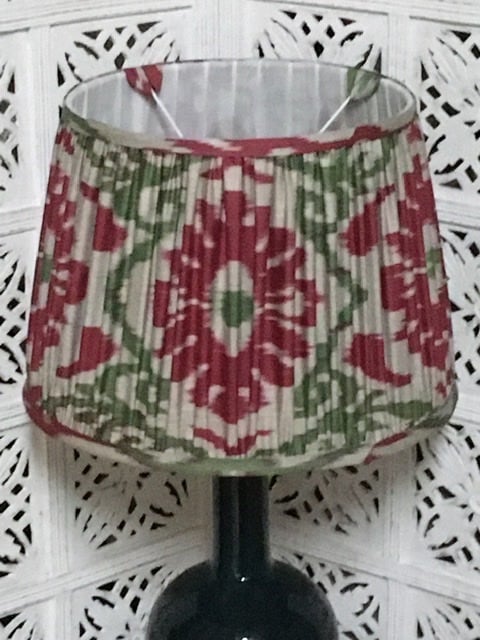 Mathonex: Ikat fabric from Uzbekistan (18" Lampshade): £265
(1 Lampshade in stock)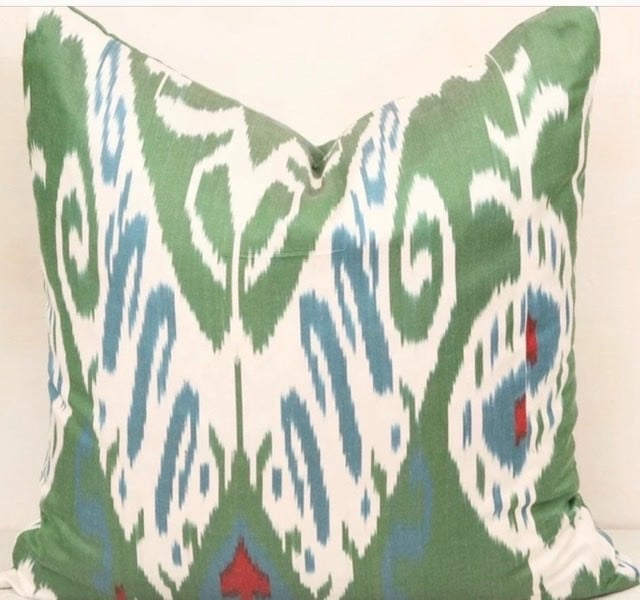 Ikat cushion cover from Uzbekistan, £59 each (2 cushion covers available) (Cushion inner pad can be supplied for an additional £10 per cushion)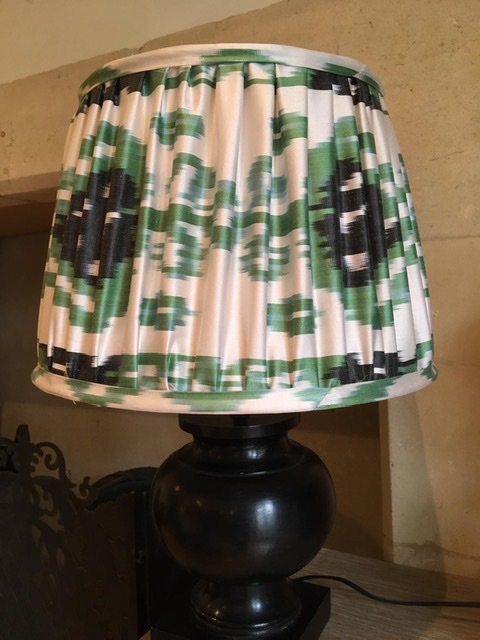 Quentin: Ikat fabric from Uzbekistan (16" Lampshade): £225
(Sold but 1 further lampshade can be made to order)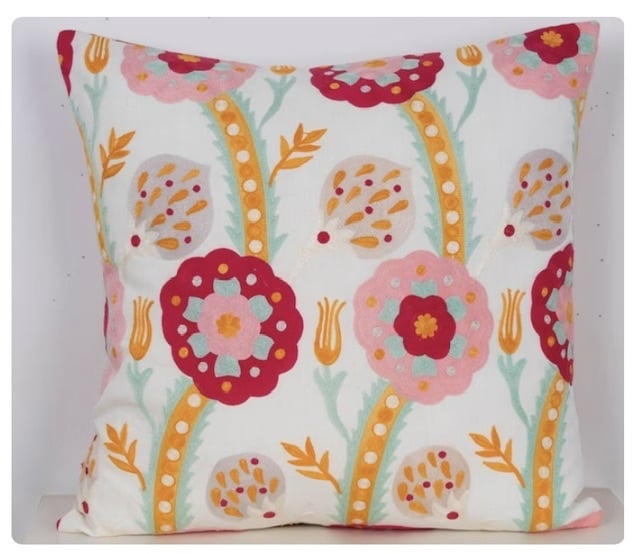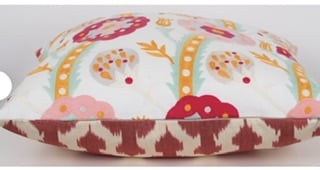 Hand embroided Suzani Cushion from Turkey, 20" x 20" (Silk embroidery on silk fabric with cotton backing): £130 (1 cushion cover available)
(Cushion inner pad can be supplied for an additional £10 per cushion)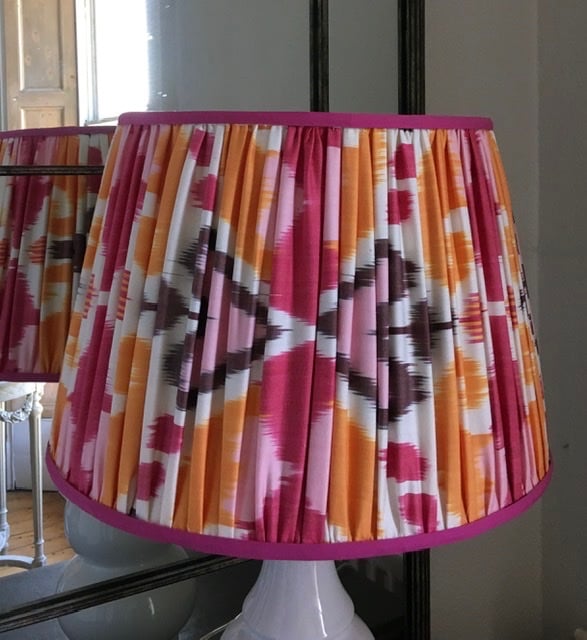 John: Ikat fabric from Uzbekistan (16" Lampshade) £225
(1 Lampshade sold, one further lampshade can be made to order)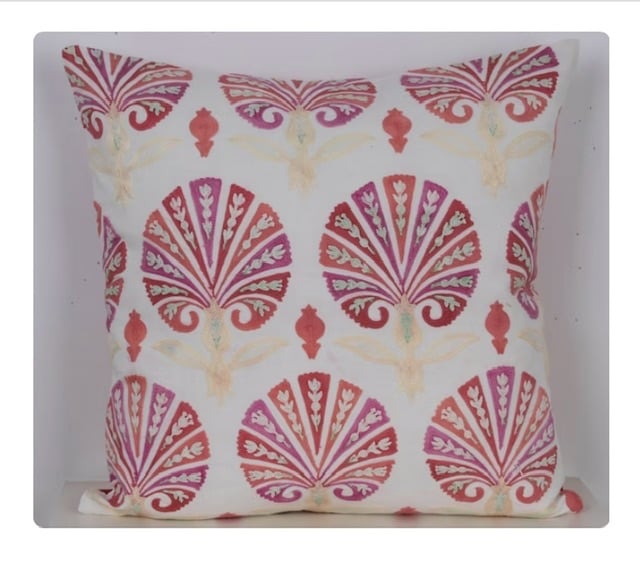 Penelope: Hand embroided cushion from Uzbekistan (20" x 20", Silk on Silk with cotton backing) £130 (1 cushions available)
(Cushion inner pad can be supplied for an additional £10 per cushion)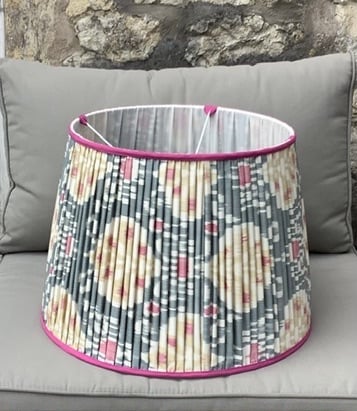 Elisa: Silk Ikat fabric from Uzbekistan (18" Lampshade) £284
(Sold, but 2 further lampshades can be made to order)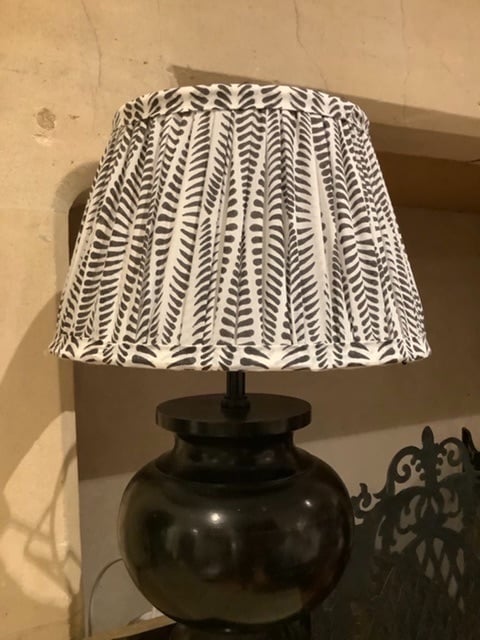 Agnes: Ikat blockprint fabric from India (14" Lampshade) £180

(Sold but can be made to order)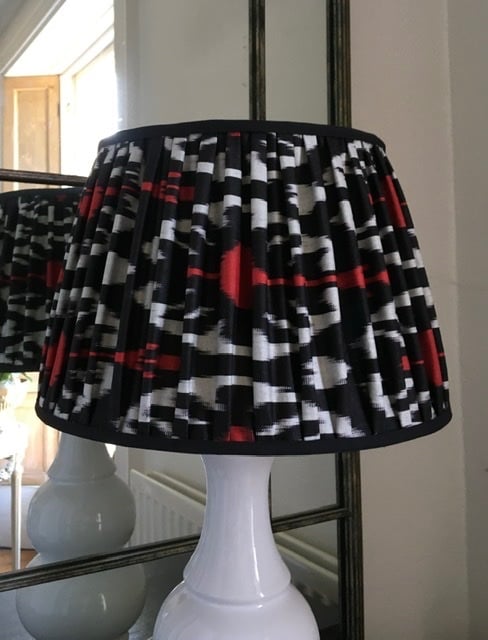 Rose: Ikat fabric from Uzbekistan (14" Lampshade): £195
(1 Lampshade in stock and one further lampshade can be made to order)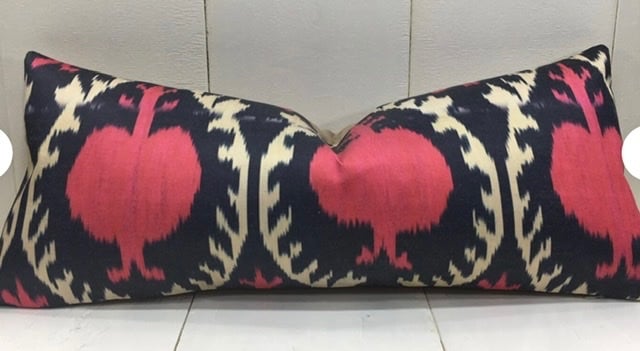 Ikat cushion with cotton backing from Turkey, 10" x 24", (80% silk / 20% cotton), 79£
(Cushion cover only. Cushion inner pad can be supplied for an additional £10)
(1 cushion in stock. Please check if further cushions can be ordered)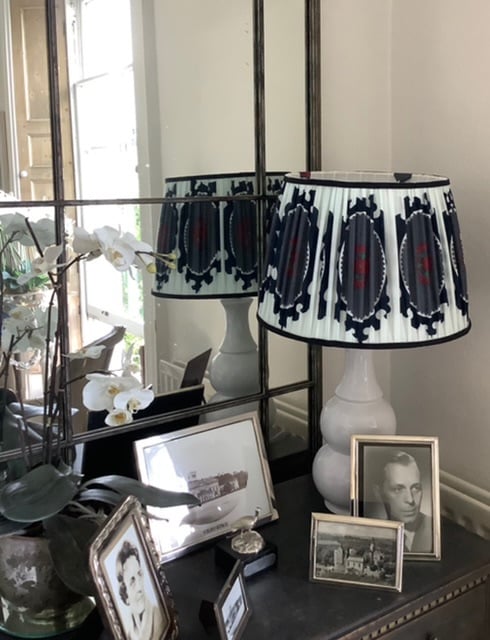 Jasper: Cotton Suzani print fabric from Turkiye, (16" Lampshade) £225

(1 Lampshade in stock and one further lampshade can be made to order)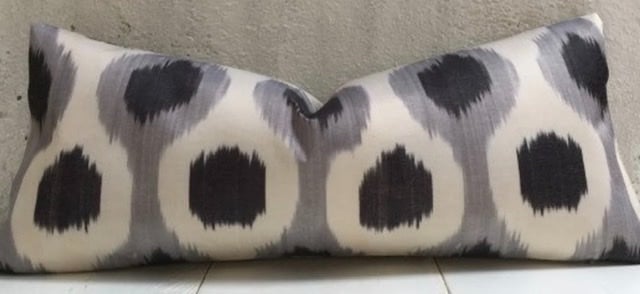 Ikat cushion with cotton backing from Turkey, 10" x 24", (80% silk / 20% cotton), 79£
(Cushion cover only. Cushion inner pad can be supplied for an additional £10)
(1 cushion in stock. Please check if further cushions can be ordered)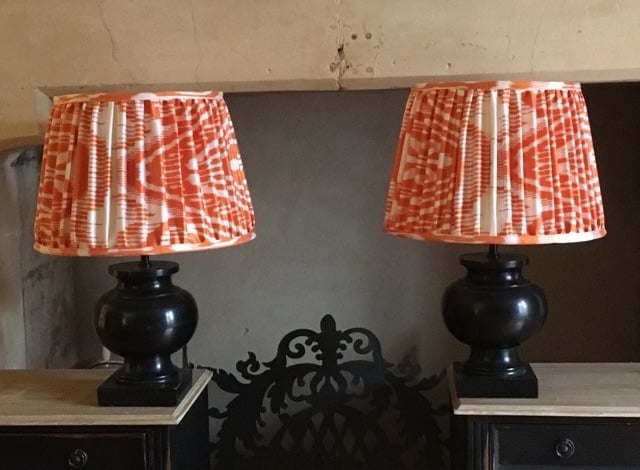 Catriona: Ikat fabric from Uzbekistan (16" Lampshades): £225 each
(2 Lampshades in stock)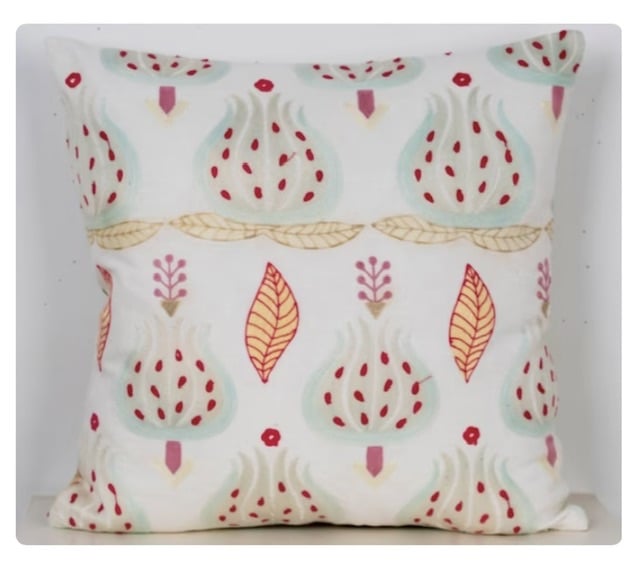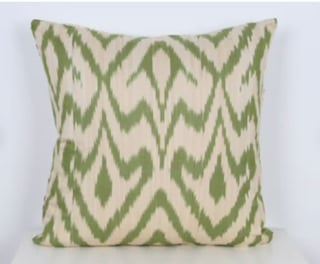 Hand embroided Suzani Cushion from Turkey, 20" x 20" (Silk embroidery on silk fabric with cotton backing): £130 (1 cushion cover available)
(Cushion inner pad can be supplied for an additional £10 per cushion)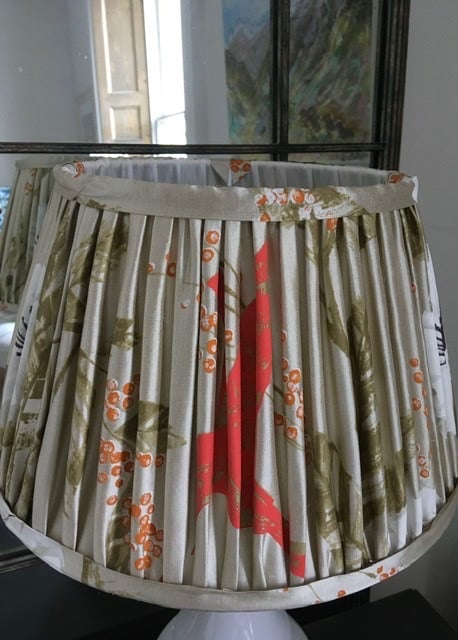 Teru: Vintage Silk lampshade with silk lining (12" lampshade) £160
(1 Lampshade in stock and one further lampshade can be made to order)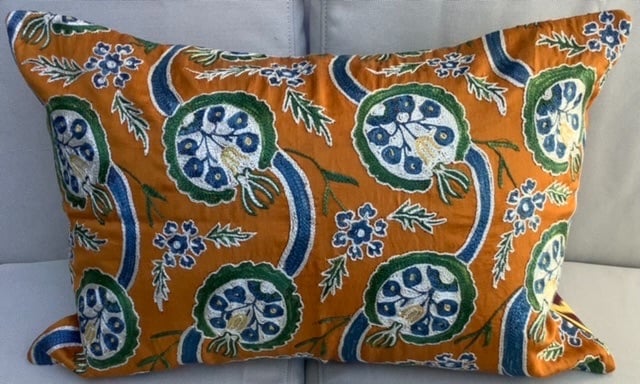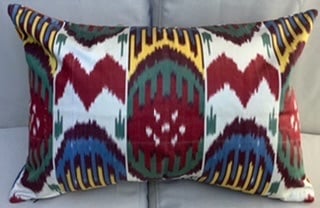 Silk embroided Suzani on silk cushion with Ikat backing 58cm x 40cm. £160 - Rare find in these colours (1 cushion available) (Cushion pad not included, but can be supplied for a further £10)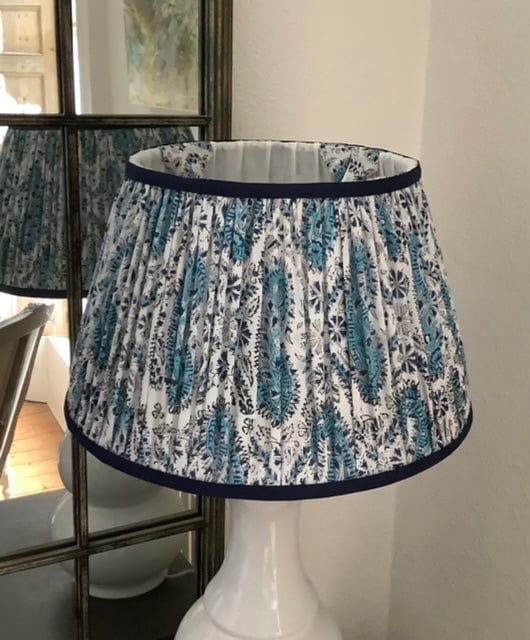 Lou Lou: Indian hand block fabric (12" Lampshade) £140
(1 Lampshade in stock and further lampshades can be made to order)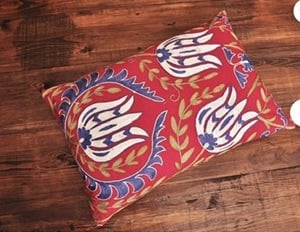 Fleur: Hand Embroided Suzani Cushion from Uzbekistan (Silk/cotton with satin back) 15" x 24": £120
(Cushion pad not included, but can be supplied for a further £10)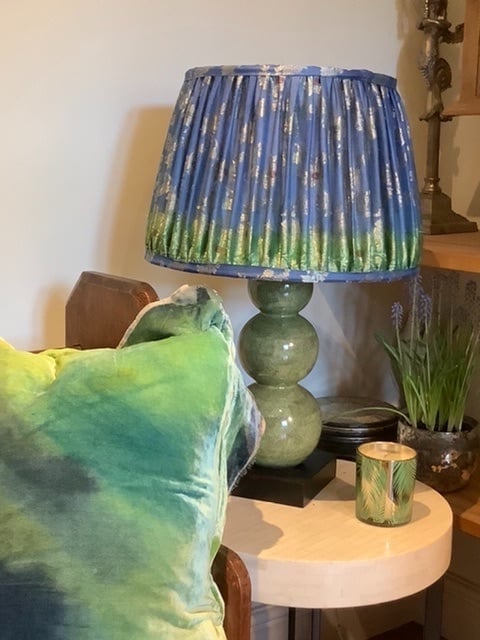 Sophie: Vintage sari fabric from India (16" Lampshade) £225
(1 Lampshade in stock and one further lampshade can be made to order)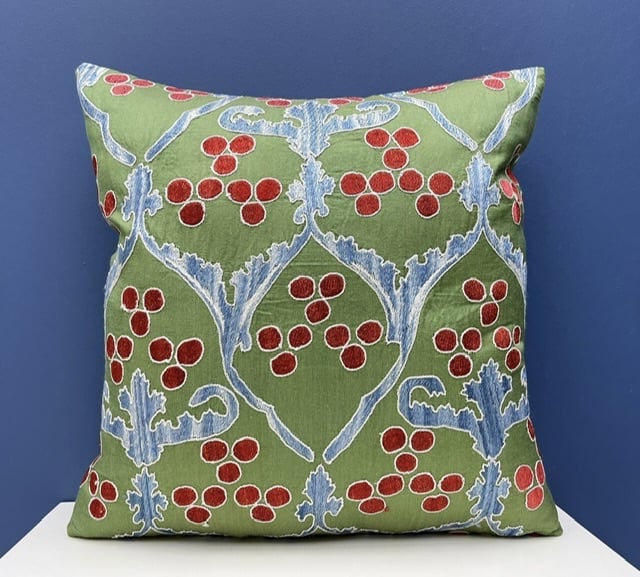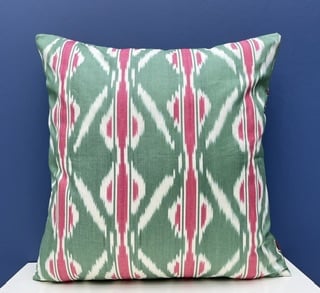 Hand embroided Suzani Cushion from Turkey, 20" x 20" (Silk embroidery on silk fabric with cotton backing): £130 (2 cushion covers available)
(Cushion inner pad can be supplied for an additional £10 per cushion)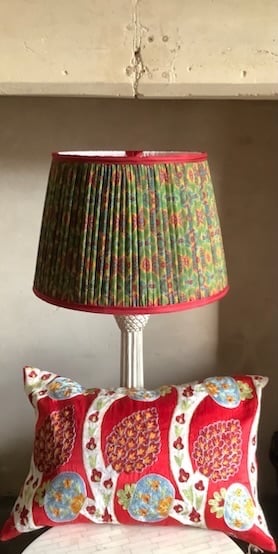 Shogun: Vintage silk sari fabric from India (16" Lampshade) £225
(1 Lampshade in stock and one further lampshade can be made to order)
Hand embroided silk Suzani Cushion from Turkey, 16" x 24" (Silk embroidery on silk fabric with cotton backing): £140 (1 cushion cover available)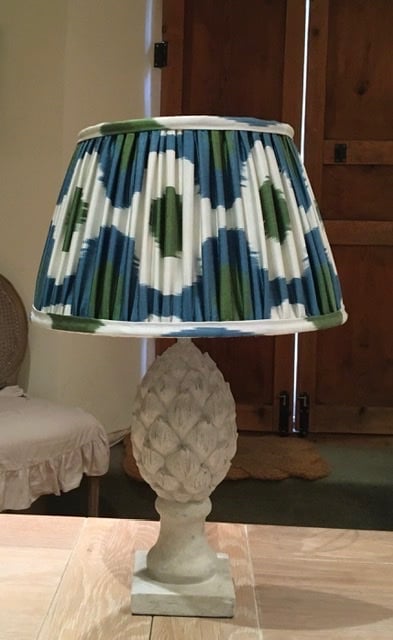 Cleopatra: Silk Ikat fabric from Turkiye (12" Lampshade) £170
(Sold but can be made to order)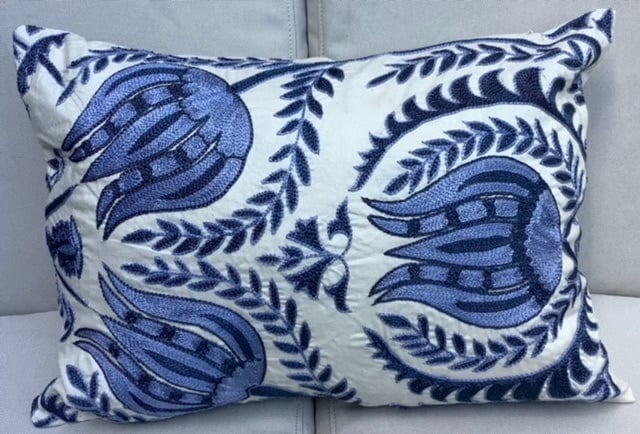 Silk Suzani embroidery on cotton cushion with ivory cotton backing 57cm x 42cm. £160 - Rare find in these colours (1 cushion available) (Cushion pad not included but can be supplied for a further £10)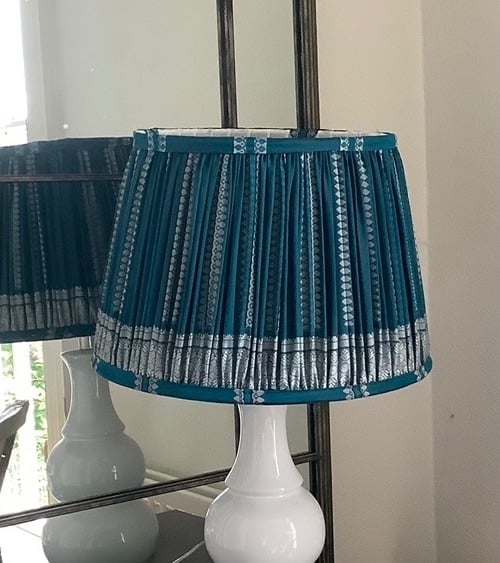 Susan: Vintage silk sari fabric from India (16" Lampshade) £225
(1 Lampshade in stock and one further lampshade can be made to order)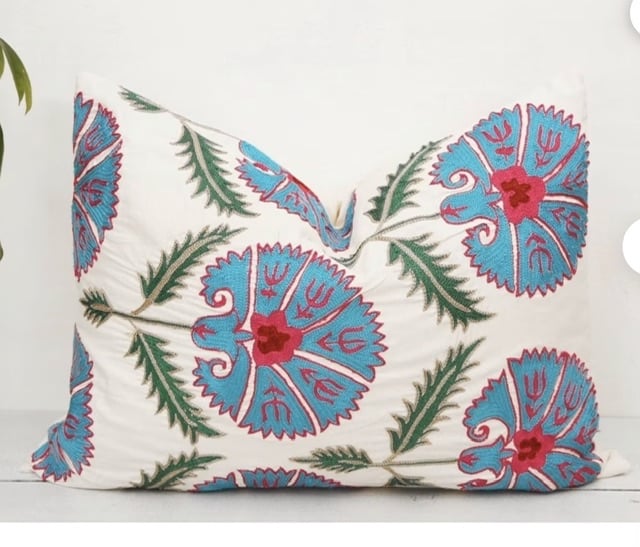 Grecco: Hand Embroided Suzani Cushion from Uzbekistan (Silk/cotton with satin back / 1 cushion in stock) 15" x 24": £120
(Cushion pad not included, but can be supplied for a further £10)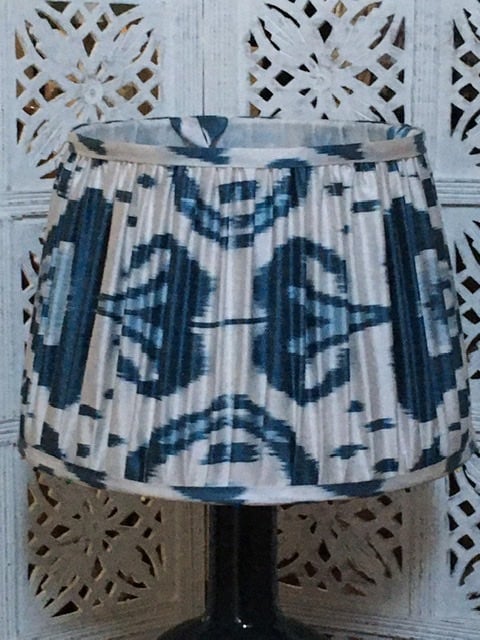 Florence: Ikat fabric from Uzbekistan. (16" lampshade): £225
(Sold but can be made to order)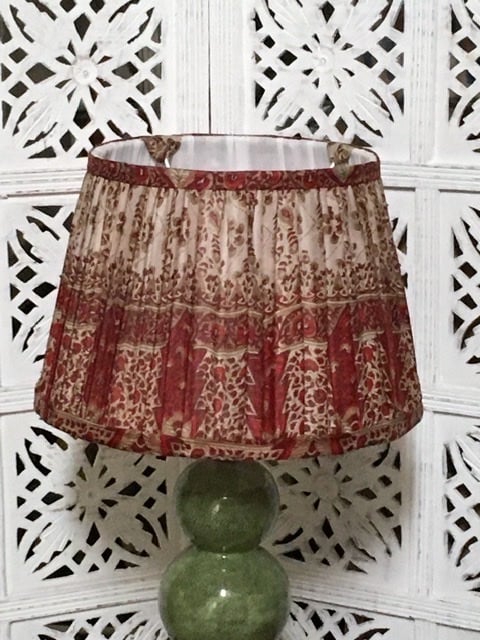 Richie: Silk vintage Sari fabric from India (14" Lampshade): £170
(1 Lampshade in stock and one further lampshade can be made to order)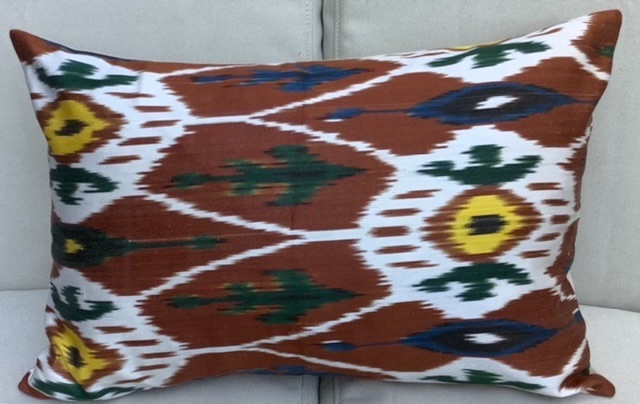 Silk Ikat cushion with beige cotton backing 56cm x 38cm £69each (2 cushions available)
(Cushion pads are not included but can be supplied for a further £10 each)

(1 cushion in stock. Please check if further cushions can be ordered)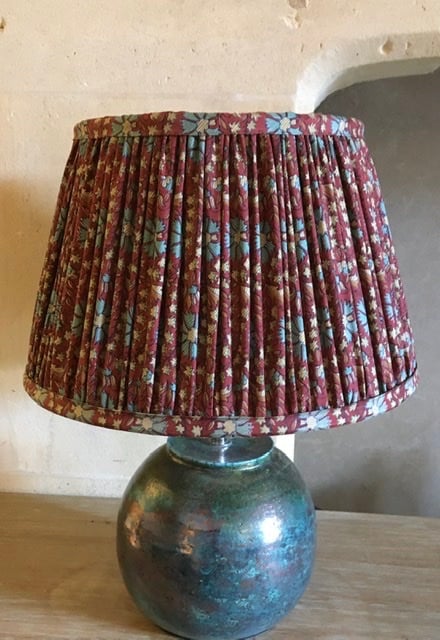 Kimberly: Silk vintage Sari fabric from India (12" Lampshade) £150
(Sold but one further lampshade can be made to order)

Karen: Silk Ikat fabric from Uzbekistan (12" Lampshade) £150

(Sold but further lampshades can be made to order)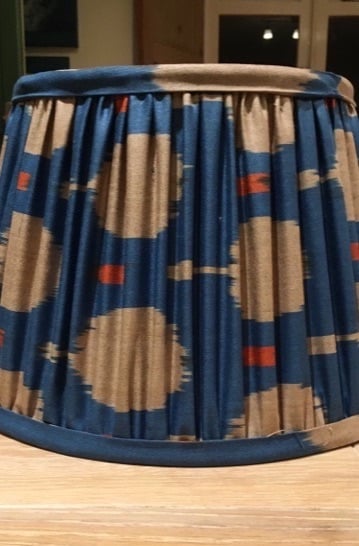 Kate: Ikat fabric from Uzbekistan (14" Lampshade): £195
(1 Lampshade in stock and a further lampshade can be made to order)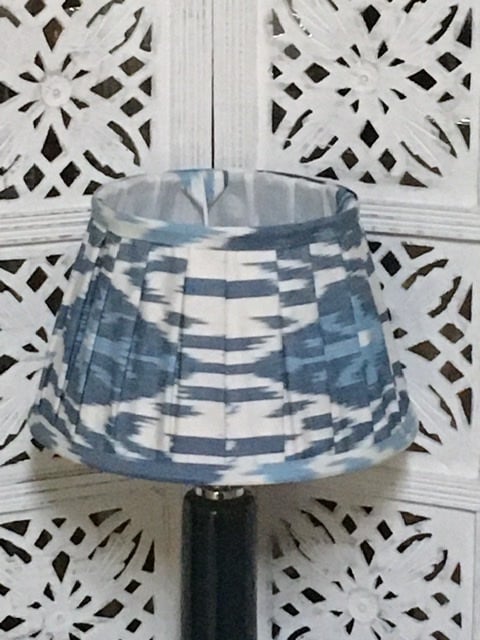 Max: Cotton Ikat fabric from Uzbekistan (12" Lampshade) £140
(1 Lampshade in stock)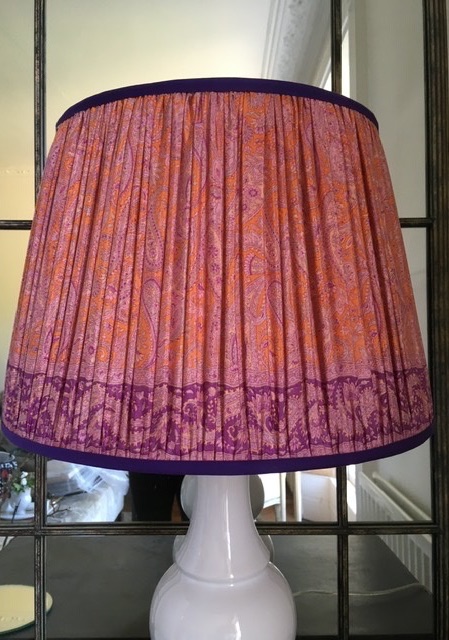 Marina: Vintage silk sari fabric from India (16" Lampshade) £225
(1 Lampshade in stock and a further lampshade can be made to order)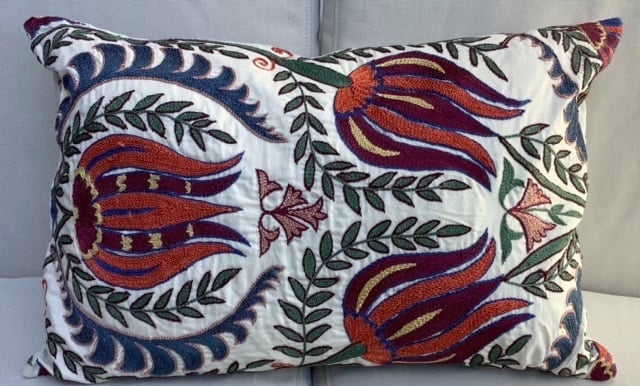 Silk Suzani embroidery on cotton cushion with ivory cotton backing 61cm x 42cm. £160 (1 Cushion available)
(Cushion pad not included but can be supplied for a further £10)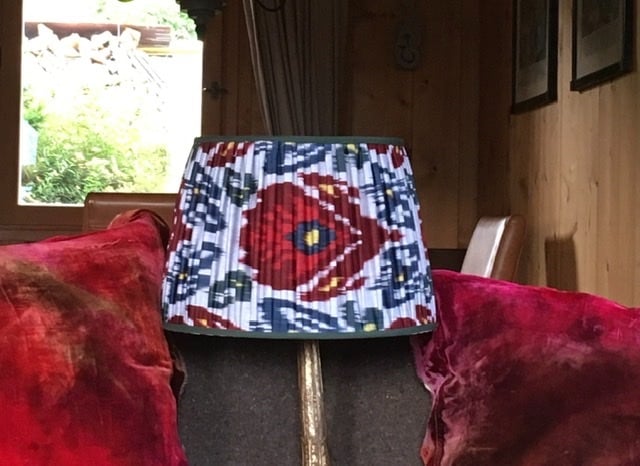 Pansee: Cotton Ikat fratricidal from Uzbekistan (16" Lampshade) £225

(1 Lampshade in stock and a further lampshade can be made to order)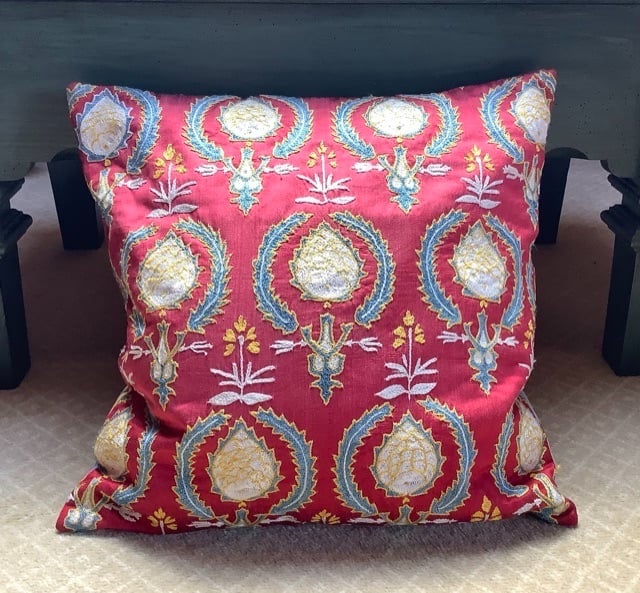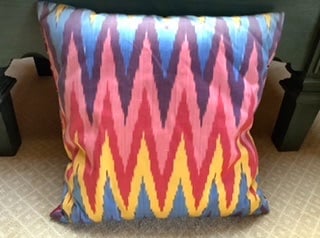 Silk Suzani embroidery on silk cushion with Ikat backing, £130 - Rare find in these colours (1 cushion available)
(Cushion pad not included but can be supplied for a further £10)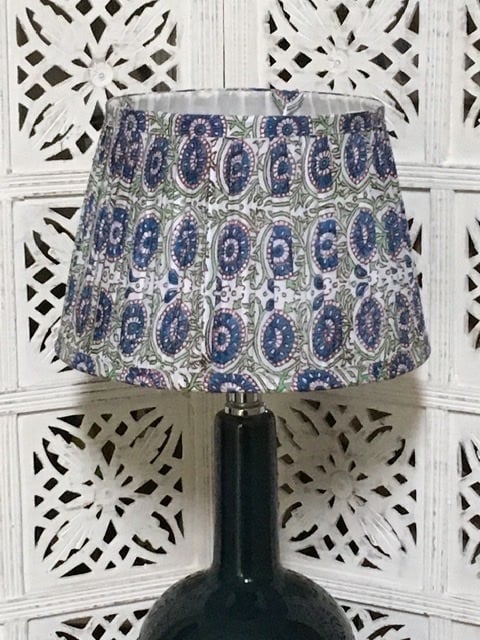 Rosie: Cotton blockprint fabric from India (14" Lampshade); £180
(1 Lampshade in stock and a further lampshade can be made to order)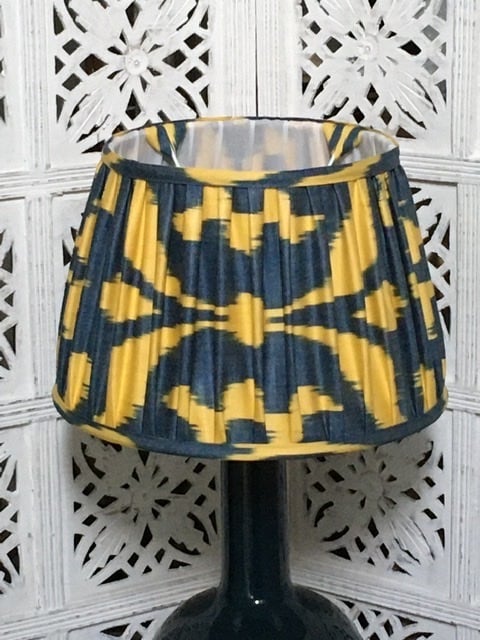 Kiev: Ikat fabric from Uzbekistan (14" Lampshade): £185
(Sold but can be made to order)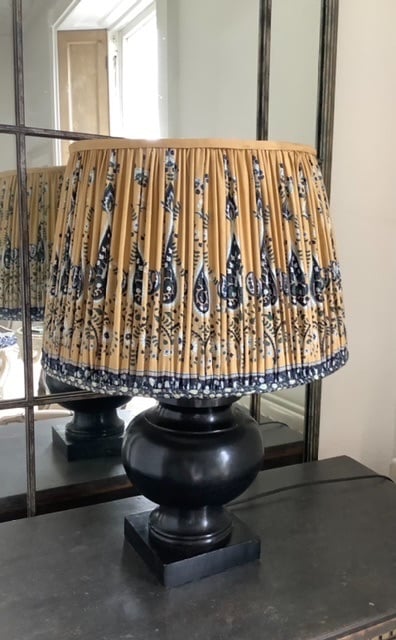 Isabell: Vintage silk sari fabric from India (16" Lampshade) £225
(1 Lampshade in stock and a further lampshade can be made to order)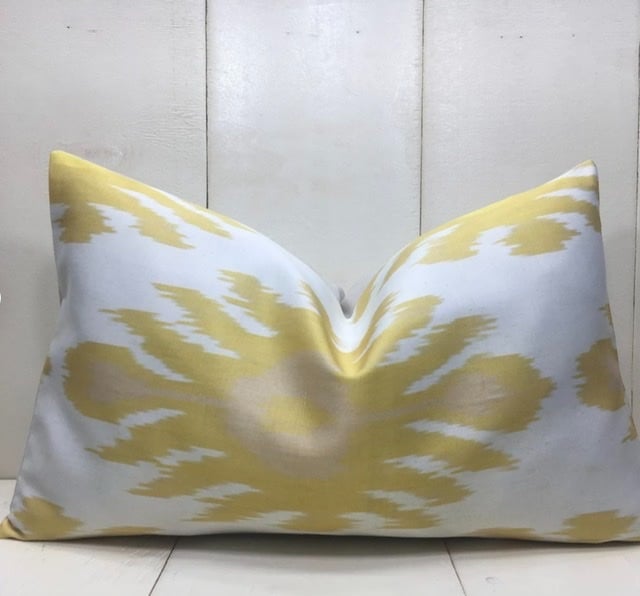 Silk Ikat cushion cover with cotton backing from Uzbekistan (31cm x 50cm), £75 (Cushion pad not included, but can be supplied for a further £10)
(1 cushion in stock. Please check if further cushions can be ordered)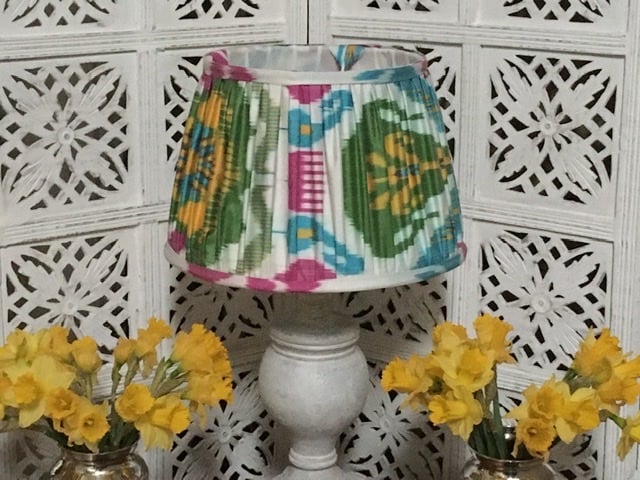 Mango: Ikat fabric from Uzbekistan (14" Lampshade): £195

(1 Lampshade in stock and a further lampshade can be made to order)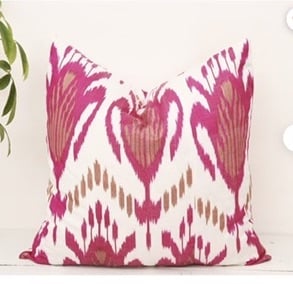 Silk Ikat cushion cover from Uzbekistan (16" x 16"), £45
(Cushion pad not included, but can be supplied for a further £10)
(2 cushion in stock. Please check if further cushions can be ordered)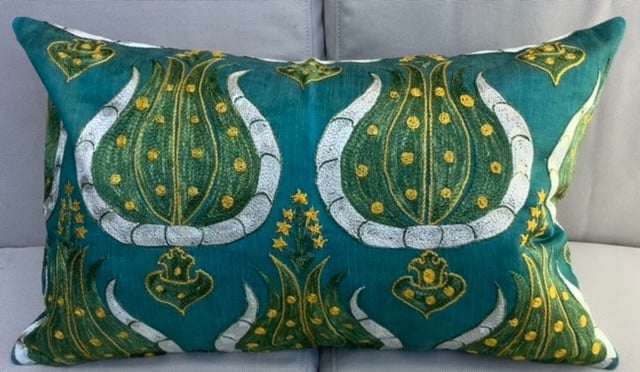 Silk Suzani embroidery on silk cushion with Ikat backing 39cm x 60cm. £160 - Rare find in these colours (1 cushion available)
(Cushion pad not included, but can be supplied for a further £10)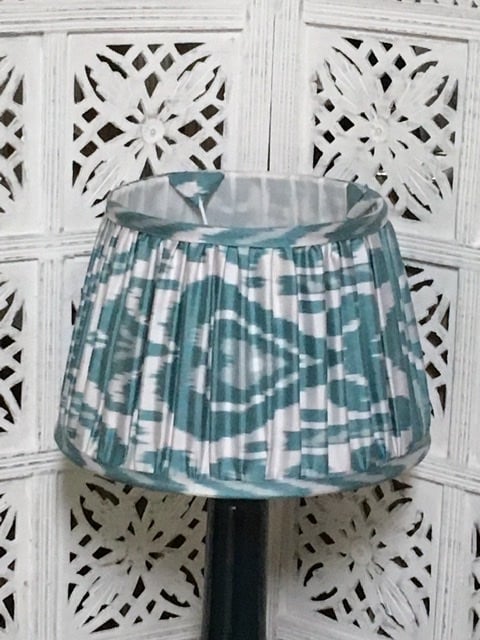 I
Marcus: Cotton/silk Ikat fabric from Uzbekistan (14" Lampshade) £195
(1 Lampshade in stock and a further lampshade can be made to order)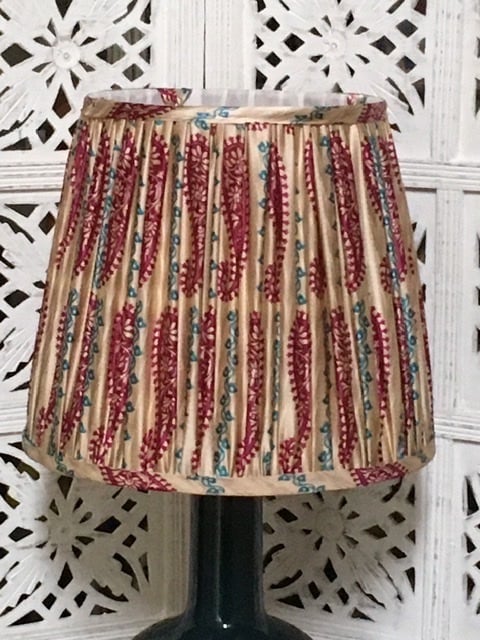 Leo: Vintage Sari Fabric from India: £210
(1 Lampshade in stock and a further lampshade can be made to order)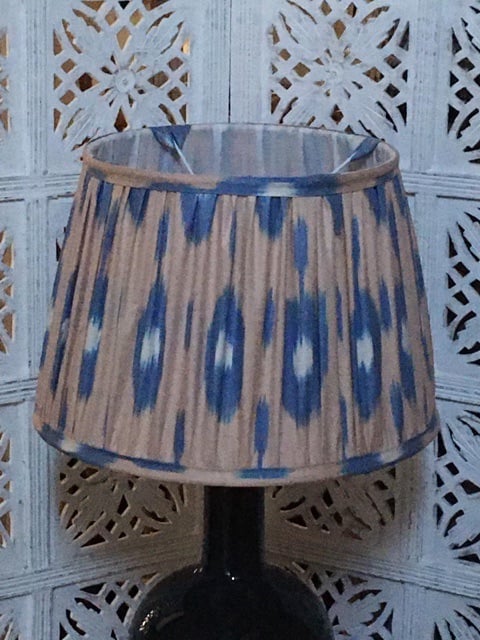 Malcolm: Ikat fabric from Uzbekistan (16" Lampshade: £225
(Sold but this shade can be made to order)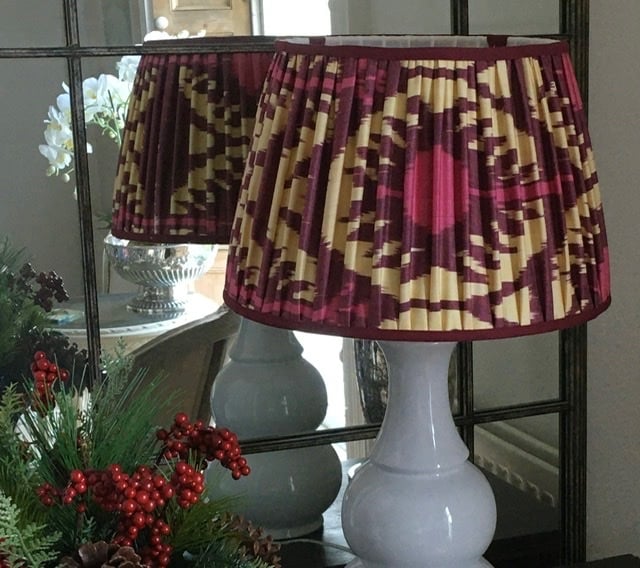 Miche: Organic Cotton/Silk Ikat fabric from Uzbekistan (14" Lampshade) £195
(1 Lampshade in stock and a further lampshade can be made to order)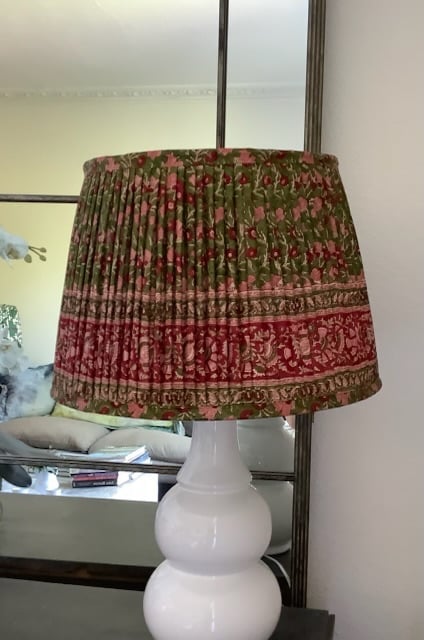 Sita: Vintage silk sari fabric from India (16" Lampshade) £225
(1 Lampshade sold, a further lampshade can be made to order)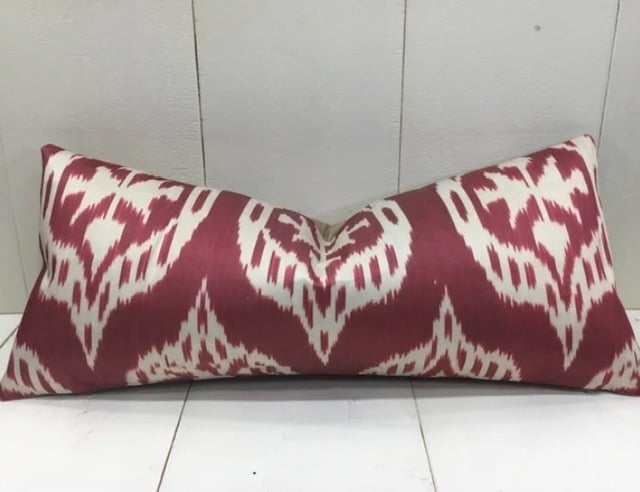 Ikat cushion with cotton backing from Turkey, 10" x 24", (80% silk / 20% cotton), 79£
(Cushion cover only. Cushion inner pad can be supplied for an additional £10)
(1 cushion in stock. Please check if further cushions can be ordered)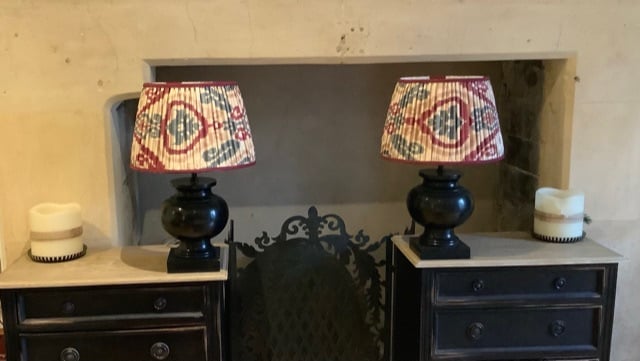 Georgie: Ikat fabric from Uzbekistan (14" Lampshade) £195 each

(Sold out but can be made to order)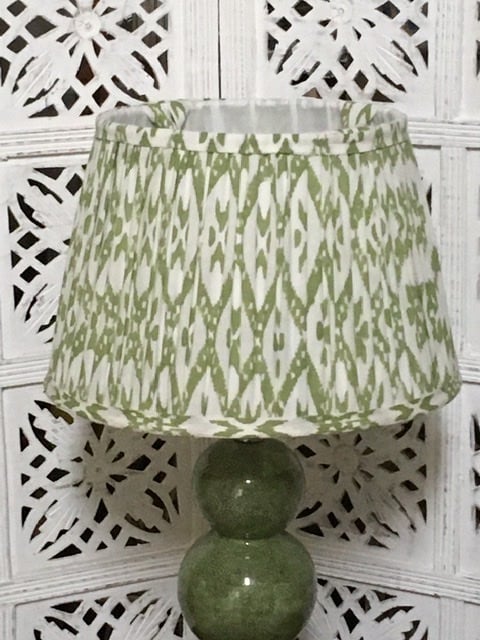 Jonathan: Cotton Indian blockprint fabric from India (14" Lampshade) £180

(1 Lampshade in stock and a further lampshade can be made to order)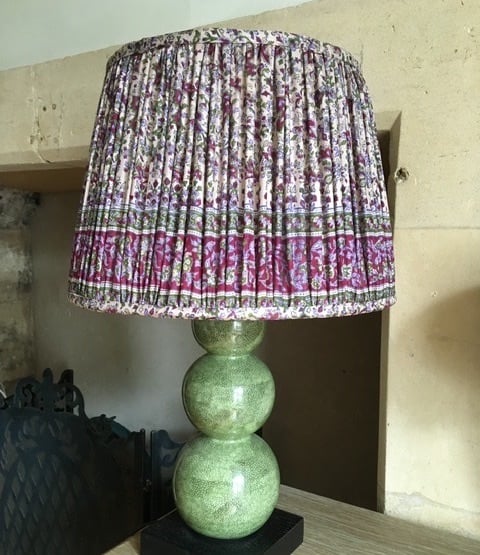 Izzy: Vintage silk sari fabric from India (16" Lampshade) £225

(1 Lampshade in stock and a further lampshade can be made to order)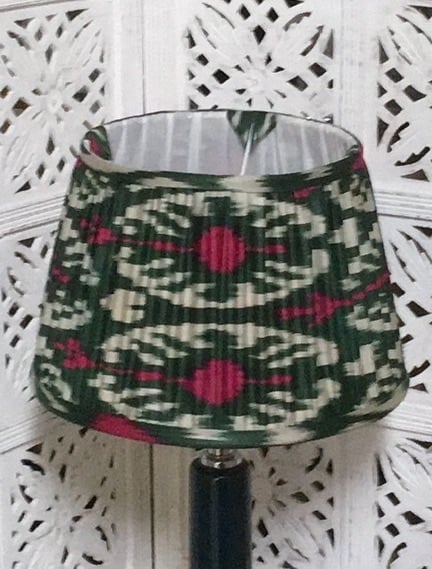 Samoens: Ikat fabric from Uzbekistan (14" Lampshade) £195
(1 Lampshade in stock and a further lampshade can be made to order)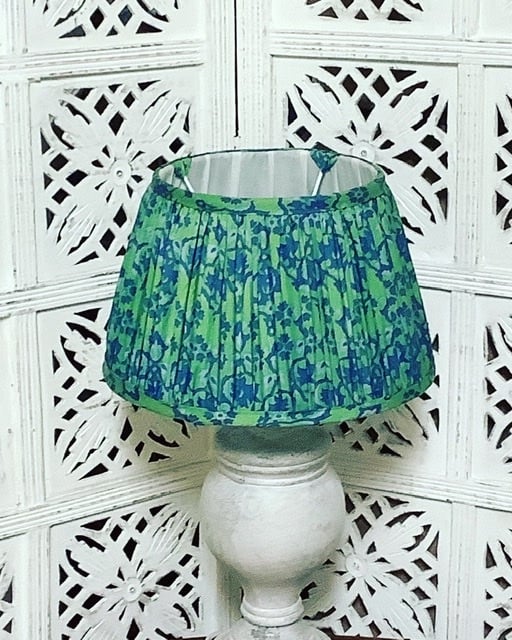 Joanna: Silk Sari fabric from India (12" Lampshade): £150
(1 Lampshade in stock and a further lampshade can be made to order)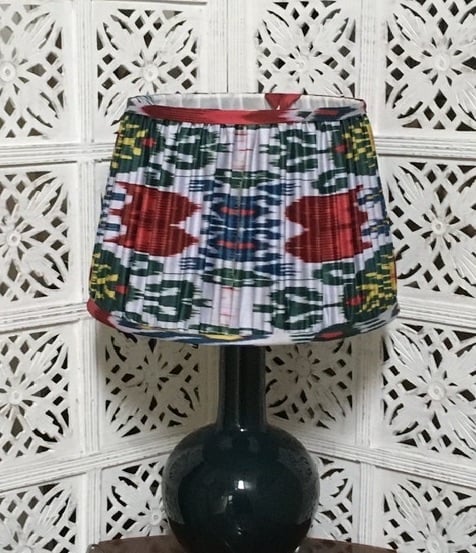 Victoria: Ikat fabric from Uzbekistan (16"Lampshade): £225
(Sold but 1 lampshade can be made to order)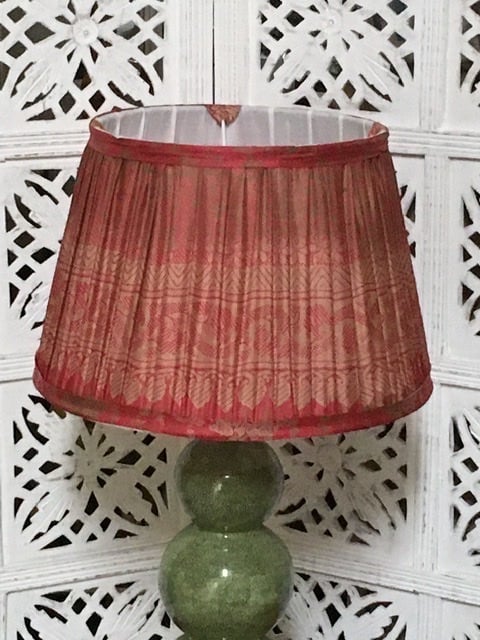 Bruton: Silk vintage Sari fabric from India (14" Lampshade): £195
(Sold but 1 lampshade can be made to order)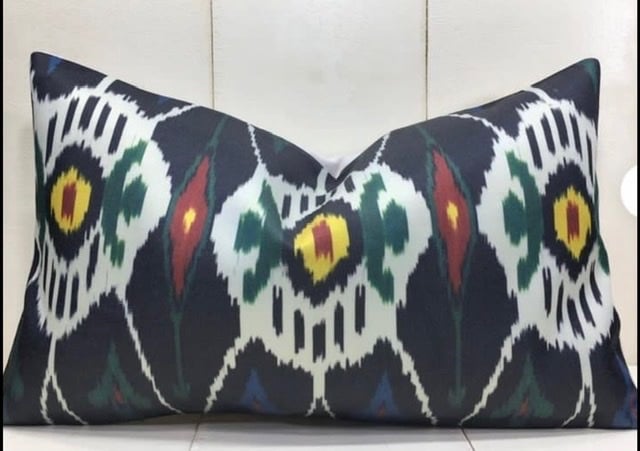 Silk Ikat cushion with beige cotton backing 56cm x 38cm £75each (2 cushions available)
(Cushion pads are not included but can be supplied for a further £10 each)
(Please check if further cushions can be ordered)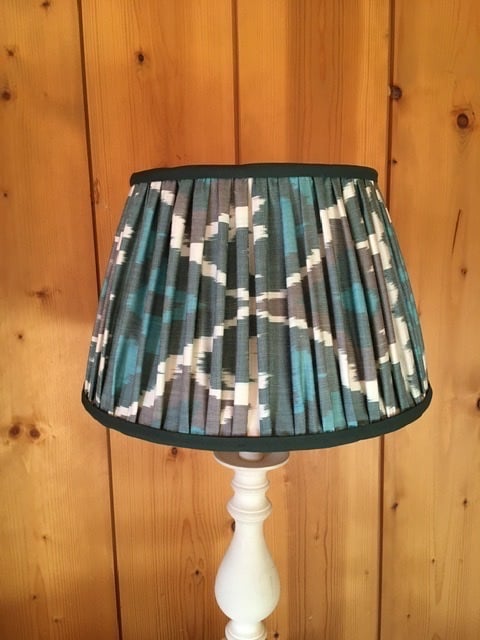 Vanessa: Ikat fabric from Uzbekistan (12" Lampshade): £160
(1 Lampshade in stock and a further lampshade can be made to order)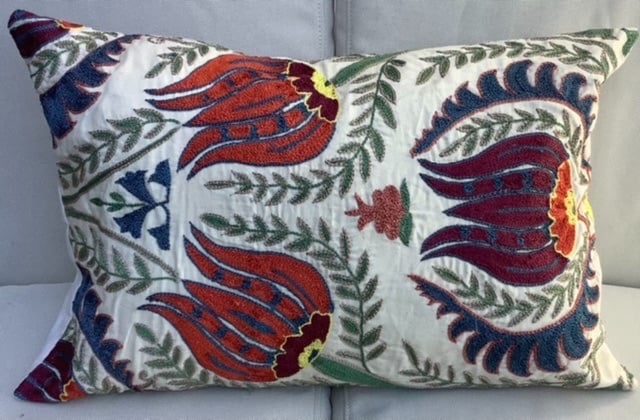 Silk Suzani embroidery on cotton cushion, with ivory cotton backing 61cm x 41cm. £160 - Rare find in these colours (1 cushion available)
(Cushion pad not included, but can be supplied for a further £10)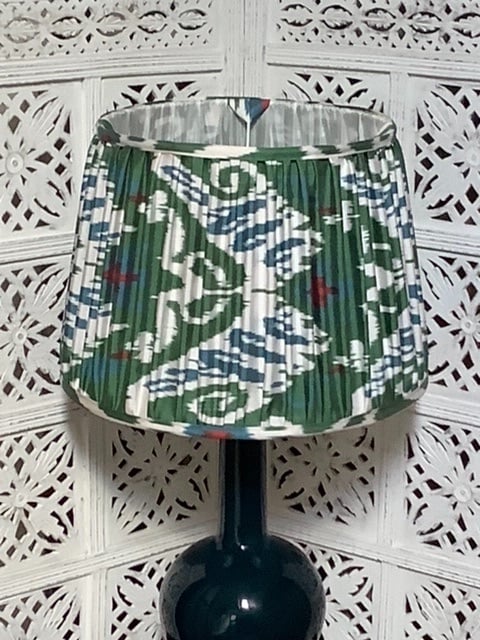 Wiggs: Silk Ikat fabric from Uzbekistan with silk lining (18" Lampshade): £285
(2 Lampshades in stock)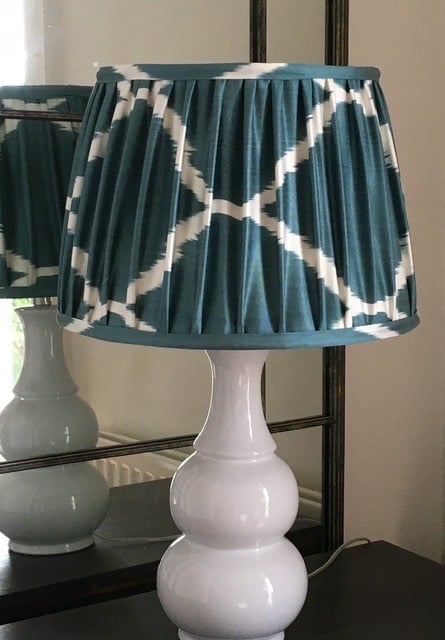 Bob: Silk Ikat fabric from Uzbekistan (14" Lampshade) £195
(1 Lampshade in stock and a further lampshade can be made to order)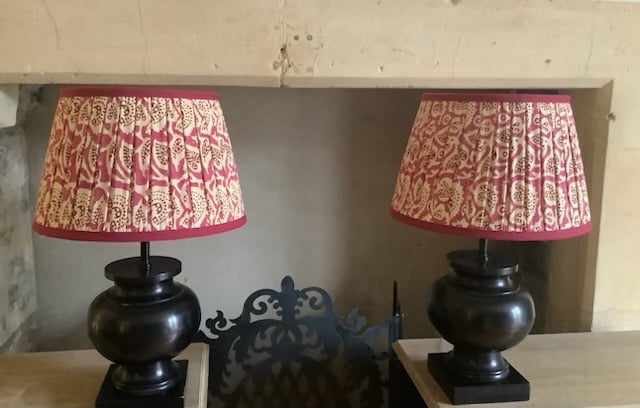 Les Carroz: Cotton blockprint fabric from India (14" Lampshades) £195 each
( Lampshade sold but can be made to order)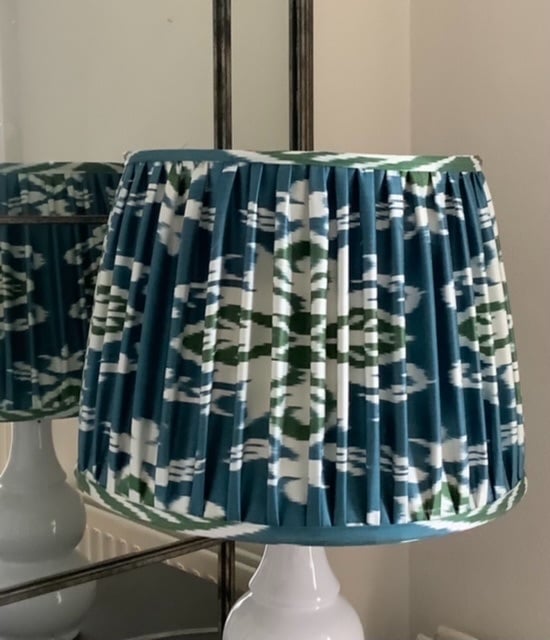 Valeska: Silk Ikat fabric from Uzbekistan with silk lining (18" Lampshade) £285
(2 Lampshades in stock)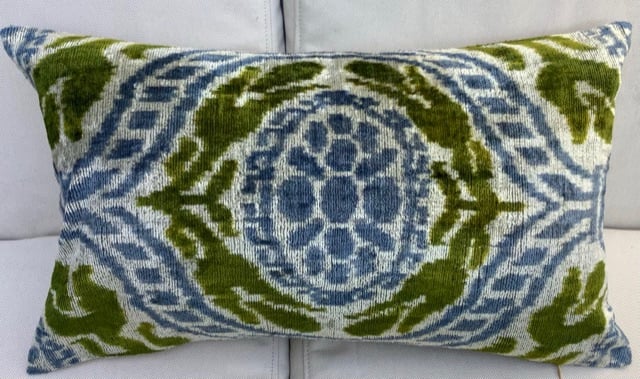 Velvet Ikat cushion on beige cotton backing 58cm x 35cm. £75each (2 cushions available, one slightly darker) (Cushion pads not included, but can be supplied for a further £10 each)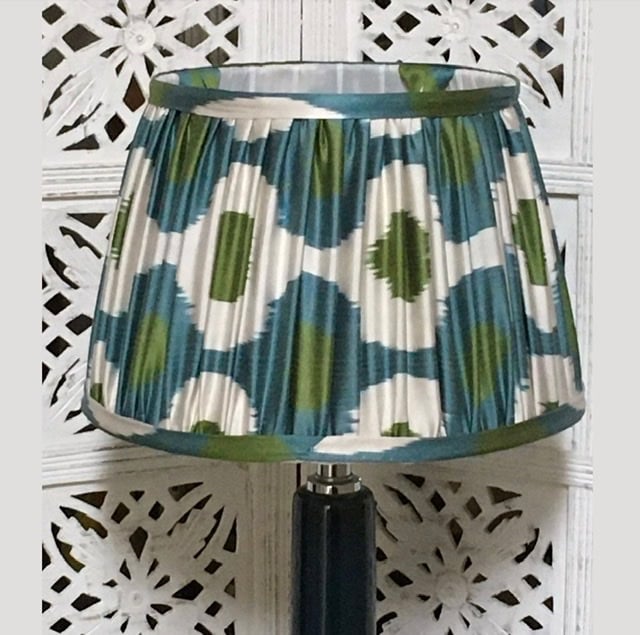 Felix: Silk Ikat fabric from Turkiye (14" Lampshade) £195
(Sold, but can be made to order)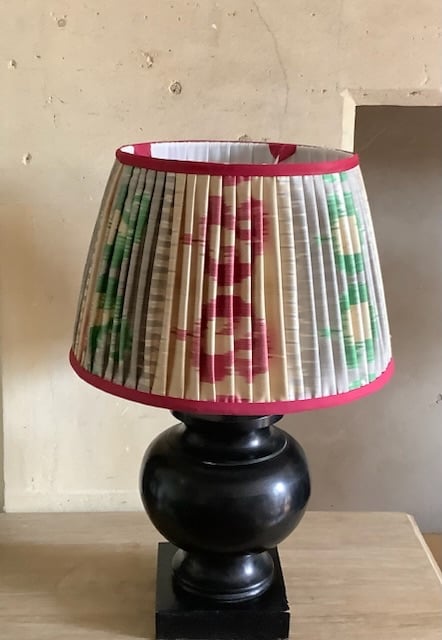 Sarapina: Ikat fabric from Uzbekistan (14" Lampshade) £195
(1 Lampshade in stock and a further lampshade can be made to order)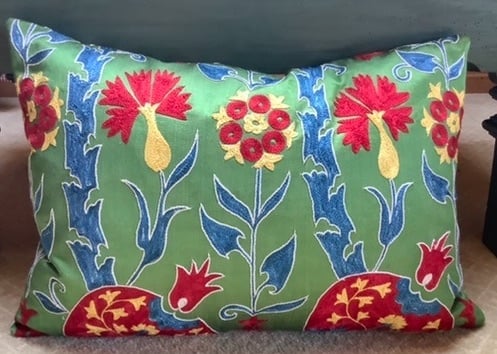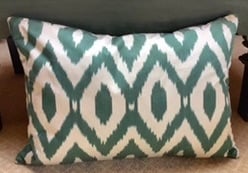 Silk Suzani embroidery on silk cushion with ikat backing, £160 - Rare find in these colours (1 cushion available)
(cushion pad not included, but can be supplied for a further £10)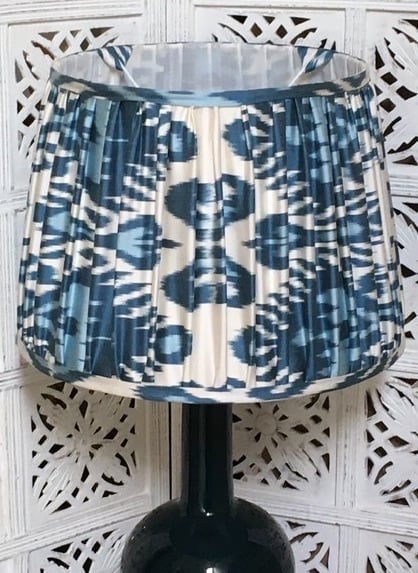 Dominique: Silk Ikat fabric from Uzbekistan (18" Lampshade) £260
(Sold but 1 lampshade can be made to order)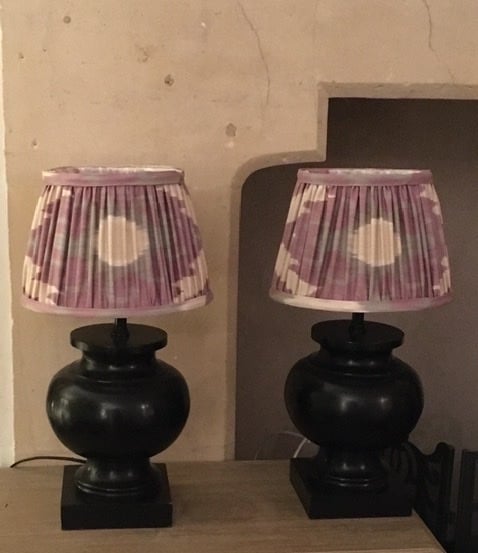 Emma: Ikat fabric from Uzbekistan (10" Lampshades): £100 each
(Sold but can be made to order)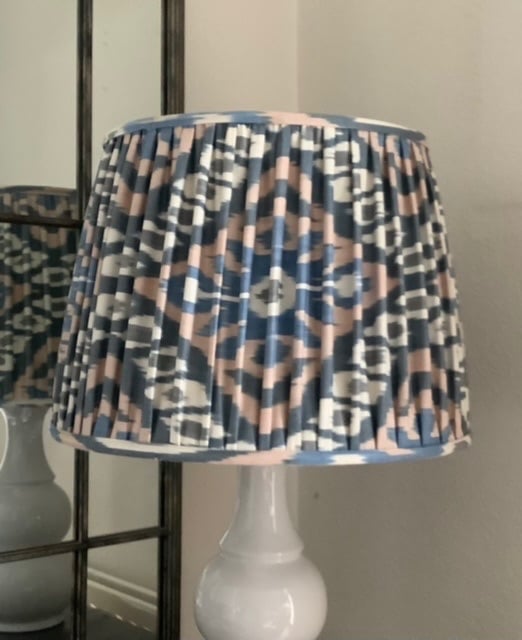 Sophie: Ikat fabric from Uzbekistan (18" Lampshade): £260
(1 Lampshade in stock and a further lampshade can be made to order)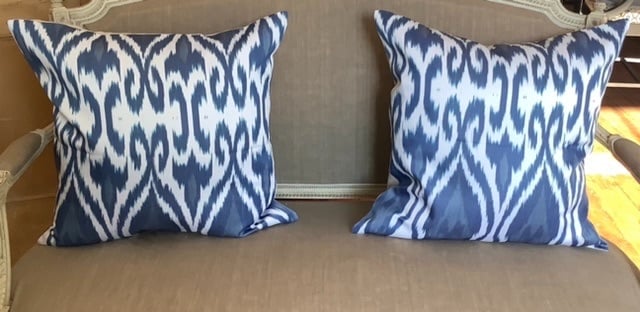 Silk Ikat cushion with beige cotton backing from Turkey 24" x 24", £79 each (cushion cover only) (Cushion inner pad can be supplied for an additional £12 each)