A LOT TO BLOG ABOUT / GLOBETROTTING SUMMER SEASON
Posted on
To get the summer holiday feel and be inspired by products reminding of far destinations, here are some of my top interior picks.
LET THE JOURNEY BEGIN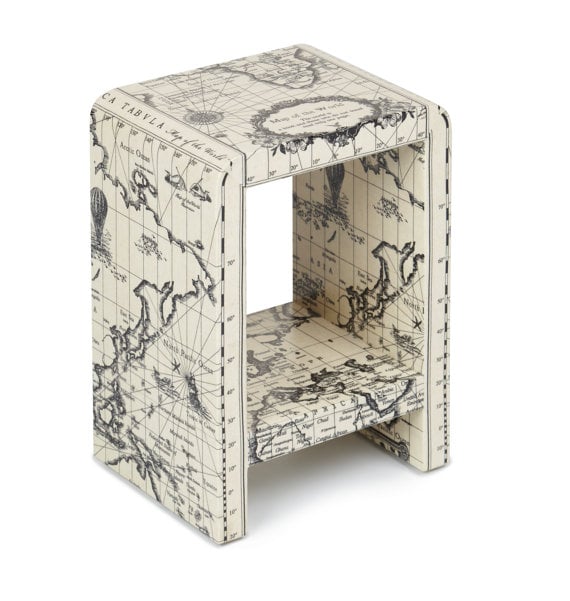 This JMF Side Table takes you round the world in no time and might even teach young children a thing or two, CHF 680,64, www.etsy.com (international shipping)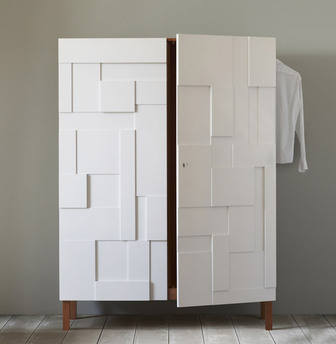 For a statment piece in a sitting room or bedroom, this Alba Armoire with relief-paneled doors would be very fitting. It can be supplied as a single or double unit with a series of standard internal configuration and could also look very impressive as a TV cabinet, from £ 3.250, www.pinchdesign.co.uk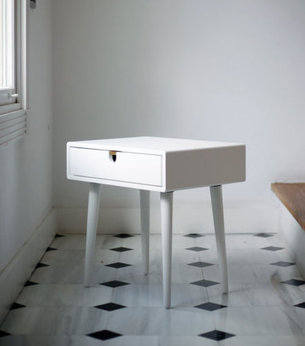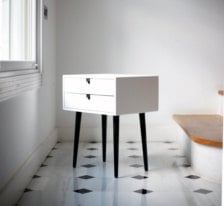 These mid-century modern retro Scandinavian bedside tables inject a very light and breezy element to any bedroom, CHF 244,70, www.etsy.com (international shipping)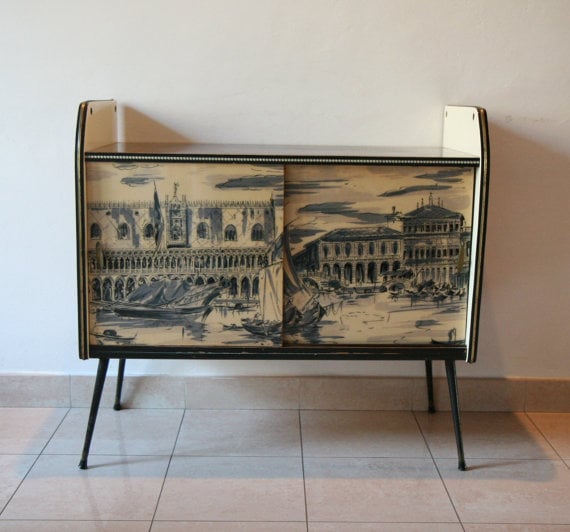 This stunning and unusual vintage 50`s Venetian Cabinet with ink drawings was made in Italy, CHF 439,20, www.etsy.com (international shipping)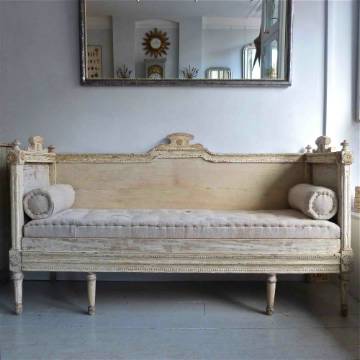 This stunning 18th century Swedish Gustavian sofa bed which has recently been re-upholstered in antique Belgian linen, is almost to nice to sleep on, £ 3,750, www.decorativecollective.com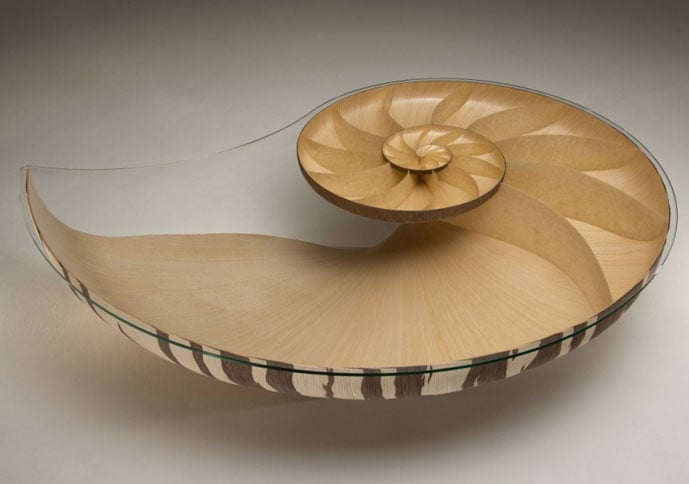 This unusual table was inspired by the Nautilus Shell and is a creation of UK furniture craftsman Marc Fish, www.ifitshipitshere.com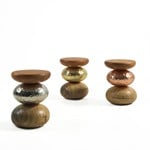 These Pebble Coffee Tables are produced in Oporto/Portugal. It brings back memories of stacking pebbles on the beach and beautifully blends natural exotics solid wood with hammered metal, www.archiproducts.com and www.gingerandjagger.com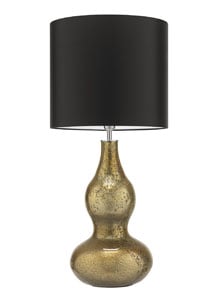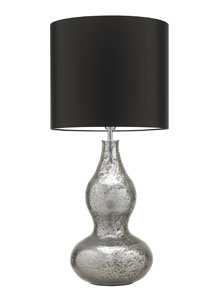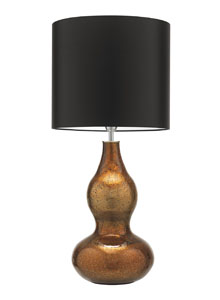 Add these Moorish table lamps to your pebble tables and your room scheme is almost complete, www.heathfield.co.uk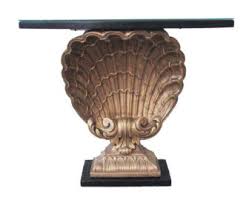 This vintage Seashell Console Table is a vintage piece from the 1950s. It has a black lacquer base and table top with glass top, £ 2,290.81, www.etsy.com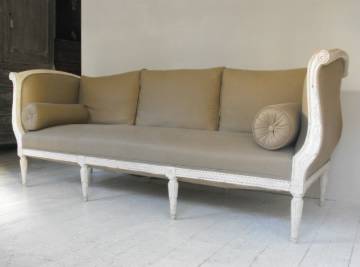 This Swedish 19th century day bed sofa upholstered in a stone coloured fabric, adds a very light and stylish element, £ 2,650, www.decorativecollective.com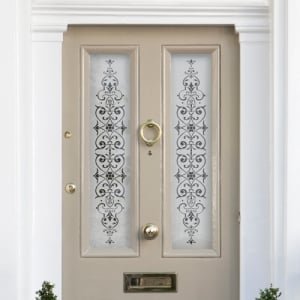 Give your windows a fresh and decorative look, or choose amongst many other, easy to apply self adhesive window films. Purldeco can also produce bespoke designs using your own artwork. It is a very easy and low cost way to decorate a window, www.purldeco.com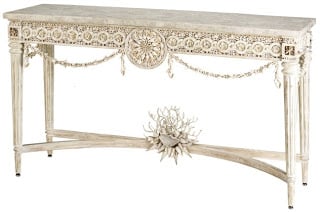 This piece is a stunning combination of natural shells, metal coral with a stone top, www.thedesigninsider.com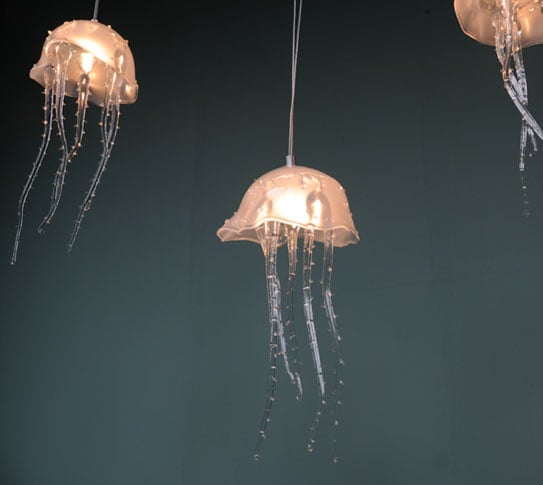 This Chandelier keeps the Jellyfish at a safe distance, www.emeryetice.com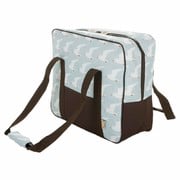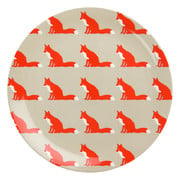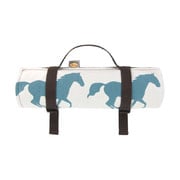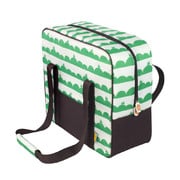 Keep your cool with these fun animal pick nick plates and rugs which are the ideal companion for a perfect day out, www.amara.com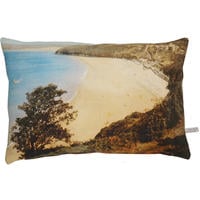 Life`s a Beach! Who needs to travel to coastal destinations, if you can sit compfortably in your own four walls and enjoy the athmosphere, without the hassle of removing sand from absolutely everywhere? Vintage beach English Romantic Cushion, £ 60, www.furnish.com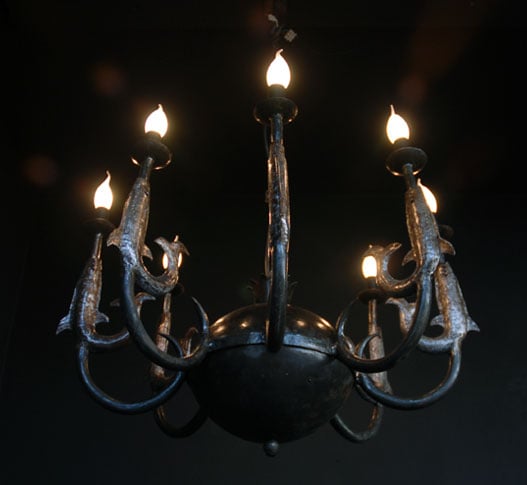 You don`t have to catch your own fish to have a trophie piece looking down on you, Chandelier Poisson, www.emeryetcie.com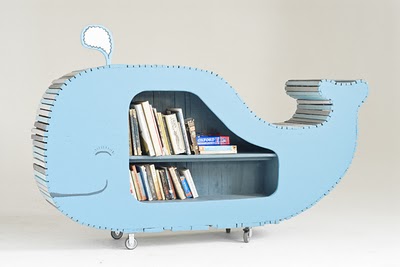 You can guarantee that your kids will fall in love with this friendly whale....and maybe even start reading to him, Whale Bookshelf by Justin Southey, www.justinsouthey.com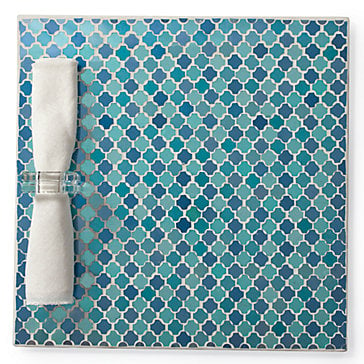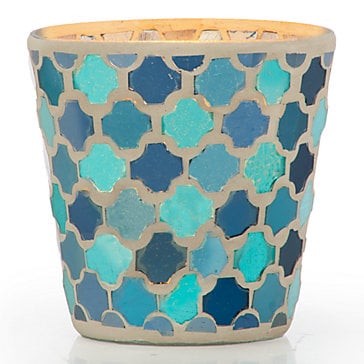 For a touch of Moroccan vibe, the tile inspired Cambria placemats and votive are a perfect accessory for alfresco dining, from $7.95, www.zgallerie.com (international shipping)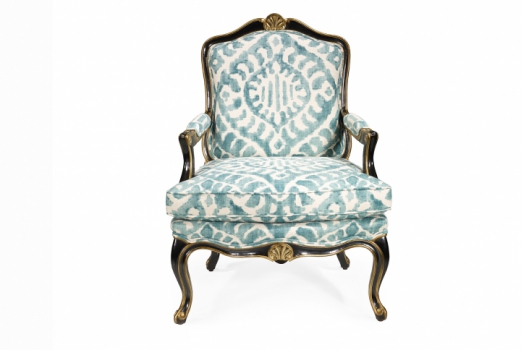 As part of the new summer collection, the Weiss Louis XV chair adds a very refreshing and moorish element to living or bedroom, www.oficinainglesa.com
This Danish `Stjerne`outdoor coffee table makes a very decorative change from the usual squarish models and is perfect for entertaining in style, CHF 761.13, www.etsy.com (ship worldwide)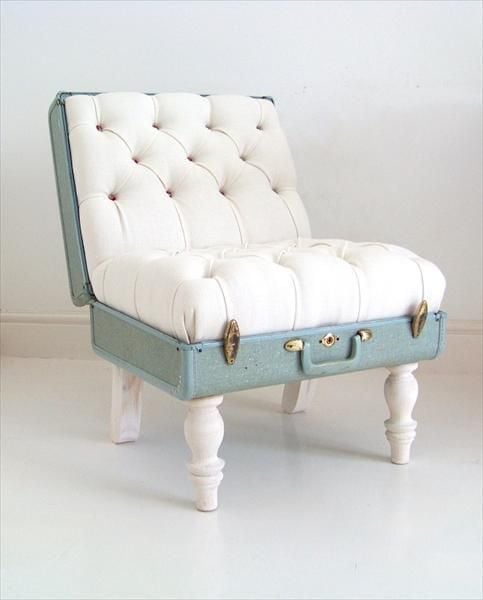 I can`t think of a more imaginative way to recycle and upcycle an old suitcase, www.solacerestoration.wordpress.com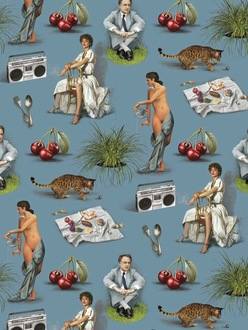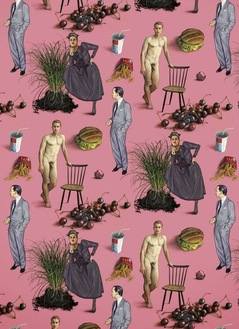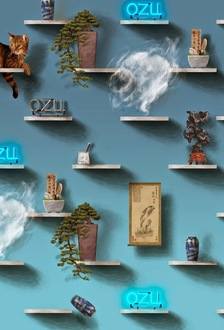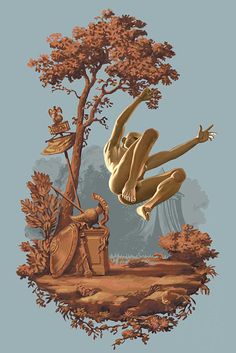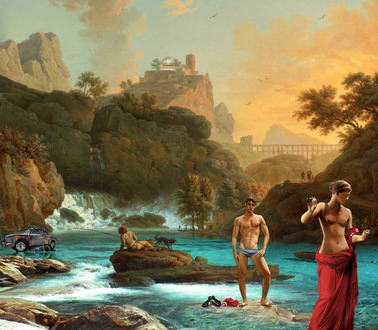 Philippe Morillon is a French painter, photographer and art director who has created some wonderfully quirky wallpapers illustrating his favourite art-world friends. In the 70`s he created depictions of the Paris party scene featuring socialites and celebreties which were part of his crowd one of which was Andy Warhol who wrote the forword for his 1982 book of art, Ultra Lux. Morillon`s work was exhibited at the Galerie du Passage in Paris who will have all the information on his work, www.galeriedupassage.com.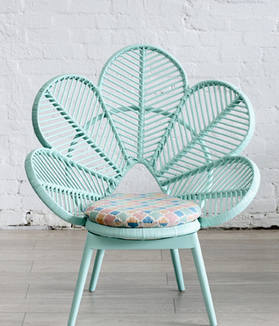 Love at first sit! Once you set eyes on this flower back Love Chair Mint with its Moroccan printed cushion you will be totally smitten, $495, thefamilylovetree.com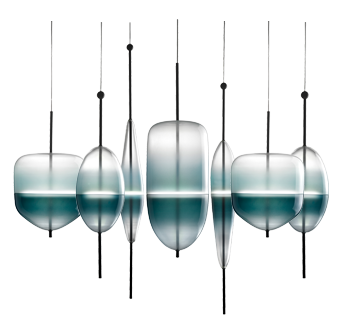 This delightful display of blue/green colours of the Venetian lagoon are illuminated and sit at the bottom of the vessels like water. Each hand-blown glass drop can be purchased individually or as a group, mintshop.co.uk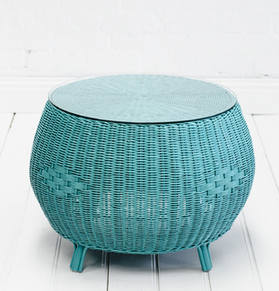 This glass top rattan coffee table brings a lovely element of colour and fun into the living space. They come in aqua, lemon and white, $ 295, www.thefamilylovetree.com.au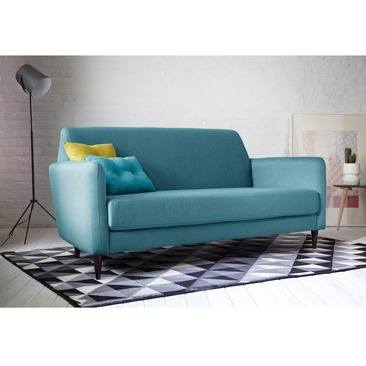 Trendy sofas needn`t come with a large price tag. This 2-seater 50`s sofa `Adelin`is perfect for a stylish summer interior. For those, who find the color too daring, there are more neutral shades to choose from, EUROS 499, www.3suisses.fr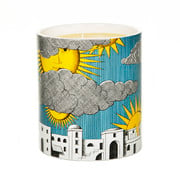 Another fine example of the creative mind behind the Fornasetti Design. This large scented Candle lends itself as a perfect statement accessory for a coffee table, www.amara.com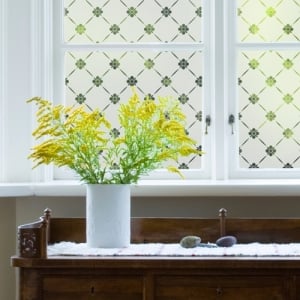 For some privacy from nosy neighbours, this self adhesive window film is a very decorative and low cost solution, www.purldeco.com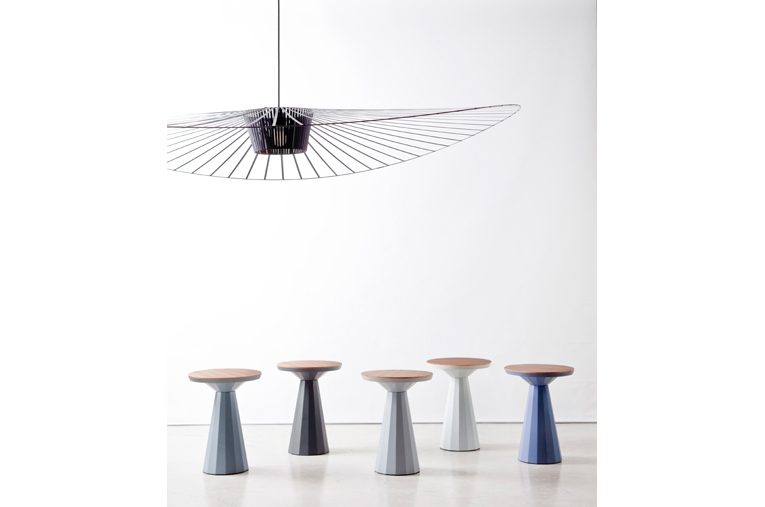 These stools by Constance Guisset provide a very stylish understaded mix of fresh colours, www.constanceguisset.com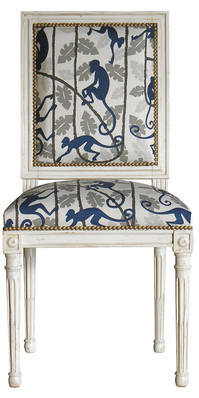 Not quite `Out of Africa` but equally exotic is this Moissonnier chair with its little Monkey`s hopefully having as much fund as those, looking at it, information and orders via [email protected]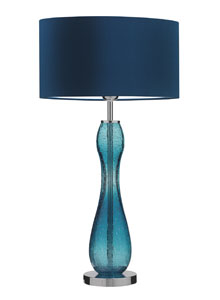 The Fado Table Lamp is like a breath of fresh air on a side or console table, www.heathfield.co.uk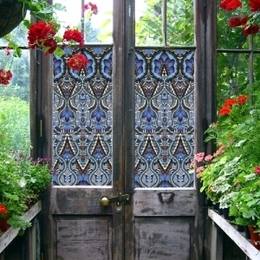 If the real art work is not quite within your budget, create this pretty stained glass effect look for a fraction of an original and in no time. These self adhesive window films are very easy to apply, www.purldeco.com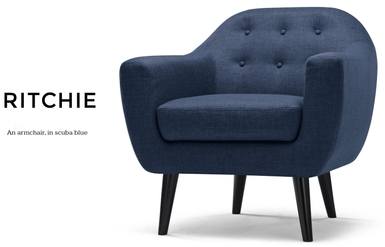 It is not just the chair but also the lovely blue which has turned this retro armchair into a fun and stylish statement piece, £ 349, www.made.com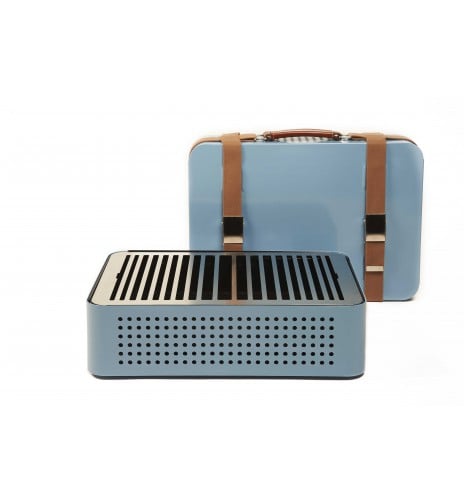 Wether you are planning a pick nick or just a small fry-up on your terrace, this stylish retro table barbecue will always look cool, EURO 277, www.fleux.com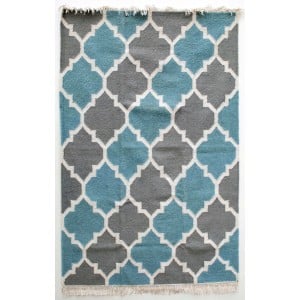 Mahout Lifestyle imports beautifully designed handcrafted rugs and bedspreads from India. This rugs comes in different sizes, from £ 310, mahoutlifestyle.com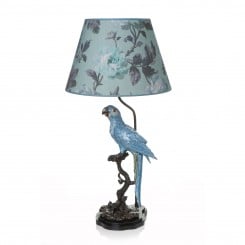 For those, who love being surrounded by exotic birds, this Parrot Lampstand will certainly speak to you, Parrot Lampstand £ 395, Peoneden Lampshade in Dusk £ 125, www.houseofhackney.com
F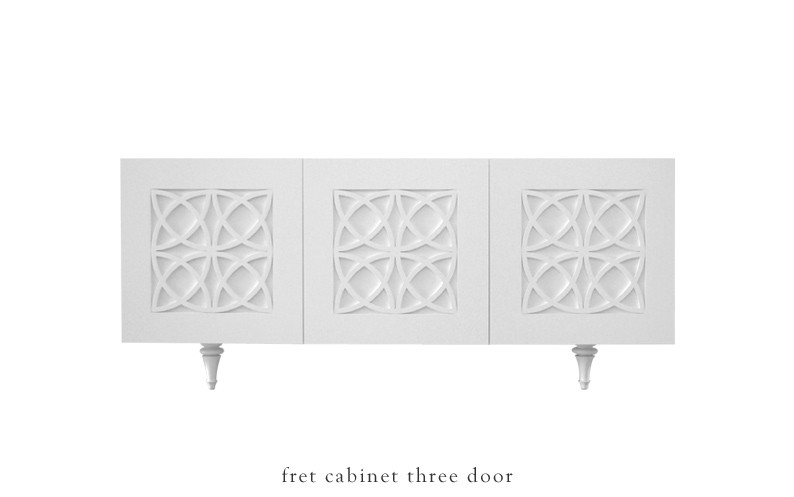 You don`t have to fret over this stylish side board. This beautiful hand made and painted cabinet by designed by Richard Baker, inlaid with Moorish frets in the doors and ends comes in different sizes, www.rume.co.uk

Small but beautifully designed are these pretty side tables by Nicky Haslam, www.okadirect.co.uk (international shipping)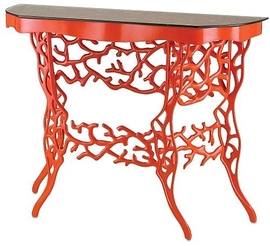 For a splash of colour, this Coral Demilune Console table lends itself to a very refreshing indoor or outdoor interior, $ 2,490, www.thedesignerinsider.com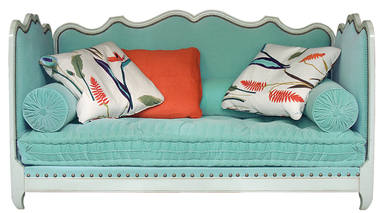 One can practically feel the clear green water under one`s feet by looking at this bright turquoise colored daybed from Moissonnier. It can also be supplied in other colors, information and orders via [email protected]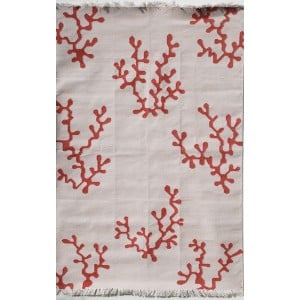 For that seaside feel the Coral motif dhurrie is a reminder to a lovey holiday by the sea, from £ 285, www.mahoutlifestyle.com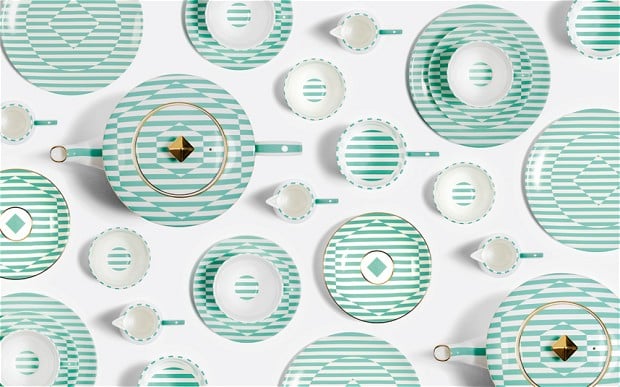 A real `piece de résistence` for special guests and entertaining or a perfect if you are still planning to set up your wedding list! This beautiful design was created by tableware designer Richard Brendon and is sold by Fortnum & Mason. Prices start around £ for a sugar bowl or mug, www.fortnumandmason.com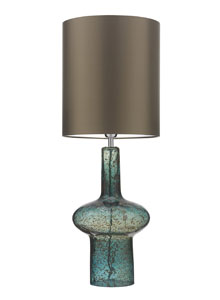 The next best thing to travelling to and taking a look at the inside of a volcano is admiring this stunning Verdi Ocean lamp at home on one of your tables. The mould blown glass with volcanic frit, lava and marble textures and patinas create a stunning and impressive display, www.heathfield.co.uk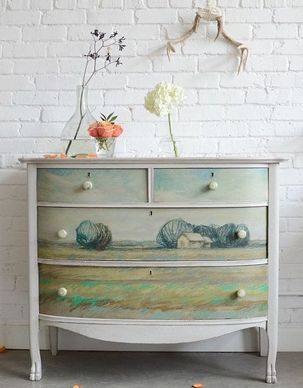 Who needs to escape to the country if you can bring it into your home with this beautifully decorated ches, www.etsy.com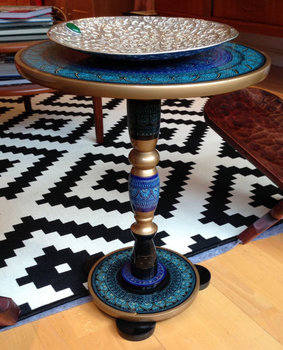 For a Moorish look this Blue and Emerald Bhera End Table is a very stylish and affordable choice, CHF 227.27, www.etsy.com (international shipping)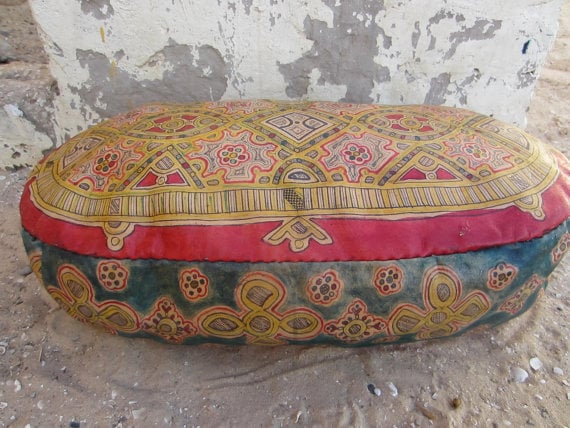 This handmade leather Ottoman, Lumbar Berber Pillow/Pouf is a perfect addition to a Moorish interior, CHF 71.69, www.etsy.com (international shipping)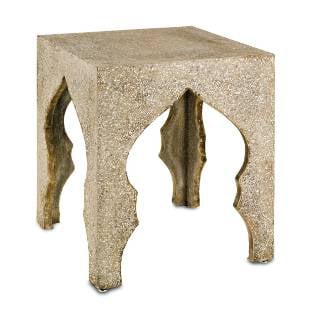 This stylish side table would not be the sort of souvenir to bring back in your suitcase. Far easier to have it delivered to your doorsteps. Fez Side Table by Paolo Moschino for Nicholas Haslam, www.nicholashaslam.com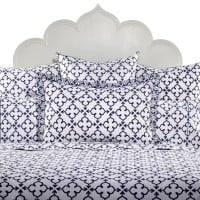 If you are after the 1001 night experience dream on in this Arabian nights bed linen, Pipal Indigo Duvet Cover by John Robshaw, www.idyllhome.co.uk



The perfect solution to bring new life to your chairs. The cushions come in a choice of colours, www.hm.com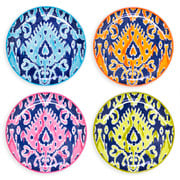 A colorful addition to a dinner table. Tangier Coasters by Jonathan Adler, £ 48 for a set of 4, www.amara.com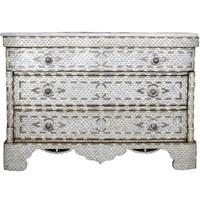 This stunning Bone Inlay and Marble Chest is handcrafted in Marrakech and is a true labour of love. £ 2,220, www.furnish.co.uk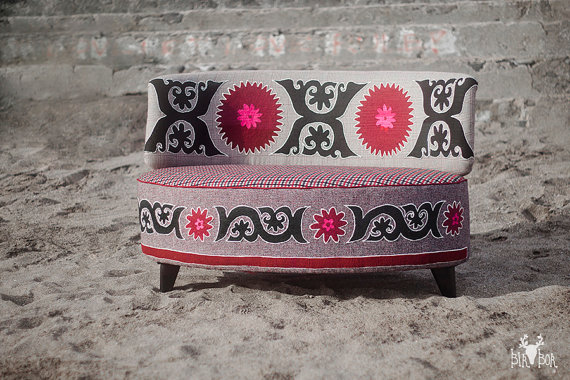 This unusually shaped Ertak Sofa reflects a blend of asian and eastern European culture. The blend of 3 different colours of wool with suzani takes its origins back to stories that began on the fabled silk road, CHF 2,087.30, www.etsy.com (international shipping)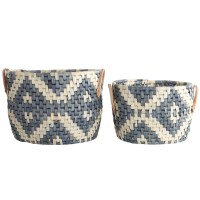 These grey and natural grass diamond broad weave graphic baskets provide a perfect home for all the little household items which don`t fit into any draws, www.idyllhome.co.uk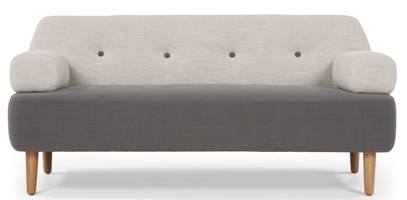 Rarely have two different colours worked so well on a sofa, Tobi Sofa, £ 529, www.made.com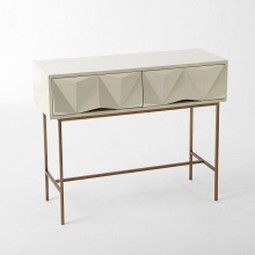 This Sculptured Geo Console-Parchment has a definite edge to it, £ 449, www.westelm.co.uk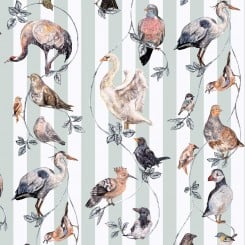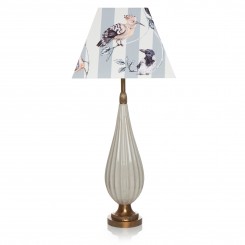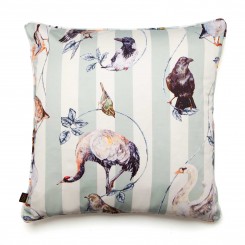 Anybody who fancys our feathered friends, will love this collection species making your house a home, `Flights of Fancy`wallpaper £148 per roll, lampshade £125, Cushion £ £65, Lampstand £295, www.houseofhackney.com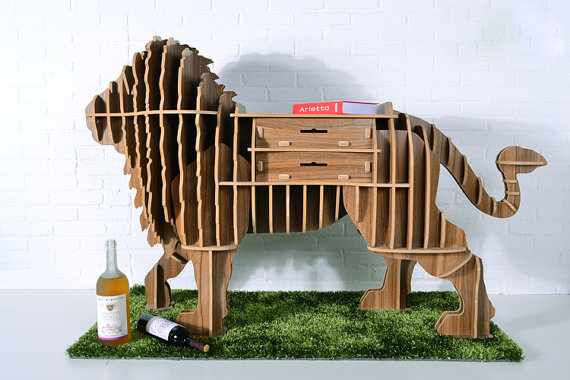 Just in case no lion showed up during your safari, this Wood Lion Drawer Coffee Table come storage bookshelf might come to your rescue and will be admired for much longer, CHF 2,904.07, www.etsy.com (international shipping)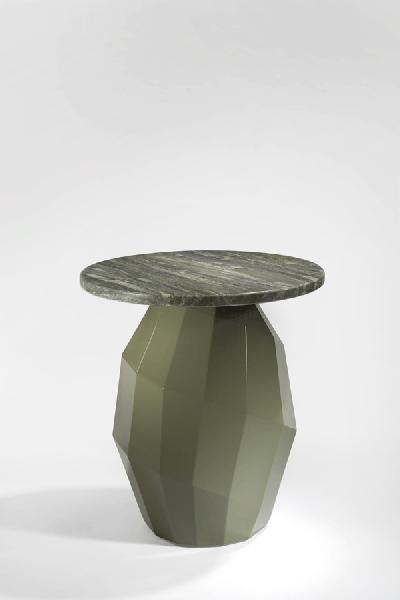 This table by India Mahdavi would make is a very stylish statement piece, www.india-mahdavi.com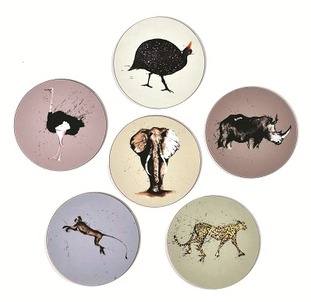 Show off your wild side and add these `Out of Africa` mats to your dinner table, www.clarebrownlow.co.uk

If very bright colours are not your thing, this is a lovely mix of discret seasonal colours and patterns for summer entertaining, www.kartell.com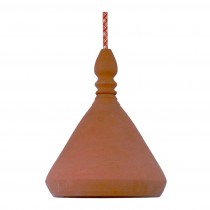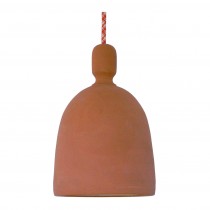 If your suitcase had no more space for any souveniers from Greece, these Meli Melo Terracotta Pendant Lights could be a very stylish reminder of a lovely holiday and are easy to order, £ 250, www.conranshop.co.uk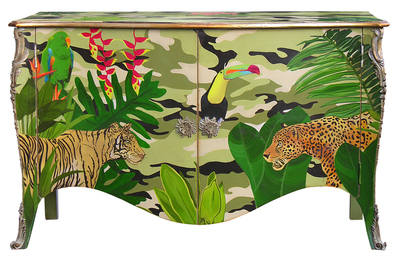 If Tigers are more your thing, this Moissonnier chest displaying a leafy dschungle scene cannot fail to impress, information and orders via [email protected]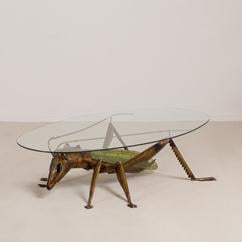 For those you are keen on creepy crawly`s, this 1970`s Brsseure Style Coffee Table by Jacques Duval might be the way to entertain equally keen lovers of these type of speciment. You might find though, that the rest of us stay well clear! www.talismanlondon.com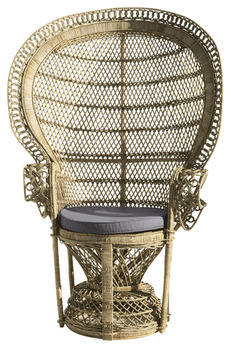 This stylish 70s Rattan chair Emmanuelle would be a very inviting place to sit and relax amongst the palm trees in a conservatory, EUROS 269, www.maisondumonde.com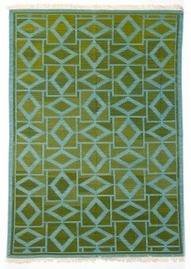 For some colour on the floor, the Lime Green & Blue Styalised Diamond Dhurry rug brings a stylish element to a room, www.mahoutlifestyle.com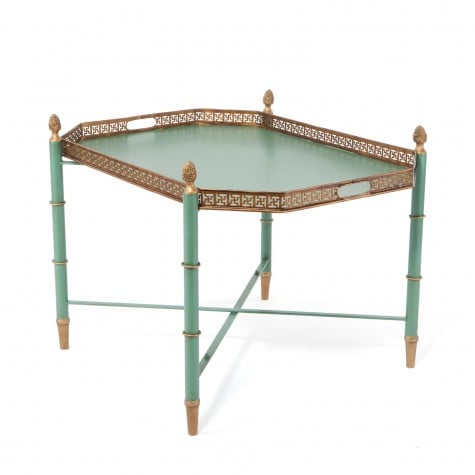 This stylish classic Hexagon Tray Table in jade green, will look very fetching amongst a room filled with exotic leafy plants, £395, www.houseofhackney.com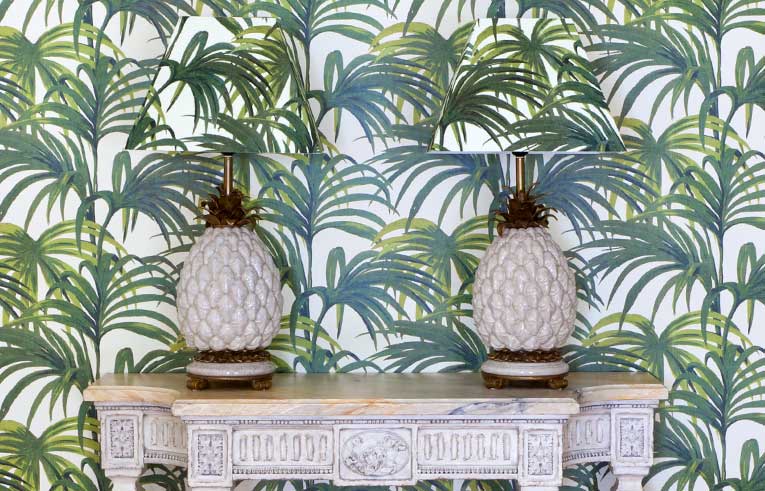 Give your interior a more permanent exotic touch with this Pinapple Lampstand and the Palmeral Lampshade with a matching wallpaper backdrop as a feature wall, Pinapple Lampstand £ 425, Palmeral Lampshade £ 125, Palmeral Wallpaper £ 148 per roll, www.hauseofhackney.com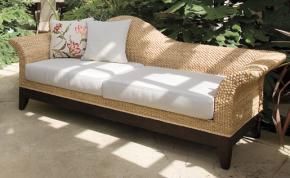 Sit back and relax in this stylish chaise longue style sofa. it would make a very stylish addition to a conservatory interior, £1.055, www. interiorsbyvale.com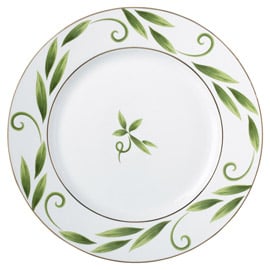 To complete the leafy conservatory look, this pretty china will (not) have your guest eat out of your hands! www.okadirect.com
SUMMERTIME ROOM INSPIRATION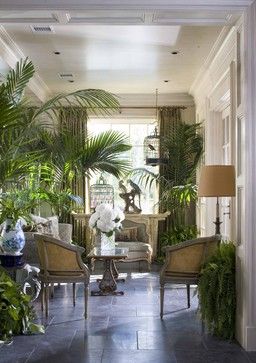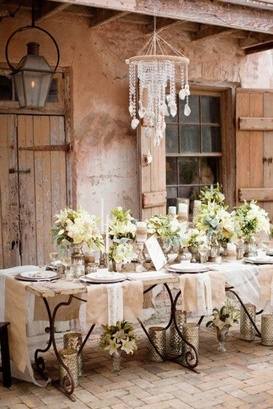 Via Pinterest.com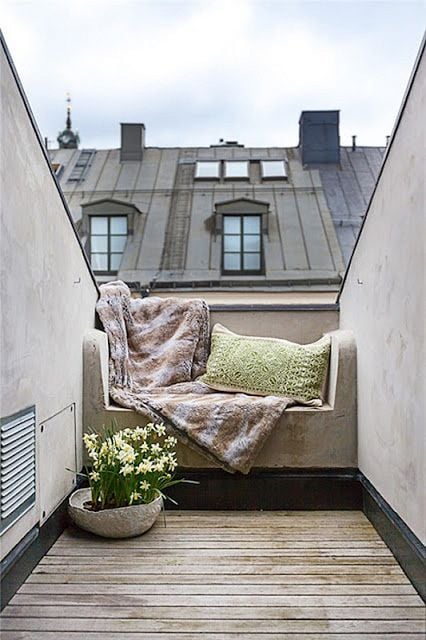 Via flickr.com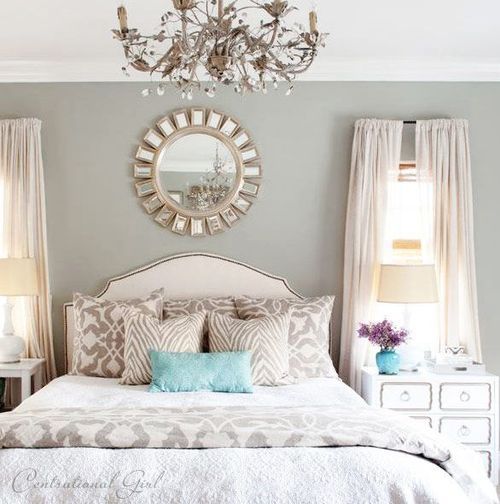 Via imgfave.com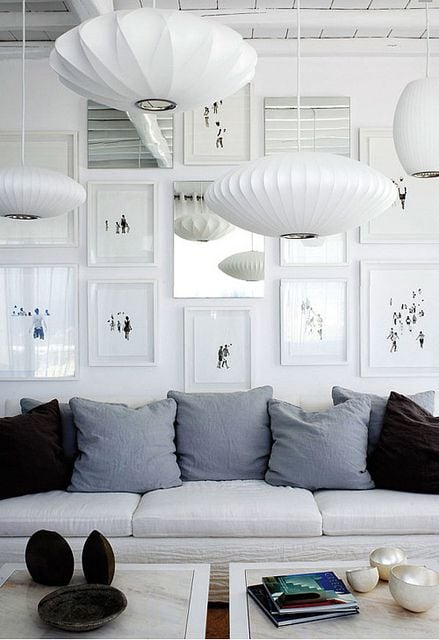 Via flickr.com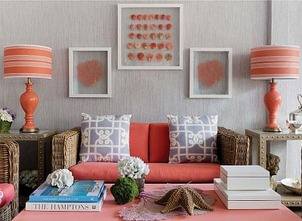 Via thedesignerinsider.blogspot.ch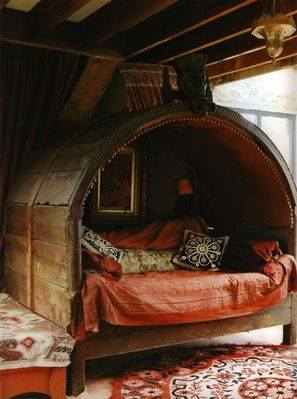 Via thenocturnals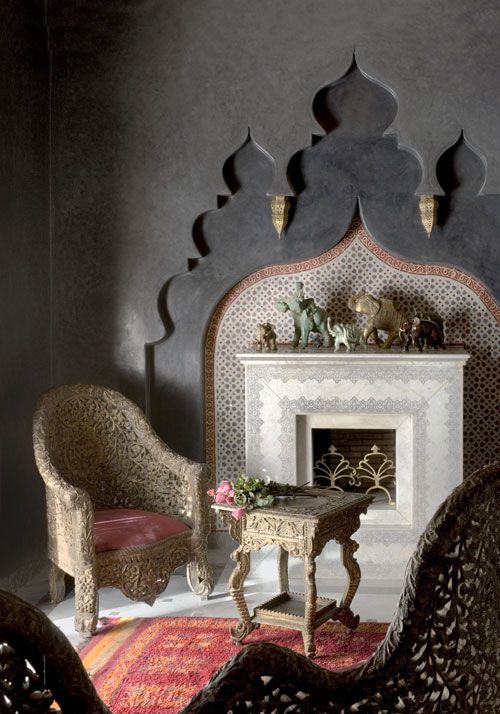 via pinterest.com/culturevixen.com
via desiretoinspire.com/Kevin Hart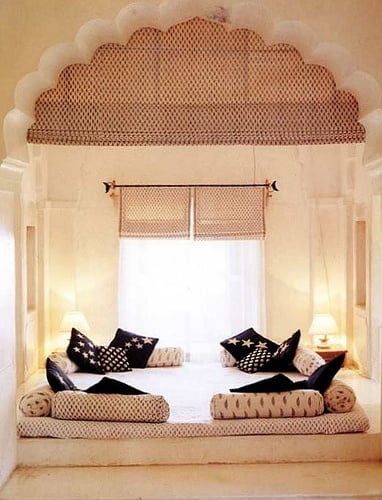 via pinterest.com/flickr.com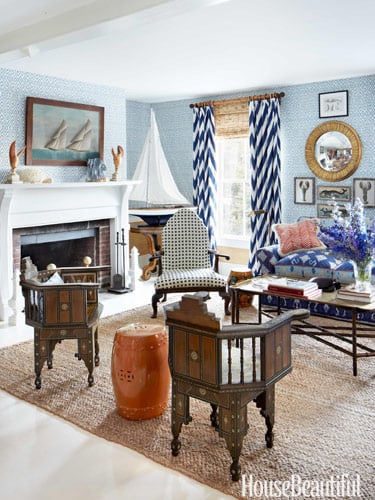 via.housebeautiful.com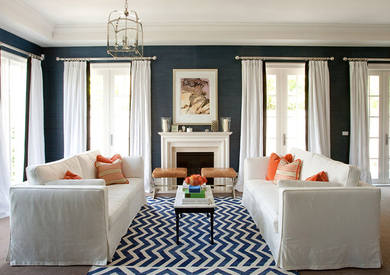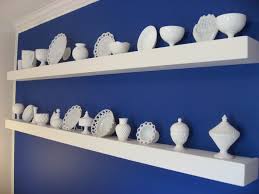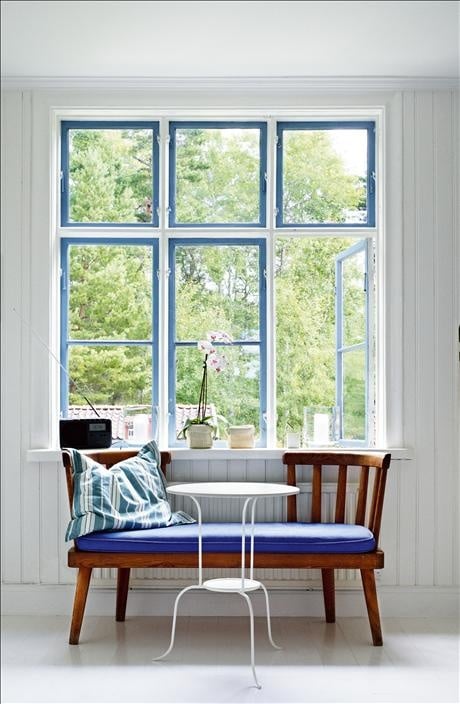 Via pinterest.com/skonahem.com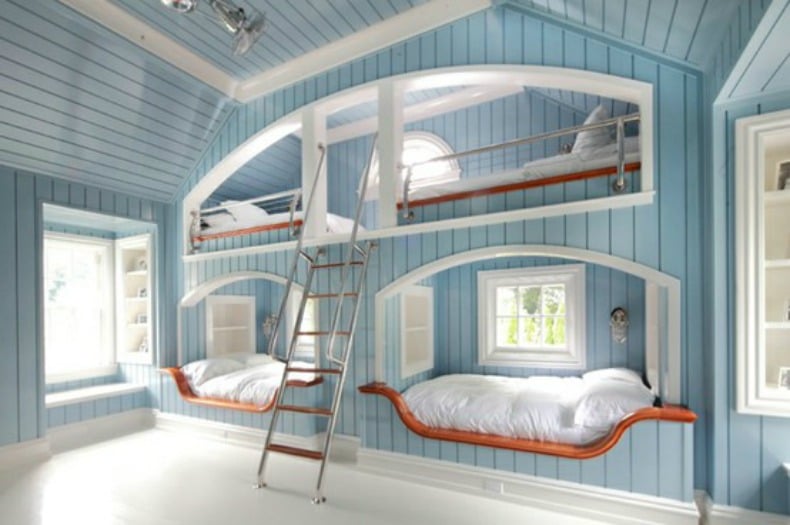 Via coastalhome.blogspot.ch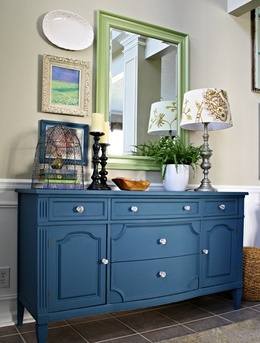 Via thriftydecorchichick.blogspot.com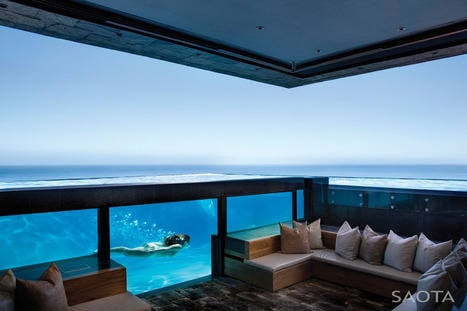 Via www.idesignarch.com