A LOT TO BLOG ABOUT / SPRING INTO THE NEW SEASON
Posted on
The time has come to wake up from winter hibernation to enjoy nature's first display of its lovely variety of colours.
My Spring/Easter Blog reflects the spirit of this beautiful season, daring to seek out colours, colour combinations and colour palettes, which the majority of today's eager minimalist interior doer-uppers might reject.
While I am not suggesting you throw out the new and go mad transforming your home into 'hue heaven', adding a touch of colour here and there, might give your interior that 'icing on the cake'!
So, dare to be different and inject some colour back into your life!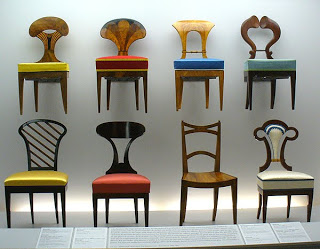 What an amazing selection of Biedermeier chairs…..I want them all! Sadly this multi colour set was exhibited in the Louvre in Paris. However, this is just a little taster to take you away from designs you see all the time and to inspire you to try out something with a very individual touch. I have done some research and come up with a few not dissimilar models which look equally amazing and are perfect for mixing and matching. These chairs are not cheap but for those who like this style of furniture the quality is quite evident and the unusual design worth the investment: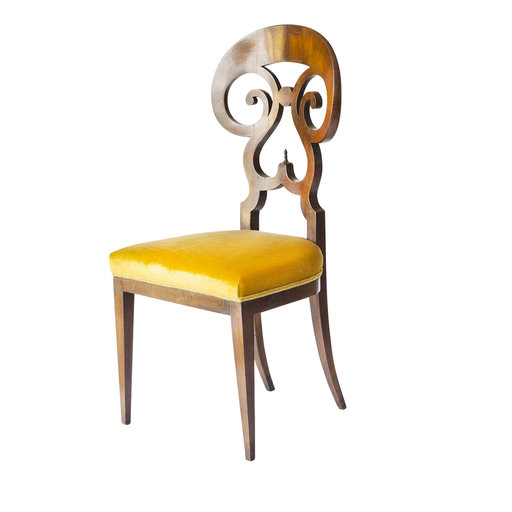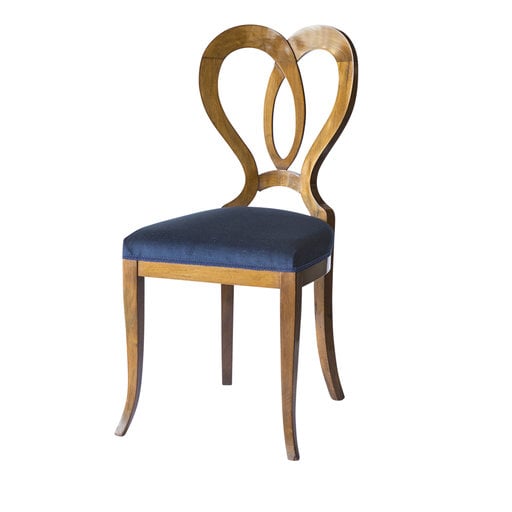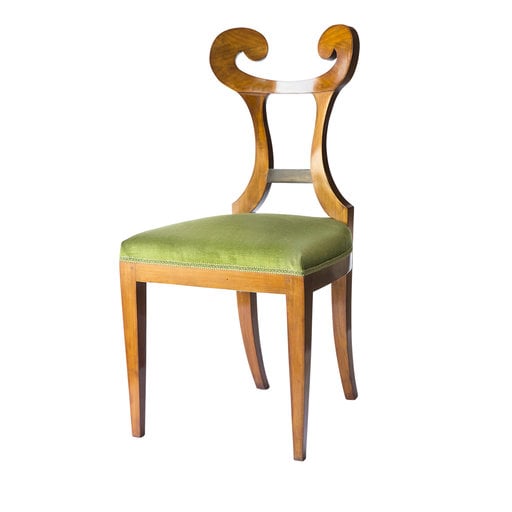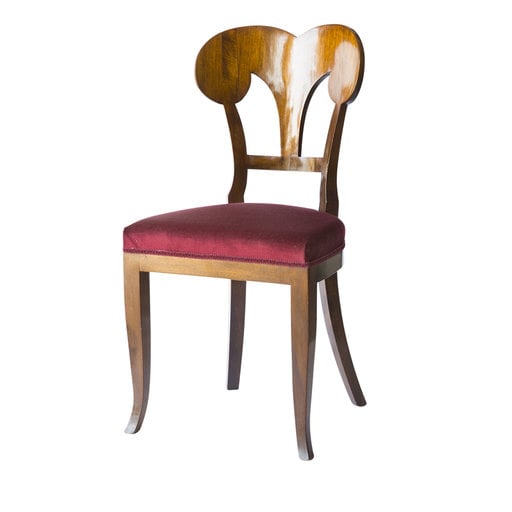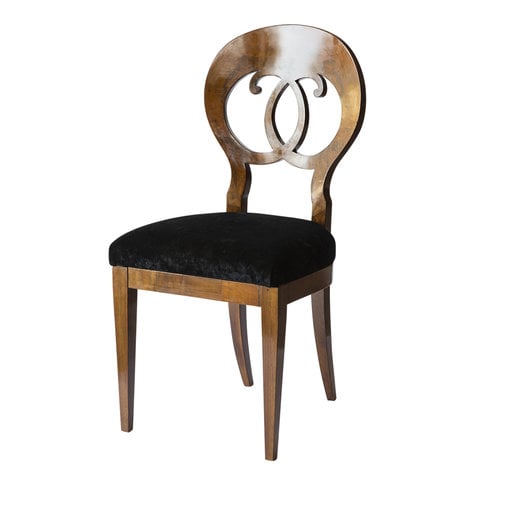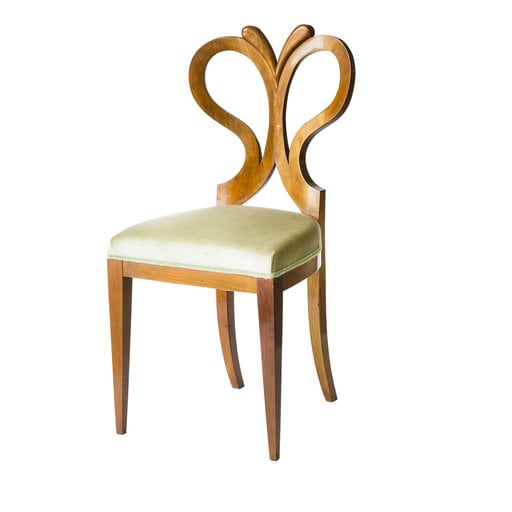 These beautiful chairs are being produced by an Italian family run company near Verona in Nothern Italy. These antique-style Biedermeier chairs based on originals are handmade using ancient carpentry and upholstery traditions. They are normally sold in sets of 4 with prices starting at around EUROS 3140 for a set of chairs, Malvezzi via www.artemest.com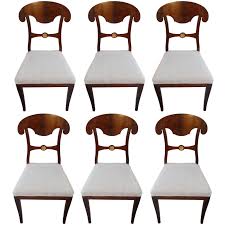 Set of 6 Swedish 19th Century Dining chairs. Fabric is off white but not exactly very practical, so could do with a makeover, £5.666,42, Laserow, www.1stdibs.com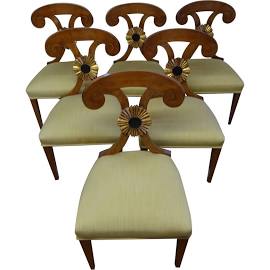 Set of 6 Austrian 19th Century Biedermeier Chairs…..wouldn't they look great covered in a vintage velvet fabric?, £10.353,49, Grinard Collection, www.1stdibs.com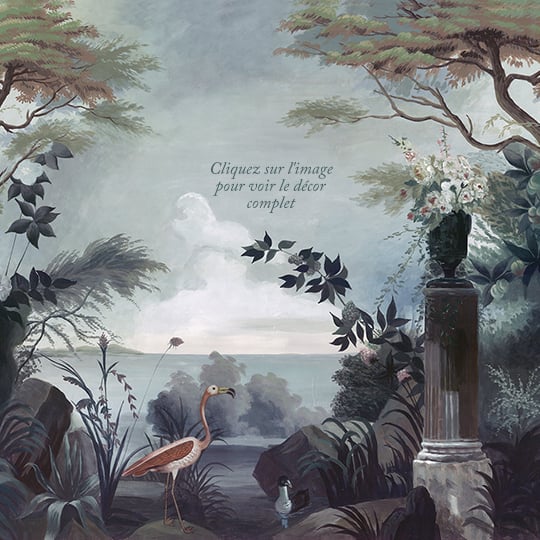 Bring the outdoors into your living space with this stunning wallpaper. It is perfect for creating a feature wall and makes incorporating furniture and accessories a lot of fun, ' Le Jardin au Flamant Rose' (W: 3.40m x H: 2.68m), EUROS 865, www.anabo.com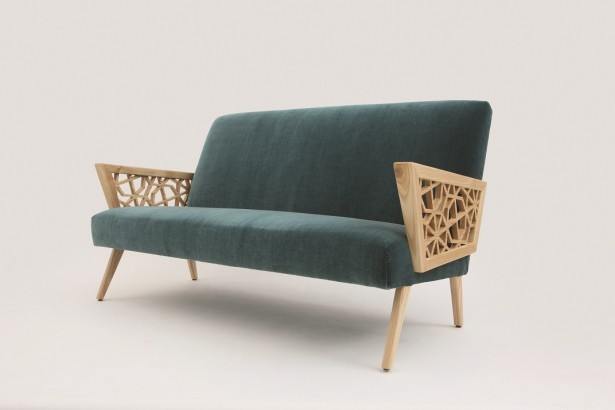 Nada Debs, a well known Lebanise furniture designer, has the fusion of Middle Eastern craftsmanship with minimalist approach down to a fine art, Strand Sofa (part of the vintage collection) www.nadadebs.com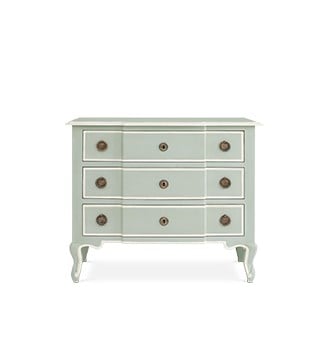 The Camille Chest in mintblue is the perfect choice for a crisp and fresh look, £349, www.swoonedition.com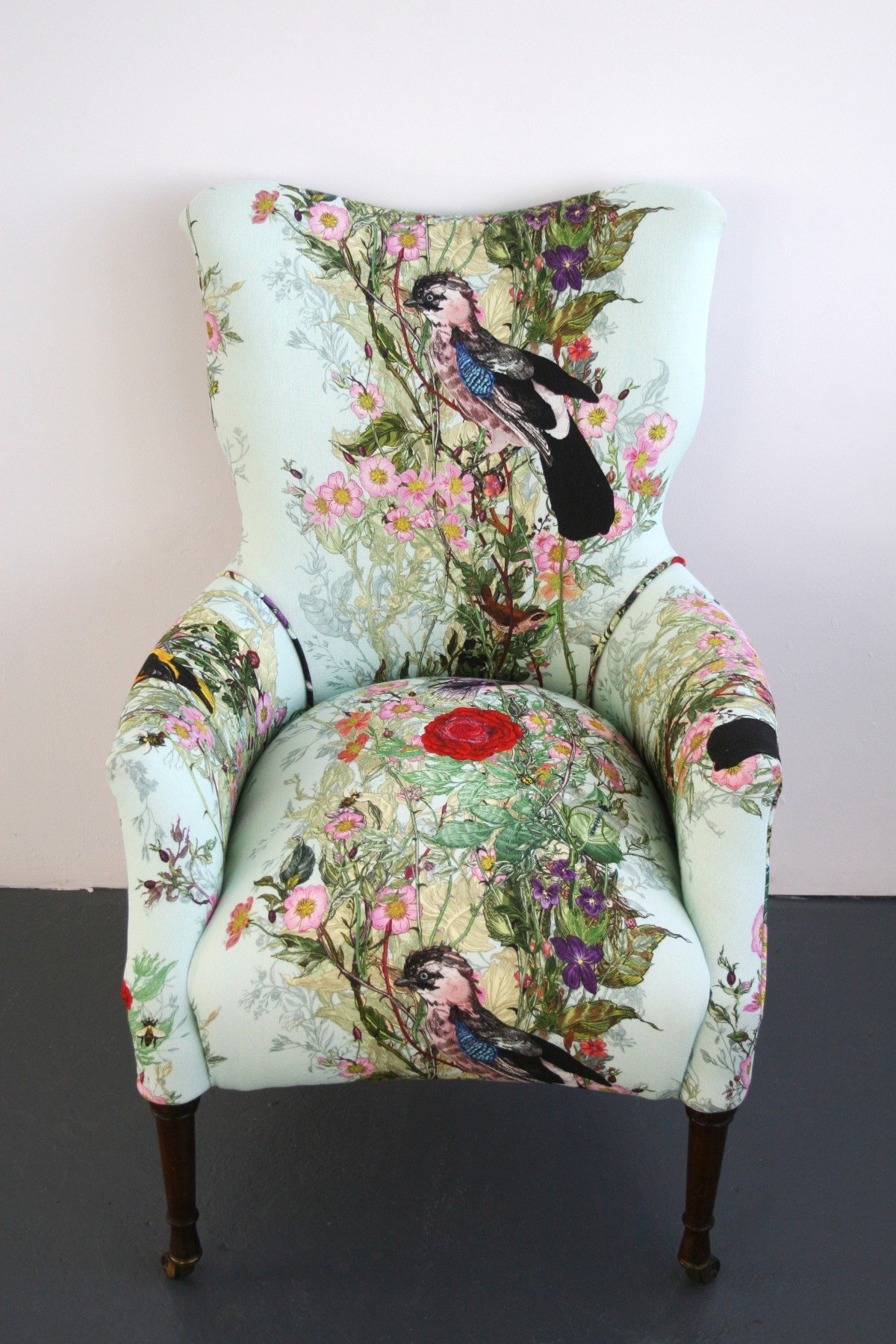 This feathered friend looks equally eye catching wether it is hanging from a window or fitted over a chair, www.timorousbeasties.com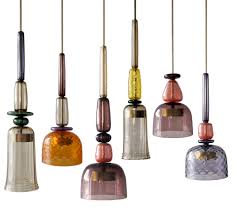 These hand blown ceiling masterpieces are the work of Anglo-Italian design duo Giopato & Coombes, www.geopatocoombes.com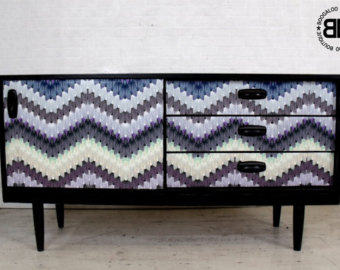 For lovers of Missoni style design, this up cycled Mid Century Schreiber Sideboard must surely a true 'piece de resistance'! Timorous Beasties, www.furnitureetc.co.uk
Mary Liddell, a Bath based artist is the one to contact for those looking for colourful still life paintings or something they would like to commission, www.maryliddelart.com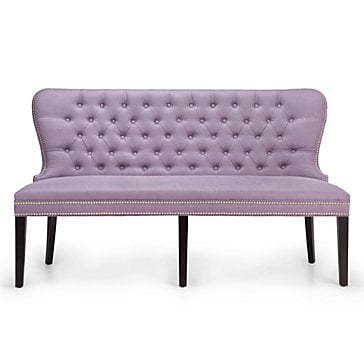 This very eye catching lilac Banquette, is an easy match with many contemporary hues, Charlotte Banquette, $899, www.zgallerie.com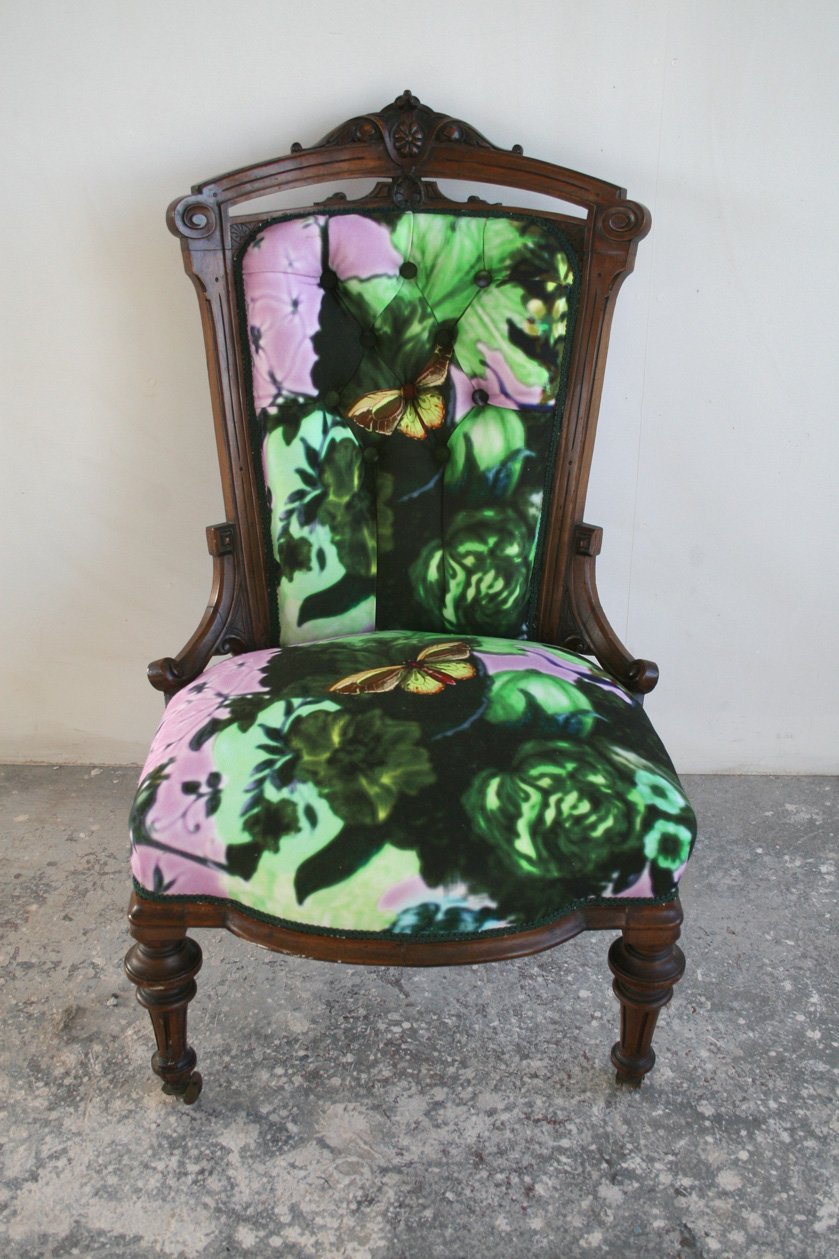 This fabric by Timorous Beasties is a wonderful explosion of spring colours and would add a stunning element on an occasional chair in an otherwise quite neutral environment, Butterfly Blurr Pink Febric, www.timorousbeasties.com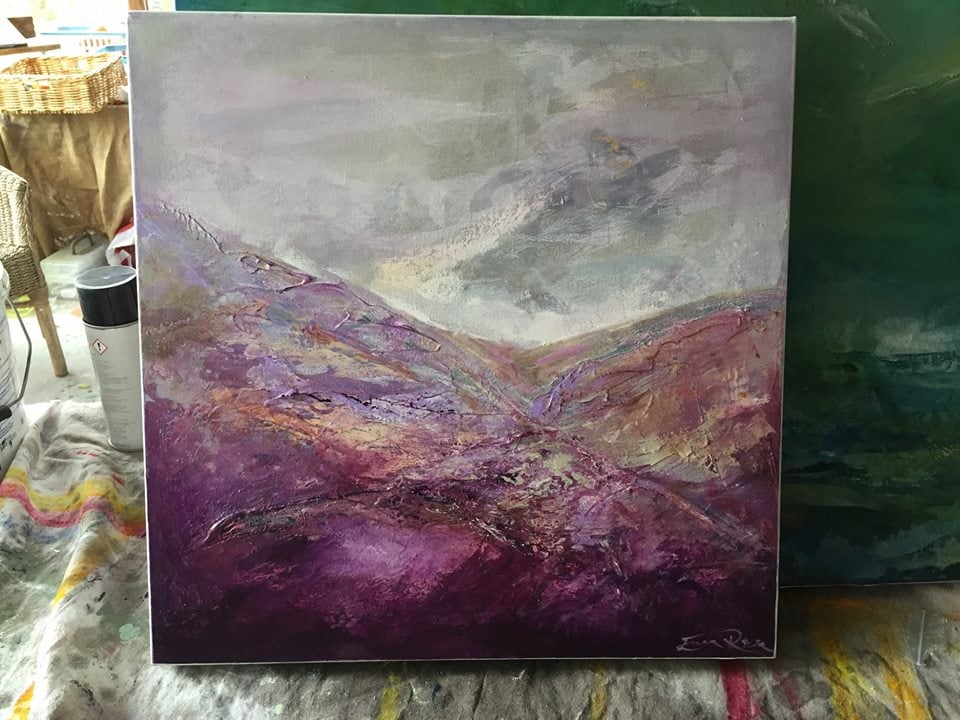 This colourful yet calming painting by award winning local artist Emma Rose would complement the Butterfly Blurr Pink Fabric in every way. They seem to be made for each other, www.emaroseartworks.com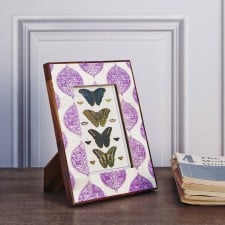 For those who are not big on colours but are looking for a seasonal touch, this printed bone photo frame will spruce up a side or console table in an instant, Lantern Printed Bone Frame, £19.95, www.grahamandgreen.co.uk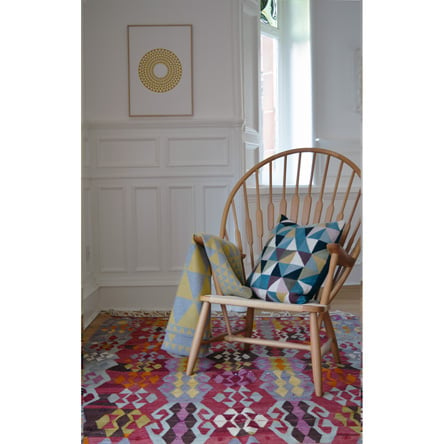 For those who are in need of a bit more colour in their lives, this Anatolian Kilim Rug will inject a bit of exotic fun into your living space, £1.500, www.nicky-jones.co.uk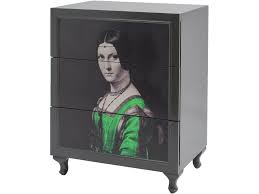 The perfect solution for those who are still looking for a 'His and Her's' cabinet. There is certainly no chance for getting them mixed up, Tudor Vida and Vido Portrait Black Cabinet, www.artisanti.com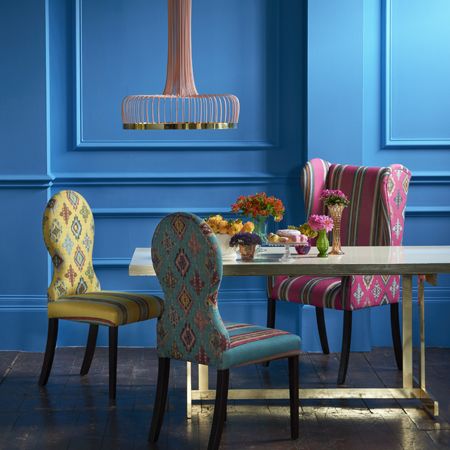 If your dining chairs are in need of a makeover, why not go all-out with clashing colours such as these intricately woven fabrics from the Anatolia collection, £46 a metre, Clarke & Clarke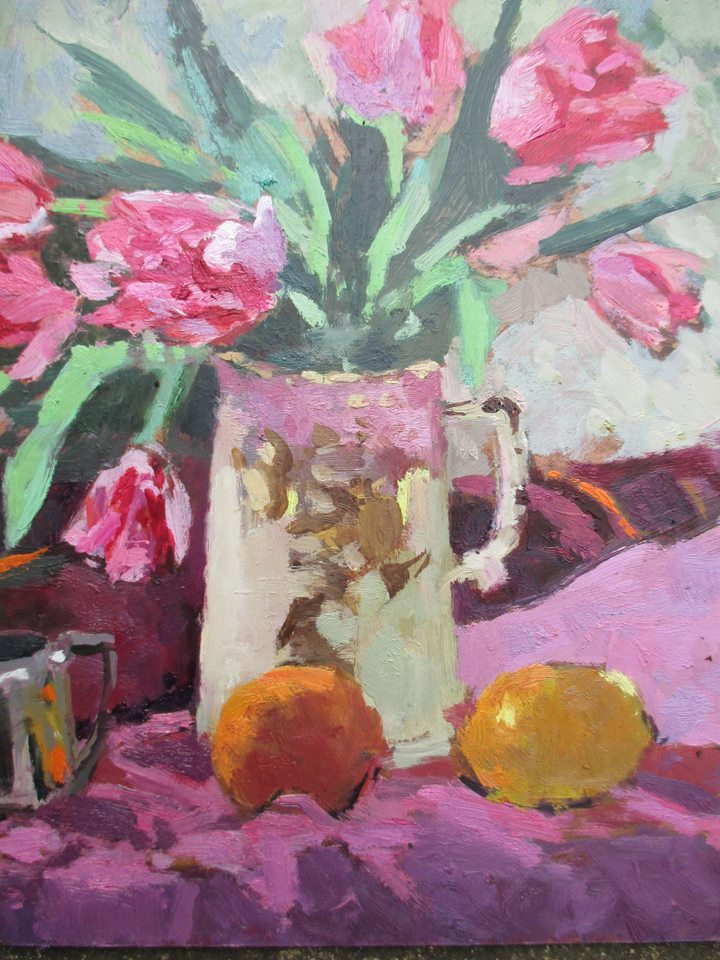 For a fresh injection of spring, this painting bring the entire garden into your house in an instant, www.maryliddellart.com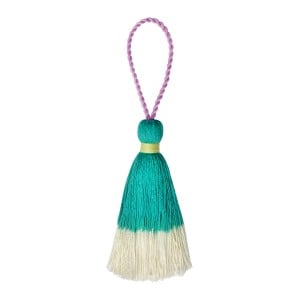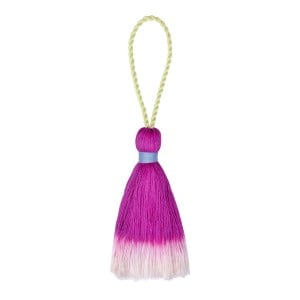 These tassels are a perfect way to draw attention to your door or curtains, if you want to go for the tie-back version, www.bluebellgray.com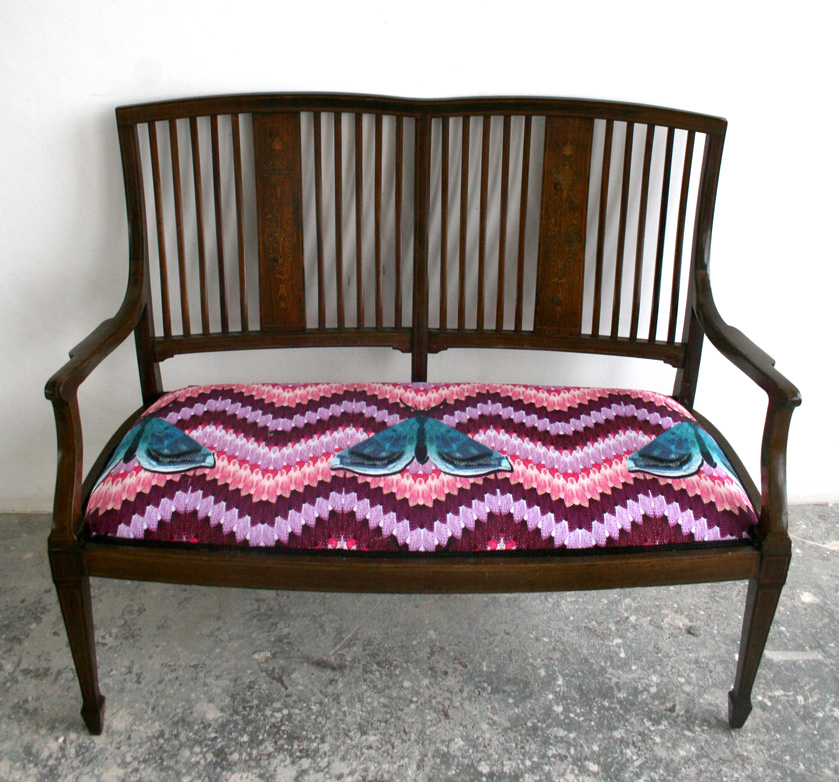 You would not want to ' mothball' this very striking 'Bell Moth Pink Fabric. Ideal for curtains, upholstery or equally interesting as a lampshade, www.timorousbeasties.com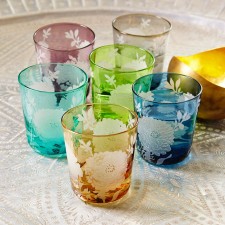 For a very colourful drinking experience treat yourself to this set of Peony Glasses, £69, www.grahamandgreen.co.uk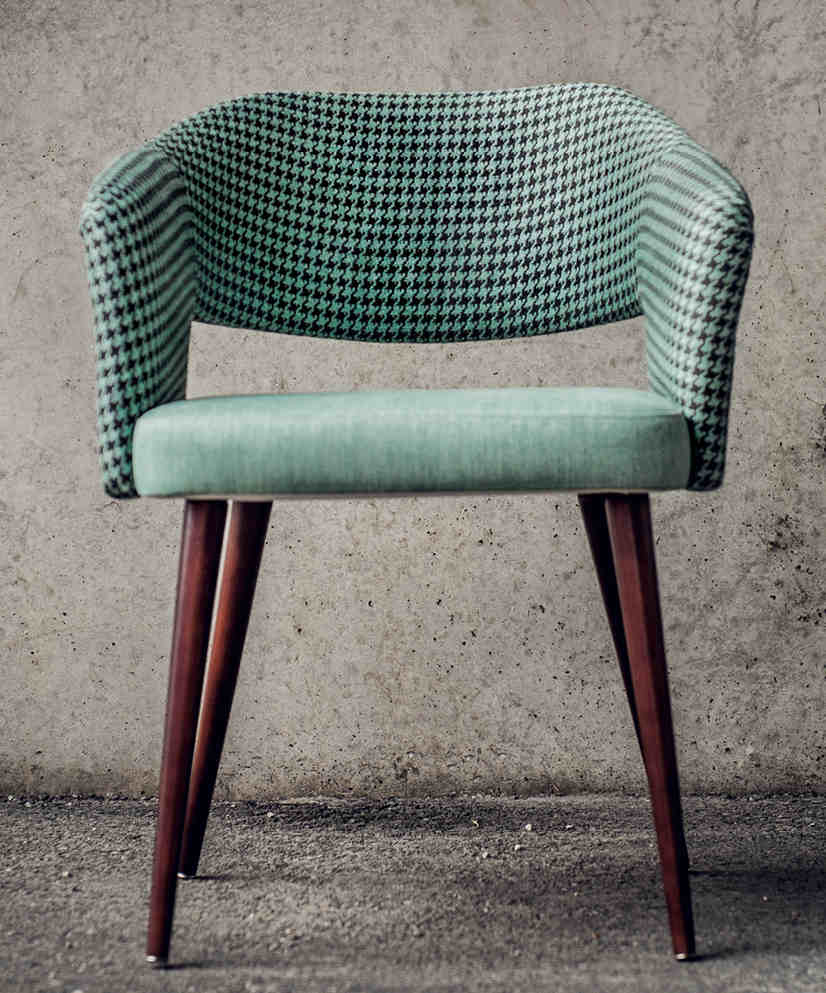 Amongst the Retro crowd, this chair by Martina Sperl would certainly be one of my front runners, www.martinasperl.at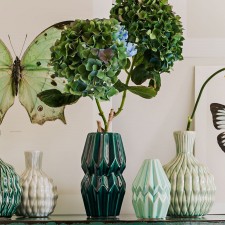 Wether on a mantle piece or table, these retro vases add a great look wether using just one or several in different colours and sizes, www.grahamandgreen.co.uk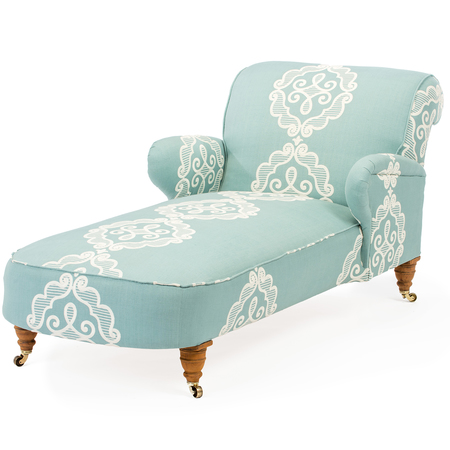 Sit back and relax in style in this pretty chaise longue, furnitureetc.co.uk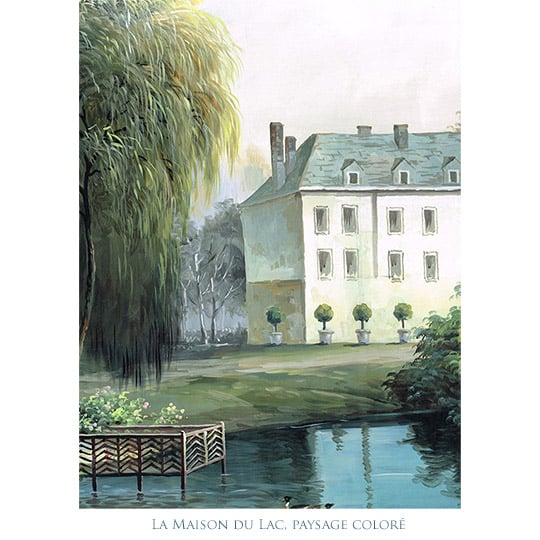 Another inspirational way to jazz up a tired wall and create a wonderful imaginative feature. 'La Maison Du Lac' , (60x80cm) EUROS 30, www.ananbo.com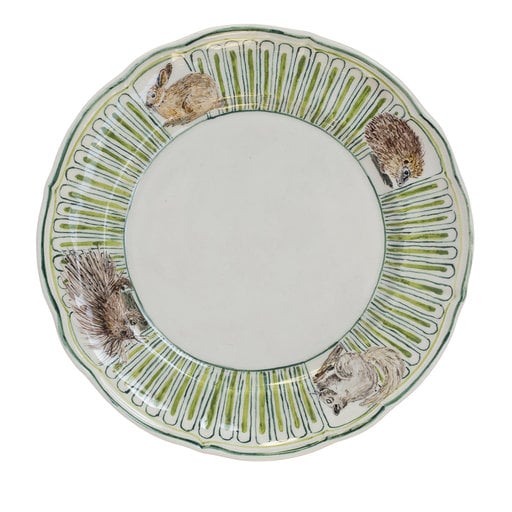 These richly decorated dinner plates are handcrafted by artisans of the Paravicini workshop in Milan. It does not come cheap at EUROS 160 per plate but if you want to splash out on a seasonal treat, this is a nice way to do it, Foresta Ceramic Plate, Laboratoria Paravicini, www.artemest.com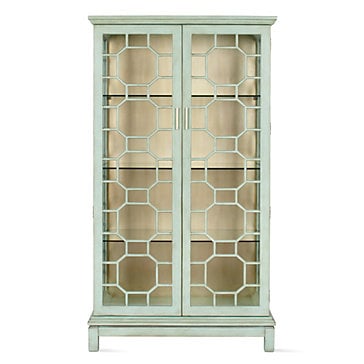 It is not the fact that we carry the same name, which inspired me to add the ' Isabella Cabinet' to my blog but the very stylish looking honeycomb fretwork, which would work well within traditional as well as contemporary interior, www.zgallerie.com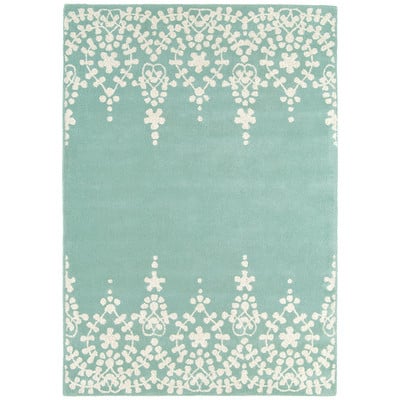 For an instant touch of Spring or for adding a refreshing touch to an old or tired floor, go for this Matrix Hand-Woven Blue Area Rug, Asiatic Carpets Ltd., www.wayfair.co.uk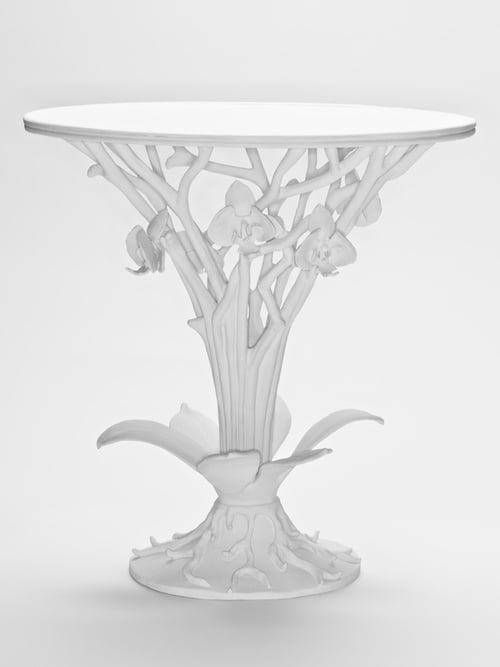 The table was designed with this season in mind, Spring Table, www.francissultana.com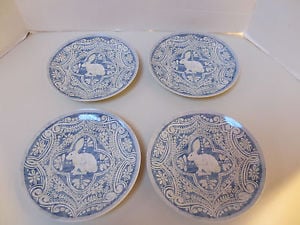 These Bunny Rabbit plates are a must have if you are planning an Easter themed lunch table, Set of 4 Four Pettery Barn Easter Graphic Bunny Rabbit Plates Blue, www.ebay.com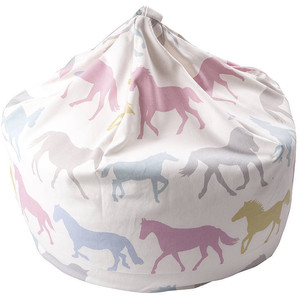 If you are running out of gift ideas for your horse mad daughter, this beanbag could no doubt come to the rescue, £69.99, ' Horse Lovers Beanbag', Pins and Ribbons, www.notonthehighstreet.com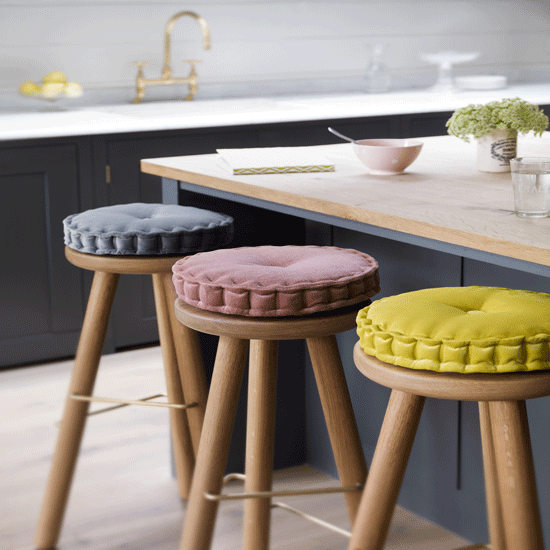 Give your kitchen an instant look of Spring with these round stitched stool cushions, £38.40 each, lookandcushion.com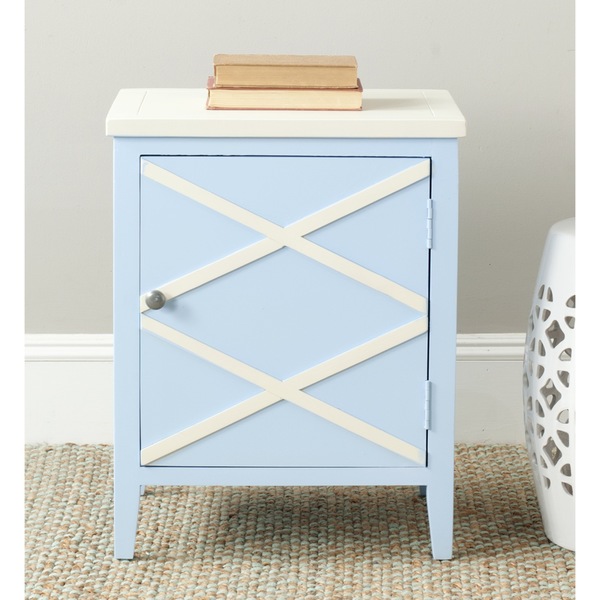 And for sprucing up another aspect of a girls bedroom, this side cabinet provides a very eye-catching solution (also available in other colours and different shapes and sizes), £111.93, Sfavieh Bernardo Storage Side Cabinet, www.overstock.com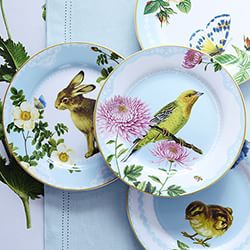 Leap into Spring and create a perfect Easter lunch table with this pretty dinnerware which is part of a wider Spring Garden collection, set of 4 Spring Garden Salad Plates, £38.98, www.williams-sonoma.com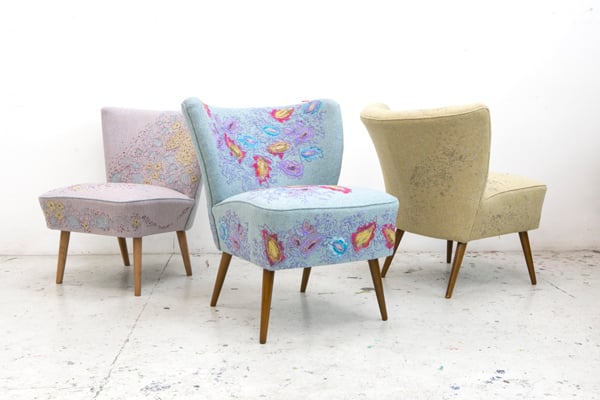 These pretty bespoke pastel coloured chairs by Zara Day will give your living space a new and fresh look, £2.768 (per chair), Saffron Interior Arts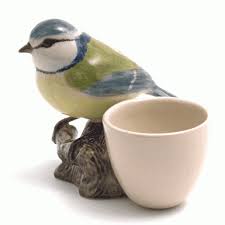 A little bird has told me that this is not just a feathered friend but a rather useful egg cup too, £12.95, Quail Blue Tit Egg Cup, www.liberty.co.uk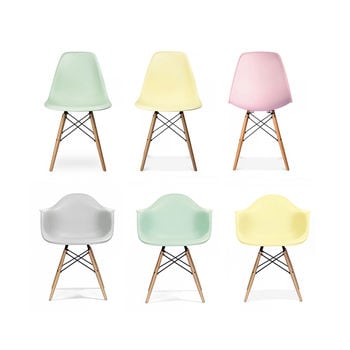 Spring is definitely in the air when mixing and matching these fun retro chairs round the dinner table, £98.89, Spring Pastel Dining Chair, www.notonthehighstreet.com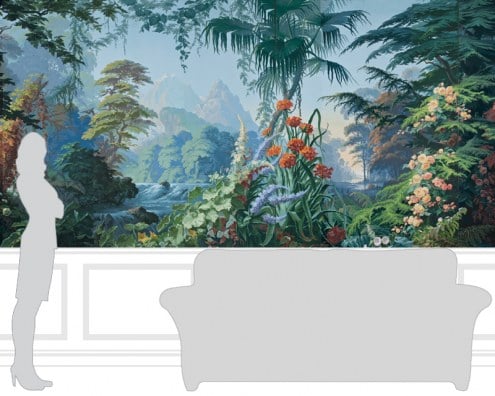 This is another French company who has it down to a fine art producing imaginative and eye-catching wallpaper panels (69 x 286), Eden/1861, www.papiersdeparis.com
These flowers are great for mixing and matching and no need to water them, Nathalie Lete Fleur Coffee Tables, from £190, Bayahrtherapy, www.luisaviaroma.com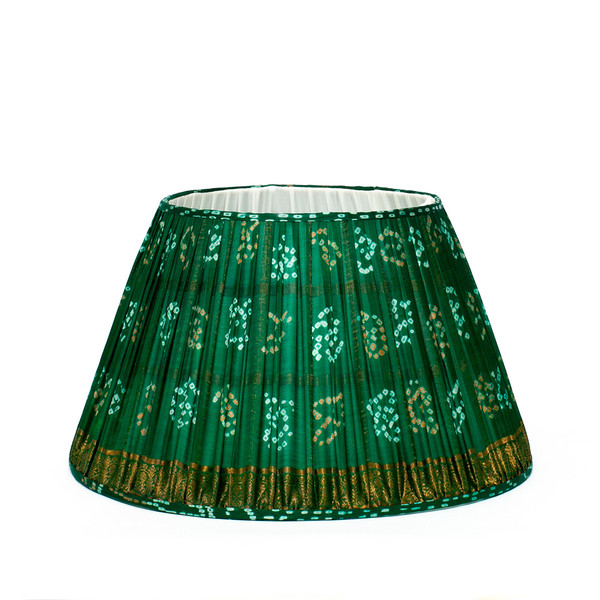 Let your imagination take you on a journey to far flung places with this sari inspired lampshade, £120, www.elbdesignltd.com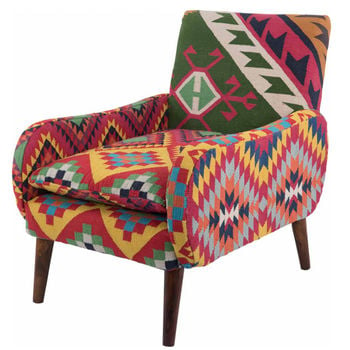 No need to get restless in this ' Dhurrie Nomad Armchair' , £935, The Comfi Cottage, www.notonthehighstreet.com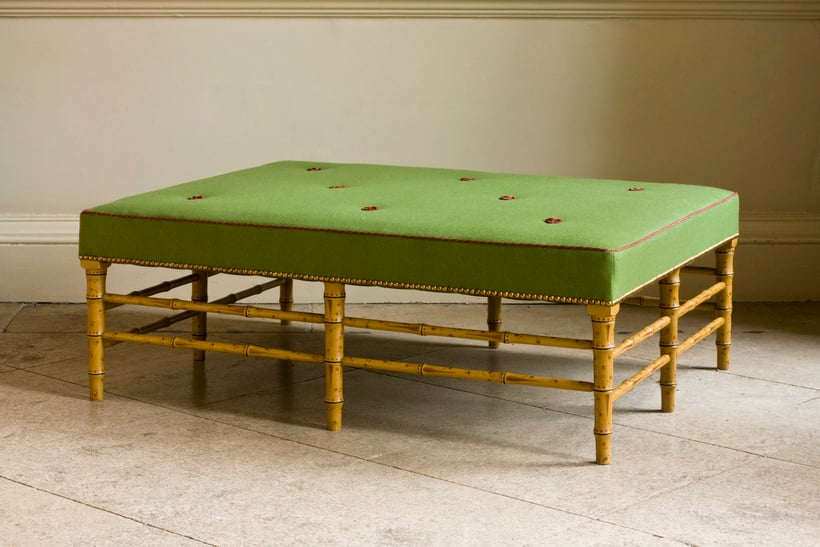 This Bamboo Coffee Table can be covered in a chosen fabric. The featured green fabric, brings a very fresh and crisp element to a spring style living space, £4680 (H 40cm x W 109 cm x D 84 cm), www.maxrollit.com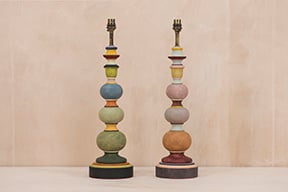 Can't decide which colours to go for? Go for this very fine selection of hues and make these bespoke table lamps your own, Bobbin Turned Lamps, £375 each, www.maxrollitt.com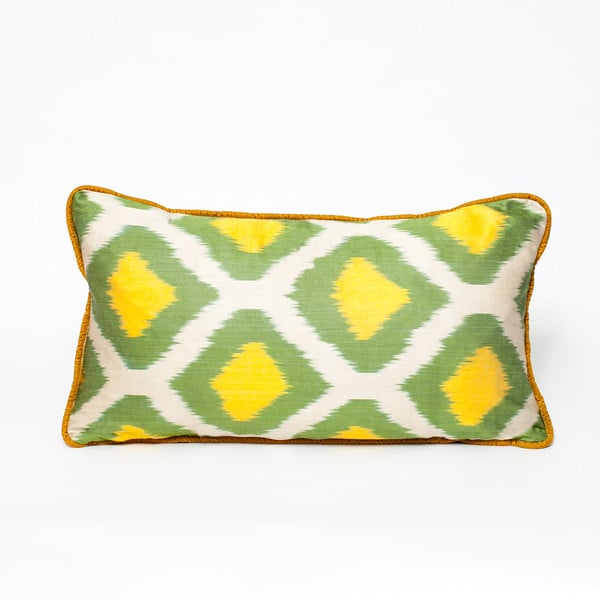 For a fresh Easter and Spring accessory, this cushion is one of my top picks, www.elbdesignltd.com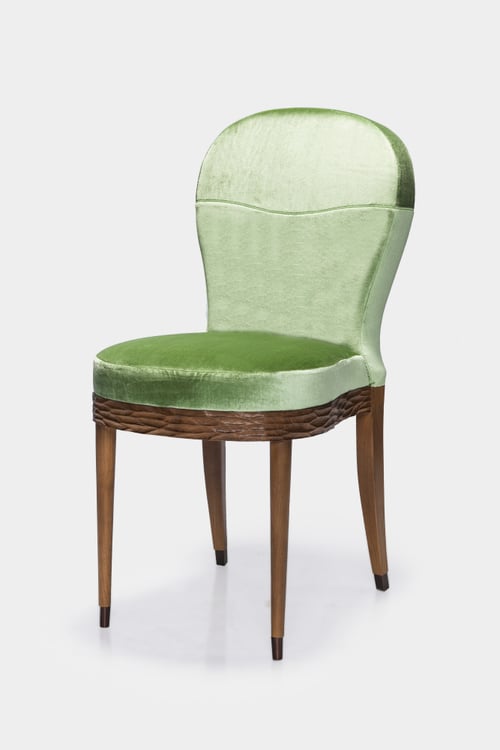 Make this stunning chair a feature in your living space and you will love it! Miti Chair, www.francissultana.com
Made by skilled hands in the hills of Umbria, this is a bold piece with charm and graphic edge which works equally well in an industrial loft as in a country home. Part of this 'Dandelion' furniture range are chairs, benches and tables, www.sallybridgemetal.com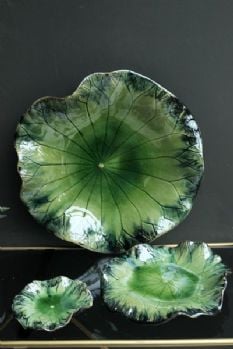 Using plants or other nature inspired forms in the home is always a very effective way of injecting a new seasonal touch to each room. These Waterlily plates are so on-trend this season, from £14, www.rockettstgeorge.co.uk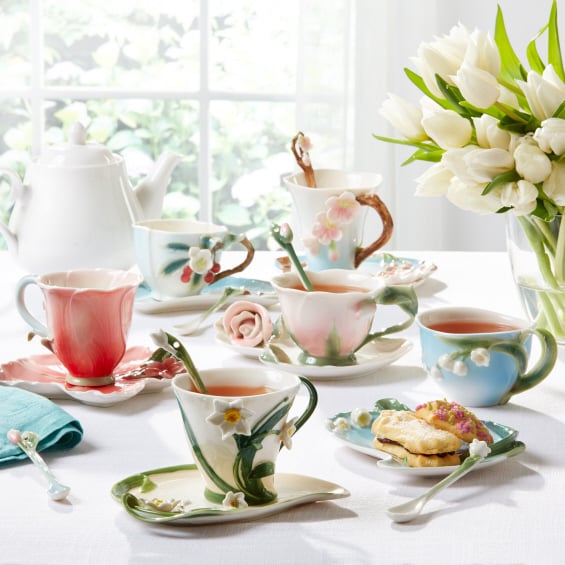 With this selection of floral display, you are certainly set for your next garden party, Garden Party Tea Set, www.twoscompany.com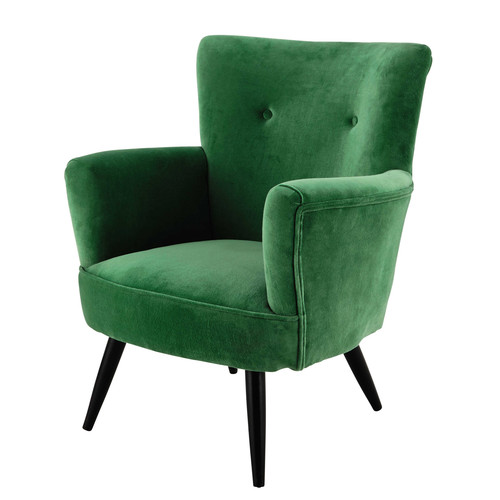 Not just plants can add a leafy green element to your interior, £399.90, www.maisondumonde.com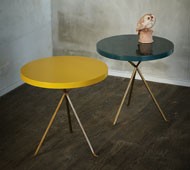 These tables are perfect for mixing and matching and a good choice if you want to stay flexible on your colour scheme, X-Table, www.julianchichester.com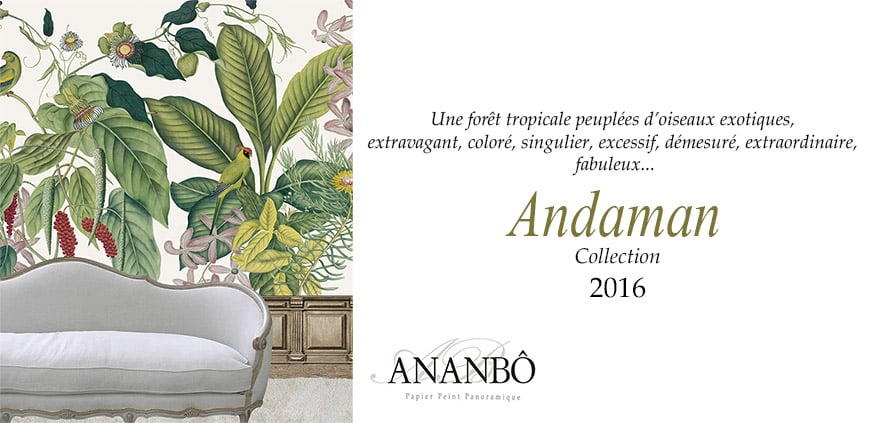 For that leafy look, cover your feature wall in this warm and lively wallpaper, Andaman Couleure, (500cm x 270cm), EUROS 1290,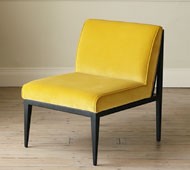 Let the sunshine in with this very stylish occasional chair, Marcs Chair, www.julianchichester.com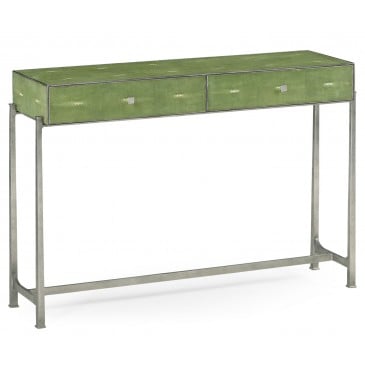 You only need one of these stunning pieces to give your interior that luxury feel, Faux Shagreen Console Table, £2.082, www.pavillionbroadway.com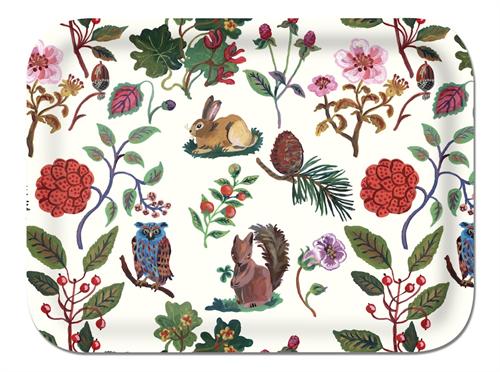 This jolly tray is a must if you are planning an Easter themed lunch, Woodland Tray, from £20.00, www.avenidahome.com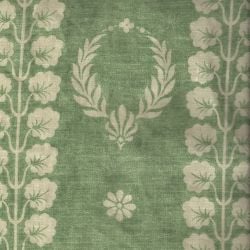 If you love the French vintage linen look, go for this gorgeous ' Couronne Fern Green' vintage linen by Inchyra, £60 per m, wwwlinchyradesigns.co.uk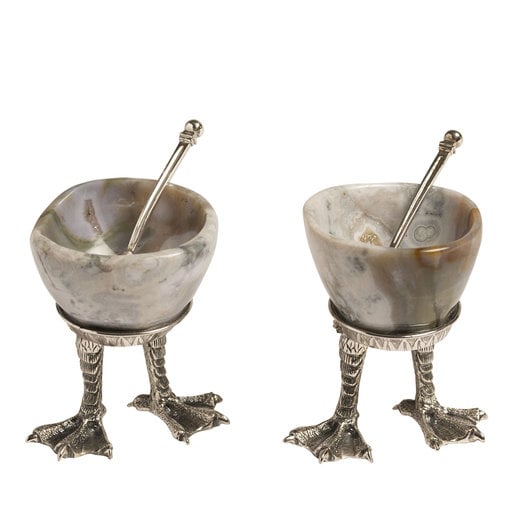 Add a bit of luxury to your Easter dinner table (and beyond) with these rather luxurious salt and pepper caster set. It is hand crafted by the Florentine silversmith atelier Pestelli. The webbed animal feet are made of silver which support the pale ocean jasper salt & pepper dish, EUROS 520 (silver spoons included), Pestelli, www.artemest.com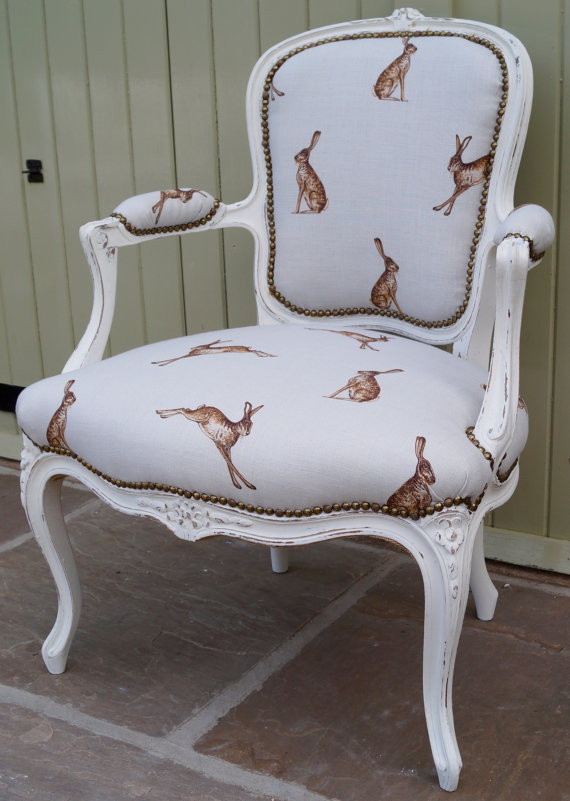 Why not hop onto this pretty chair for some creature comforts, Louis XV Armchair covered in Peony & Sage Hare Fudge fabric, £225, AngilouGFF, www.etsy.com/uk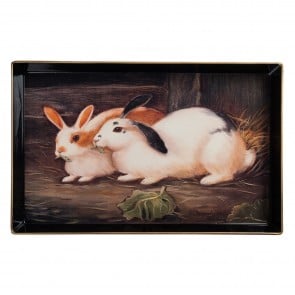 Keep your trinkets tidy with this small 'Al Fresco Tray - Bunnies', £7.50, www.indiajane.co.uk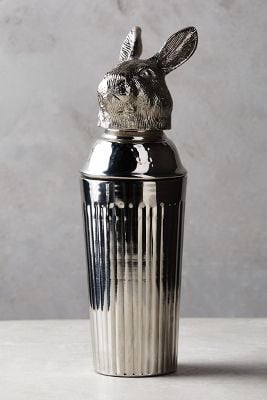 For those who prefer it Shaken not Stirred, this Rabbit Cocktail Shaker, will shake things up a bit next time you entertain your guests, www.anthropololie.com/uk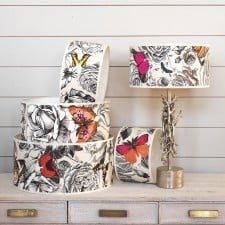 A very ' fluttering' piece of accessory for your spring interior available in a number of sizes, Zirconia Butterfly Garden Lamp Shades, from £35, www.grahamandgreen.co.uk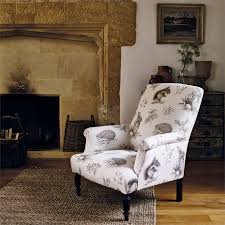 I couldn' t resist including this fabric in this season' s blog, 'Squirrel & Hedgehog' design from the Woodland Walk Collection, £56 a metre, www.sanderson-uk.com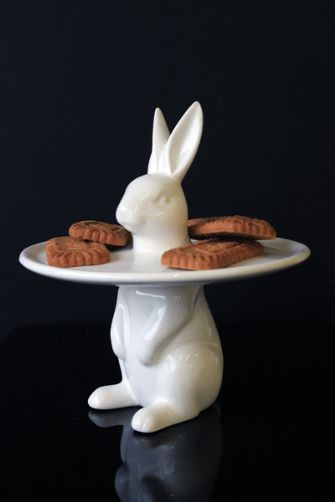 This little bunny will show off your cakes at their best when you have family and friends joining you for an afternoon Easter Egg hunt, £14, www.rockettstgeorge.co.uk


Recycling containers do not exactly cross one's mind as 'tres chic' or designery…..in which case you have not yet been introduced to the Ovetto Recycling Bin. Looking like an oversized designers sort of egg when closed, it opens into 3 compartments for sorting out your rubbish, £112, www.greenweez.co.uk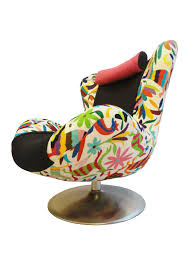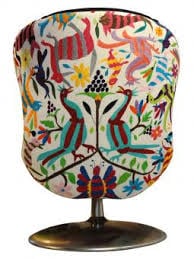 Sit back and relax in this hugely comfortable and quirky retro chair, Tenant Sound Chair, www.valentinagw.com

Spruce up your kitchen table with these eye-catching Artichoke candle holders, Cardoon Candle Holder, £39, www.okadirect.com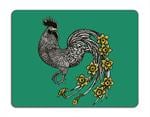 Have some fun when decorating your Easter table with this bright Green Rooster Table Mat, £20, www.avenidahome.com
Give your table lamp that refreshing new look with this decorative Yara Lampshade, £84, www.elbdesignltd.com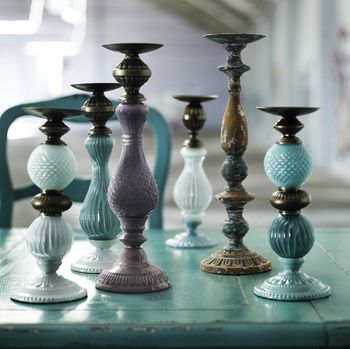 Strength in numbers is certainly displayed by this group of candle holders, £35 each, Bell & Blue, www.notonthehighstreet.com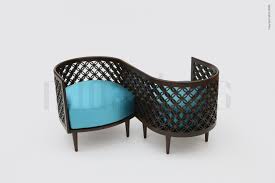 Sit back and enjoy eying up the person next to you, this double chair is part of the Arabesque Collection, www.nadadebs.com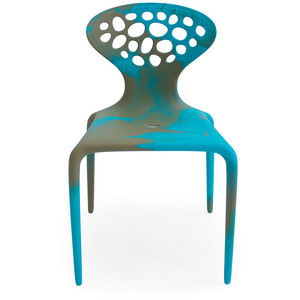 This contemporary dining chair with its refreshing design is available in a range of colours, Moroso Supernatural Chair, £160, www.amara.com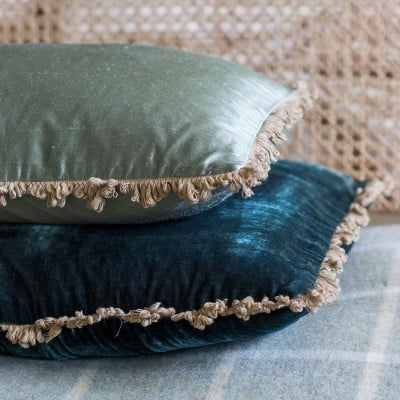 The silk and velvet mix in these vibrant colours will make a lovely statement to a sofa or armchair, www.susiewatsondesigns.co.uk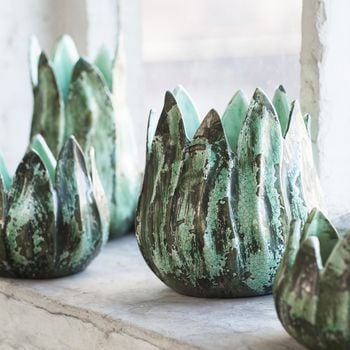 For a touch of outdoors indoors treat yourself to these Leaves Plant Pots, The Estate Yard, £40, www.notonthehighstreet.com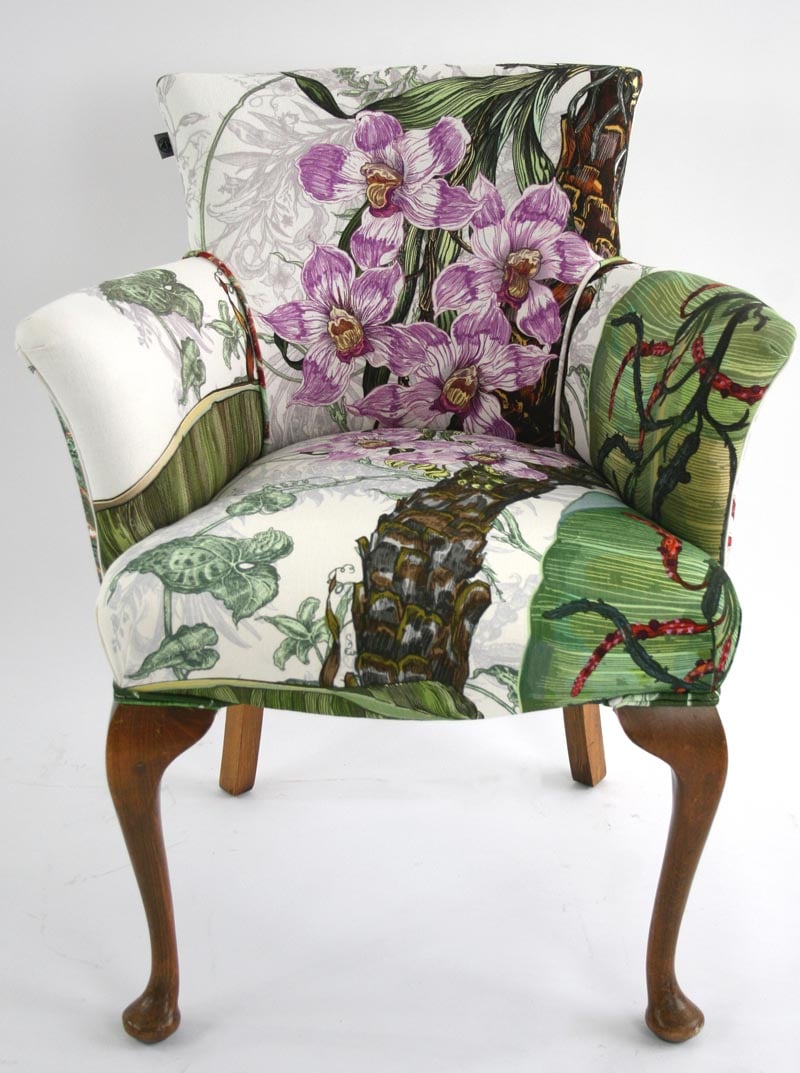 If you can't get enough of flora and fauna there is inspiration at hand with this hard to ignore fabric, Topical Tropical Fabric, www.timorousbeasties.com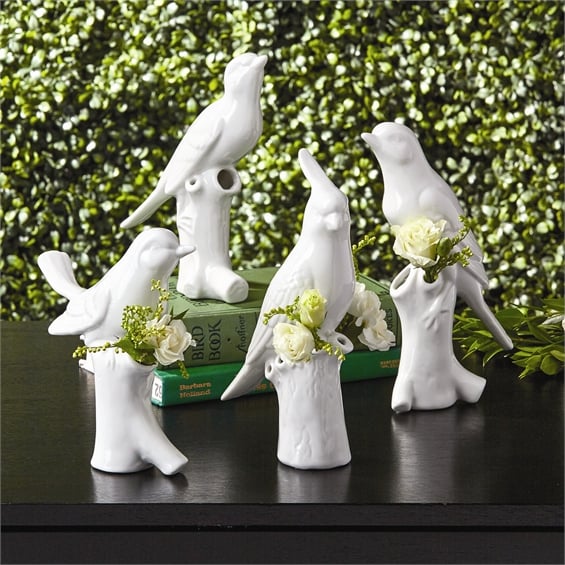 These birds perform particularly well as a group and come in 4 designs, Bird Vase, www.twoscompany.com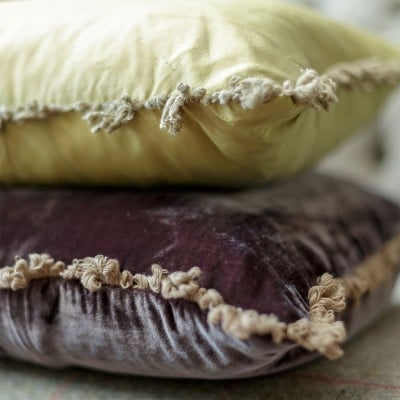 Another striking mix of linen and velvet combining colours which work very well together, www.susiewatsondesigns.co.uk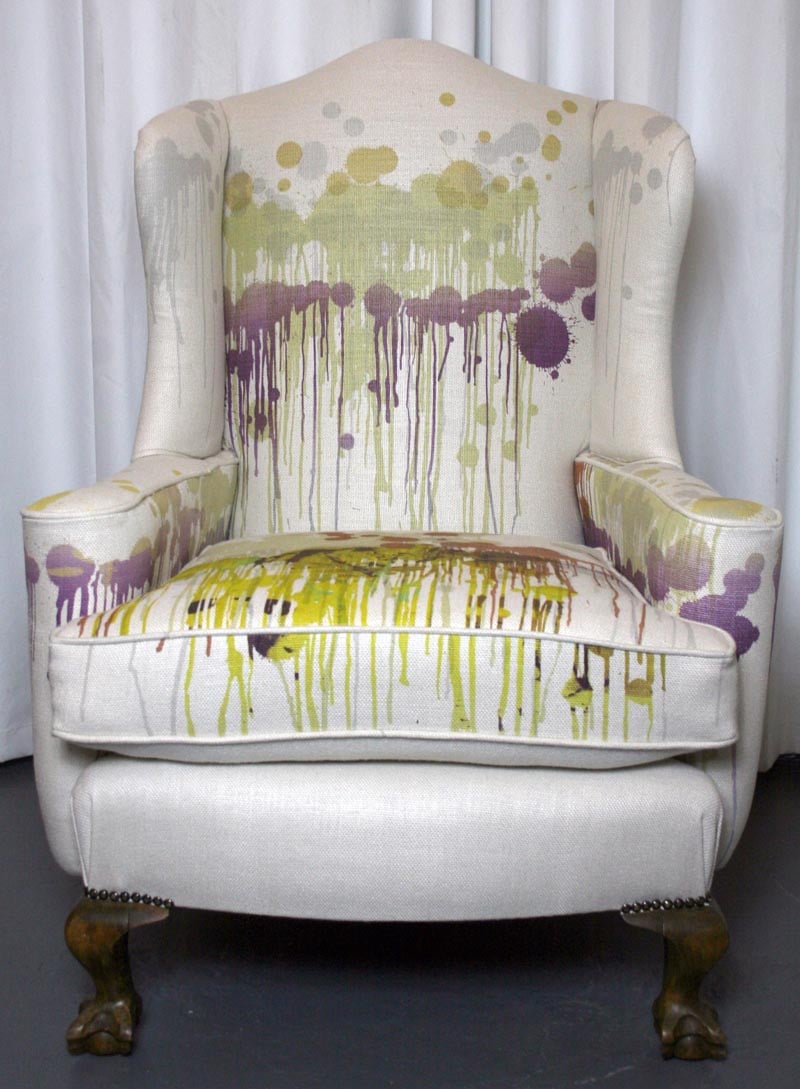 No, this is not the result of one of my offspring attempting to become the next Warhole, this is all designed with a purpose, Colour Drip Fabric, www.timorousbeasties.com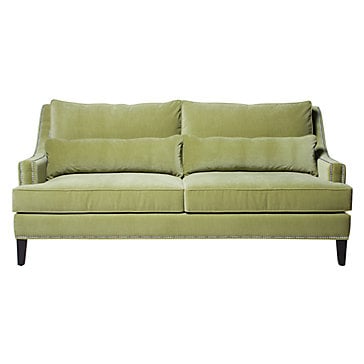 Contemporary or traditional, whichever look is yours with this timeless sofalooks good with any interior scheme, www.gallerie.com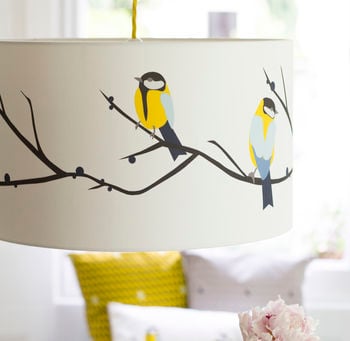 Indulge in bird spotting without having to go outside, Juneberry and Bird Lampshade, £49, Lorna Syson, www.notonthehighstreet.com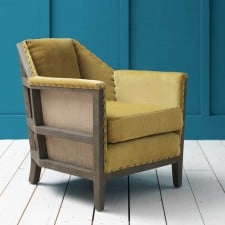 Petit in its proportions, this deconstructed is ideal for small spaces, Hoxton Armchair, £595, www.grahamandgreen.co.uk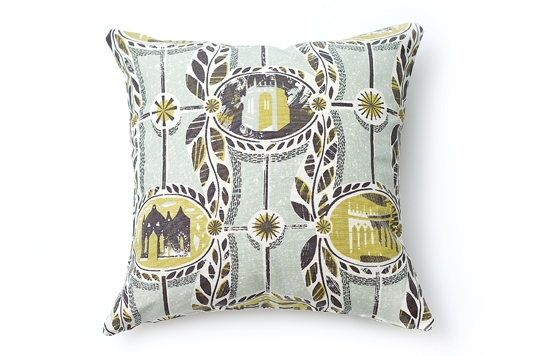 Add a bit of Retro to your sofa with this very decorative cushion, Painswick Cushion, www.fabricandpapers.com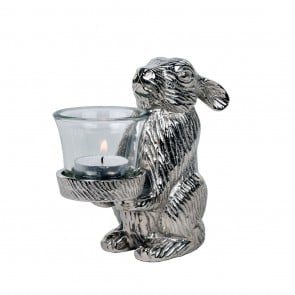 For a light touch this Easter, add a little bit of animal magic to keep your guests entertained, Buckthorn Candle Holder, £19.90, www.indiajane.co.uk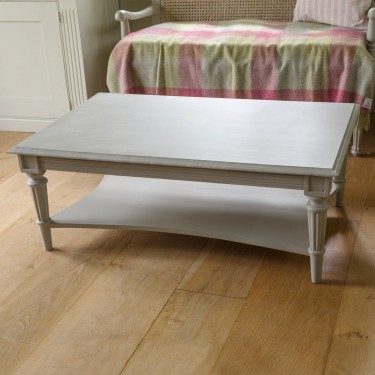 For lovers of Swedish furniture, this coffee table will make a very stylish addition to the living space. www.susiewatsondesigns.co.uk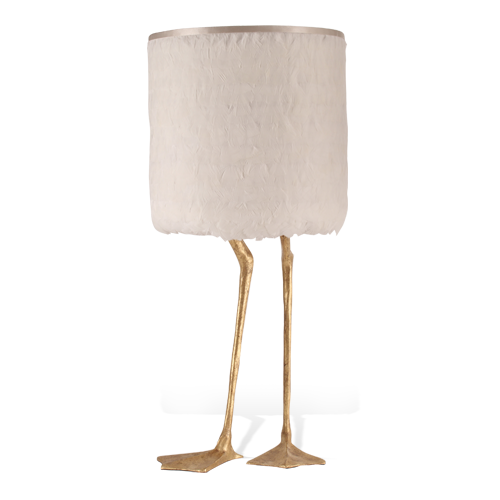 This feathered friend will not do a runner but display its features at its best, Duck Feet Lamp, www.portaromana.co.uk

Give your chest of draws a new lease of life with this decorative ceramic drawer pull, reduced to £1.50, www.oliverbonas.com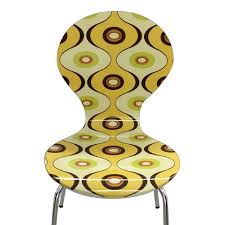 This is one of a variety of chairs with different prints offering a fun mix of retro designs and patterns, £109, www.kitchiku.com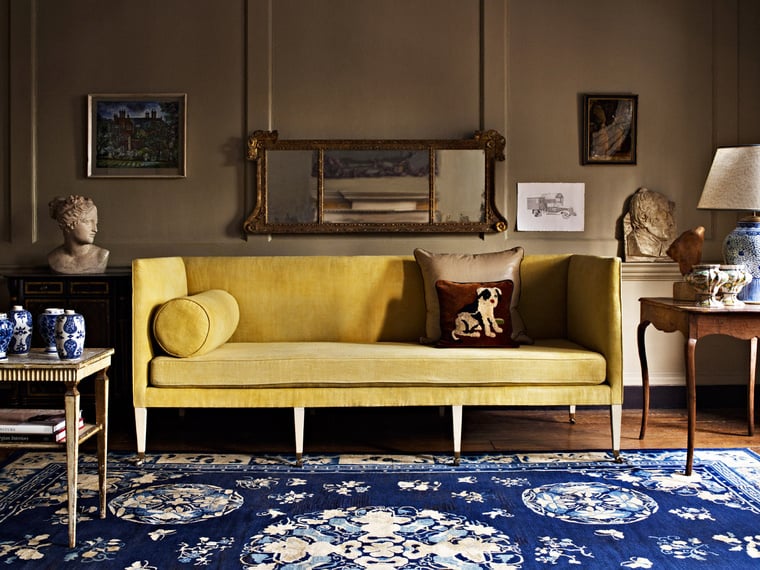 Amongst the large variety of sofas, this design is one of my favourites and sits so well with many different interior styles, www.maxrollitt.com
Mustard and grey hexagon shapes make a bold statement with this wool and cotton rug injecting a spot of sunshine into a living space, from £195, www.grahamandgreen.co.uk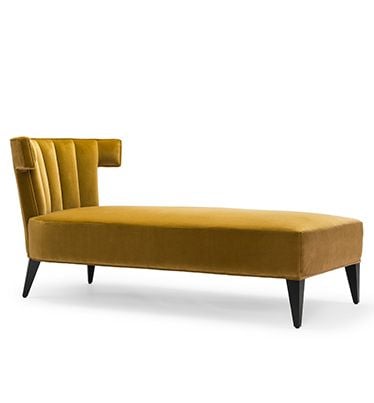 If you are planning to introduce a chaise to your living room, why not go for a model with a more distinct design, Isabella Chaise, www.stuartscott.co.uk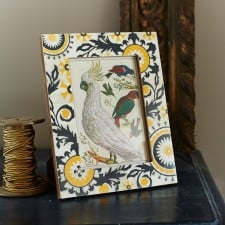 Add some colour to your photos with this fun frame, £16.95, www.grahamandgreen.co.uk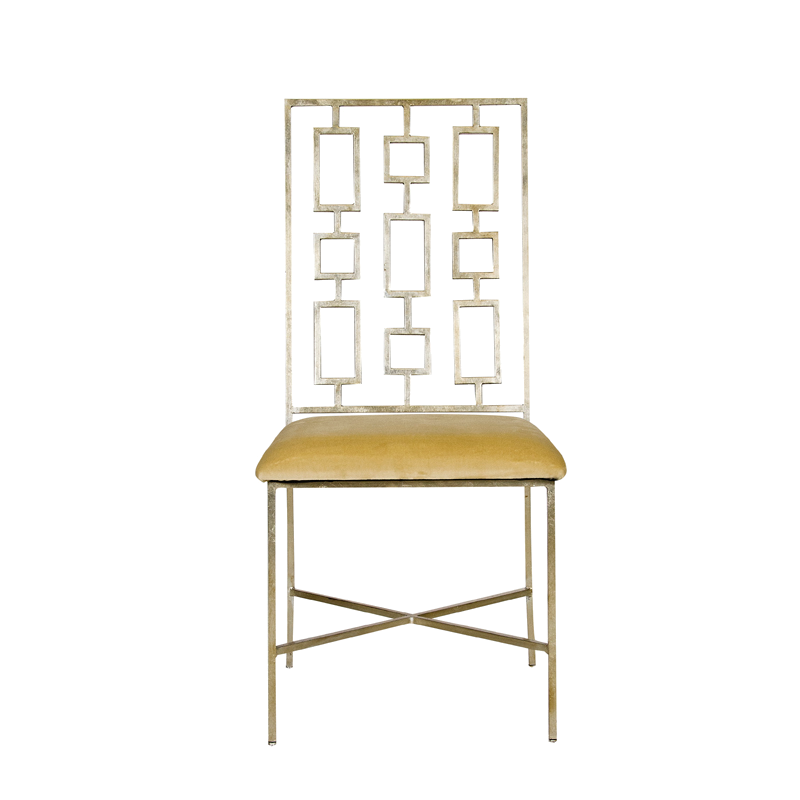 For the hostess with the mostest, these rather exquisite dining chairs are an absolute must have, Silver Leaf Dining Chair W. Beige Velvet Seat, Worlds Away, $619 per chair, www.insideavenue.com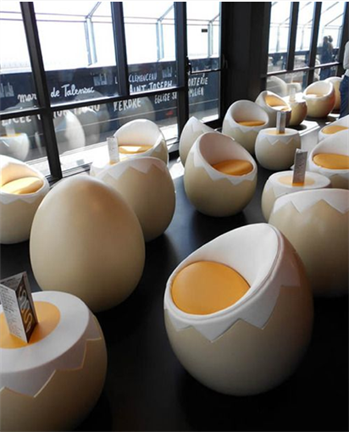 These egg-cellent chairs might just ' save your bacon' if you have a house full of guests this Easter, Egg Chairs, www.plumbs.co.uk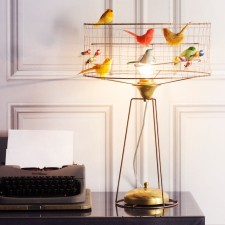 This menagerie of pretty coloured birds will not fly the nest any time soon. They love their golden cage and have made it their firm home, Voliere Bird Cage Lamp, £395, www.grahamandgreen.co.uk
Easter Treats and Spring Inspirations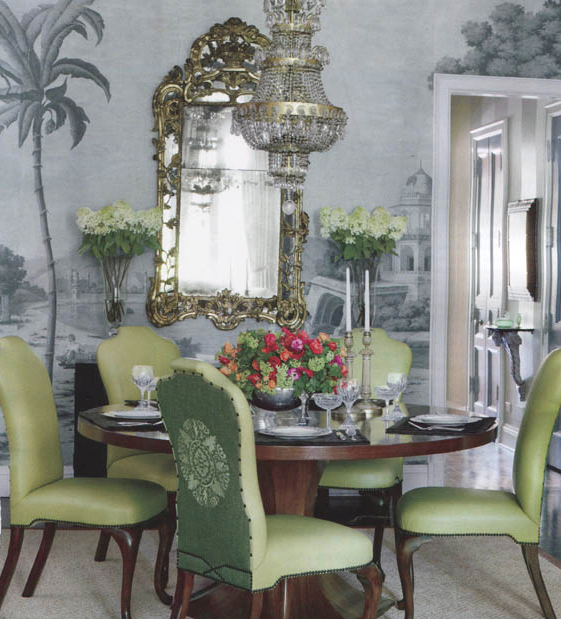 Via: www.rosabeltrandesign.blogspot.com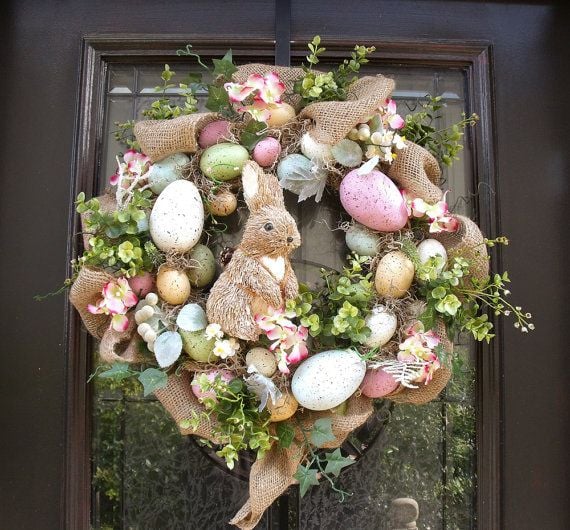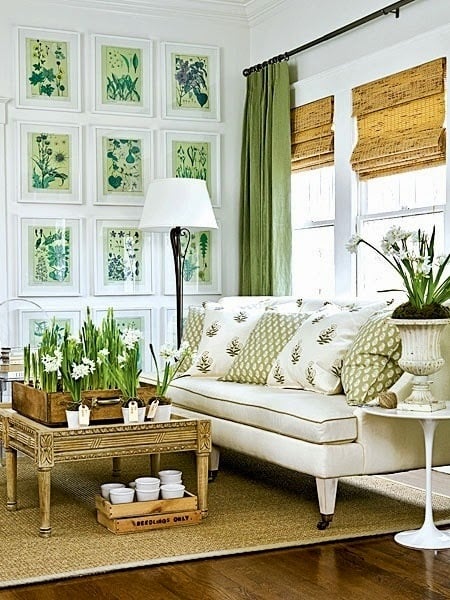 Via: soulouposeto.gr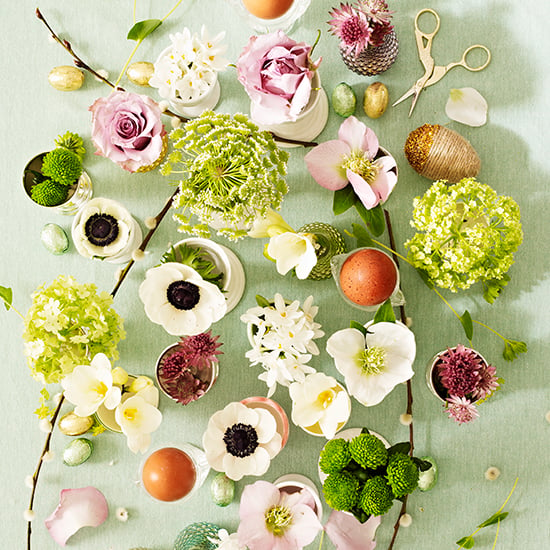 Via: hglivingbeautifully.com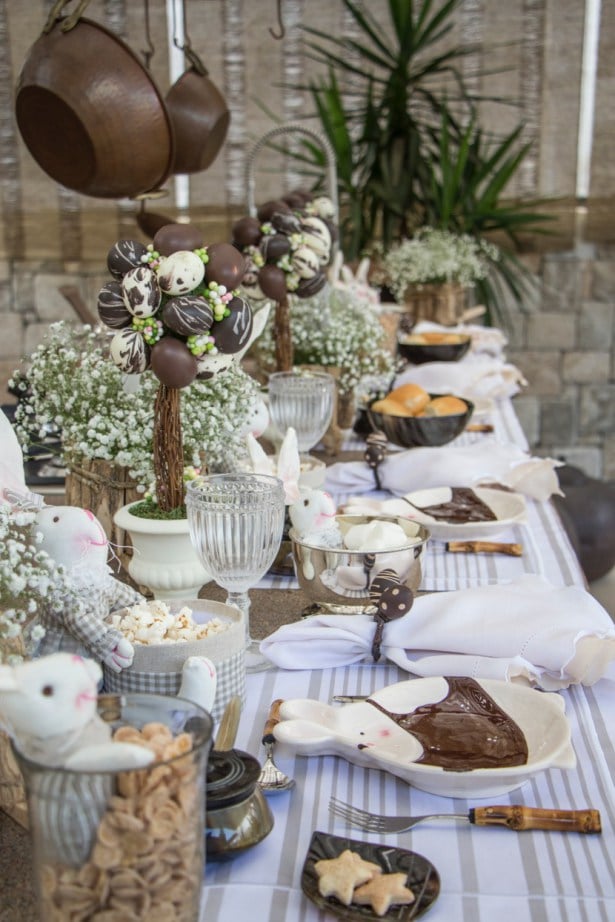 Via: www.google.com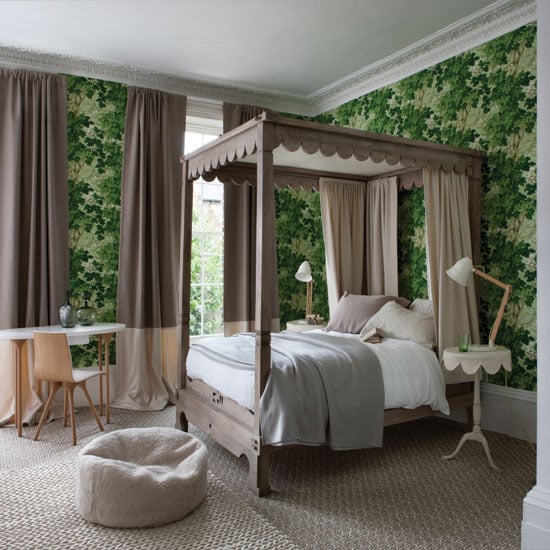 Via: housetohome.co.uk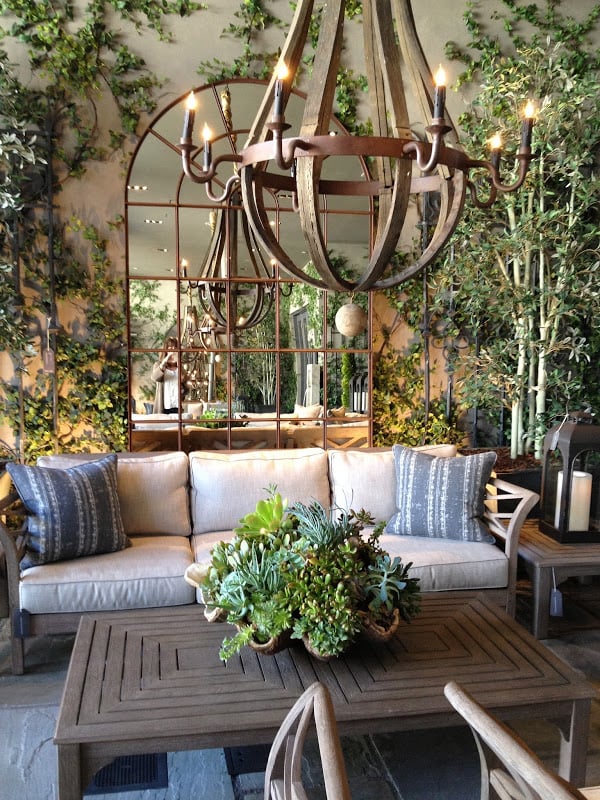 Via: www.vignettedesign.net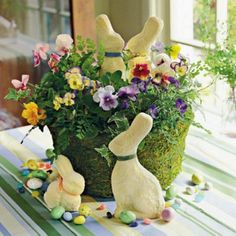 Via: www.pinterest.com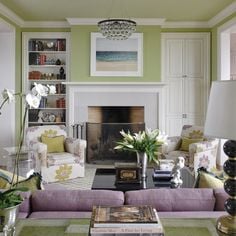 Via: www.pinterest.com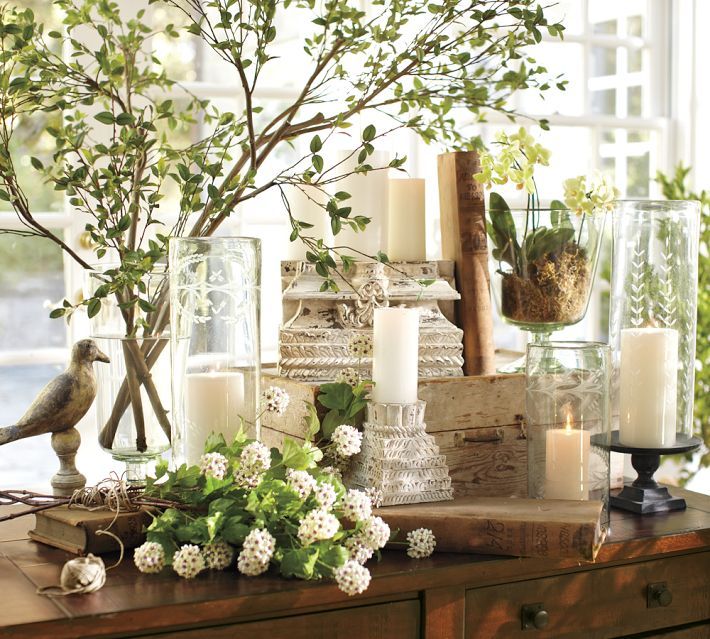 Via: www.pinterest.co.uk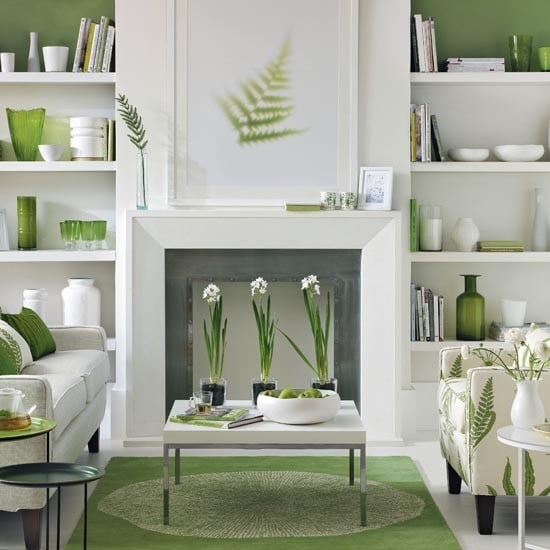 Via: Time Inc UK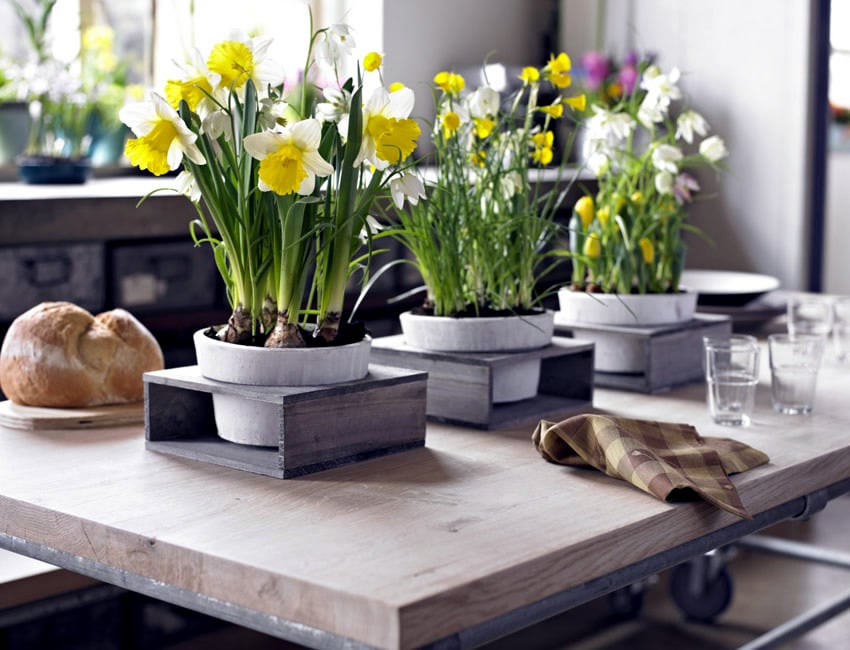 Via: www.google.com
Via: www.inspirationforhome.blogspot.co.uk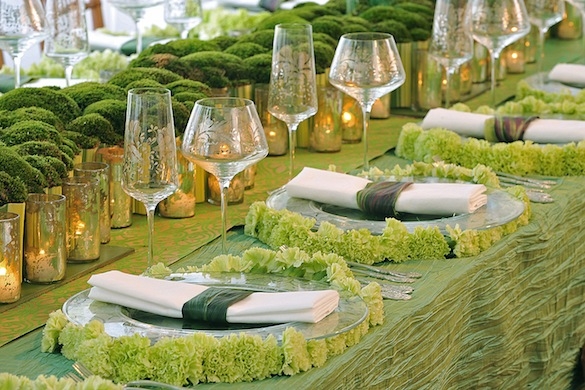 Via: www.foodchics.com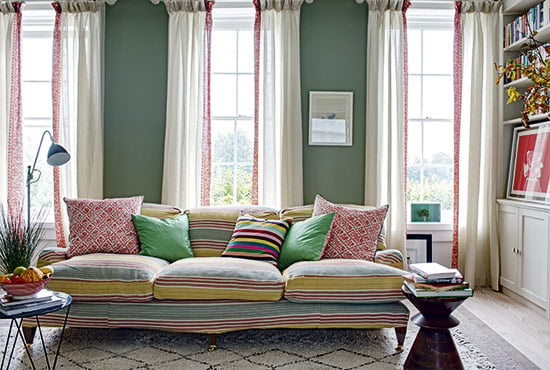 Via: hglivingbeautifully.com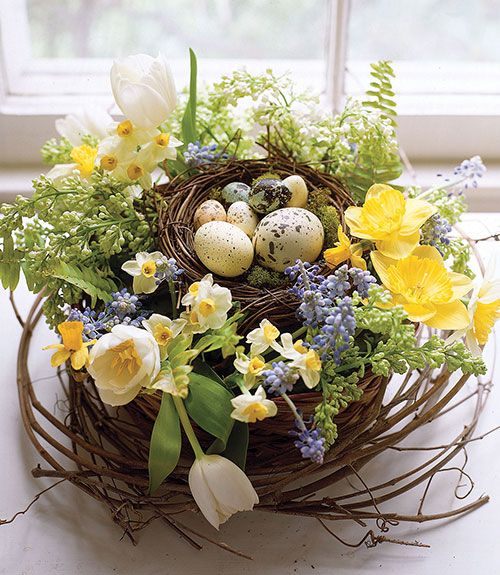 Via: www.google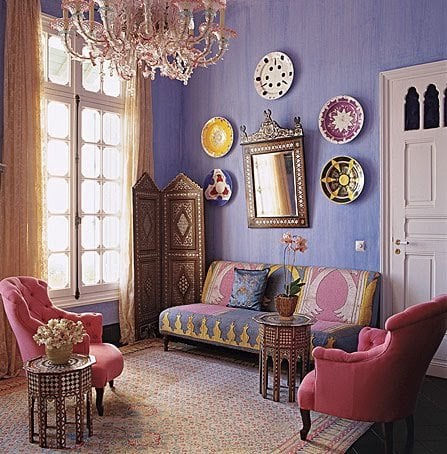 Via: wefollowpics.com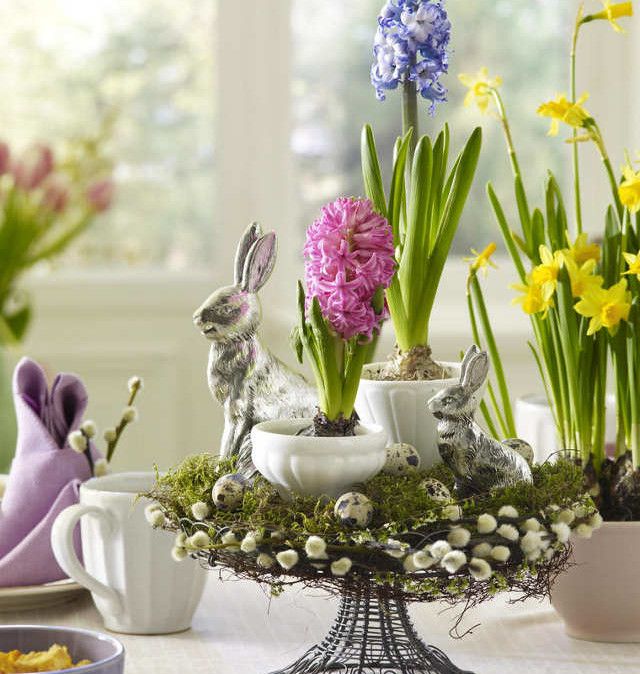 Via: www.google.co.uk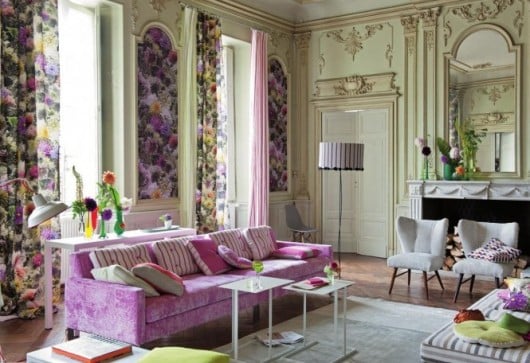 Via: www.nazmiy.com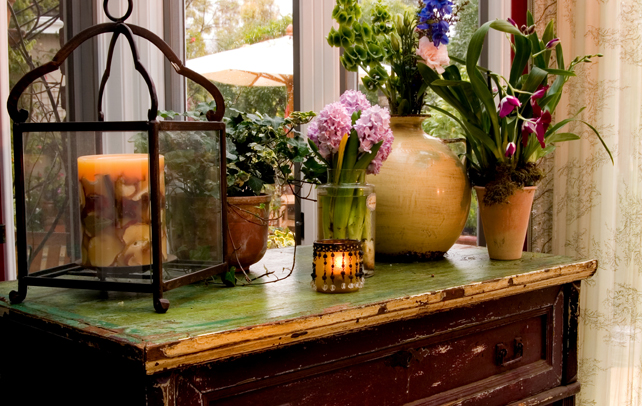 Via: www.google.co.uk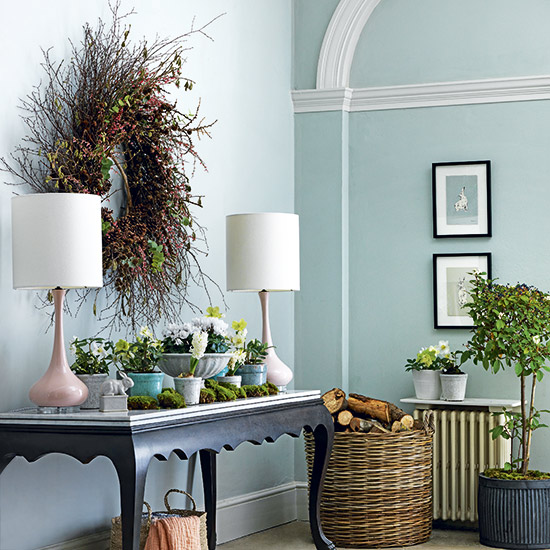 Via: hglivingbeautifully.com