Seasonal Treats
Posted on
As the shops are fully geared up for Christmas with their displays of decorations and gifts, I thought it was time for me to go window shopping on your behalf and pick out some festive, eye-catching, stylish and quirky gifts, decorations and furniture to lend a helping hand with the pre Christmas preparations.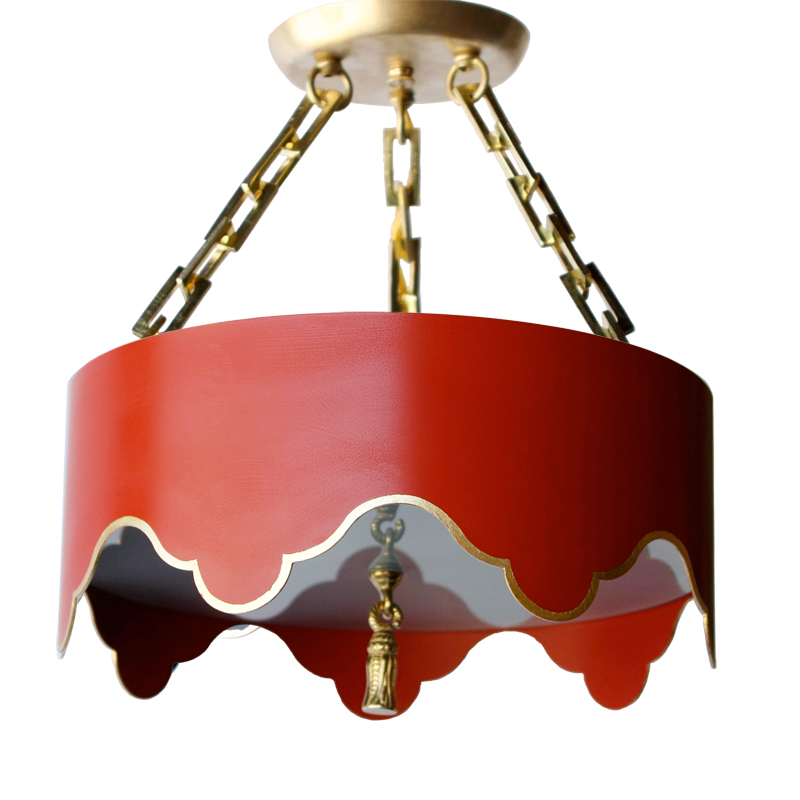 For those who are based in the US, this ceiling light is and absolute find and no doubt hard to resist. Handmade and finished by artisans in LA, it comes in a number of colours and sizes, The Tole Tent Semi Flush ceiling Light, $1575, www.coleenandcompany.com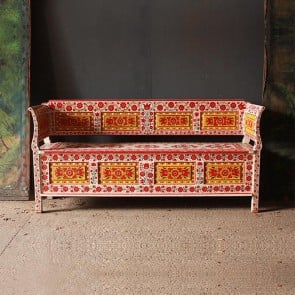 Inject some colour into your country house or chalet with this antique bench, which comes from a Transylvanian village. Antique Folk Art Painted Bench, £750, www.lesser-spotted.co.uk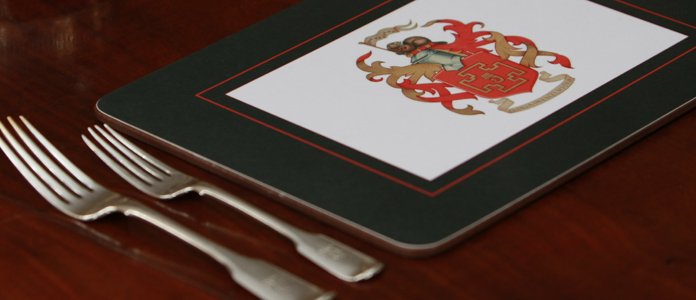 Treat someone close to you to a unique present with these bespoke tablemats or coasters. Whether you like to feature the family crest, a sporting activity or your own creation, you can be sure that you won't see the same anywhere else, Bespoke Table Mats & Coasters, www.clubmatters.com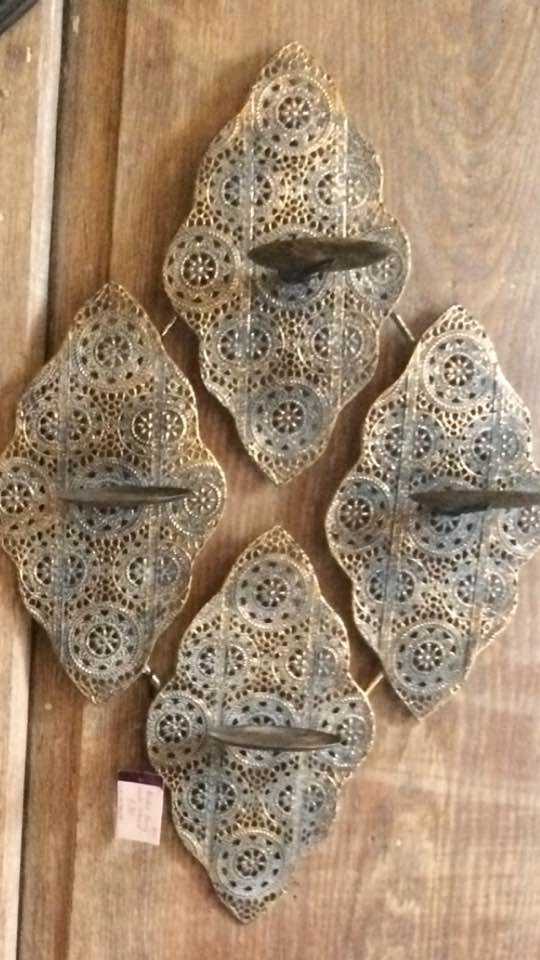 For some festive addition to your Christmas dinner, this wall sconce is stunning and one of my top picks, £30, www.rossitersofbath.com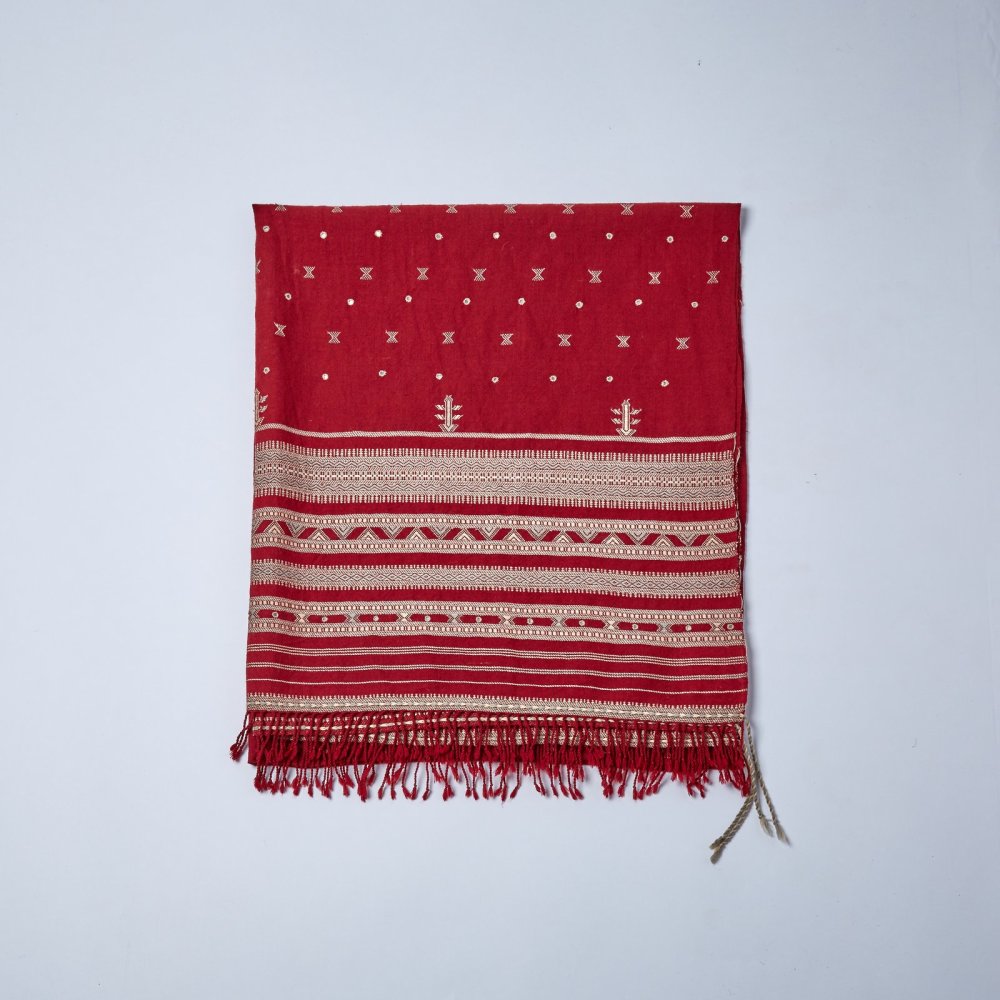 Sourced from remote parts of the world are Cheskie's gorgeous products. This Merino Wool hand embroidered shawl, would make an absolutely super present and not just for Christmas! Risapa Shawl, (Size - 100cm x 230cm), £105, www.cheskie.co.uk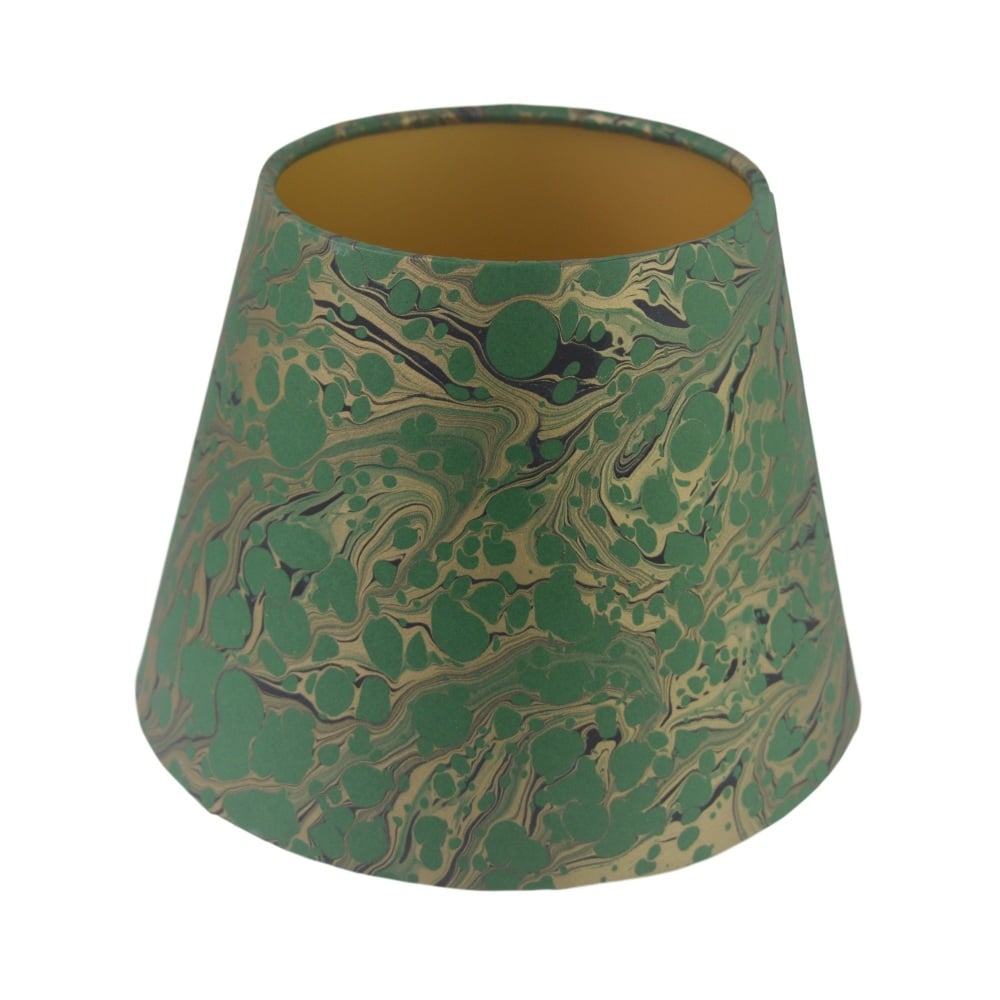 Not surprisingly, marbled paper products have recently seen a revival as they look fantastic and blend into different interior schemes without being boaring. I have come accross this lovely company offering bespoke shades of different shapes and sizes with a very good selection of colours, Hand Marbled Paper Lampshades, www.munroandkerr.co.uk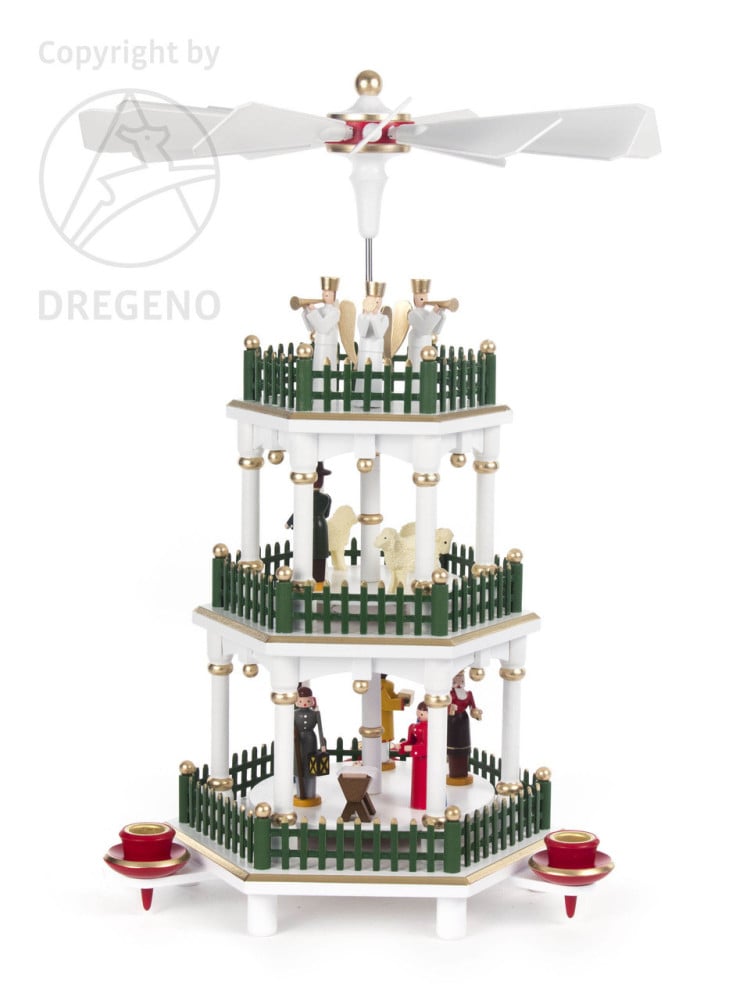 Having been brought up surrounded by wonderful German Christmas figurines and candle pyramids beautifully made out of wood, I just can't resist browsing through and featuring at least one model which caught my eye, Christmas German Pyramid White Color Carousel 3 Level (PYD085X059), $278.99, www.christkindl-markt.com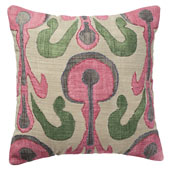 Absolutely love these Venetian-inspired hand-made extra large cushions, which inject a wonderful spot of colour on sofas and chairs, Dandolo Cushion Cover, Extra Large, £56, www.oka.com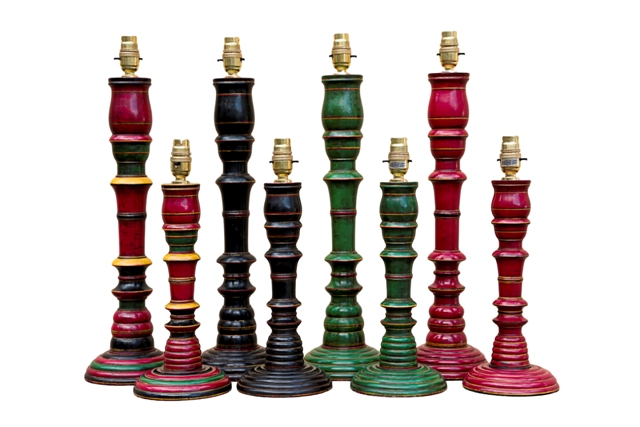 Create a colourful display with these decorative lamps, Wooden Lacquer Lamp bases, from £39 www.countryandeastern.co.uk,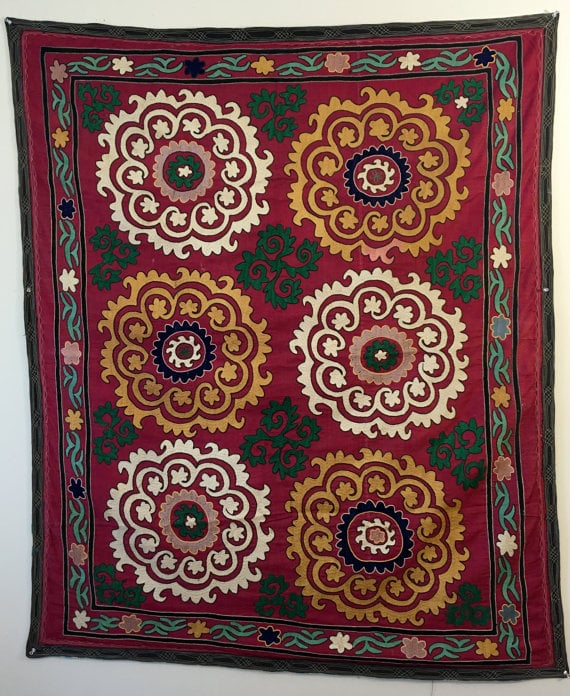 This vintage Suzani cover would look lovely on a bed or even as a wall hanging, Uzbek Suzani, £137.68, Rumirqugsandtextiles via www.etsy.com/uk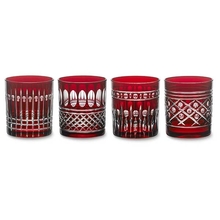 Add some finishing touches to a perfect festive dinner table with these pretty tumblers, Williams Sonoma Regency Garnet Tumblers, £70 (set of 4), www.fortnumandmason.com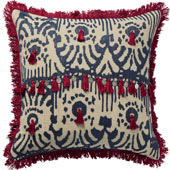 For those with a taste of the orient, this Arabian-inspired cushion brings a festive feel to your living space, which works all year round, Badu Cushion Cover, Large, £64, www.oka.com
You will have stars in your eyes if you treat your interior with this wool rug, which comes in different sizes, Red Double-Sided Star Rug, from £400, www.decorativecollective.com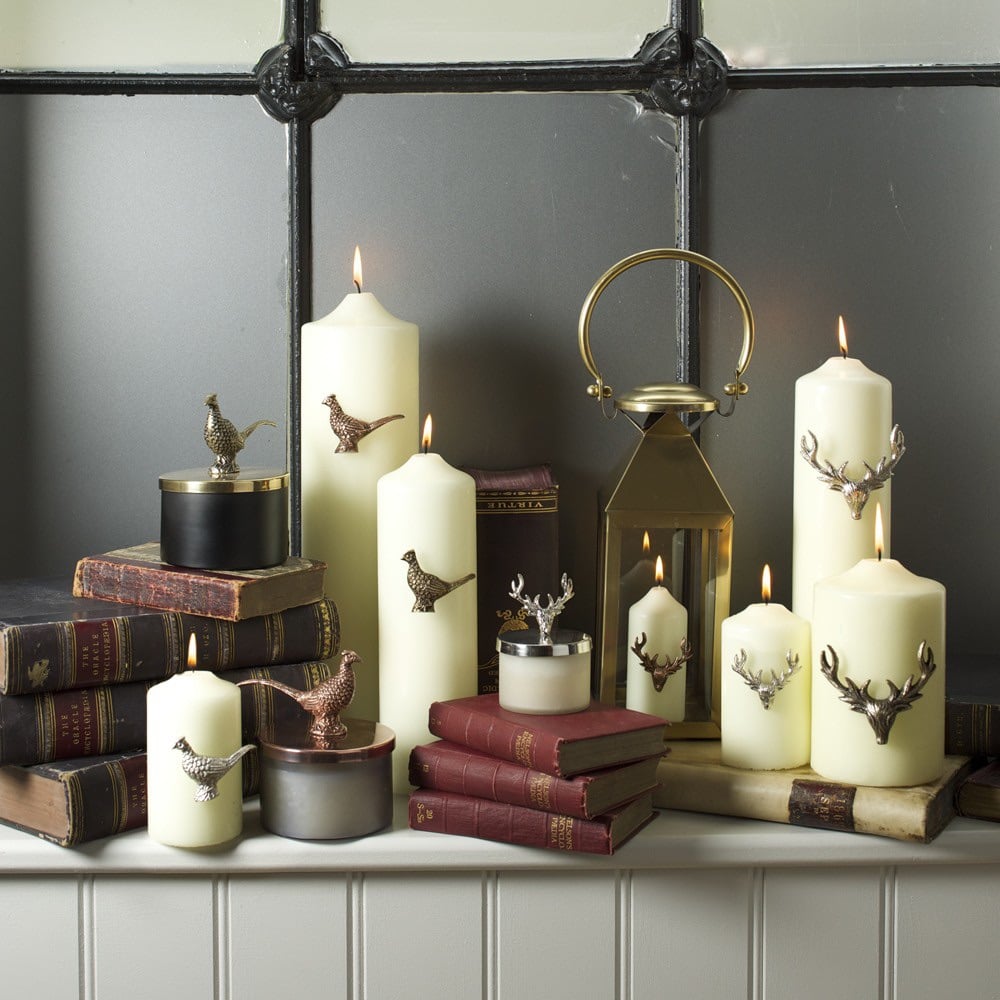 These decorative candle pins are perfect as a gift or to inject some life into neutral candles, from £12.50 for a box set of 3, www.culinaryconcepts.co.uk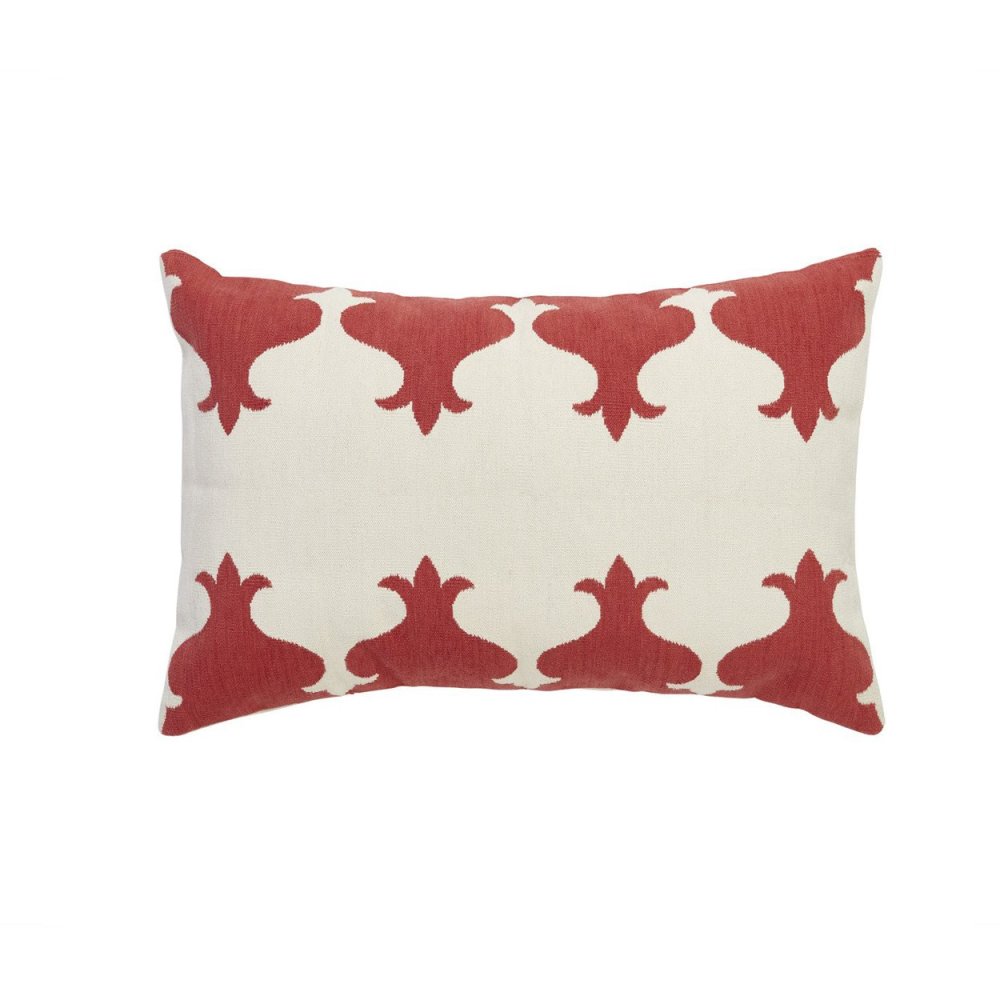 This cushion features such a pretty pattern; I could not resist adding it to my blog. Just in case red is not your favourite, it comes in three different colour ways, Carlotta cotton cushion 40 x 60cm, $350, Madeline Weinrib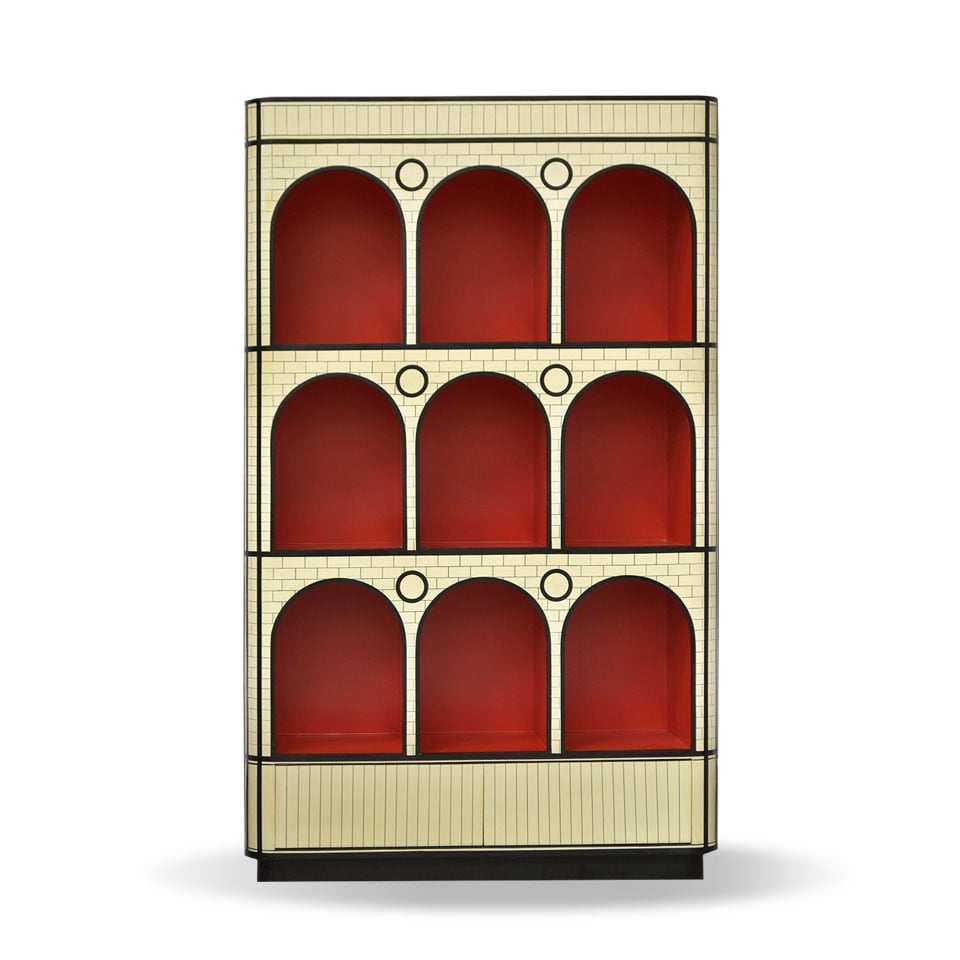 For those who are into designer furniture and have the cash to splash, this display book cabinet produced by hand with antique Indian inlay technique and two hidden drawers could certainly be the match for you, The Count Library by Matteo Cibic, EURO 17.100, www.matteocibicstudio.com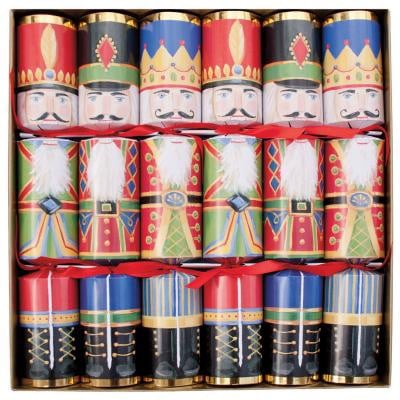 Cracker box sets are always a must on a Christmas blog. Given the vast choice on the market, it is hard to select something very special or eye-catching. I did rather fall in love with this gorgeous design, which brings a touch of magic to the Christmas table, Nutcracker Christmas Set, £18.50 (set of 6), www.nationalgallery.co.uk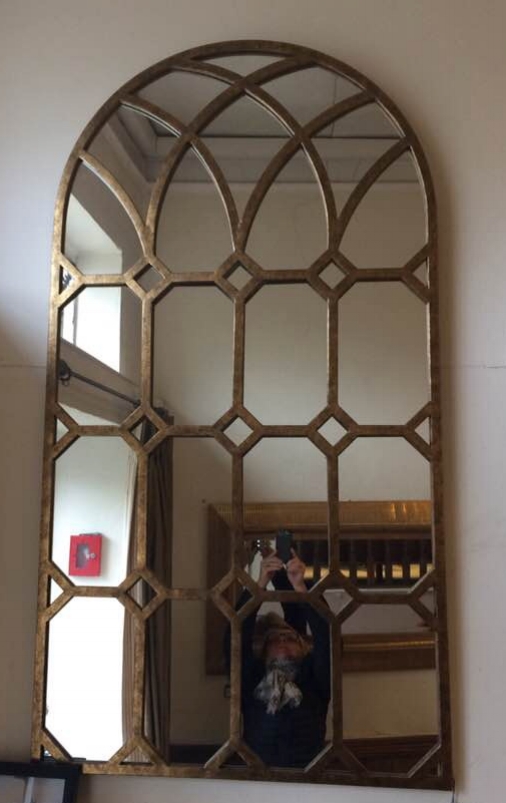 This is not just a mirror but a very decorative and eye catching feature, Khadra Mirror, £435, www.rossitersofbath.com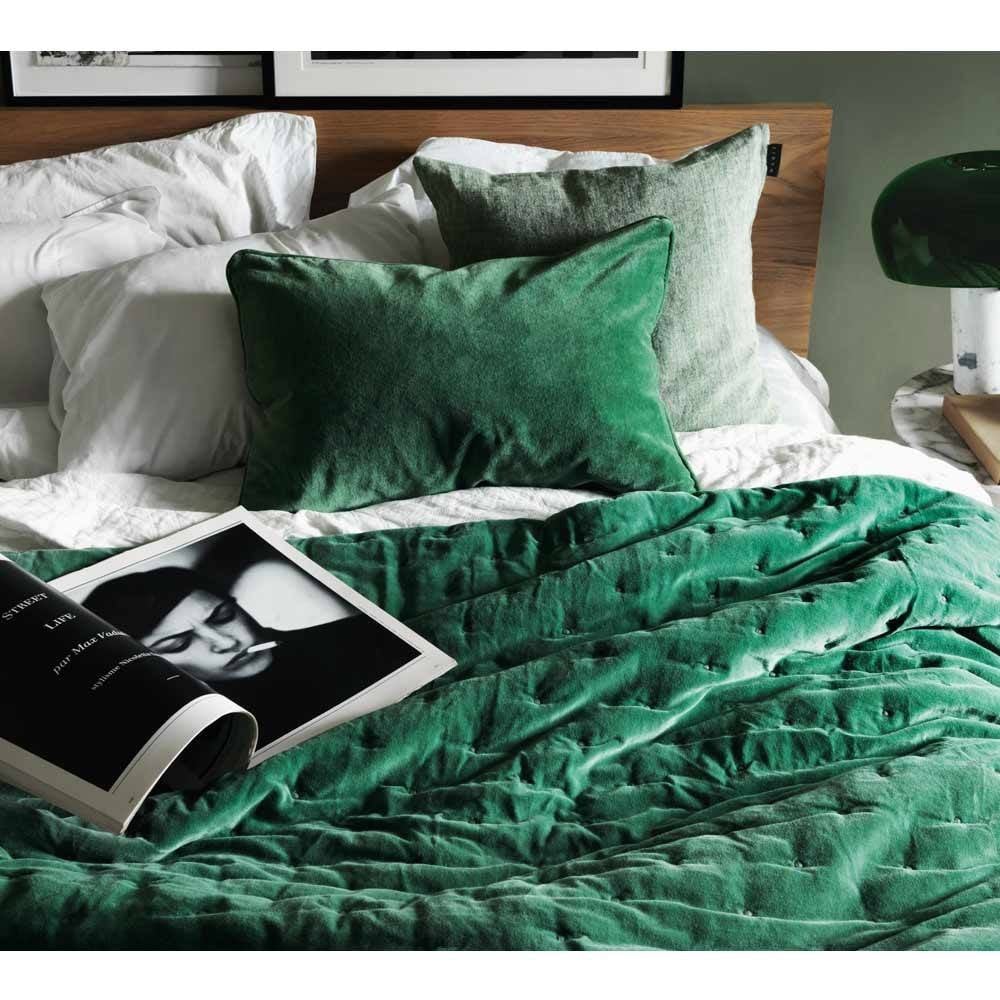 Add that luxury feel to your bed with this stunning emerald green bed spread made of the softest velvet with a quilted surface and little pockets separated by hand-embroidered dots, Pluspious Velvet Emerald Green Bedspread, £320, www.frenchbedroomcompany.co.uk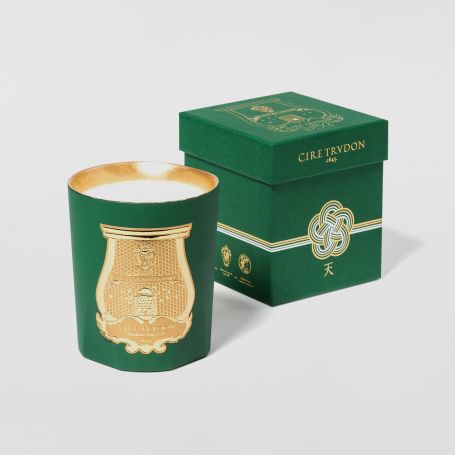 The embodiment of French luxury, this Cire Trudon scented candle is made from 100% natural wax encased in a beautiful hand-blown green glass vessel, Cire Trudon Ciel Scented Candle, £78, www.petershamnurseries.com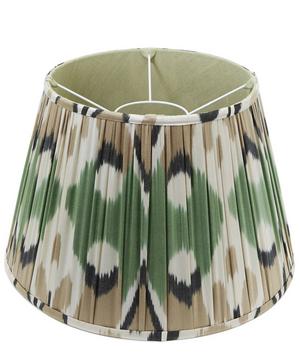 This stylish lampshade from Melodi Horne will not only transform your table lamp in time for the festive season but is a piece for all seasons, Melodi Horne Ikat Love Lampshade, £395, www.libertylondon.com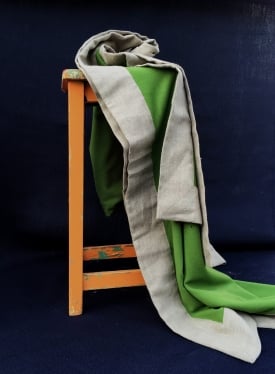 You can be sure that Volga Linen products will always be of superior quality, timeless and stylish as reflected in this gorgeous throw, Merino Wool and Linen Throw, £334, www.volgalinen.co.uk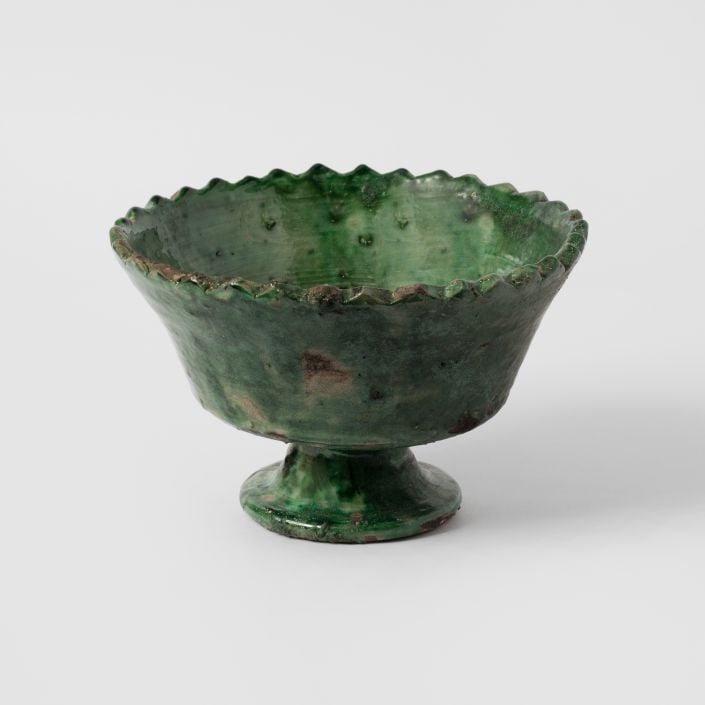 One of a kind is this handcrafted Moroccan mottled green bowl, perfect to dish up your food in style, Tamegroute Ceramic Salad Bowl Zigzag, £47.50, www.petershamnurseries.com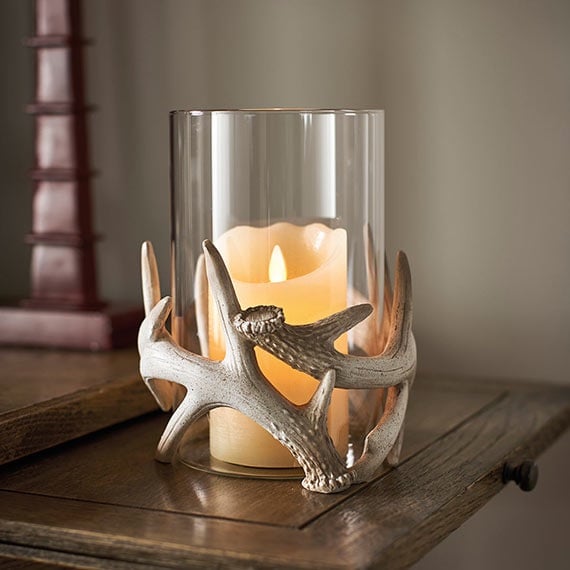 Add some festive light to your chalet or country house style dinner table with these faux antler hurricane lamps, Cornamenta Hurricane Lamp, £46, www.oka.com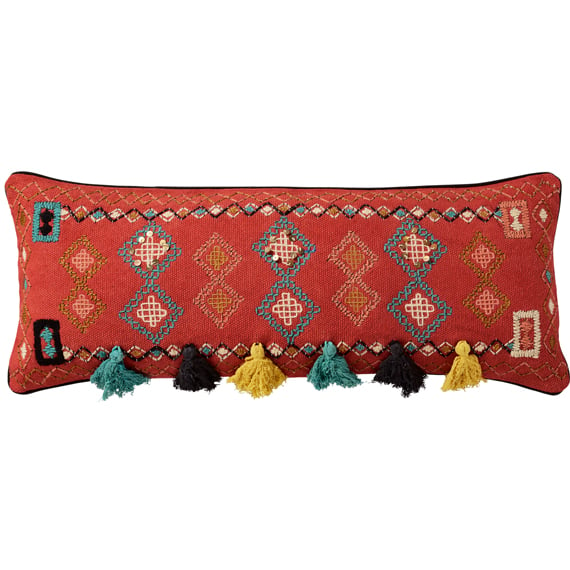 Add a cosy feel to your sofas with these Peruvian-inspired cushion covers. Given the size, you only need one to make an impact, Cuzco Bolster Cushion Cover (90 x 35cm), £125, www.oka.com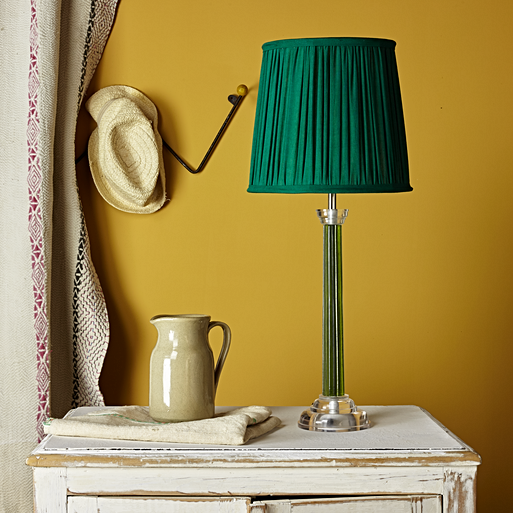 This lamp base comes in a very pretty green, which will look good throughout every season. The shade is available separately, Disco Table Lamp in polished olive acrylic, £80, www.pooky.com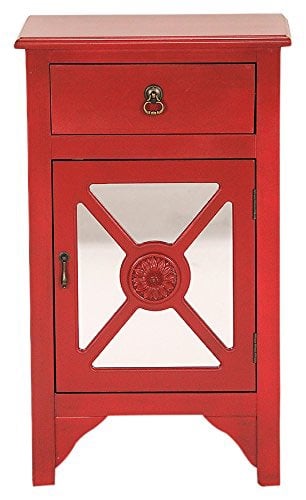 If your children's bedrooms are crying out for some colour this red hand crafted cabinet with four mirrored inserts is a super choice of a bedside table, Red Wooden Cabinet with 1 Drawer and 1 Door, £127.94, www.overstock.com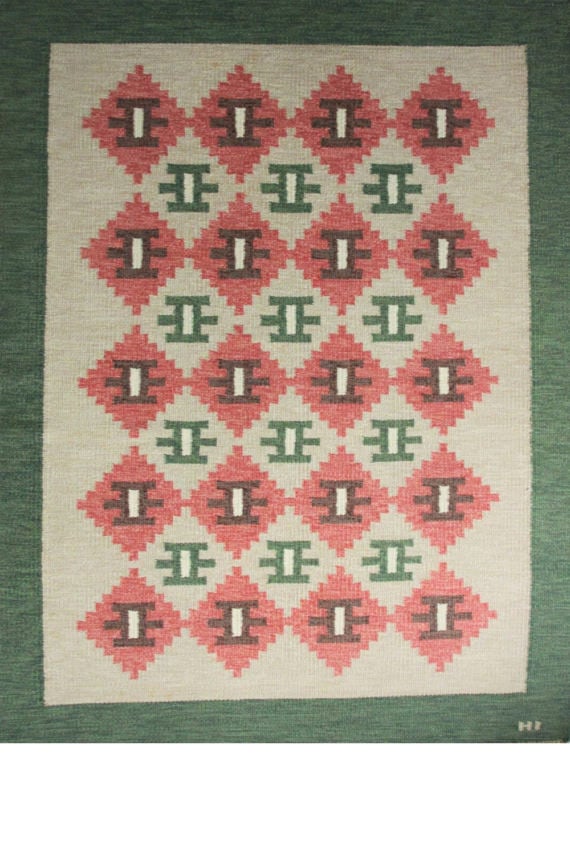 Give your floor a nice treat with this vintage flat weave wool and linen rug, HI/IH Flat Weave Rolakan carpet (225 x 168cm), £1.028.91, BergGallery via www.etsy.com/uk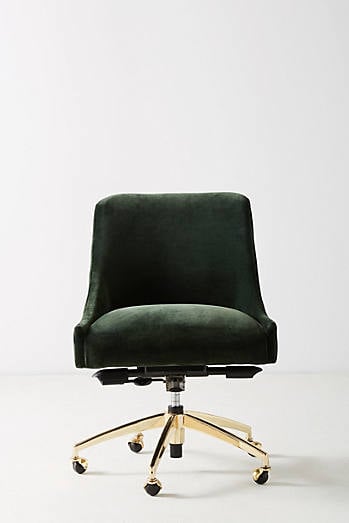 No need to compromise on style for office furniture as is proof with this gorgeous dark green velvet swivel chair, Elowen Swivel Chair (available in other colours), £498, www.anthropologie.com/en
The countdown to Christmas will be even more exciting with this wooden musical advent calendar. On opening each door, a different Christmas tune will play. There is also enough space behind them, allowing you to add some small treats, Fortnum's Musical Advent Calendar, £165, www.fortnumandmason.com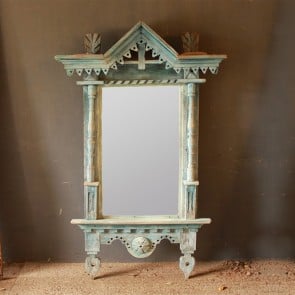 'From Russia with love' is this stunning vintage mirror set in a magnificent house surround from a late 19th century country house in Russia, Original Blue Painted Mirror and Frame / SKU:MRJC2016 (H 193cm, W 118cm, D 20cm), £650, www.lesser-spotted.co.uk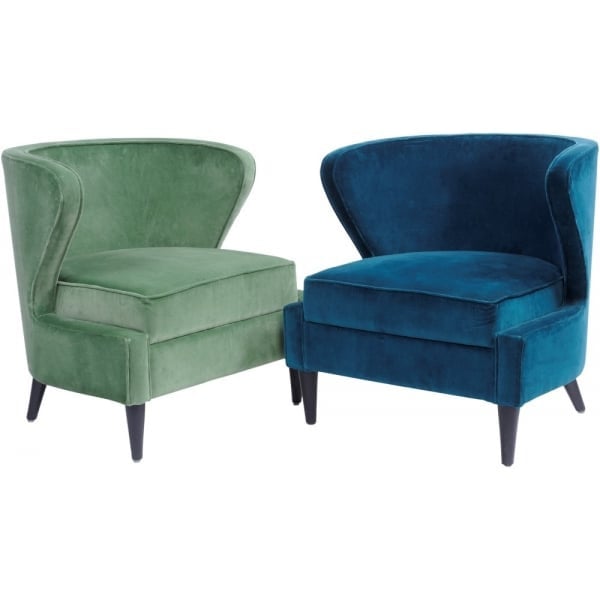 These chairs very much reflect the current colour trend for blues and greens and are a super choice for adding some colour to your living space, Green/Blue Curve Chair, £934, www.thewhitetent.co.uk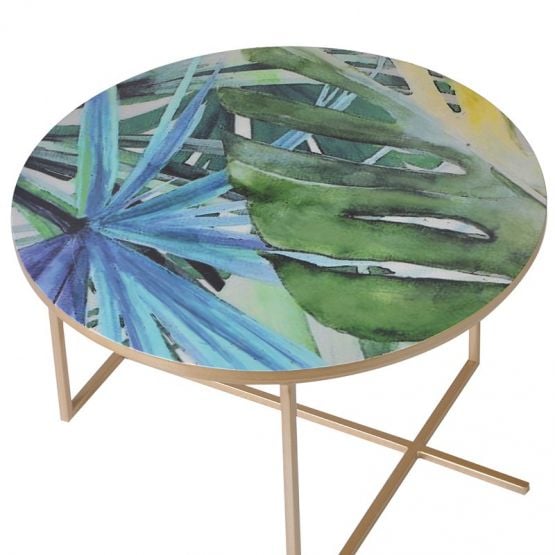 Complete the look of your blue/green colour scheme and add a rather eye-catching set of side tables which will certainly not go unnoticed, Set of 3 Vibrant Leaf Print Side Tables, £179, www.turnbullandthomas,co.uk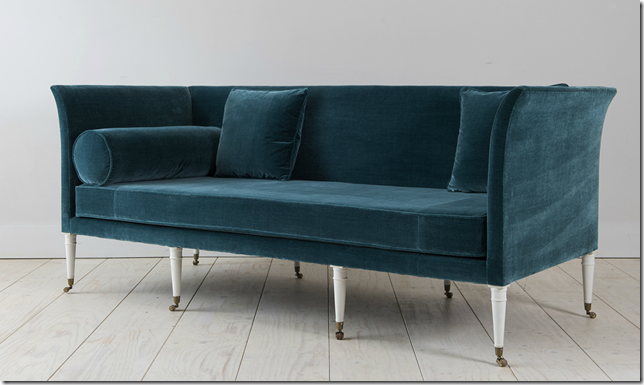 This gorgeous velvet sofa is an absolute stunner; not just the colour but also its shape and it adds a lovely touch of glamour to your sitting room, Uppark, £6,836, www.maxrollitt.com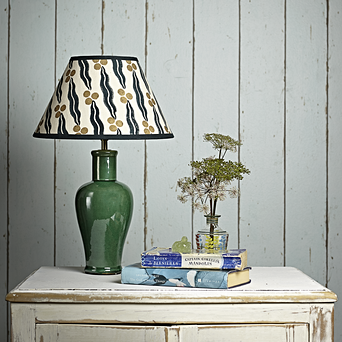 Both lamp base and shade are designed by one of my favourite lighting companies. From neutral colours to imaginative patterns, they offer something for every interior. Lamp base and shade are sold separately, Lolita bedside lamp £90 (just the lamp base), www.pooky.com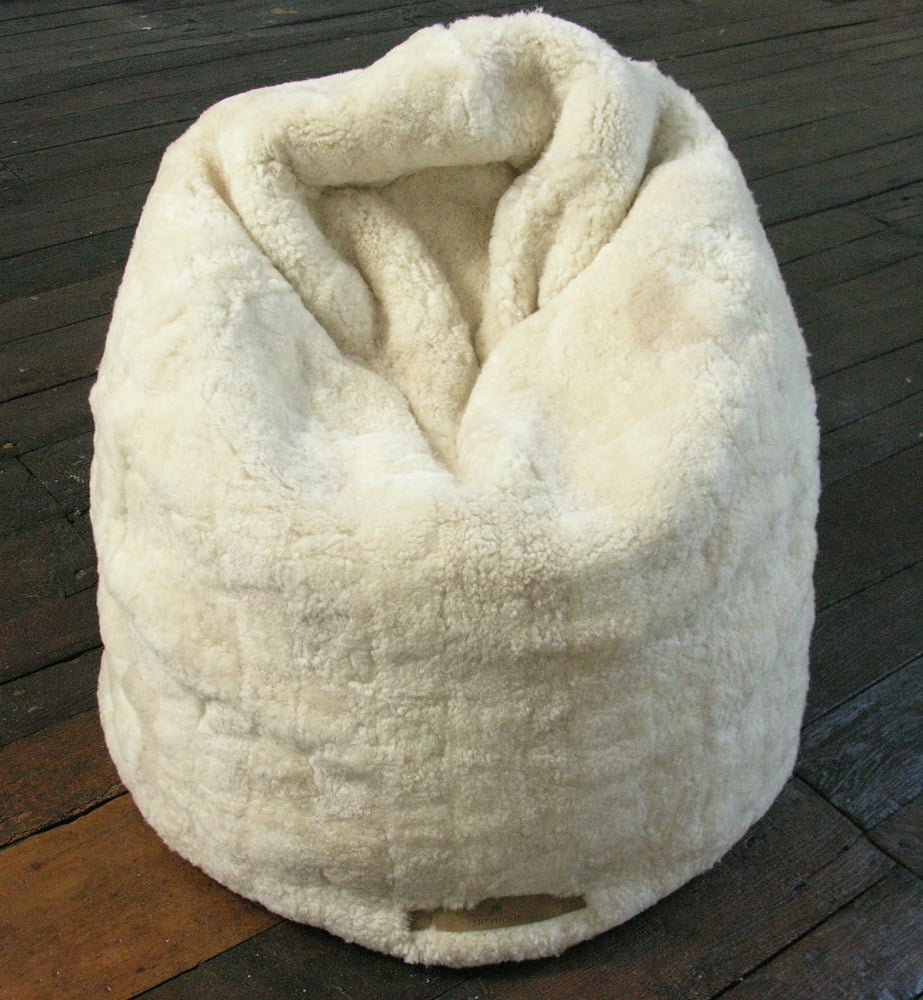 Snuggle up in style in front of the fireplace or TV with this very cosy real sheepskin bean bag, Sheepskin Bean Bag - Cream, £245, www.tinsmiths.co.uk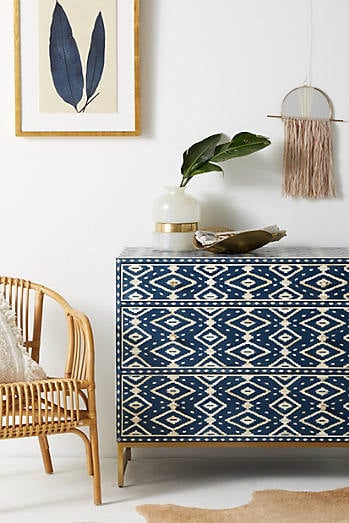 As a lover of the current Ikat trend, one of my top picks has to be this super stylish handcrafted bone inlay dresser which features a wonderful mix of 'old and new' and will work well with most interior styles, Ikat Inlay Three-Drawer Dresser, £1,598, www.anthropologie.com/en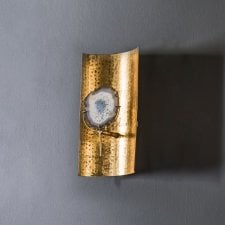 Create atmospheric lighting and a feature on your walls with this decorative and unusual wall light, Aate Wall Light, £89, www.grahamandgreen.co.uk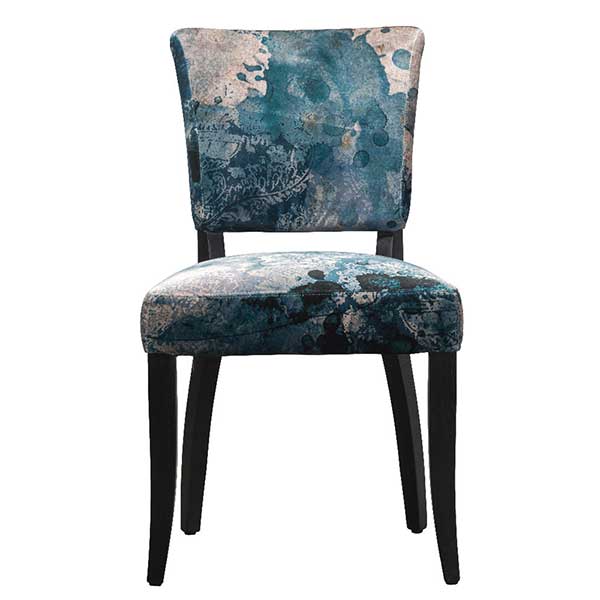 Take a walk on the 'wild side' and add an interesting feature to your dining room with this faded and degraded velvet dining chair collection. As each chair is unique, the pattern may vary, Timothy Oulton Mimi Velvet Faded and Degraded Dining Chair / Melted Paisley, £305, www.barkerandstonehouse.co.uk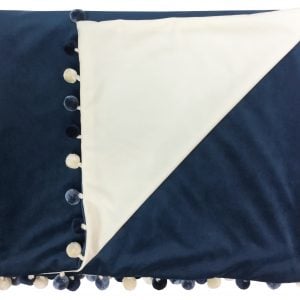 This stunning velvet Pom-Pom throw will make your bed look like 'a million dollars'! It comes in three different colours, Pom-Pom Throw, £210, www.aflair.co.uk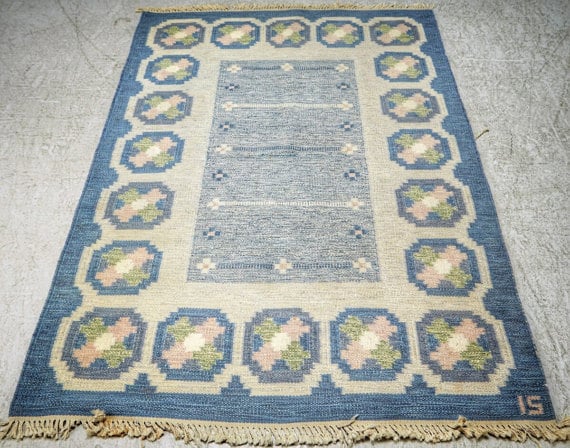 Add some Scandinavian touch to your interior with this vintage Swedish Arts and Crafts rug, Ingegerd Silow Swedish Vintage Flat Weave Rug or Rya, £1,895, DanelawVintage via www.etsy.com/uk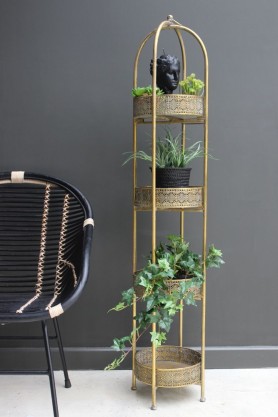 Whether it carries plants, decorative accessories or fruit, this tall tray is hugely versatile and will look stunning wherever you decide to put it, Ornate Gold Tall Tray Shelves, £99, www.rockettstgeorge.co.uk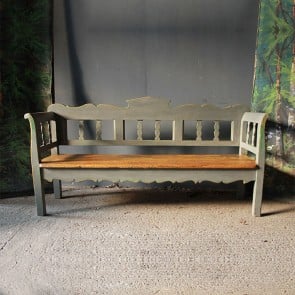 This late 19th century Romanian bench is so versatile, it looks absolutely super in a hall as well as a kitchen or dining area, Smart Antique Bench in Pale Grey, £490, www.lesser-spotted.co.uk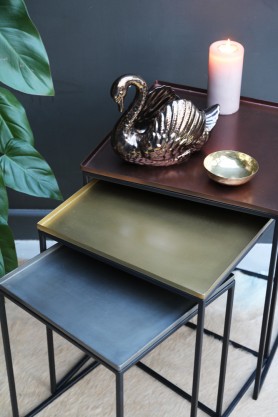 Featuring a choice of warm colours, this set of nesting tables will add a contemporary, edgy twist to your living space, Square Tray Enamel Nesting Tables Set of 3 Copper/Brass/Nickel, £225, www.rockettstgeorge.co.uk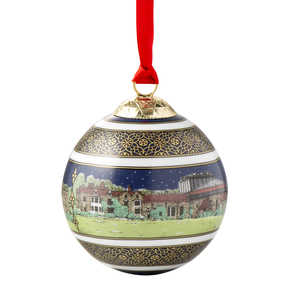 Listen to your favorite opera and imagine you are sitting in prime seats at Glyndebourne, while enjoying the view onto your Christmas tree! However, even if the trip to this famous opera house is not possible, this bauble might just be the next best thing, Glyndebourne Bauble 2017, £40, www.glyndebourneshop.com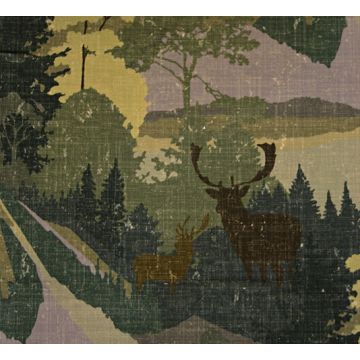 This imaginative fabric might just inspire lovers of stags and their surroundings to give their interior a new makeover, Heath by Linwood Hudson Bay Collection, www.fabricandpapers.com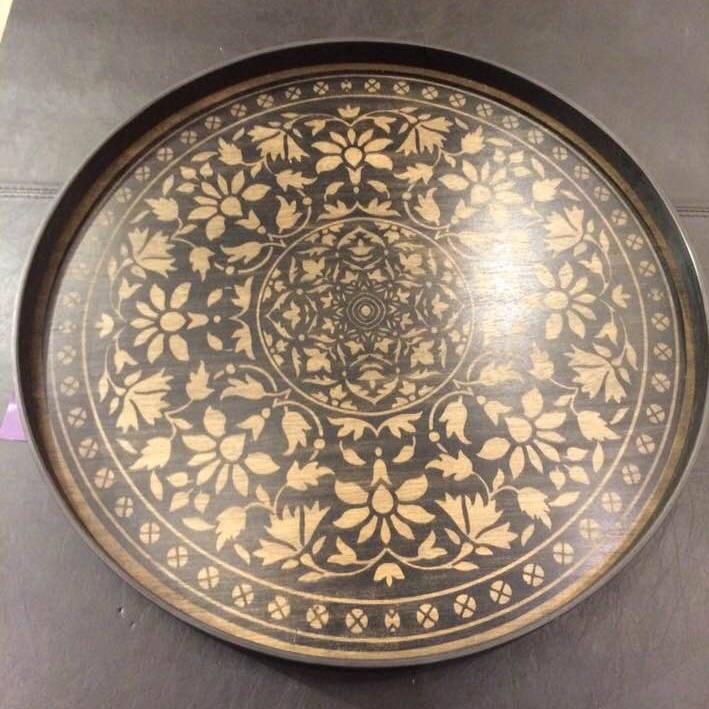 This stunning tray is perfect for entertaining or as a gift, www.rossitersofbath.com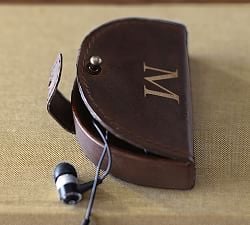 As most of us often spend time detangling our earphones, this leather earphone case is a lovely gift idea and can be personalised with a monogram, Saddle Leather Earphone Case, £17.24, www.potterybarn.com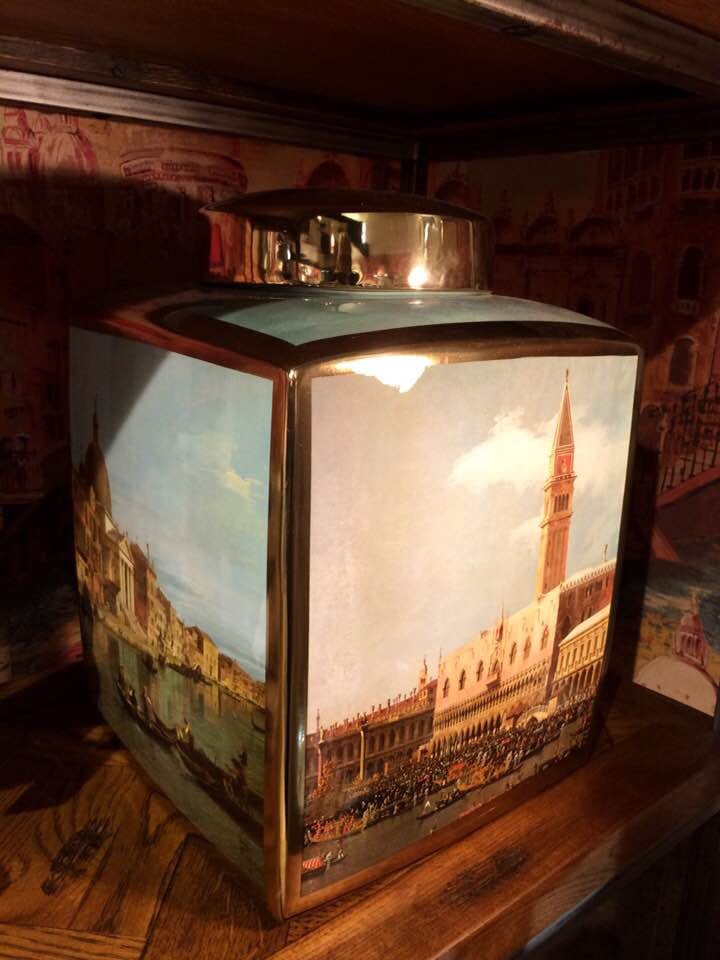 Hard to beat this giant decorative storage jar which scores top on the luxury appearance scale!, £115, www.rossitersofbath.com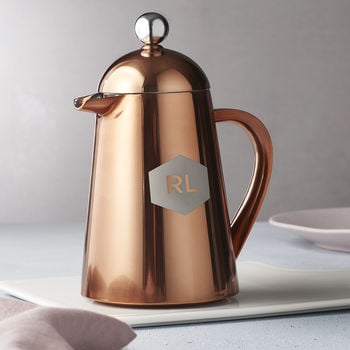 Entertain in style or treat someone else to this very stylish copper coffee pot which can be personalised with your chosen initials. Personalised Geometric Copper Coffee Pot by Becky Broome, £50, www.notonthehighstreet.com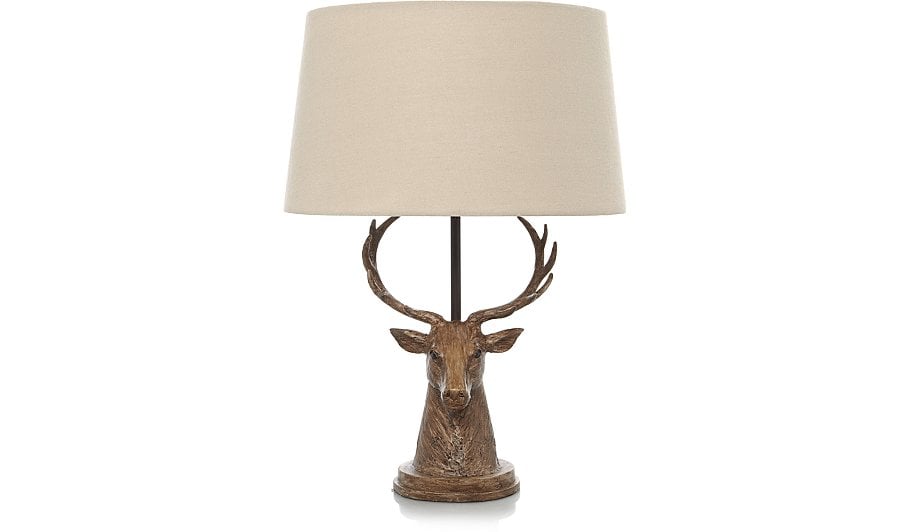 This is such a fun and good value table lamp; it just had to be added to my blog, Stag Head Lamp, £35, George Home, direct.asda.com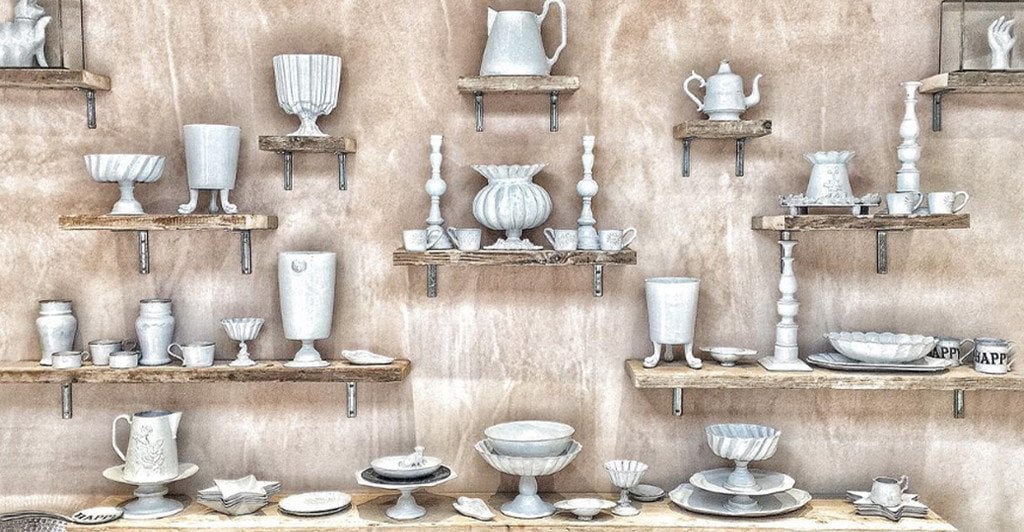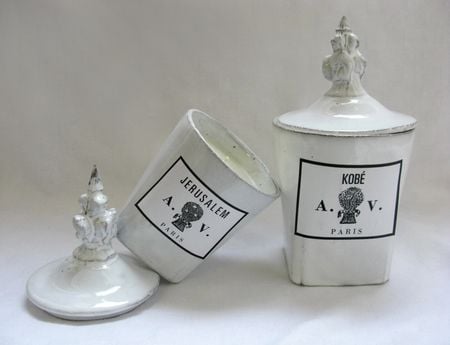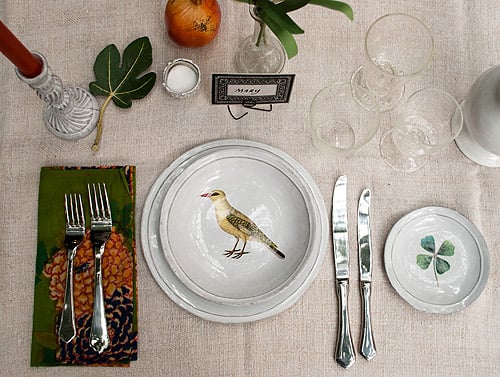 Best known for their 18th and 19th century inspired designs, the company producing these handmade ceramics which are created by Tibetan artisans in Paris was founded by Benoir Astier de Villatte and Ivan Pericoli. Using a special technique, by which each piece is crafted from black terracotta, deliberate imperfections are left on the surface and are transformed by a white glaze giving them an exquisite and unique appearance. The price for these unique pieces is equally 'haute gamme' but it is truly 'worth it'! Apart from various online outlets such as www.summerillandbishop.com a lovely shop called 'Nam' selling their ceramics opened in Bath, 22c New Bond Street.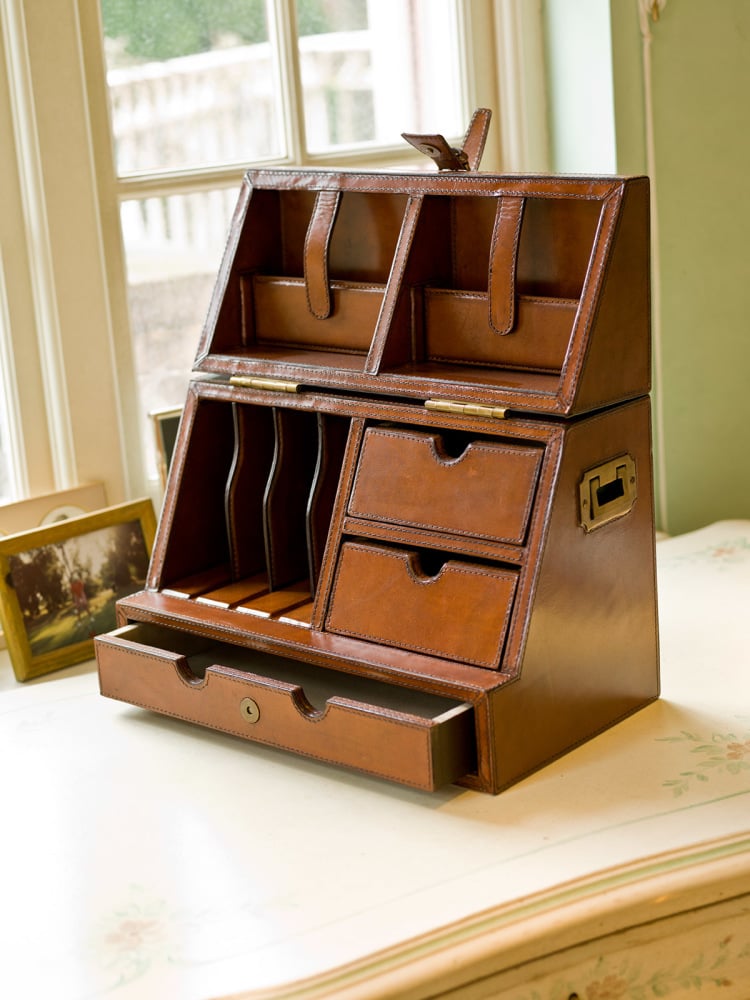 If you want to treat someone special to a generous present, this leather stationery box might be just what you are looking for, Leather Stationery Box, www.candleandblue.co.uk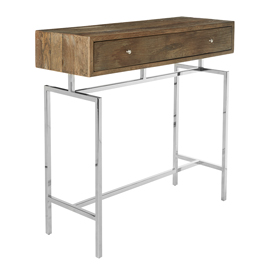 Inspired by mid-century modern furniture, this console table cleverly blends old and new materials for a striking look, Remington Console Table, £895, www.oka.com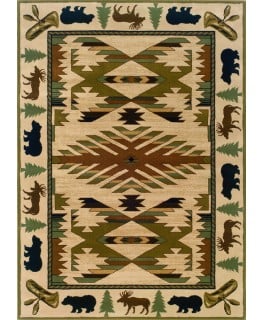 Go on a 'Bear Hunt' and enjoy their company in your own four walls, Hudson Ivory Southwest/Lodge Rug 1072A, from £40, www.rugsvill.co.uk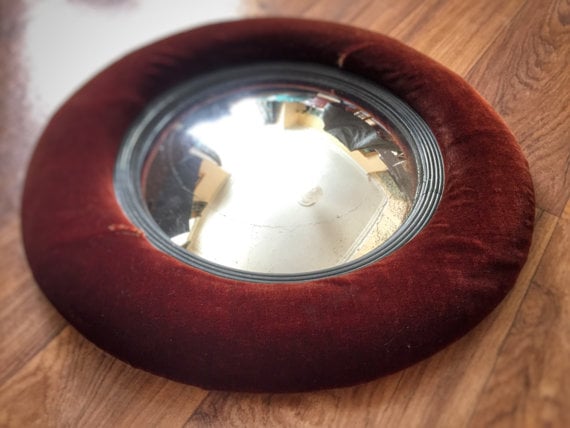 This velvet mirror is one of my top picks for a glamorous vintage look, Late Victorian Convex Circular Red Velvet Trimmed Distressed Mirror, £85, DanelawVintage via www.etsy.com/uk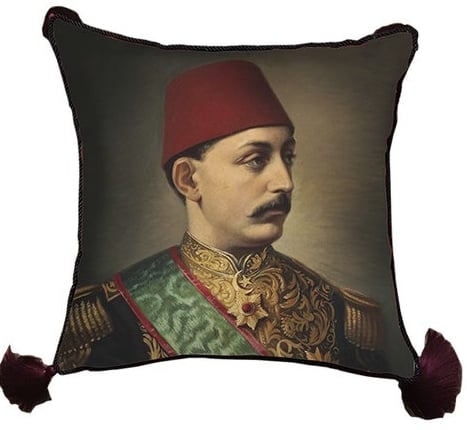 This collection celebrates the life and traditions of the ancient Ottoman world. The soft and comfortable cushion features an elaborately colored portrait of Sultan Murad reproduced onto delicate silk, Sultan V Murad Cushion, Bertrando di Renzo, £72, www.artemist.com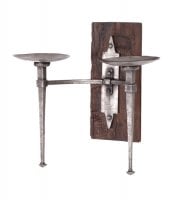 This wall sconce would look fabulous in a chalet or country lodge but could be equally well paired up with contemporary interiors, Forged Double Wall Sconce, www.beau-decor.co.uk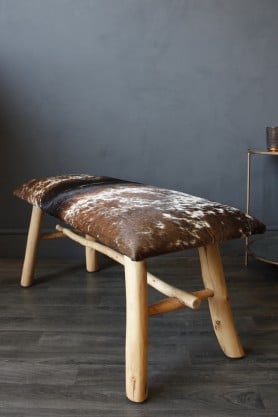 The cowboy chic look of this beautiful handmade hide bench is relaxed and stylish, perfect for a creative modern home, Canyon Cowhide Bench - 15B, £320, www.rockettstgeorge.co.uk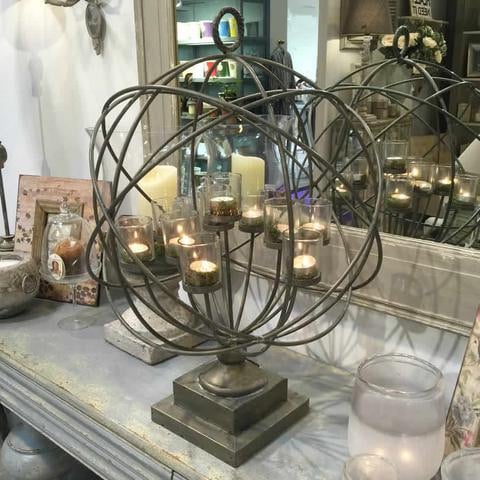 If you are in need of a feature for a mantelpiece or console table, this candle holder will easily fill the space, Metal Globe 10 Piece Candle Holder, £89, www.cowshedinteriors.com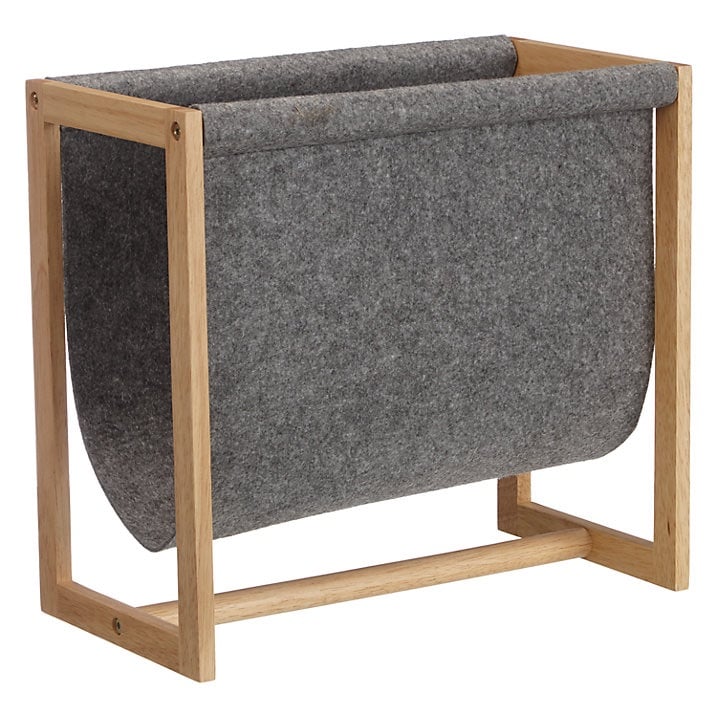 Keep your magazine stored in style with this very timeless magazine rack which is a perfect fit for a chalet, country house or contemporary home, Felt Magazine Rack, £30, www.johnlewis.com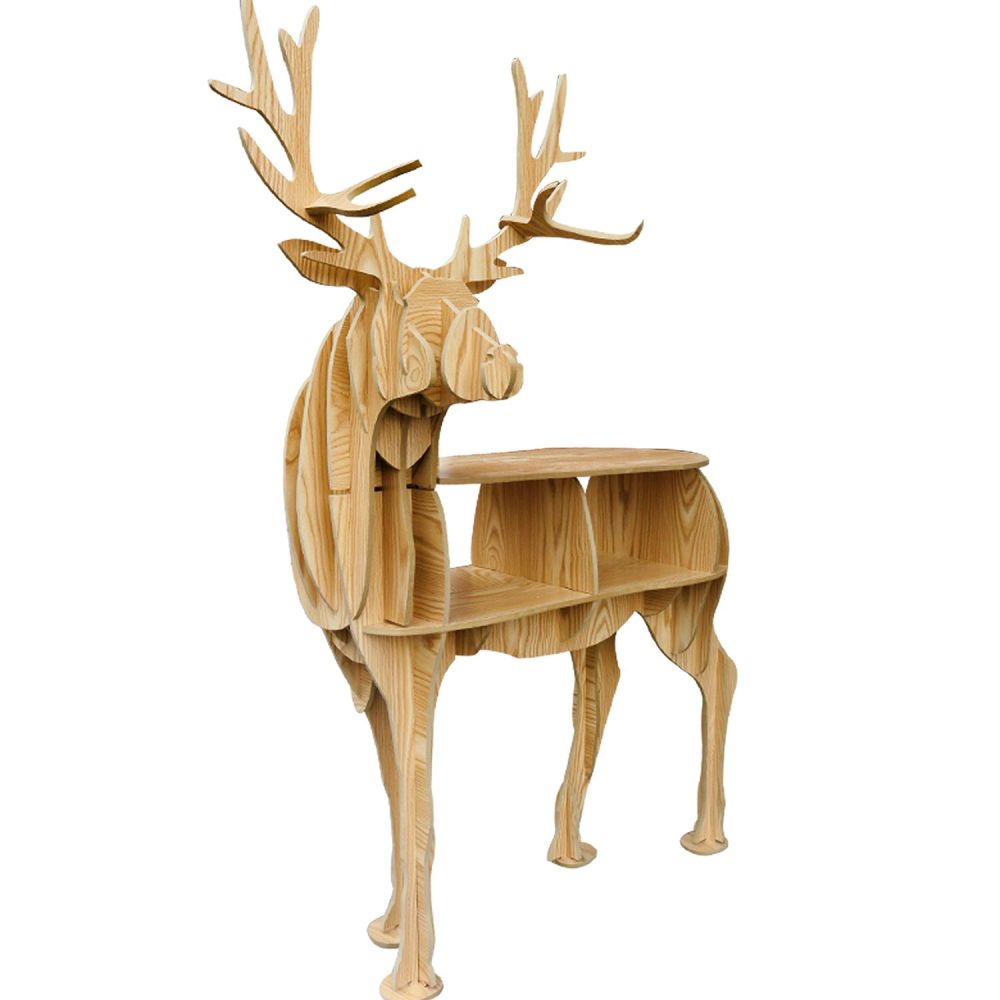 This Deer is a trophy which you don't need to hunt, Deer Console Table, £92.04, www.superstudio.co.uk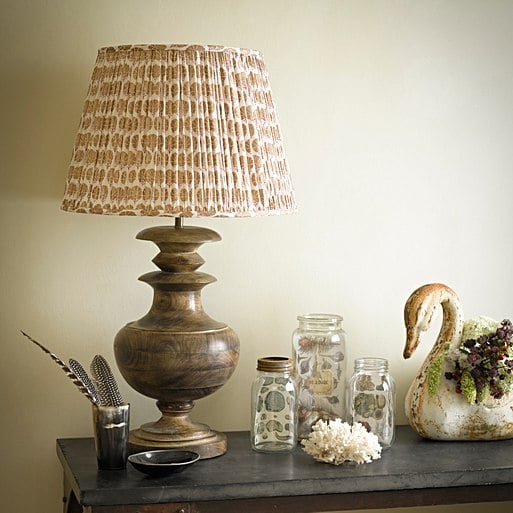 Pair this stylish table lamp base with a matching lampshade for a very decorative lighting display. Lamp base and shade are available from the same company, Verona Table Lamp in Burnt Wood, £135 (lamp base only), www.pooky.com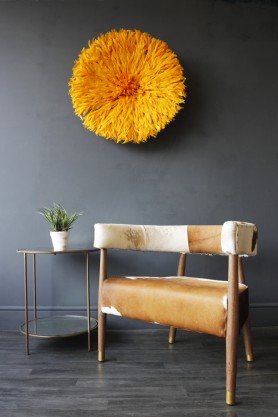 This beautiful cowhide armchair handmade in India features a relaxed and stylish design, ideal for classic and contemporary interiors, Cowhide Torres Armchair - 24T, £575, www.rockettstgeorge.co.uk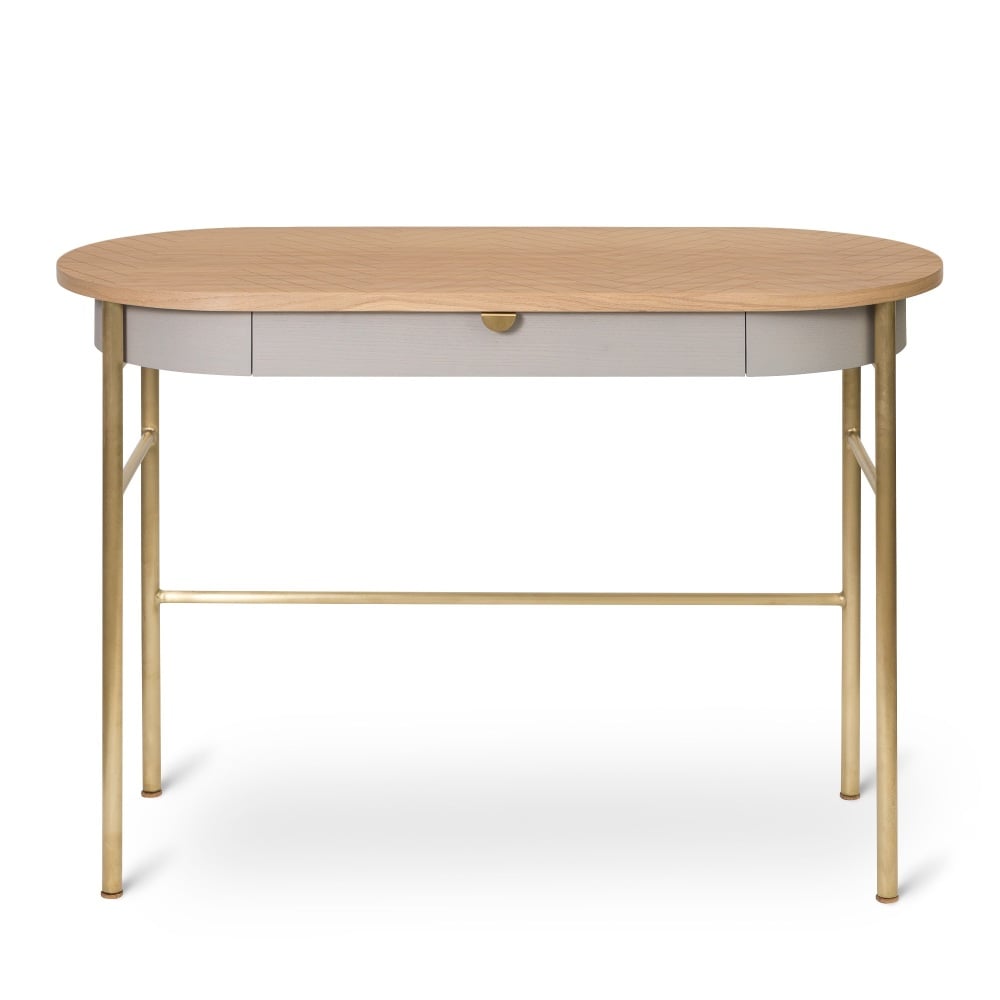 Blending old with new, this dressing table is easy to place in different style interiors, Oro Dressing Table, £595, www.oliverbonas.com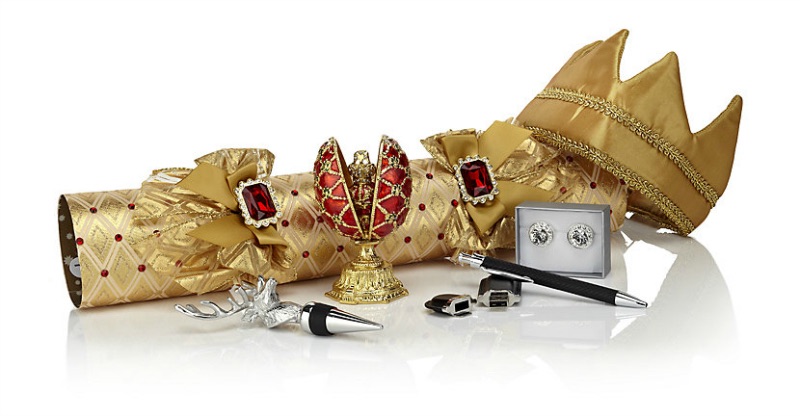 You might be crackers to spend a small fortune on this luxury set but if money is no object, these are the ones for you. The gifts include a stag corkscrew, crystal-encrusted Cloisonné box, a leather card case, silk scarf and more, Harrods Romanov Luxury Christmas Crackers, £599, www.harrods.com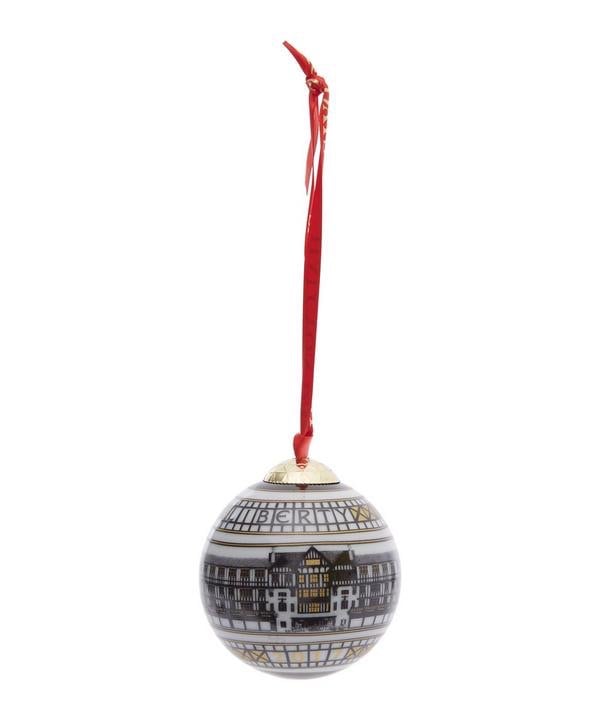 Decorated with the historic image of the Liberty London shop, this stunning bauble, should take prime position on your Christmas tree if you decide to splash out on this year's tree decoration, £35, www.liberty.com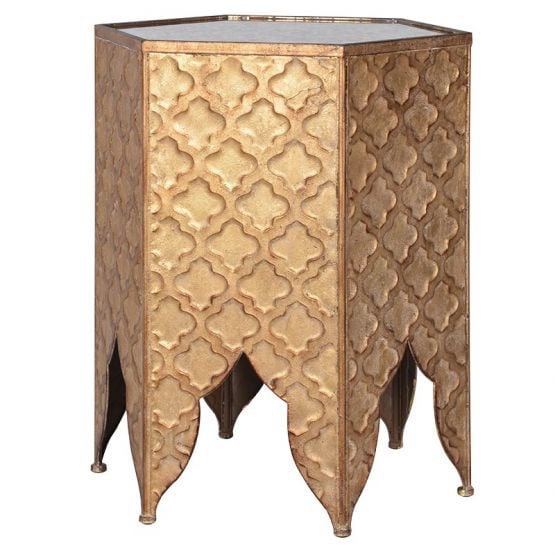 Inject a touch of glamour into your living room. This side table is a shining example on how to achieve a very visible result, Gold Hexagonal Table, £95, www.turnbullandthomas.co.uk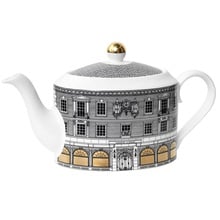 Made from fine bone china, this teapot is decorated with an original ink drawing of Fortnum's famous facade. Rory Dobner Teapot, £110, www.fortnumandmason.com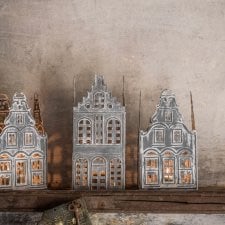 No need to travel all the way to the Netherlands to enjoy its architecture with these decorative lanterns, Dutch Townhouse Lanterns, from £22, www.grahamandgreen.co.uk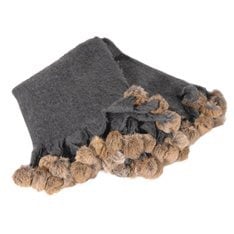 This gorgeous wool throw is edged with luxurious rabbit fur pom-poms adding a bit of luxury and warmth to your bedroom, Charcoal Throw with Fur Pom-Poms, £110, www.hicksandhicks.com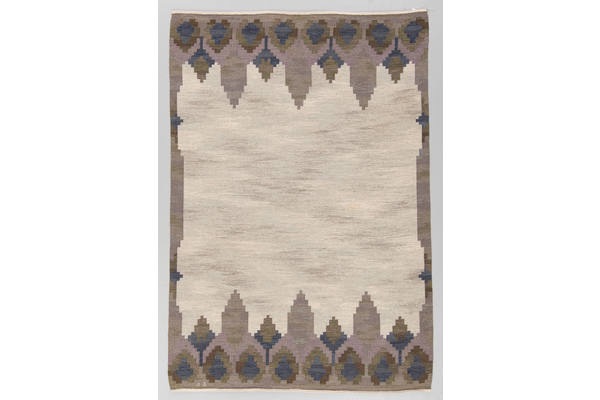 This Swedish vintage rug is one of my favourite recent finds. It is stunning and works with most interior styles, Vintage Swedish Rollakan Flat Weave Kelim by Judith Johansson / Signed JJ design called "Norrviken" (282 x 191cm), £8995, DanelawVintage via www.etsy.com/uk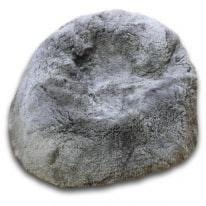 This grey sheepskin beanbag is a good choice if you are in need of an additional chair, British Grey Sheepskin Bean Bag (shorn), £299.99, www.sheepskinworld.co.uk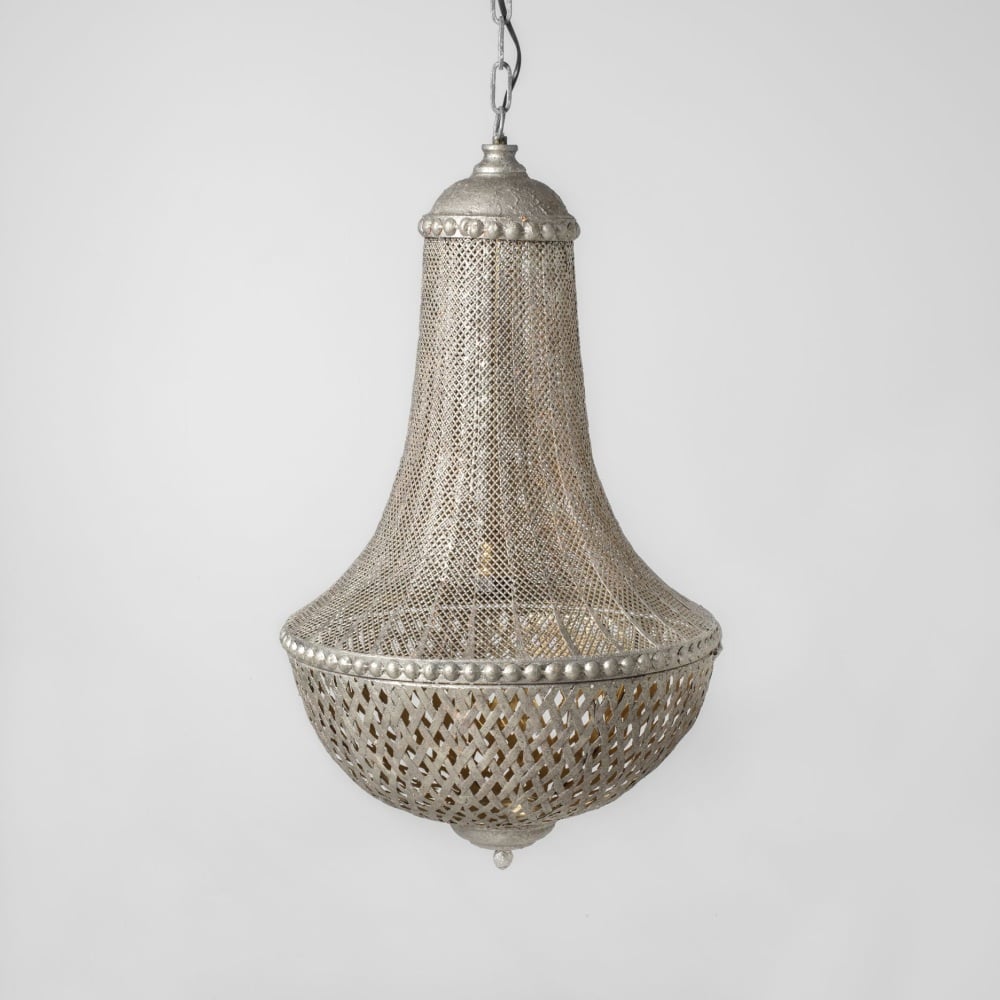 Inspired by the delicate metal fretwork of Morocco, the shimmering, beaten silver finish casts a wonderfully atmospheric light, Brocante Angelic Hanging Lamp, £360, www.petershamnurseries.com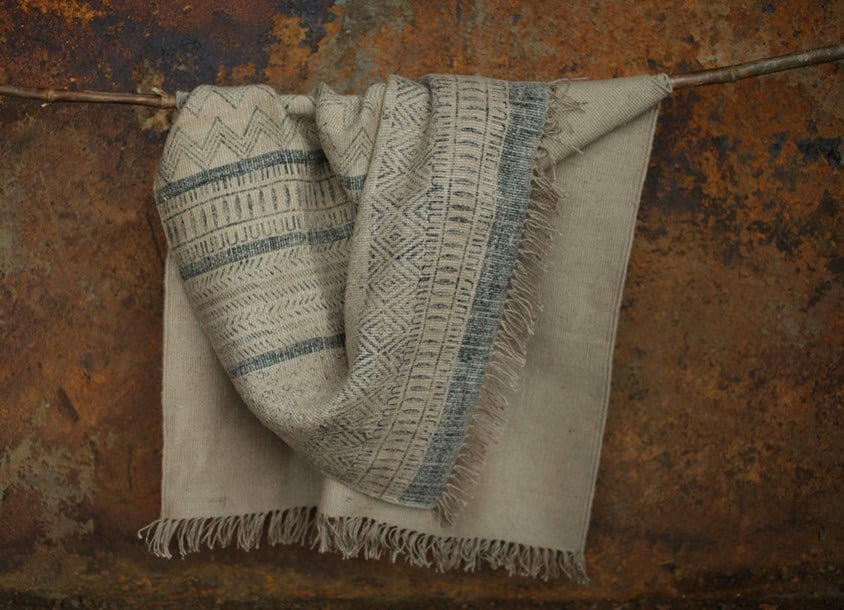 Handmade from natural jute in Rajasthan, these stylish faded block print rugs are individually crafted by skilled artisans using traditional methods that have not changed for centuries, Tali Block Print Jute Rug, £140, www.nkuku.com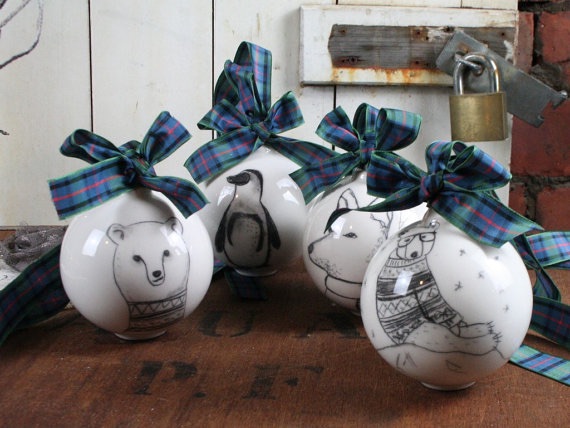 Treat yourself or someone else to these pretty hand drawn ceramic baubles which will add a lovely finishing touch to a Christmas tree, Hand Drawn Ceramic Bauble, £13.47, TheOldLaundrette via www.etsy.com/uk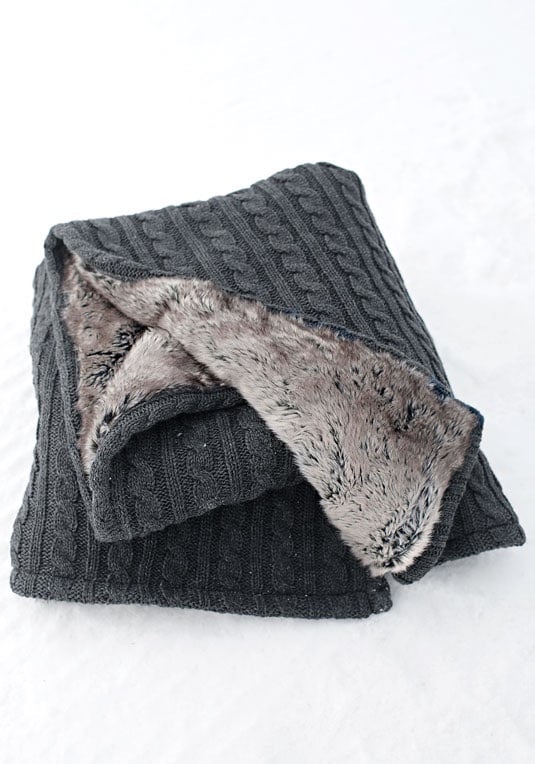 This reversible cable knit and chinchilla faux fur blanket is perfect for curling up in it or as a cover over your sofa and bed, Grey Cable Knit & Chinchilla Faux Fur TH Blanket, £165, www.fabulousfurs.com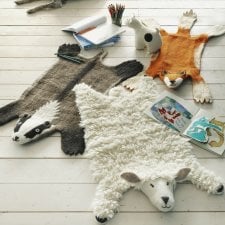 Put a smile on your childrens face with these fun and cozy rugs, Animal Felt Rugs, from £65, www.grahamandgreen.co.uk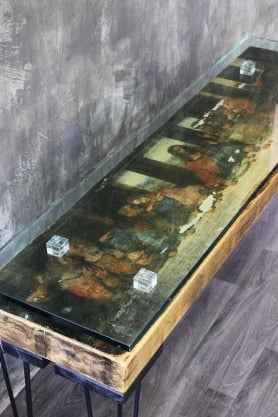 This very unusual hand made 'The Last Supper' imaged console table is made from reclaimed distressed wood, black oak news squares and stylish black hairpin legs with a thick glass top, Last Supper Reclaimed Console Table, £1995, www.rockettstgeorge.co.uk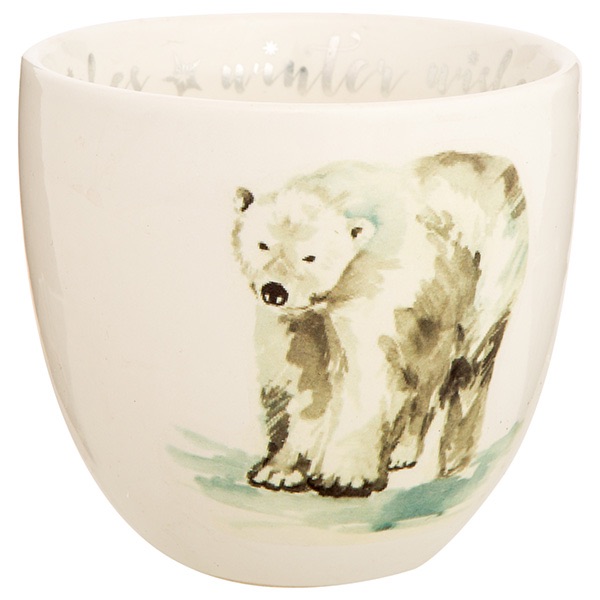 Wether you need a few decorative candles for your home or that small extra gift, this rather fun Polar Bear will come to the rescue at a super low price, Sainsbury's Home Winter Polar Bear Candle, now reduced to £5.25, www.sainsburys.co.uk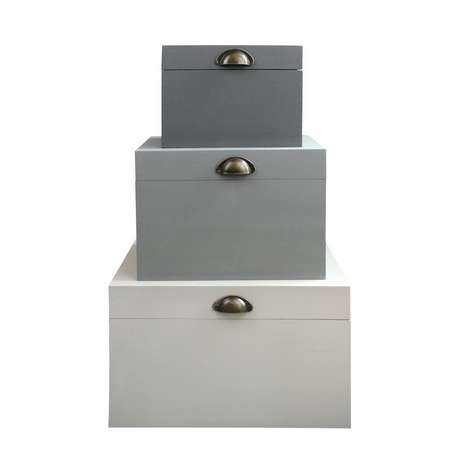 For those in need of tidying the odd 'bits and bobs', these timeless boxes will offer stylish storage which work well in a home office, living room or bedroom, Purity Storage Chest (3 different sizes), from £10, www.dunelm.com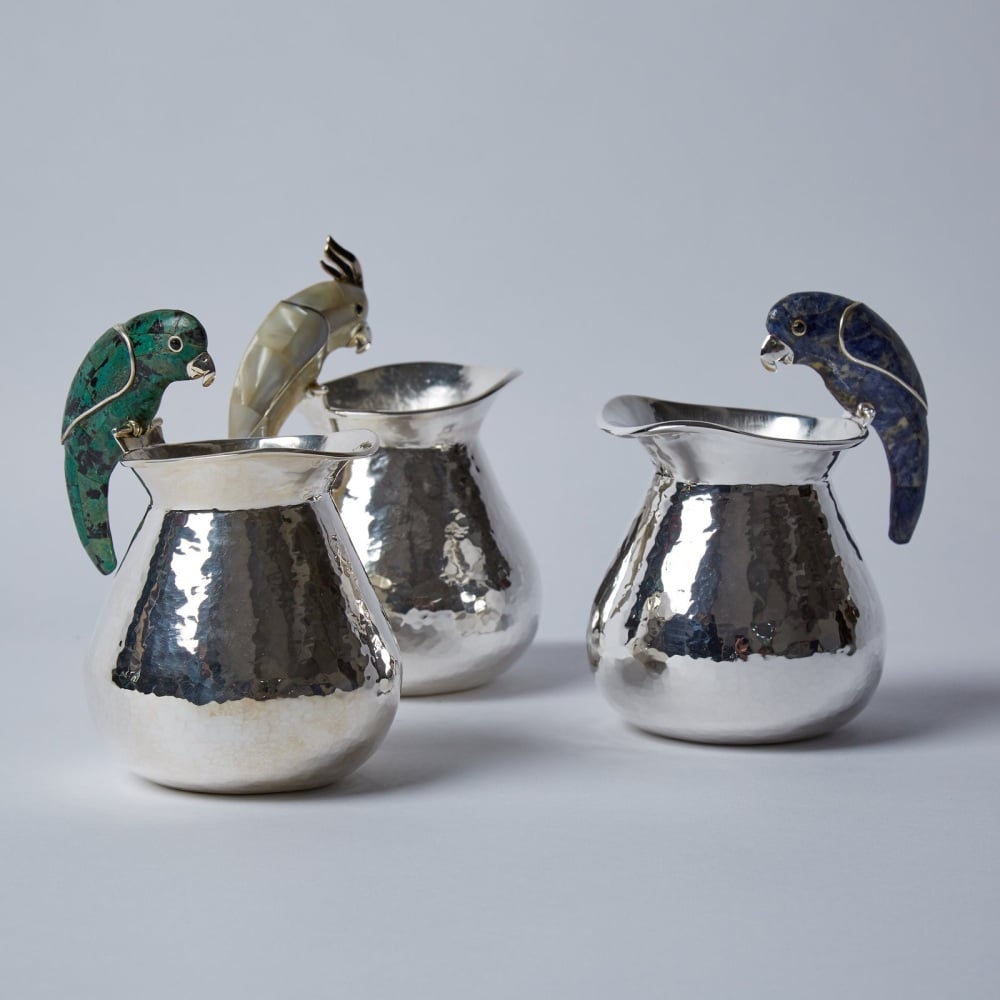 These birds have flown the nest and traveled all the way from Mexico to find their new owners! The beautiful and unusual silver pieces featuring birds and other animal handles, are individually crafted by local artisans and make a wonderful present, www.cheskie.co.uk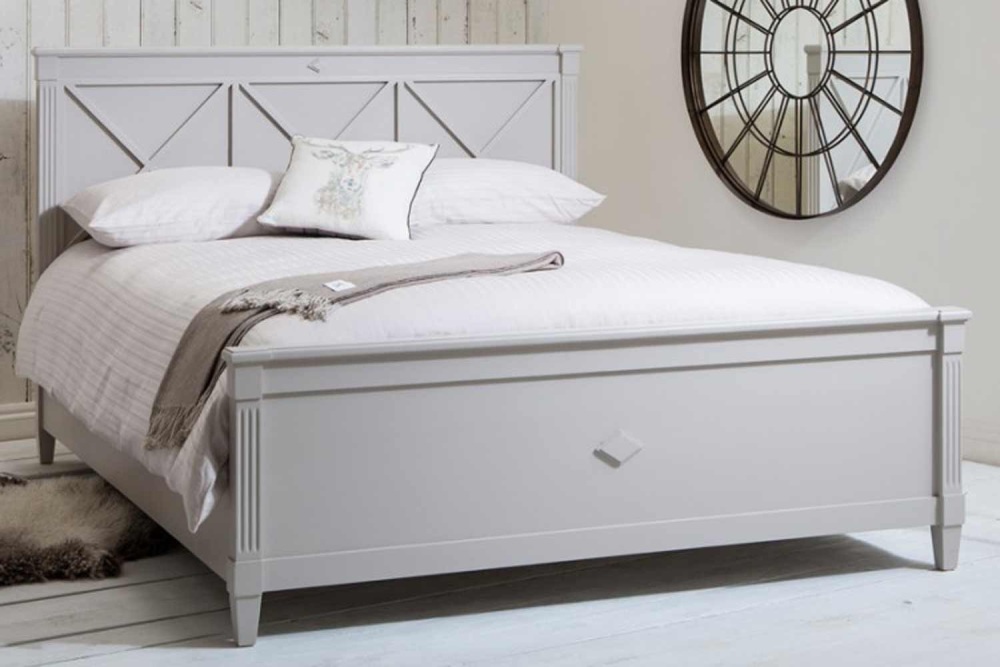 Much as I love fabric-covered headboards, they will look tired at some stage and will need replacing. There are not that many classic wooden double beds on the market which I like, but this model is one that has caught my eye and something I would not object to be seen in or rather sleep in, Kiss Wooden Bed, from £650, www.annabeau.co.uk

Organise your home in style or make someone a lovely present with these decorative bone inlay dishes and boxes, www.indiamayhome.co.uk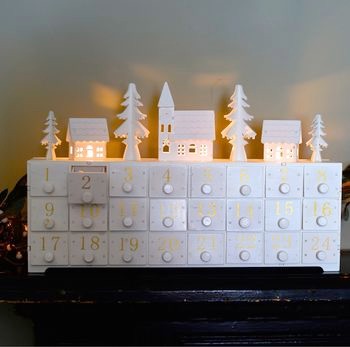 It might be worth investing in an advent calendar which can be used in years to come and have the additional pretty LED light feature which your children will absolutely love, Wooden LED Lit Advent Calendar, £45, The Forest & Co via www.notonthehighstreet.com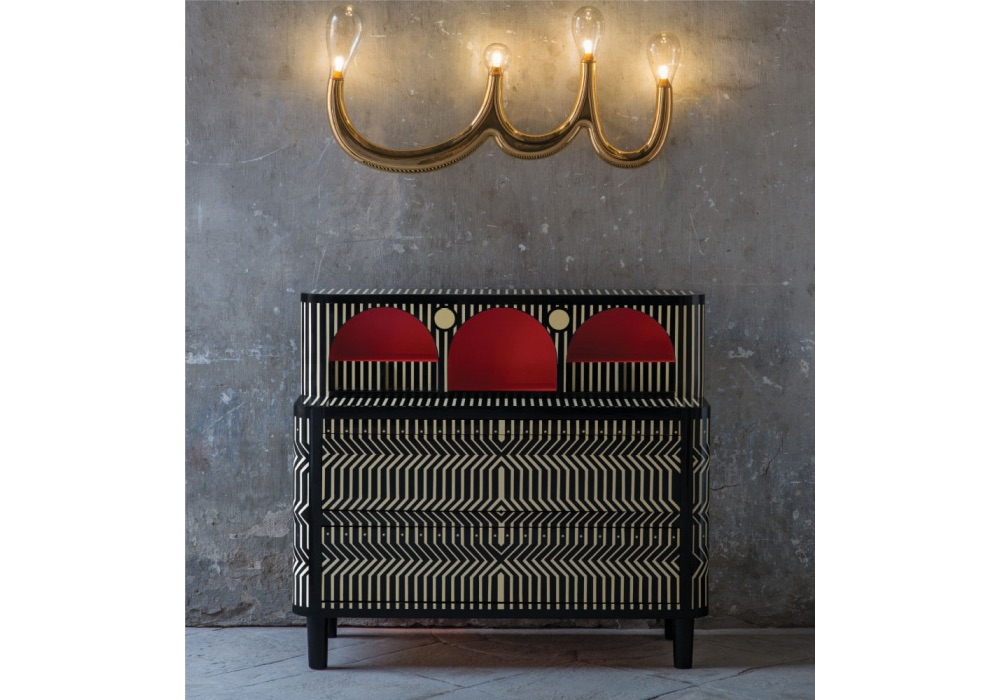 The General is a an absolute stunning study table created by the collaboration of designer Matteo Cibic and the Indian brand Scarlet Splendour. The collection has been designed in classic Italian form but is inspired by the tradition Indian craft of inlay work. This piece is painstakingly handcrafted in India. To become the proud owner of this masterpiece requires 'deep pockets', The General Study Table Scarlet Splendour, www.miliashop.com/en
This box of luxury crackers caught my eye not only because of its stylish design but also rather unusual contents of treats from organic soap and hand cream to vegetable seeds, Petersham Nurseries Christmas Crackers Orange, £55 (box of 6), www.petershamnurseries.com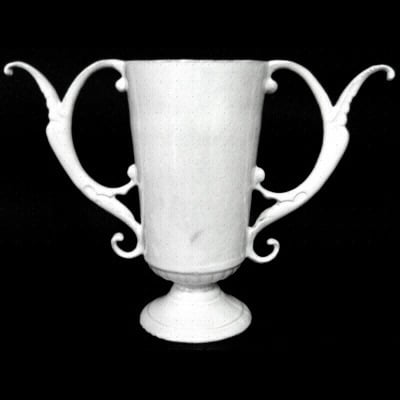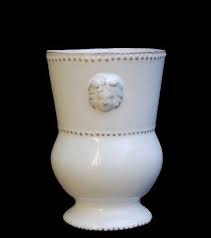 This large vase will create a stunning centrepiece on your dinner table or an eye-catching feature on a mantelpiece, www.astierdevillatte.com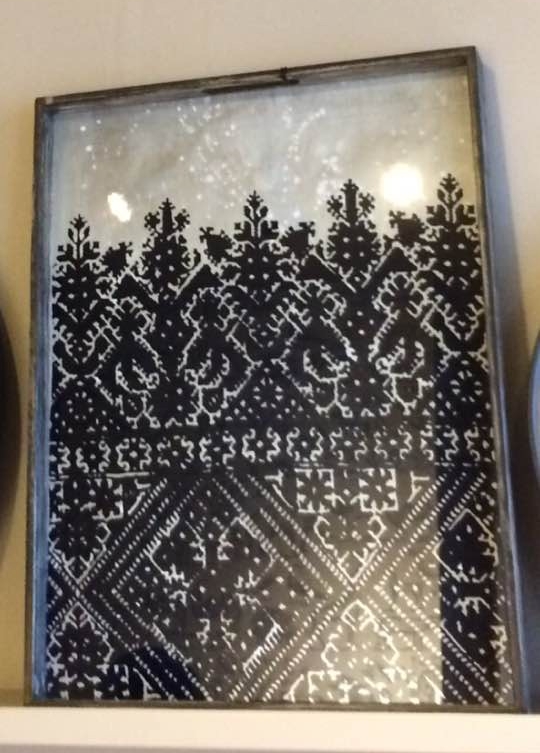 This tray is one of a number of different designs from Belgium and a real find, www.rossitersofbath.com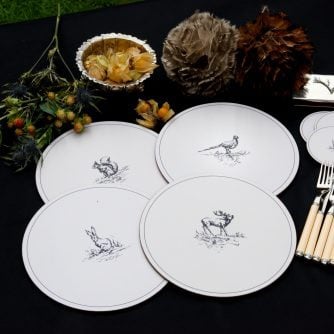 No dinner table is complete without tablemats. This set featuring hand sketched Stag, Hare, Squirrel and Pheasant works well with absolutely everything, Woodland Animals Table Mats, £50 (set of 4), www.club-matters.com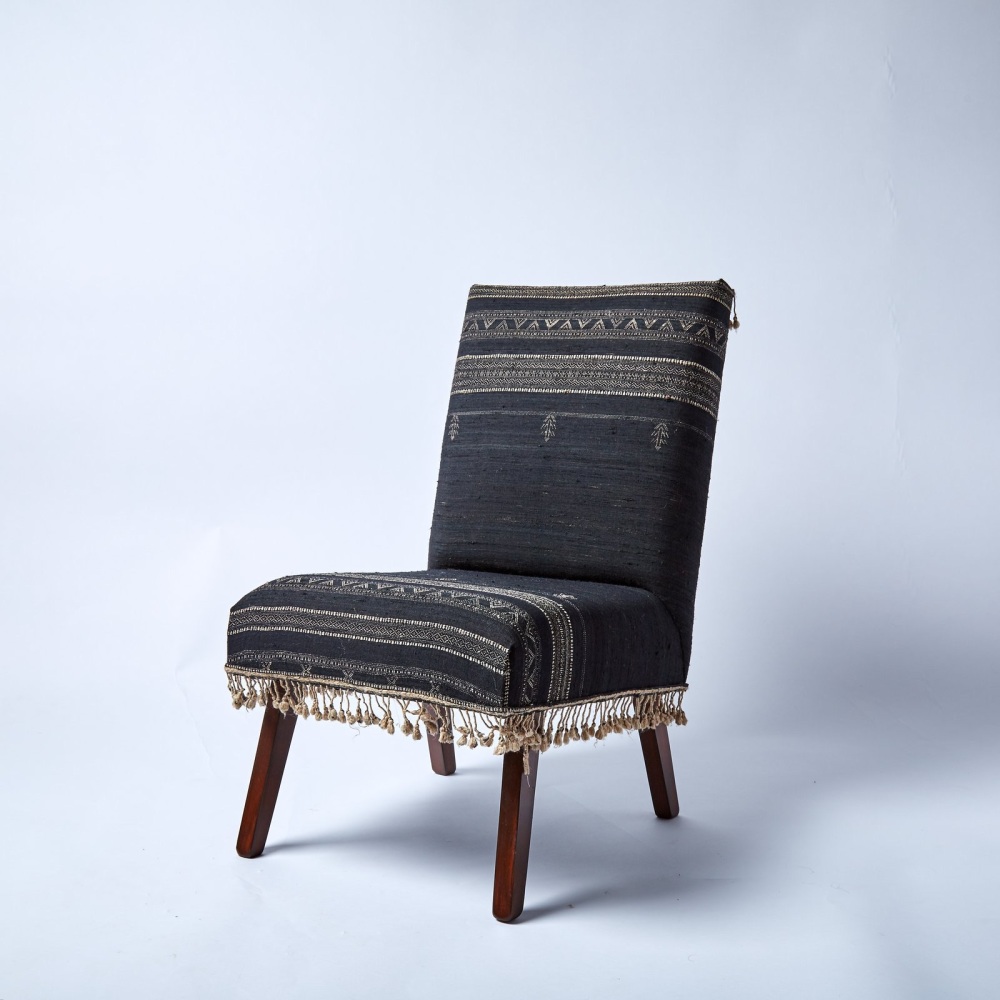 One can't fail to fall in love with the look of this ethnic occasional chair re-upholstered in a gorgeous vintage wool/silk blend fabric sourced in Asia, Samaira Chair, £485, www.cheskie.co.uk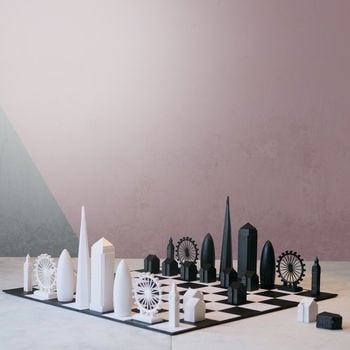 A perfect present for a 'city slicker' or someone who 'has it all'. This London Skyline Architectural Chess Set, will keep everybody well entertained during the festive season and beyond, £80, Skyline Games via www.notonthehighstreet.com
GET INTO THE FESTIVE SPIRIT WITH IDEAS FOR DECORATIVE DINING AND LIVING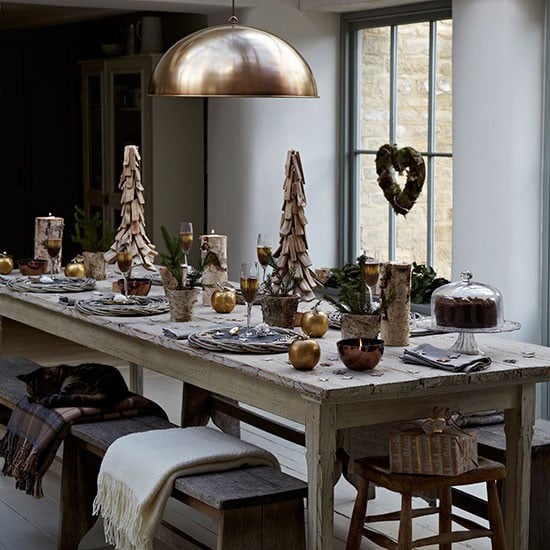 Via: deavita.com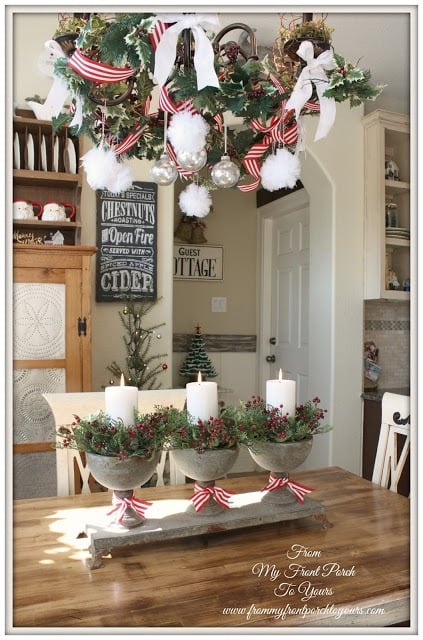 Via: www.frommyfrontporchtoyours.com
Via: deavita.com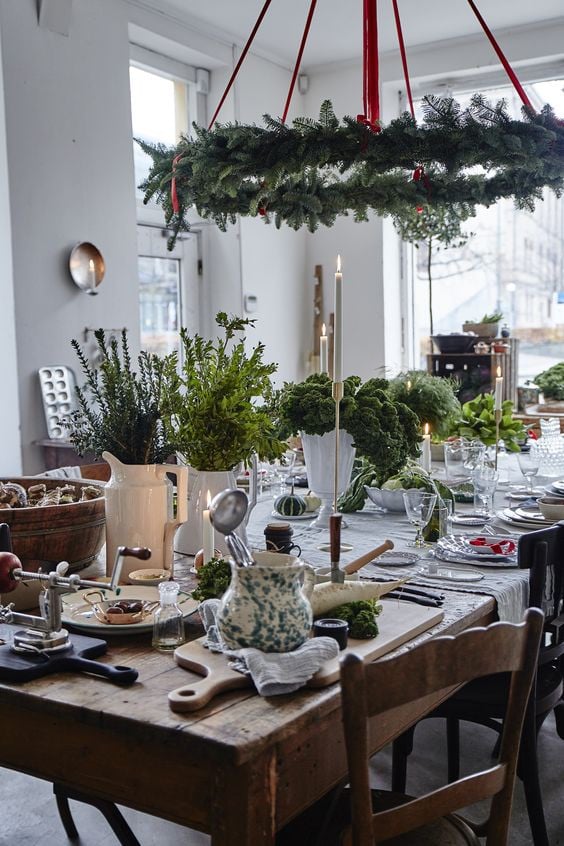 via: www.digsdigs.com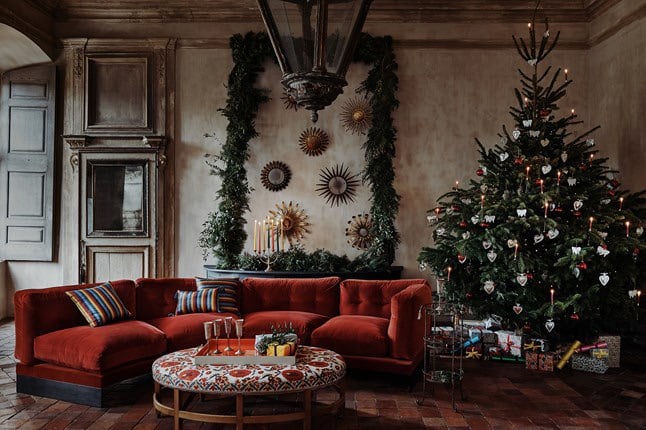 Via: House & Garden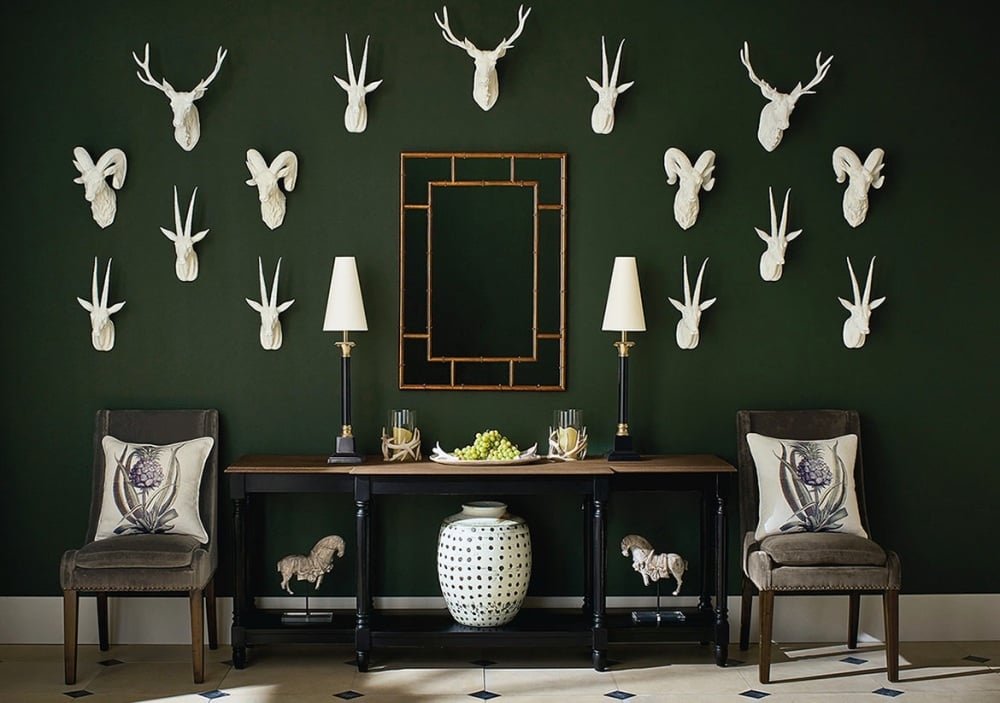 Via; www.oka.com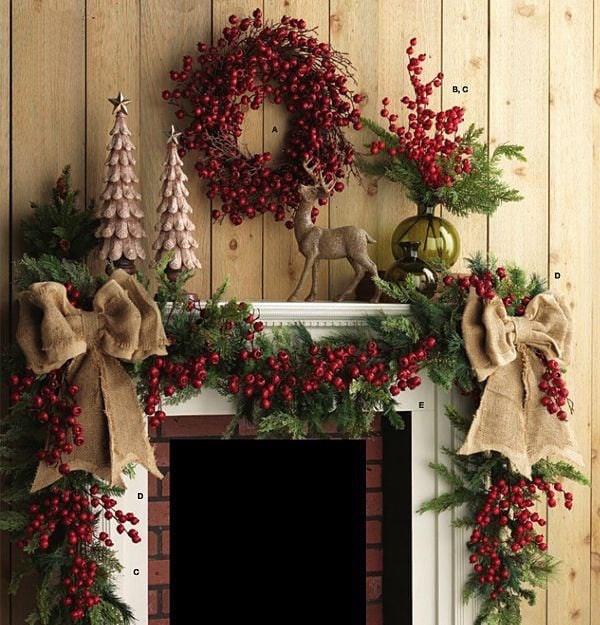 Via: holicoffee.com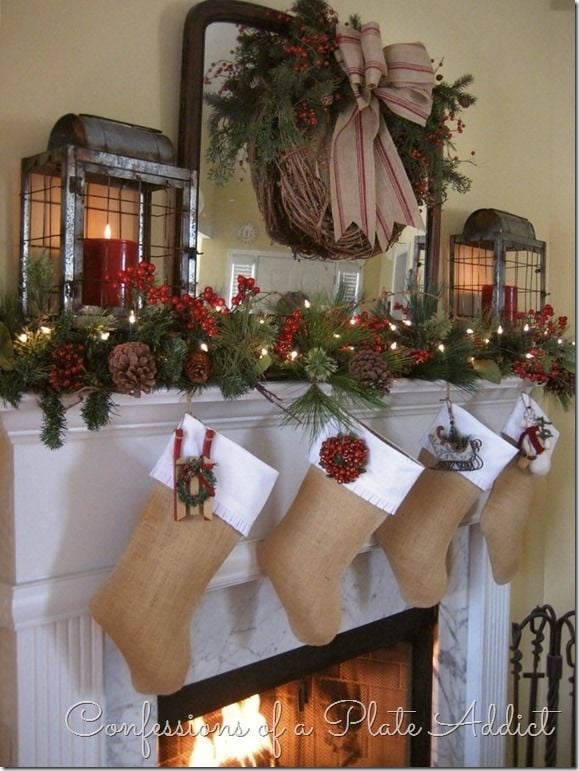 Via: Google / "Confessions of a Plate Addict"