A LOT TO TALK ABOUT / SWINGING 50s
Posted on
I am not talking about my age group, of course, but am taking a look at one of the trends, that is dominating this year's interior design magazines and outlets – the 50s retro look.
With Easter gone and Spring in the air, you might feel like a complete revamp to give your interior a new 'facelift'. If you have taken a shine to some of the retro colours or products which are currently dominating the front pages of the major interior design magazines and the storefronts of interior outlets, and would like to incorporate them into your home, here is some background to the look:
New materials such as plastic, fibreglass, plywood or Formica introduced after the second world war, led to a dramatic change in styles during the fifties and sixties. The general mood of the public was optimistic and positive with a bright future ahead. This was consequently reflected in the colours which became a very popular choice:
Jade

Green

Pink

Blue

Orange

Yellow

Red
Not only did the materials but also the shape and design of furniture changed. Designers came up with some 'weird and wonderful' never seen before products. The kidney table or boomerang shaped furniture are very representative of that area.
GPlan furniture was all the rage and revolutionised home interiors. It allowed people to develop a coordinated look to their home and allowed them to mix and match pieces to create their own style.
Geometric patterns and shapes took over and so did black and white chequered linoleum paired with chrome furniture.
Most furniture shops are now selling new retro-style furniture and home accessories. Fabric and wallpaper manufacturers have added their share of retro colours and designs and incorporated them into their collections too. If you are keen to get your hands on an original rather than a reproduction the best sources are auction houses, flea markets or try e-bay.
QUESTIONS AND ANSWERS
Q: Can I combine modern with vintage, Ingrid
A: Hi Ingrid, yes, you can. I would focus on the colour scheme for your room or throughout the house. With this in mind source your vintage and modern pieces that work with your predominant colour or have the colour in them. If you have fallen for a busy pattern focus on just this one and/or use it sparsely on a 'Statement' wall creating a feature. Decide on what lines to combine. Some vintage pieces have modern lines, so focus on pieces that have similar modern lines. Keep your main pieces modern and be very selective in the choice of your vintage furniture or accessories. A lamp, cushion, a desk or occasional table draws attention to each piece giving them their individual status......sometimes less is more!
Q: What advice can you give me in how to select a feature wall and choose colours and patterns, Judith
A: Dear Judith, it rather depends on your room`s function and focal point. For example in your living room the obvious place would be a fireplace or another central wall (featuring your TV or a desk) and in your bedroom the wall against which your headboard is resting. When choosing colour and pattern take a look at the colours in your room, be it curtains, furniture, soft furnishings, or a colour which you happen to like. Patterns and shades can vary in different degrees from the other walls as long as the overall pattern and colour scheme works with the rest of the room.
SOMETHING THAT CAUGHT MY EYE THIS WEEK: "VINTAGE VIBE"
This vintage-inspired wallpaper would make a perfect retro focal point on an accent wall. Add a couple of retro furniture and accessories and you have achived that perfect 50s look. MissPrint offers a very original looking range of vintage wallpapers, sold per roll of w: 52cm x 10m at £59,95, www.missprint.co.uk
The Two-Tone 50s Writing Desk is a really versatile piece of furniture which works just as well as a hallway console, a desk or a dressing table. With a folding table plus 2 drawers it makes a very special place to sit at and work, £550.00, www.grahamandgreen.co.uk
Who says you need to take out a mortgage to get your hand on stylish and trendy designer furniture? This Redford three-seater sofa (£749.00) is the creation of award-winning designer Tim Fenby whose classic, contemporary style is well established amongst some of the biggest names in the industry. Made.com, an online company who is selling this sofa, is working with a group of well-known designers, yet manages to offer an imaginative and beautiful range of products with very attractive price tags. Made.com is now shipping to the UK and France, www.made.com
One of my favourite cushions and patterns as it works with so many styles. The Lattice Cushion is a classic design based on a Moroccan tile motif, slightly simplified and scaled up. £80.00 www.niki-jones.co.uk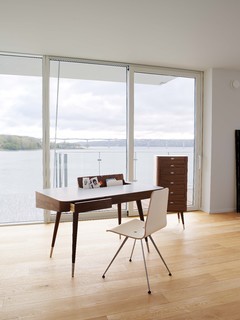 This is a truly iconic retro designed desk for the "well heeled". The wedge-shaped top is perfectly offset by pointed wood and metal legs. A modern twist on a retro image, this luxurious bureau was made by expert designers using Danish traditional quality and craftsmanship in solid wood, £2.950, www.wharfside.co.uk
These beautiful Silas Bulb glass table lamps have a nickel base and come complete with an oval cotton shade with a silver trim, £135.00 www.grahamandgreen.co.uk
Made from beautiful sheesham wood, Jamie Graham has especially designed the sleek Odyssey Console Table with style loving customers in mind, £495.00, www.grahamandgreen.co.uk
The Peacock Arte Chair in Cobalt and Meadow Green Velvet is a true statement piece. Signature 60s style with striking curves and splayed legs, this chair adds a recognisable retro touch, £299.00, www.made.com
RETRO ROOM INSPIRATIONS
Below are some rooms which are very representative for today`s retro design and might give you some ideas for your home.
SITTING ROOMS
DINING
OFFICE
BEDROOMS/BATHROOMS
I hope you enjoyed the short journey to the 50s and back. Looking forward to your comments and questions.
Isabell