A LOT TO LOG ABOUT / STEP INTO SPRING
Posted on
A LOT TO BLOG ABOUT / HOME STAGING
Living in my expat bubble I see more properties up for rent or sale in Spring than at any other time of year. When trying to let or sell your home, especially at a time when there is competition from other properties on the market, one of the main challenges is making your home appealing to potential buyers.
Staging your home is an effective way to make your property look its best in a competitive market. However, for those who worry about costs, there are a number of ways to stage your home on a budget.
1. Create Curb Appeal
The first thing buyers or renters will see is the exterior of your home. Make sure that your driveway, flower bed or lawn are well maintained and that the front entrance is looking attractive and inviting. It might also be a good idea to place a new door mat and pretty flower pot or plant outside your front door.
2. De-Clutter and De-Personalize:
An easy and cheap way to stage your home is to get rid of clutter and redundant furniture or accessories. Give your rooms a clean look by removing items which do not enhance the overall layout of the room or are not relevant to potential buyers. Focus on the minimum amount of furniture and personal belongings. As important as family heirlooms, your children`s drawings or football trophies are to you, they are not to a buyer and distract buyers from visualising their own belongings in each room. As you are moving home the process of de-cluttering is a very liberating one and what`s more you can generate extra income by selling items which you don`t want to take with you to your next home.
Have a garage sale for the white goods or low cost items. If you decide to sell some of your mid range or valuable pieces sell them on e-bay or via an auction house. On this note, for those living here in Switzerland, don`t forget that Partridge Auctions (www.partridgeauctions.com) are having their next sale in May, so a good time to take stock and see what you are happy to part with.
3. Light
Try and bring as much natural light into the rooms as possible. Open all window treatments and make sure the windows are clean.
4. Spring Clean
Give your house a big spring clean and once this is done keep a regular tap on dusty corners and surfaces, dirty or used looking bathrooms, windows and kitchen appliances and cupboards. Make sure that you don`t have last night's washing up or your breakfast plates lying around. The kitchen surface should be totally clutter free and clean.
5. Pets
If you have pets, make sure that the house is free of pet odours or pet hair. Clean out the water/food bowls and make sure the dog bed or cat litter area is looking clean.
6. Stage your Interior
Imagine yourself in a theatre, setting the stage for a potential buyer or rental visitor. It involves arranging each room to make it look its best. Fluff up sofa cushions (if yours are filled with feather and down) and place decorative pillows or place a nice rug and matching cushions over it if it looks slightly used or worn. Make your bed and if your duvet cover looks a little creased and you don`t want to change it on a daily basis, invest in a simple white bedcover with decorative or matching cushions to cover up the used look. Clear the surfaces in your bathroom of your creams, shampoos and other clutter and place clean and tidy towels over the towel rail to give both areas a fresh boutique hotel look. Open your windows to make sure your house has had some fresh air. Invest in an expensive smelling room spray or scented candle - remember how nice it is to step into an expensive boutique and be greeted by an inviting scent - it can change the atmosphere instantly. Alternatively the smell of a freshly baked cake or bread is always attractive.
Renting Furniture
If you have already moved out but still like to give your home a lived-in feel or need to add or replace some of your existing furniture but don`t want to start buying anything new, there is always the option of renting furniture over a limited period of time. There are increasingly companies around who offer furniture to rent. Depending on where you live, take a look at "Möbel Vermietung", "Location des Meubles" or "Furniture Rental". One of the companies here in Switzerland, offering this service is www.furniture-rental.ch
Bearing all the above in mind, do remember that you too will soon be searching for a new home to buy or rent. Imagine what you would be looking for when viewing properties for you and your family which might help you prepare your home before putting it on the market. If you are still not quite sure about your rooms and feel that it needs a bit more input this might be the time to work with a professional home stager.
Last but not least be positive. If you have done your homework you will be streets ahead and need not worry about the potential competition. The more confidence and positive approach you have when showing your house the more it will be picked up by anyone who is looking to rent or buy.
SOMETHING THAT CAUGHT MY EYE THIS WEEK / SPRING IS IN THE AIR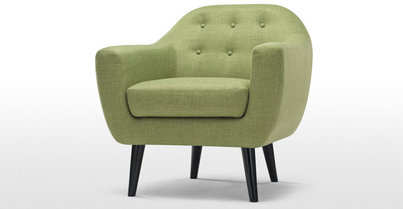 If you need to introduce a bit of colour into your living room and give it a contemporary look this gorgeous grass green retro armchair could just do the job. It looks good with either grey, brown or beige furniture and if green is too outlandish for you this model is also available in grey (£349.00), shipping to the UK and France, www.made.com
This company creates unique and individual products from different types of wood. Each piece is individually put together and regarded as a unique piece of art. This is certainly not a mass product and will easily be center of attention when you get your friends round. Entwurf-Direkt is a German company but will ship to a number of other destinations incuding Switzerland, www.Entwurf-Direct.de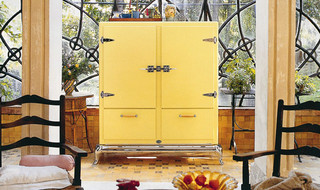 This could certainly be the 'pièce de résistance' for your new or old kitchen.....budget allowing, of course, with prices starting at £3.997.00! The Meneghini`s range of wooden fridge freezers are unique and come in a wide range of colours, designs and finishes. Almost like with cars you can add all sorts of lovely accessories from integrated coffee machines to ice makers and microvaves. www.robeys.co.uk
When it comes to luxurious looking (and feeling) linen fabric, Volga Linen certainly fits the description. A family run British company it sells an exquisite collection of pure linen fabrics, table linen, bed linen and ready to hang curtains from Europe or Russia, www.volaginen.co.uk
If you love Moorish designs this is a 5 star version which is supplied only to Oka. Adapted from an ancient Persian design this Isphahan Porcelain Giant Charger (£199,00) and Porcelain Tea Pot (£85,00) are hand painted and are also available as an entire dinner service with dinner plate sets, cups and so on, www.okadirect.com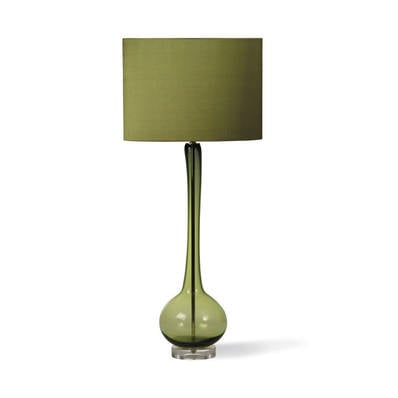 I love the sleek design of this Porta Romana Goard Lamp. The bowl and stem are mouth blown with a perspex base and if green is not your colour it comes in a large choice of other colourways, www.portaromana.co.uk
This lovely French inspired banquette reminds me of a Spring or Summer room with palm trees and bone china cups or a slightly delapidated country house in France......wouldn`t you love to be there too? Products can be ordered via the UK, Germany and the US, www.anthropologie.com
THIS WEEKS FAVOURITE ROOM INSPIRATIONS
Step into Spring and make the most of the latest colour trends!