A LOT TO BLOG ABOUT / TRENDS FOR 2013
Posted on
If you are planning to renovate your house or adding furniture to give new aspects to your interior, here are a few trends for 2013. A good way to stay focused amid the different trend forecasts and new/new-old designs appearing on the market is to think about how - or if - each forecast trend resonates with your own life and home.
If it isn`t 'You', don`t follow the masses. There are so many ways of creating your own interior to suit your lifestyle and character and it is fun to use your own home decor as an extension of your individuality. As people move towards a more relaxed lifestyle there is a trend towards making every room a space that you can actually live in.
The following predictions reflect the shift towards a more personal and meaningful space and how it translates into design and home decorating.
1. Antique Brass
Antique Brass is making a comeback in structural elements, hardware and other embellishments.
2. Bleached Floors
The trend is towards lighter woods for floors and cabinetry using methods like bleaching, liming and painting woods to achieve a lighter tone.
3. High-end design is now more accessible to all
Companies are increasingly cutting out the middlemen, selling their products directly to consumers often via the internet at significantly more competitive prices.
4. Colour Revival
Punchy shades of Blue are increasingly visible in home decor magazines. From upholstery to soft furnishings and china, Blue is going to be big this year.
Emerald Green is another colour to watch out for and so is Dior Grey and Salmon Pink, which will feature not only on the fashion runways but also in design showrooms.
5. Faux Shagreen
This is the new trendy (imitation) hide. Its rather glamorous textured and organic look adds sophistication to most interiors. You find at least one or two pieces in most upmarket furniture shops. Faux Shagreen accent or console tables look best in natural colours such as greys, taupes and creams.
6. Geometrics
We are seeing more angled shapes like triangles and trapezoids, as well as diagonals and zigzags. Those prints are predominantly used on cushions, wallpapers and fabrics.
7. Wrapped Furniture
Furniture wrapped in leather, linen or grass cloth provide quite an eye catching statement piece.
8. Embroidery and Knitting
Handmade is back and anybody who was not taught should give it a go. From colourful carpets to storage baskets, cushions or poufs, embroidered and knitted accessories are a major trend for 2013.
9. Out of Africa
The African style interior is very hot this year bringing warm colours and imitation animal skin back into eclectic interiors. Luxury villas tend to feature wooden furniture elements decorated with carvings or wrought iron, sculptures and handmade decorations all defined in African style.
10. Neutrals
For those who don`t subscribe to too much colour around the house, neutrals are still very popular as a timeless element. Fibres like jute, hemp and raffia are all adding a natural organic look to home interiors.
11. Floral Patterns
Flowers are back in style but ideally with a white background, adding a very romantic touch and giving the feeling of a perpetual holiday.
12. Pastels
Designs from the nineteen fifties in pastels are up-to-date again and a very nice addition to a modern interior. Add some powdery colours and prints for the finishing touch and your house is Spring-ready.
13. Stripes
Turn social spaces to design dynamics, in order to inspire vibrant living and energy. One of the simplest ways to achieve this effect is by employing stripes in an elegant manner. Bold red, navy or black and white colours and patterns are the highlight of the design themes again, only this time associated with minimalist decor complements.
14. Nature, Birds and Wildlife
Among this years home decor trends is everything Nature from animal prints and birds to trees or other natural elements on wallpapers and fabrics.
With any trend you don`t need to remodel an entire room to get the look. Adding a throw, some cushions a rug, new curtains or just a few decorative accessories can give you room that trendy and up to date element and look.
SOMETHING THAT CAUGHT MY EYE THIS WEEK / TREND SPOTTING
Almost a new take on the traditional Toile design, this is a very stylish way to introduce a bit of nature into your home. A very decorative accent chair that would work well in a bedroom or kitchen, www.anthropologie.com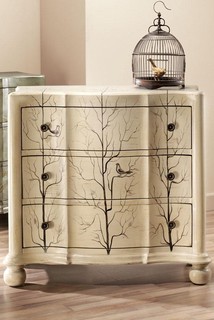 This very pretty hand painted chest of draws is not just a treat for bird enthusiasts - my daughter has put it on top of her birthday wishlist, homedecorators.com
You can still take a shower in style with this gorgeous Handwoven Atticus Shower Curtain. It would look particularly fitting around a rolltop bath, EUR 148,00, www.anthropologie.com
A really stylish combination of faux shagreen and sleek chrome legs. If you are looking for a touch of luxury in your sitting room, the Delano Contemporary Coffee Table, Shagreen, will certainly not disappoint, £550,00, www.okadirect.com (ships to the UK and Europe).
This is an absolute must for those who love something with a difference. You only need one of these clamshell shaped linen chairs to put some zing back into your room. The Ariel Rococo Chair looks good with classic as well as contemporary furniture and should really put a smile on your face every time you enter your room, £750,00, www.grahamandgreen.co.uk
If you like to introduce some pastel coloured elements into your home I highly recommend these deliciously fresh looking small paisley linen fabrics, which are perfect for cushions, curtains or blinds and at £38,- per meter are particularly good value, www.volgalinen.co.uk
This Welsh company which produces a wide range of exclusive fabrics, wool blankets, throws, cushions, home accessories and clothing represents the new spirit in Welsh design. I love their classic, retro and contemporary designs which can nowerdays be spotted at all the major interior design shows accross Europe. This Mondo Rose Shetland wool fabric would be perfect as a cushion or throw if you need to add a bit of spring colour to your furniture, www.melintregwynt.co.uk
This will no doubt bring a smile to any girl in need of a new bookshelf and makes a change to the usual blues and reds or pale pink`s used for children`s furniture, www.coucoumanou.com
Combining this seasons vibrant colours this embroided Jaffa Lampshade adds a lively and relaxed retro touch, EUR 98,00, www.anthropologie.com
You only need a few of these geometric style cushions to give your sofas that classy and 2013 look. Etsy, who do ship their products to many destinations worldwide, including Switzerland, offer a huge treasure trove of gorgeous cushion designs.....you could change them on a daily basis and still find a new design on their website, www.etsy.com
BELOW A FEW ROOM INSPIRATIONS REFLECTING SOME OF THIS YEARS DESIGN TRENDS