A LOT TO BLOG ABOUT / EAST MEETS WEST
Posted on
This week I would like to focus on the influence of Eastern culture and design on Western interiors. This is a trend that never goes out of fashion and manages to live happily alongside other design trends which come and go. Eastern design elements are certainly a hot trend in 2013. Ethnic styles and ornaments have long been embraced by interior designers in the West but the trend is even more prominent in 2013.
Ethnic design has its roots in the 17th and 18th centuries when interior design became an important part of the pursuit of happiness during the Enlightenment. This was the time when trade between Western Europe and Eastern Countries increased and elements of Asian design began to influence English, French, Dutch and Portuguese interiors. Wether Chinoiserie or onion domes, an increasing mix of shapes, colours and materials appeared in wealthy homes. Since then, Asian and Middle Eastern design has maintained a strong position and popularity in the world of interiors.
As time has move on and home interiors are very much influenced by contemporary design. an increasing number of designers in the Middle East have moved in the same direction creating an exciting mix of old and new. Textile and furniture companies in the West have put their own interpretation on ancient Middle Eastern designs and patterns too, creating an interesting mix of East and West.
SOMETHING THAT CAUGHT MY EYE THIS WEEK / A VERY MOORISH EXPERIENCE
I have come across some inspirational contemporary furniture designers and designs creating a very interesting blend of styles influenced by Islamic tradition which look as stunning with classic as with contemporary furniture.
This is one of my favorite furniture designers who has a showroom in Geneva and whose products deserve a good deal of attention. Dina has managed to create a beautiful fusion between the traditional Middle Eastern art and craftsmanship and contemporary Western design. By using different materials and styles she has created a collection of handmade pieces which are quite unique and serve as true statement pieces. I would strongly recommend a visit to her showroom either in Geneva or Amman or take at least a look at her website www.dinagildeh.com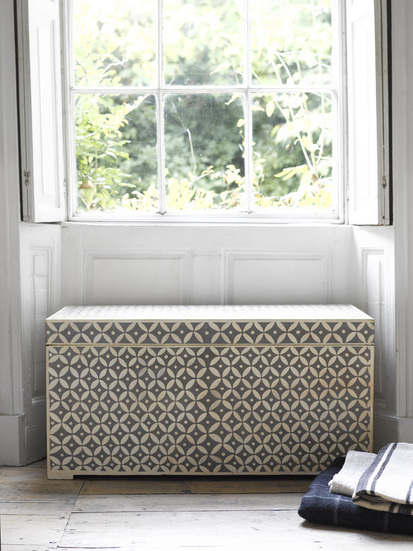 On my regular quest for stylish storage solutions I could not resist this handmade and painted Indian Dowry Box and it does not disappoint. It sits in my kitchen dining area and as it is a decent size it stores all the children`s artwork and `downstairs" toys. Whenever I have new visitors I always get very complementary comments. It comes in grey, black and pink, £255,00, www.loaf.co.uk
A very suitable contender if you like to add an eye catching and stylish piece of furniture to your living room, www.dinagildeh.com
This is a lovely collection of Moorish knobs. If you can`t decide which one you prefer why not mix and match them? Prices from EUROS 6,00, www.anthropologie.com
This Table looks stunning as a side table or in the hall with a lovely flower arrangement, www.dinahgildeh.com
A gorgeous hand knotted rug made of 100% New Zealand wool which looks really stylish with classic and contemporary furniture, www.niki-jones.co.uk
This ultra chic Stratos Console Table has a natural glossy macassar top and a mix of silver and gold leaf, brushed brass, polished and brushed stainless steel base, Designed by Ardeco Studio-Georges Amatoury and available via www.levantania.com
A true statement piece, this Margarite Table is a lovely mix of old and new! www.dinagildeh.com
The Metal Plated Round Mirror with its uneven and rustic finish adds a lovely relaxed yet classy touch to any wall, £325,00, www.lombok.co.uk
Originally from Lebanon, Nada Debs furniture designs are a beautiful blend of contemporary with traditional Middle Eastern design. Having lived in 3 continents her designs very much reflect the different cultures she has experienced. Her products are being sold worldwide, www.nadadebs.com
This set of Infinity Love Chairs are a favourite of mine with beautiful carvings. They look particularly nice as a pair, www.dinagildeh.com
I love the vibrant colours of these Coloured Round Tables. The walnut wood table top is decorated with a gorgeous mother of pearl design, EUROS 948,-, designed by Nevin Designs, www.levantania.com
Although I love plain white crisp bed linen this Linen Border Bed Linen is as good as it gets if you want to introduce another colour on your bed. I have seen it in situ and love it. There is also a very large "bolster cushion" available to give the overall look a nicely rounded finish...highly recommended, £115,00 for a double set (duvet cover, sheet, 2 housewife pillowcases), www.niki-jones.co.uk
In case your old jewellery box is in need of replacement this would be a perfect alternative....maybe even one for `her` and one for `him`!, www.levantania.com
I have seen bed heads in all sort of shapes and sizes but this is a model which you certainly don`t see in any high street shops! It has a very moorish feel and would be the perfect backdrop for your 1001 night experience! £675,00, www.lombok.co.uk
Love these accent tables which are perfect for smaller spaces, www.dinagildeh.com
These cushions can completely transform the look of your garden furniture if you like to get into the summer holiday mood. Just add a few Moroccan lamps and dishes and you are almost `there`!, William Yeoward via Designers Guild, www.designersguild.com
Wouldn`t this look rather fun as side tables next to your outdoor sofas? www.dinagildeh.com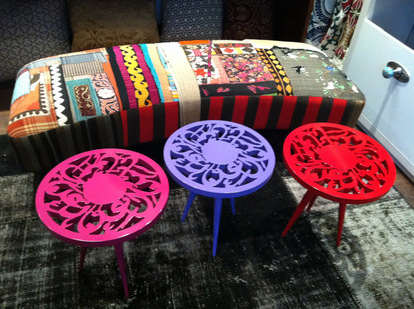 If you like to inject a bit of colour this Spring and Summer this set of tables will certainly catch the eye, www.dinagildeh.com
A perfect way to inject some life into a room if you need of a spot of colour to complement your sofas, www.grahamandgreen.co.uk
Levantania is a company that represents a number of Middle Eastern artists and designers which add that extra bit of spice to interior design. A beautiful modern take on the traditional model, this M.O.P Tray Table is a perfect solution if you need something to put your drinks on but have little space, EUROS 948,00, www.levantania.com
If you have been tempted to purchase one of those very "dernier crie" large metal bowls for your coffee or console table and wonder what to put into it, these decorative Teardrop Woodland Baubles set will do the job very well, £26,00 (set of 4 in a box), www.niki-jones.co.uk
Another example that classic and contemporary styles mix well. I love the combination of the crome base and the mother of pearl and crimson walnut wood table top, M.O.P Table designed by Nevine Designs, www.levantania.com
Original and eye catching. This Cube Vase/Box has a walnut structure inlaid with mother of pearl and is just one of those accessories which stands out and doesn`t go unnoticed, EUROS 173,00, www.levantania.com
This oriental acrylic ottoman designed by Zanan is a real eye candy and a beautiful colour spot to any room, www.levantania.com
This modern take on the traditional Middle Eastern lantern would make a rather fun kitchen table lamp. Rather than having to stare at a bare bulb this Little Pear Lamp gives out a very cozy light through its little holes, EUROS 59,95, www.soukshop.com (ship to Switzerland and other countries)
If you are really struggling with space but still need a solid surface for your wine glass this sofa arm table is a vey stylish solution, www.nadadebs.com
These lovely and very original M.O.P Boxes with their mother of pearl inlaid tops are a really fun and stylish storage solution for all the small things in life, designed by Nervine Designs, www.levantania.com
Love this handembroided Ibiza Pouf Chambray which is a perfect spare seat or put a Morrocan tray on it and it turns into a coffee table. It comes in 2 sizes, from EUROS 49,95, www.soukshop.com (ships to Switzerland)
A really pretty and elegant set of Acrylic storage boxes with its mother of pearl top is not only a useful storage solution but will also double up as a very nice decorative feature around your house, designed by Nervine Designs, www. levantania.com
BELOW MY MOOD BOARD FOR ETHNIC INTERIOR
via fashion bakchic
Song Soa Private Island, Cambodia, via Travel Files
See you again very soon, I hope.
Isabell