A Lot To Blog About / Halloween 2: The Last Countdown
Posted on
With Halloween at our doorstep there is only one more day to go. If you have invited some friends and your House bares no resemblence to Halloween, below are some last minute decorating solutions which are quick and easy to make. I have tried and tested some of them, to make sure they work and have added photographic evidence!
For additional photographic inspiration, go to my previous blog which shows images of some very stylish Halloween decoration.
Special Effects with very Simple Tools.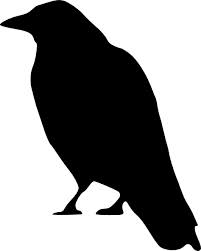 Google "Halloween Templates" on the internet and you get your instant party decoration tools. This is like Aladdin's cave - a never ending source of everything Halloween!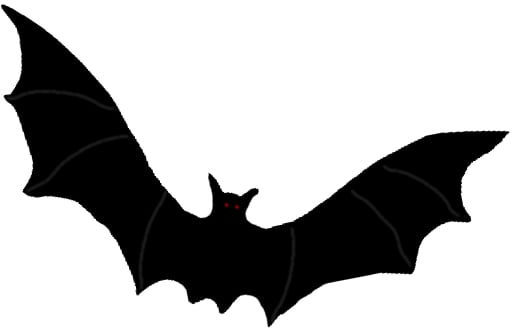 You find anything from bats, crows, owls and spiders to witches and pumpkins in either white or even better black templates. All you need to do is print them and cut them out and use them on all sorts of surfaces around the house. If you have some white, black or orange carton or even better black foam sheets, use the templates to cut out the right shape.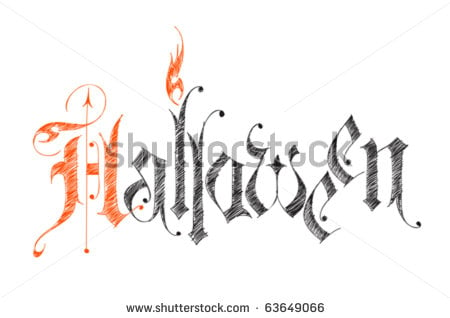 Google gothic letter template cutouts. Reinforce them with black carton and stick them on a black ribbon - a great way to greet your guests at the door or hang it above your mantle piece. You can leave any spooky message for your guests.
Once you have printed out your chosen Halloween figures, trace them on firm black carton or even better on black foam sheets (both available in the craft section of most large supermarkets). The cut outs are a perfect way to add some decorative fun to walls furniture and other accessories.
Use what you have at Home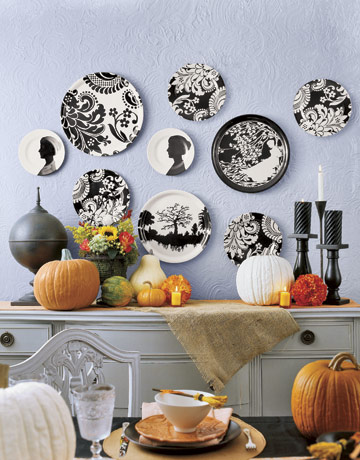 www.google.com
Make use of anything that works with the colour scheme and add them as decoration and party props.
Staircase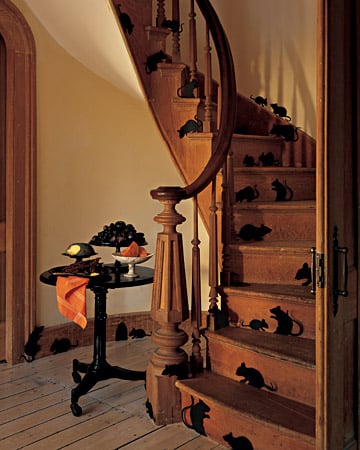 www.marthastewart.com
Attach Twigs to your staircase. Decorate them with autumn leaves or bird and bat cutouts. Stick black mouse cutouts to the back of each step making them look as if they are on the way up. This is a great fun and eye-catching decorative touch.
Fireplace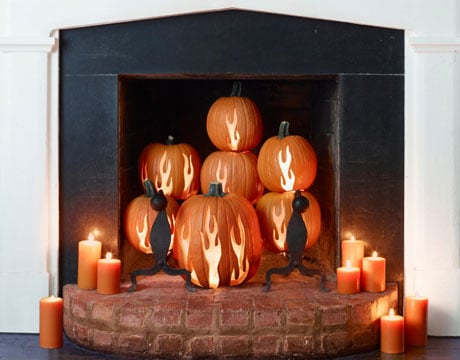 www.marthastewart.com
Use your fireplace to create an eye-catching feature. Use different size pumpkins and scoop out the pulp. Make sure they are well positioned. Prepare different size flame shape templates (find them on Google), stick them on the pumpkin and draw round them with a felt-tip pen. Once done, cut the shapes out and you have your flaming pumpkins. Put some tea lights underneath and enjoy a great effect. Just make sure, that the tea lights are safely positioned and don`t tip over.
Furniture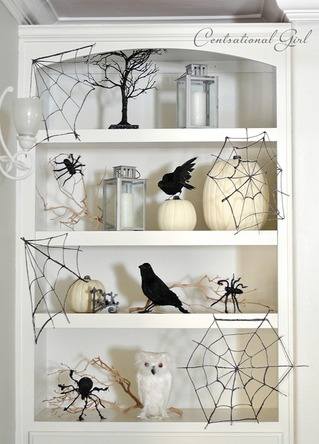 www.google.com
Incorporate your existing furniture and turn them into a feature.
A white bookshelf for example can be part of your Halloween scheme. Place any white china, cups, and accessories on each shelf and add accents of black or orange. Halloween cutouts will come into good use, as you can plant them around the objects. For more impact, attach orange or black carton paper to the back of the shelf.
CHANDELIERS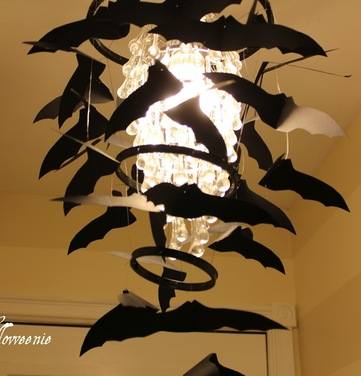 www.google.com
Decorate your chandeliers by suspending Halloween cutouts at different heights from the ceiling. Add a few artificial spider webs to enhance the effect.
FABRICS & SHEETS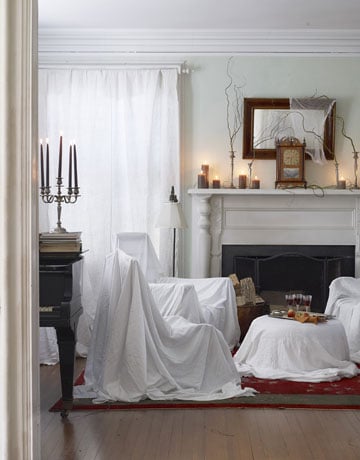 www.google.com
For an effortlessly eerie living room, use old sheets or any old white or black cloth. Drape them over armchairs, sofas and tables. Add some of your Halloween Bats/Cutouts. If you don`t want to use glue you can tape them onto the fabric or use blu-tack and stick the black cutouts onto the white sheets turning it into your gory party den!
Outside Decoration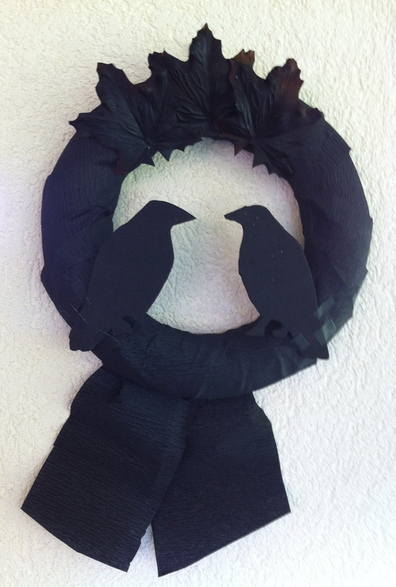 www.browellinteriors.com
A wreath outside your front door can make a very stylish entrance. Go to the crafts section of your local supermarket or garden centre and get a foam wreath and drape wide black ribbon, fabric or crepe paper round it until it is covered. Just stick a couple of your black cutout crows and some black coloured leaves on it and it looks spooky enough. You can add another spooky element, by attaching some artificial spyderwebb to the back.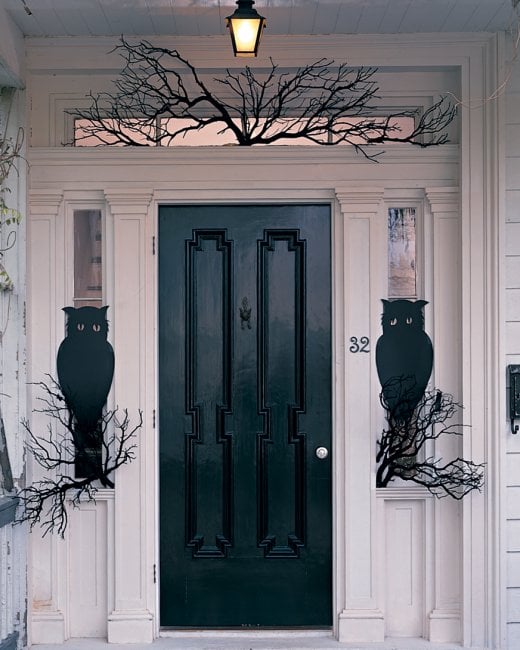 www.marthastewart.com
Colour some twigs black (with black spray paint). Put them in a couple of aged planters or pots on either side of your front door. Cut out two large black owls and place them just in front of the twigs.
PUMPKIN DECORATING IDEAS
Why not move away from the usual gory faced pumpkin look and go for something much more stylish and easy to decorate: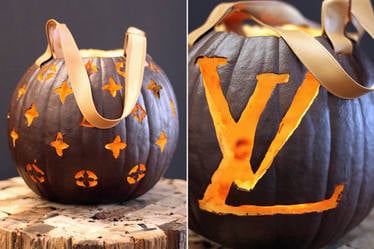 Via www.refinery29.com, by artist Amanda Keiser
This is the `One and Only`for the `Queen of Style` and is perfect, if you want to go for on all out designer look......you probably need more than just a few hours or need to be an expert in pumpkin cutting!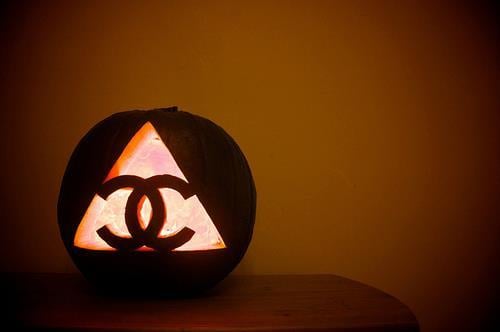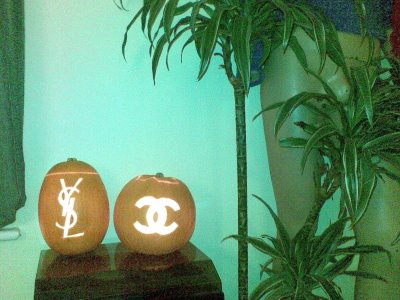 Via www.jillianckirby.tumbir.com Via www.sweetbabytee.blogspot.com
Best and quickest way to paint a Pumpkin
- Metallic (silver, gold, copper) paint quick dry multi purpose paint spray
- Latex Metallic Paints
- Acrylic Paints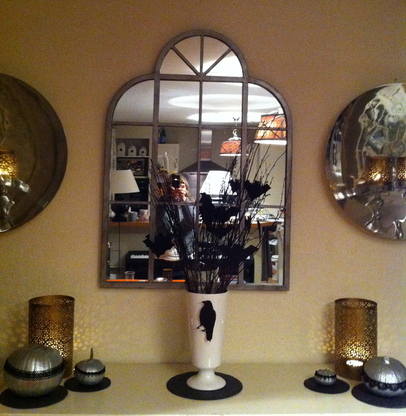 www.browellinteriors.com
1. Use quick dry metal colour paint spray such as silver, gold or copper for painting different size pumpkins. It turns your pumpkin in no time into a silver or gold accessory with a very eye-catching result. You have something a bit different to the usual gory face version.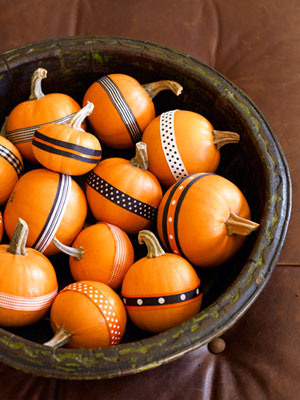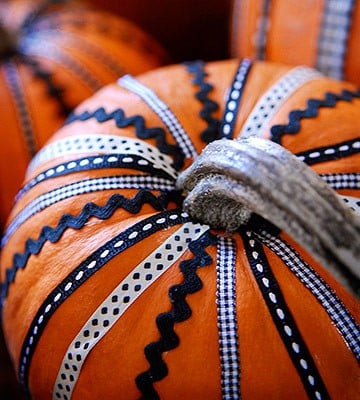 www.goodhousekeeping.com www.google.com
2.Stick black lacy ribbons diagonally or horizontally onto your pumkin.....just 4 or 5 are enough but make sure they are equal distance for a nicer look. It looks super stylish and works really well for your kids as well as the adult table decoration. If you can`t find them use any black/white ribbon you can find and you have an instand pumpkin feature.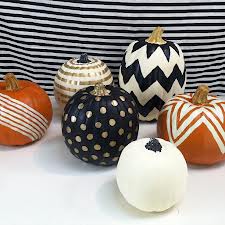 www.google.com
3. Alternatively, use templates and stencils to decorate your pumpkin or if unavailable use print out templates and glue them on.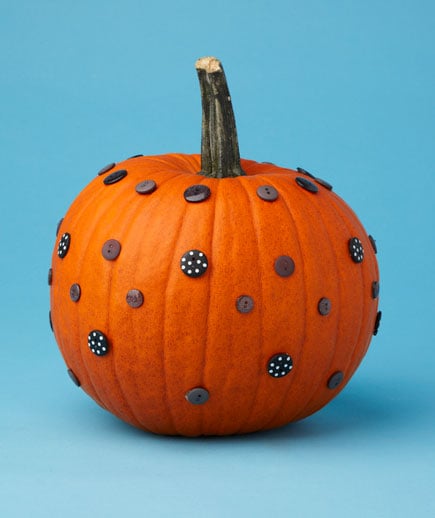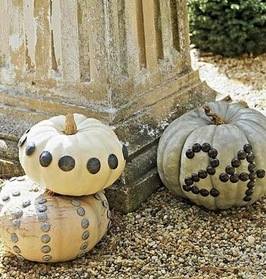 www.google.com www.theinspirationroom.net
4. Search for some black, white, gold or silver buttons and glue them on your pumpkin you can even create a face using buttons.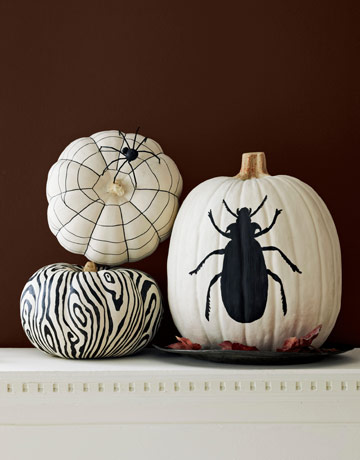 www.casasugar.com
5. Create a spider web or gory face with gold metal upholstery nails or glitter glue pens.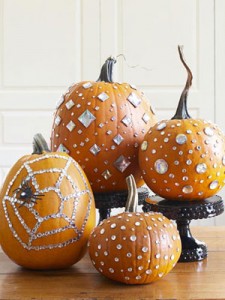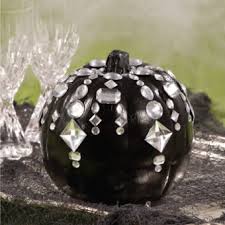 www.google.com
6. If you have always dreamt to become the `Queen of bling`use some glitzy stones and stick them on your pumpkin.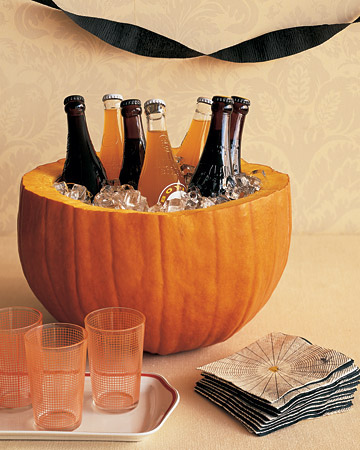 www.marthastewart.com
7. Scoop out the pulp of a large pumpkin and use it as a `cool` bottle cooler.
The Stylish Dinner Table and Party Room Look: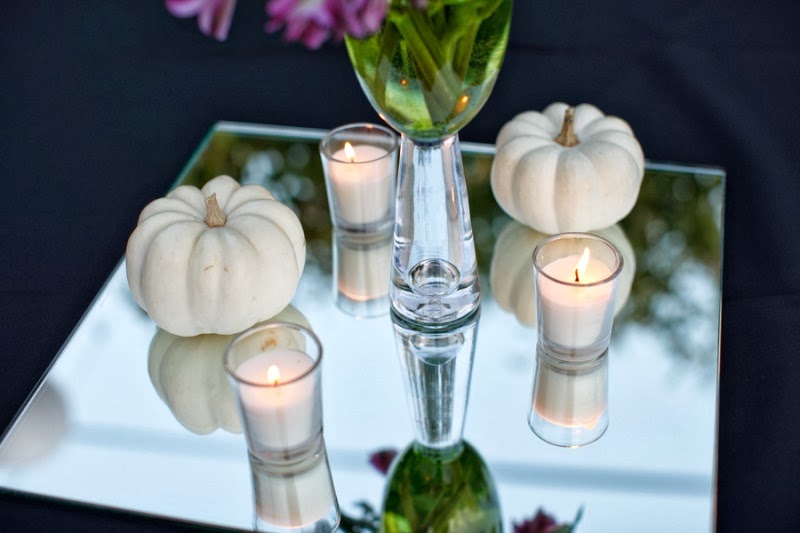 www.google.com
If we are talking stylish decoration, sometimes less can be more!
If you prefer chic to gory, go for a more sober look which can be really stylish and smart giving it the WOW factor you are after.
Work with a simplified colour scheme and don`t feel you have to go completely overboard - finding yourself staring at some inflatable cat with glowing eyes. They are certainly not the most stylish ornaments and might be great for kids' parties but are not really appreciated by your more grown-up friends.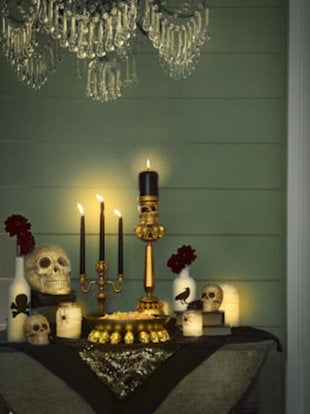 www.shine.yahoo.com
Lighting is an integral part of any party but especially for your Halloween theme. Bright lights are an absolute "Killer" so go for candle light and cosy table or accent lighting. With so many fairy lights in all shapes and sizes on offer. you can get some very inexpensive models which add additional atmospheric lighting if needed. If you have a dimmer it is easy to scale down your brightness.
As a starting point, use a white table cloth which sets the tone for a stylish table setting - if you don`t have one or don`t want to ruin your finest, use a white flat sheet instead or invest in a wipe down version. Le Grand Comptoir in Gland is selling a very nice one by the meter. It looks and feels like the real thing but most stains are easy to wipe off.
Grey slate, or black place mats go well with your table cloth and are a stylish addition to your dinner table. Add white plates and black napkins to complete the basic look.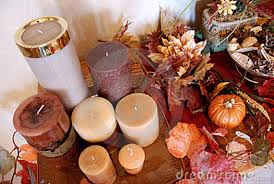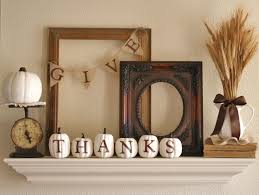 www.google.com
If you like an autumnal rather than outright Halloween theme for your party, work with this season`s colours and materials and go for twigs, leaves, mushrooms, heather or roses. Use different size pumpkins and position them in different places. Start outside your door and add some decorative branches and leaves. As time is of essence and you like the idea of a leafy wreath, Jumbo Garden Centers are selling very realistic looking artificial ones.
As a general rule, accessorise with plants, twigs and flowers as an integral part of your decoration. Make sure though, you put them in decorative vases or pots.
Any flower containers should be ideally white, plain glass or even better Mercury Glass. I have always loved the Mercury glass effect, which is now very popular and adds some understated glamour to your table.
If you are using white pots you can add some nice touches to them. Tie a pretty black ribbon round it to add to the Halloween look. A lace ribbon is a very pretty option and shows you have obviously listened to the latest style trends! Alternatively use anything from velvet to zig-zag shaped ribbons but stick to black.
Place multiple flower pots across your dinner table. It looks very chic and allows all your guests to benefit from the decoration. It also allows you to add a row of decorative candle holders or tea light pots and position them between the flowers.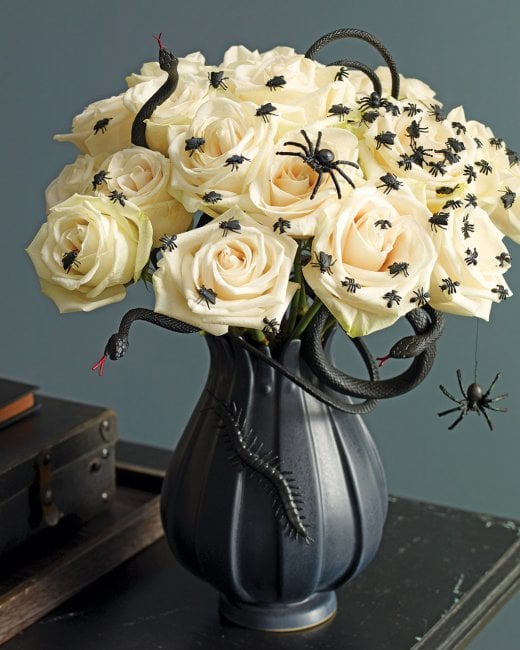 Via www.marthastewart.com
When choosing flowers or plants I would go for white roses. Scatter a few black plastic spiders over them which look really effective without being over the top. If you like to add a bit of colour, you can opt for orange or red roses but keep a low profile on introducing to much colour.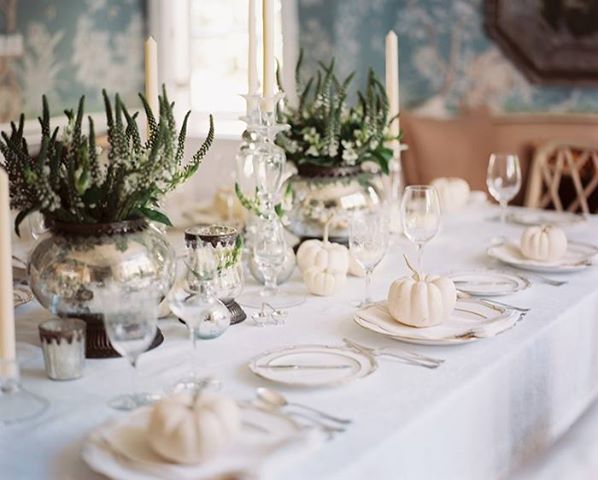 Via Lonny magazine on Facebook
Otherwise white Heather is a really pretty autumnal plant and can be a very stylish table decoration. Place them in Mercury glass pots or containers across your dinner table and it looks absolutely gorgeous.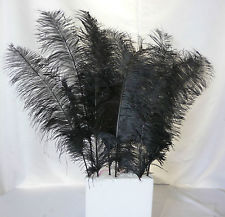 www.google.com
Black feathers are another great way to create an instant glamorous display. Mix them with black twigs or use them on their own and just pop them in a vase instead of flowers.
Dress up your table with a collection of small metal colored or white pumpkins.
A dinner table is not complete without a fine display of eye-catching candle or tea light holders. If you are short of them take a look at the Christmas decorations which have now arrived in all the major shops. There is a huge variety of very pretty and inexpensive glass, china or Mercury glass models on offer, which can easily be used all year round.
Another great way to dress up a sideboard or dinner table is a statement table centerpiece: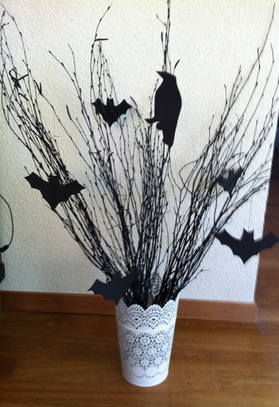 www.browellinteriors.com
Put some large twigs into a vase and spray paint them black. Hang your Halloween cutout bats off them - very simple but creates a great feature for kids and adult parties.
You can already put your orange/pink/red and black Christmas baubles to good use by placing them in a pretty glass or colour coordinated dish and adding them to your Halloween dinner table. They would also look good hanging off some garden twigs together with some cutout bats. Just make sure you stick to your colour scheme.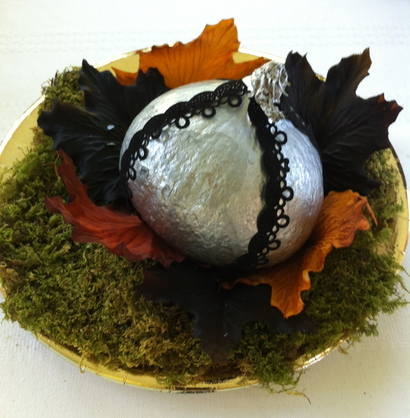 www.browellinteriors.com
Use moss as a base and put it in a glass container, a dish or plate. Place small white, gold or silver coloured pumpkins on top and stick a couple of bats on the glass or add some autumnal leaves, giving it a very fetching look.
Silver and gold stained different size pumpkins on dinner, console or side tables, add another very glamorous touch. Alternatively use white pumpkins and decorate them with black lace type ribbon.
Where to buy?
As preparation time is running out, I have made sure that my decorating ideas can be made or arranged in time for your party.
Wether you need black foam or carton sheets, wreaths, black ribbons, candle holders or tealights, almost everything you need to make or create the above, is available in the craft or haberdashery section of the large supermarkets, garden centers or department stores.
Last but not least, the most important ingredience for a party is, looking forward to seeing your guests and having a fun evening together!
Happy Halloween