A LOT TO BLOG ABOUT / FESTIVE TREATS AND INTERIORS
Posted on
Having just waved good-bye to Halloween it is time to think Christmas crackers, choosing presents and finding ways to take the headache out of preparing your house for Christmas.
Working my way through a jungle of beautiful Christmas ornaments, decorations and gift ideas, this is the season for a bit of colour, glitz and bling! As always, I am crossing borders to get inspired, so I hope you are enjoying the ride!
DISCOUNTS - LATEST AND PREVIOUS
The Present Finder of Sherborne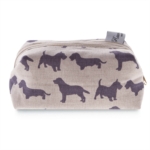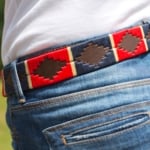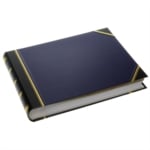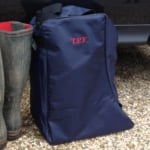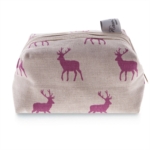 If you are struggling with your Christmas shopping for in-laws, children, relatives, friends or colleagues, The Present Finder Of Sherborne offers a never ending source of inspiration. It covers absolutely everything from different sports and hobbies to personalised presents and gifts for a laugh......so if you can`t find it there, you can`t find it anywhere!
The Present Finder of Sherborne, England, is a family business set up and run by Mark and Fiona who are constantly sourcing new unusual and upmarket gifts. You can visit their shop in Sherborne or just order online. Most products can also be shipped internationally, including Switzerland.
The Present Finder is also involved with charity work supporting 'Help For Heroes' by selling much of their merchandise. So your purchase may well help towards supporting someone who deserves it.
The Present Finder has very kindly offered a 10% discount to my blog readers. To claim your discount please mention the Discount Code HAPPY10 when placing your order.
DISCOUNTS TO REMEMBER
Silberwense / Daniela von der Wense Jewellery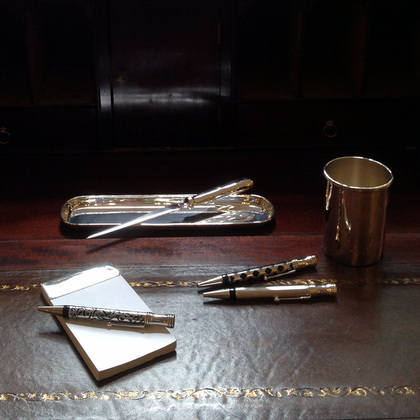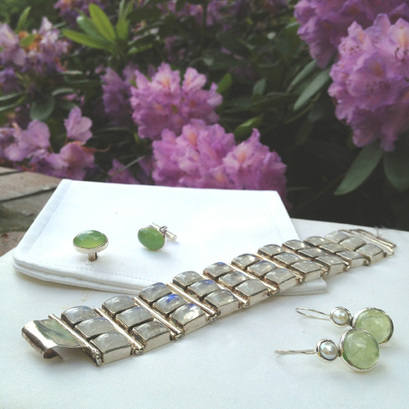 VDW von der Wense GMBH. A family run business, the company designs high quality silver and silver plate home accessory products. The range is varied and beautiful and offers anything from silver trays, frames, to desk and table accessories. You can also have initials, logos or a family crest engraved, which adds a very personal touch to any present. www.silberwense.com
In addition to silver products a new range of silver jewelry designed by Daniela von der Wense, has been added to the collection. From earrings to necklaces, bracelets and cufflinks there is a gorgeous selection of pieces for everyday use and special occasions which are decorated with precious or semi-precious stones and sweet water pearls. They make a perfect gift to treat yourself or for someone very special.
All products can be shipped internationally, including Switzerland.
A 10% discount is offered on one silver and jewelry item. Please quote the Discount Code BlogIB2013 when you place your order.
JE SUIS AU JARDIN`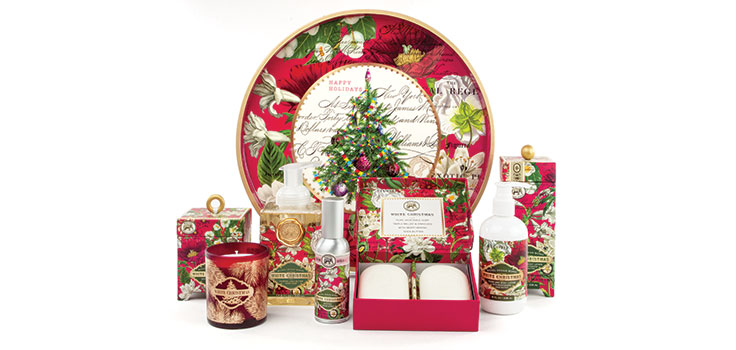 Je suis au Jardin offers a lovely range of decorative treats, from beautiful scented candles to garden and home accessories which make ideal presents and stocking fillers.
Here is a range of discounts Marie is very kindly offering - so please mention my blog when you make your purchase:
A 15% Discount on all Wellington Boots and Clogs
3 for the price of 2 on leaf shaped glass tea-light holders (sold in lovely colour shades)
A 15% Discount on the Juliette at Home Potager Candles
3 for the price of 2 on all Greenleaf votive candle-refills
All articles can be bought online on www.jesuisaujardin.ch or even better take a closer look at the products on offer and call Marie for an appointment in her showroom on 26A Route de Coppet, 1291 Commugny, Tel: 076 3860563.

Partridge Auctions
Don`t forget to take a look at the Partridge Auctions online auction sales, www.partridgeauctions.com. Wether you need the odd piece of furniture or accessories in time for Christmas or are looking for a unique present, you stand a good chance to find something very special. Here a little taster of what to look out for: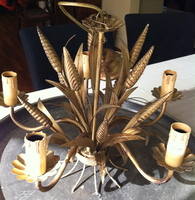 A pair of antiqued gilt coloured wheat stem chandelirs (upcoming sale)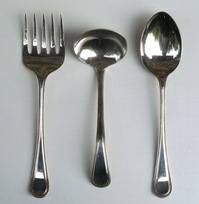 3 Sterling Silver Reed & Barton Serving Pieces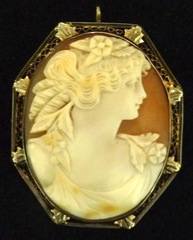 Antique Shell Cameo Broach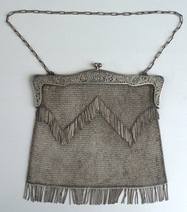 Silver chain mesh purse
Sprucing Up Your Home And Treats for Family and Friends For and Beyond Christmas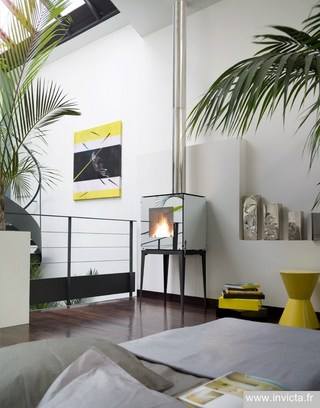 It you like all things Retro you will love this `Reva Cast-Iron Stove`. This wood burning stove shows off the flames beautifully when in use and has a mirrored effect when it`s not switched on, www.invicta.fr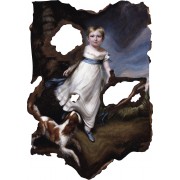 This amazing `Pastoral`rug which was designed in collaboration with American Artist Chad Wys for the Classics Revisited Collection should get you into the Christmas spirit. Digitally printed on a fabric backed rubber it is then hand cut into a final hide shade (size 1200 x 1700 mm or 1500 x 2130 mm), from £ 566.40, www.minheartstore.com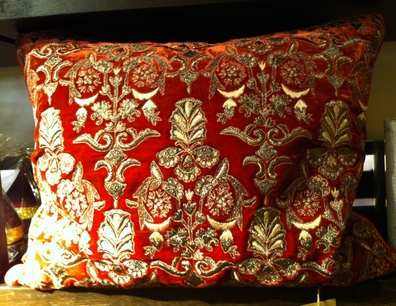 This pretty red/gold stitch cushion will add a warm and elegant touch to your sofas. Globus Geneva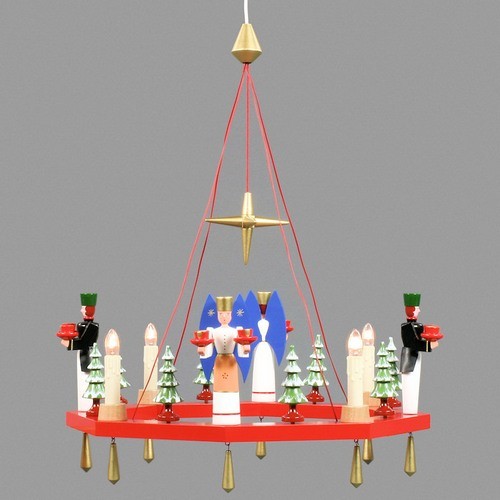 This gorgeous pendant Christmas wreath (Haengeleuchter mit Engel und Bergmann) comes from the `Erzgebirge` in Germany. This area is famous for its tradition of exquisitely handmade Christmas decoration. The pieces are there to be treasured and used year after year. (diameter 0.50 cm) EUROS 270,00, www.erzgebirgskaufhaus.de (International shipping).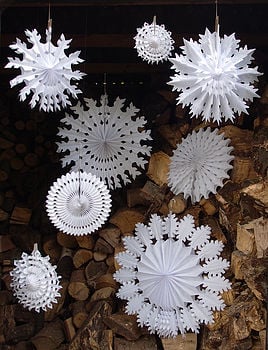 A lovely way to create a Christmas feature. The set of 8 paper snowflake decorations are a real eye-candy. £ 30,00 www.notonthehighstreet.com (international shipping) - similar snowflakes are also available at www.schilliger.ch (I spotted some in Gland)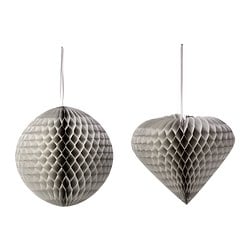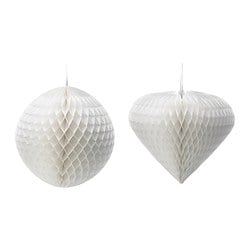 Why not mix the pretty snowflakes with these decorative paper decoration, CHF 14,95 www.ikea.ch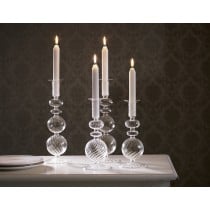 Beautiful hand-blown glass candlesticks in two shapes and sizes. The Prague Candleholders will look good on any surface, from £10,00, www.brissi.com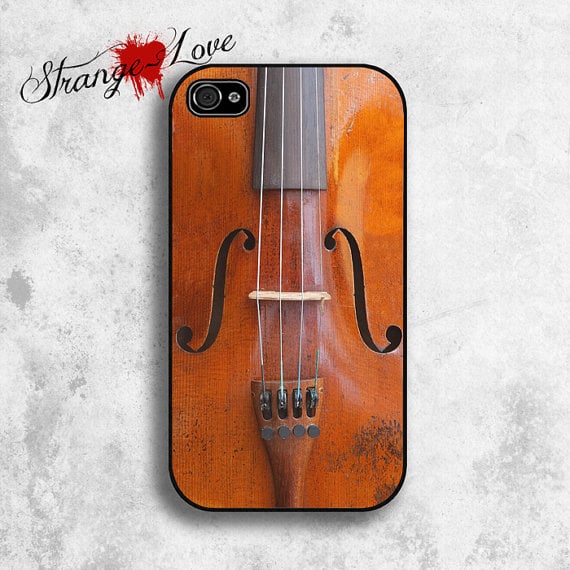 Perfect for any music enthusiasts. The Vintage Violin Design iphone cover case is suitable for iphone 5&4, www.etsy.com (International shipping including Switzerland)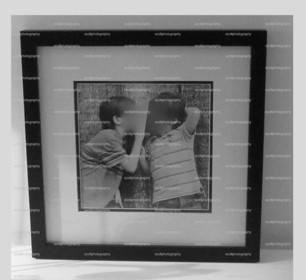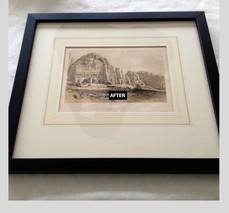 Whether you like to have a special painting or a black & white portrait framed, or memorabila from present and past events, Linda`s bespoke framing service will help you make it look it`s best. Linda uses real wood frames and high quality mount board to make sure that the end product is getting a stylish look. If you are not quite sure what model you are looking for, Linda will give you all the advise you need. She is based near Founex, so in very easy reach. For examples of her work take a look at http://scottstockphotography-com.webs.com/framingservice.htm. You can also contact her on http://about.me/linda.scott.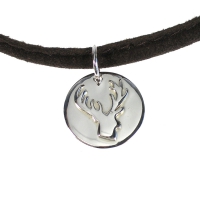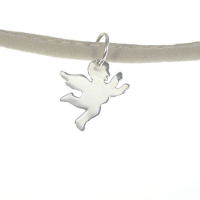 This pretty silver pendants would make a very seasonal treat to someone special, EUROS 39,00 and EUROS 29,00 www.silberwense.de (International shipping)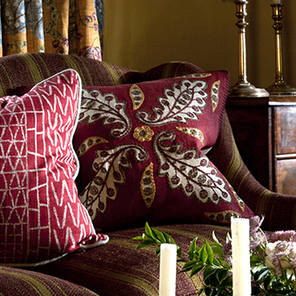 It just takes this cushion to add a cozy and festive touch to your sofas, William Yeoward `Allane brick rugged embroided cushion` at Designers Guild (for orders please contact me on [email protected])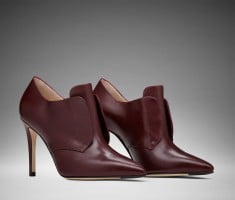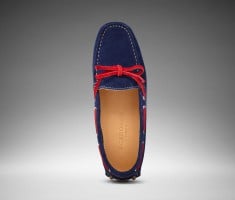 If you still need that special pair of shoes for Christmas, this is the one to take a look at! At Scarosso Italia you can get creative and practically design your own shoes. You work with their designs, but choose your colour combination and materials which are on offer on their website. All shoes are produced in Italy and are super quality plus not plus reasonably priced. It is a lot of fun playing around with all the different designs and colours on their website. Take a look and go to Scarosso in Germany www.scarosso.de or here in Switzerland www.scarosso.ch and in the UK on www.scarosso.co.uk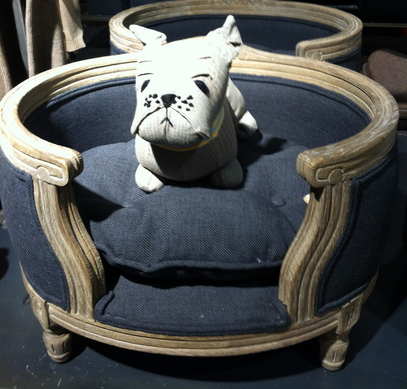 Why not treat your dog to a new bed and go to sleep in style! Globus Department Store, Geneva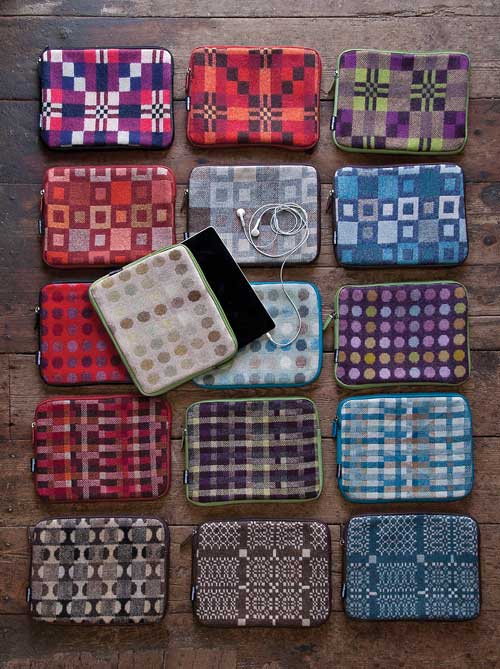 These eye-catching ipad covers sold by a well established Welsh company, are the perfect gift for any retro enthusiast, £29,00 www.melyntregwynt.co.uk (International shipping)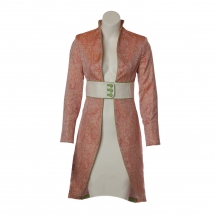 For the `hostess with the mostest`, this beautiful `Gehrock-Brokat Rosa` will make you look a million dollars and is of course a perfect outfit for any future special occasion, EUROS 529,00 www.plurabelle.de or www.kluengelkramshop.de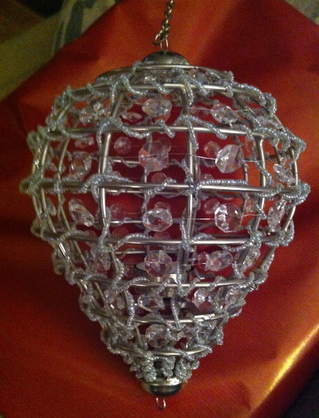 It looks very expensive and like a chandelier but is, in fact, a tea light holder and a snip at CHF 29,00 www.interio.ch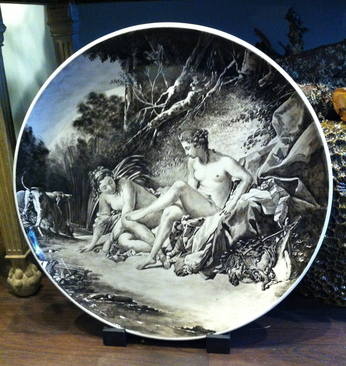 This is a truly unique hand painted Fornasetti display platter and a special treat for the connaisseur. It is huge and perfect as a decorative feature on a wall. I spotted it in a beautiful flower shop on the main Highstreet in Rolle which is well worth visiting. This is not your usual flowershop. Sebastian, who I talked to, is a lover of `all tings beautiful` and sells a mix of wonderful candles, home accessories and floral creations all beautifully displayd......I think he must have been an interior designer in his previous life! Creation Demeter, Sebastien Bersier, www.creation-demeter.ch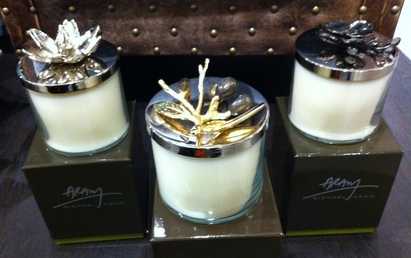 These very smart candle pots with lids make beautiful presents and not just for Christmas, Globus Department Store, Geneva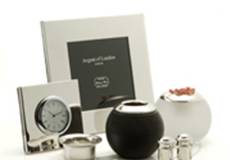 With lots of candles to light, this is a very stylish way to keep your matches easily accessible. You can add a personal engraving to the silver border. £140,00 www.argentlondon.com (International shipping)

Beautiful on a mantelpiece or console table, these fluted vases come in two different sizes, from £55,00 www.okadirect.com (International shipping)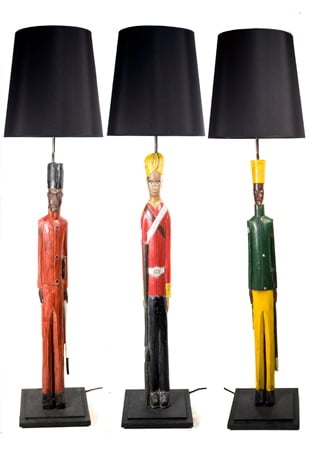 These Colonial Soldier Lamps remind me of nutcracker figures and would be really lovely on a console table or side board (1.15 m high), from £350,00 each, www. antiquebydesign.co.uk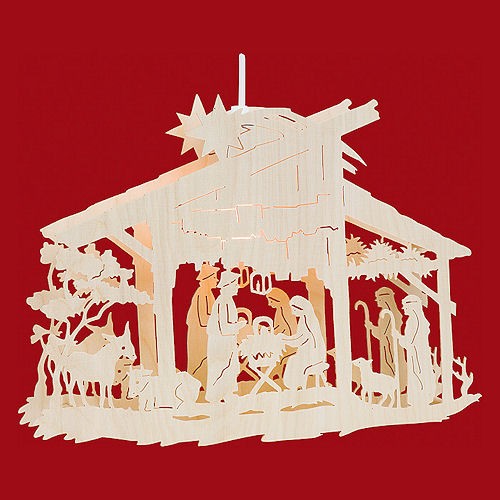 This beautifully handmade `Taulin Beleuchtetes Fensterbild` window decoration from the Erzgebirge in Germany can be plugged in and lit, ( 34x25 cm), EUROS 44.80, www.erzgebirgskaufhaus.de (international shipping)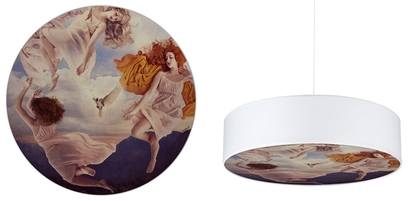 Designed by Young & Battaglia, the `Sistine`pendant light is inspired by frescos and chapel ceilings. Supported by an elegantly proportioned circular shade, the diffuser features an image of 3 sisters floating in the sky around a dove. The halo of light around the dove is positioned directly below the light source so that when the light is on, the light emanates from the dove (700x200mm), £ 347,00 www.mineheartstore.com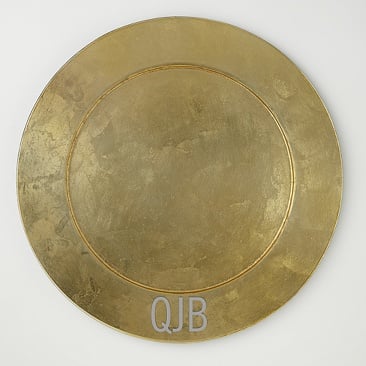 Put a very personal touch to your dinner table setting with these Lacquer Chargers which come in a gold or silver stain. You can have them monogrammed with up to 3 Initials, CHF 20.10 www.westelm.com (ship smaller items to Europe)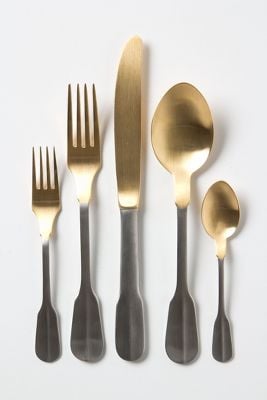 This unusual stainless steel submerged in gold plate to the handle `Gold-Dipped Cutlery`, is a simple, yet glamorous way to add an unusual touch when laying your dinner table for special occasions, £ 32,00 www.anthropologie.eu (International shipping)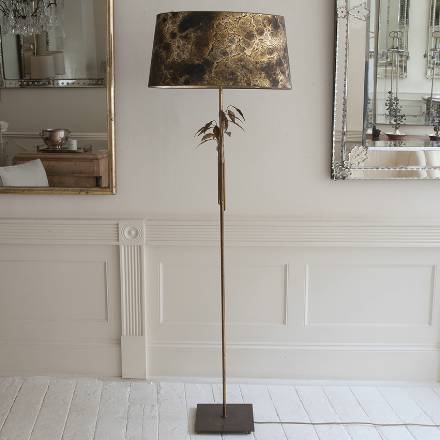 A lamp for the design conscious with the budget to match. This stylish Leaf Lamp (Ref: 3810) is a unique statement piece, £2,200 www.hilarybatstone.co.uk


The cups and plates feature images of the Chateau Groussay and motifs of the trimmings of the Theatre de Verdure staircase, Pierre Frey - for queries or orders please contact me on [email protected]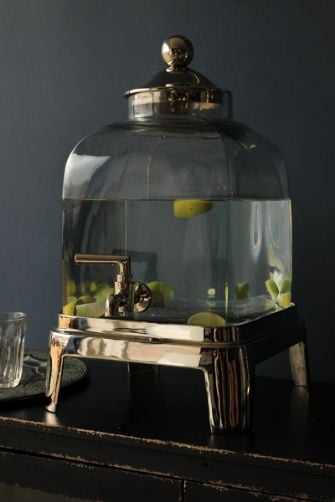 This hugely decorative Thick Glass Drinks dispenser and Stand is a very unique way to offer your guests something to drink. It would look particularly decorative serving water with pieces of lemon or cucumber, £140,00 www.rocketstgeorge.co.uk (International shipping)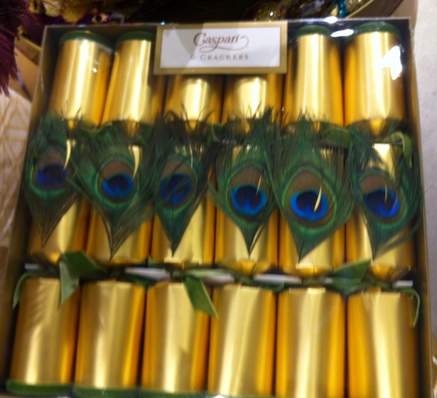 These golden Christmas Crackers are really the `icing on the cake` for any stylish Christmas dinner table setting, CHF 49.99, Globus Department Store, Geneva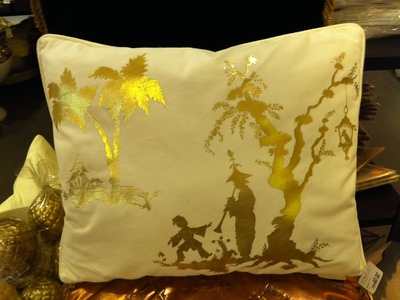 These cream cushions with their golden Toile de Joué print are a perfect way to inject some glitz into your living room. CHF 49,90, Globus Department Store, Geneva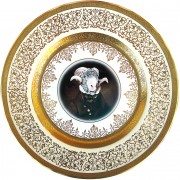 What a statement piece for classic or contemporary interiors. This very glamorous `George Aries Esq. Rug` looks a bit like an antique gilt pattern plate with a Ram painted in the center. It was designed and created in collaboration with the artist Angela Rossi. It is digitally printed on a fabric backed rubber which is hypo-allergenic, washable and non-slip (diam. 1500x1500mm), £ 688,00 www.mineheartstore.com
For stylish entertaining, this Chinese Pagoda Serving Tray will lend you a very useful helping hand, currently reduced to £66,00 www.okadirect.com (International shipping)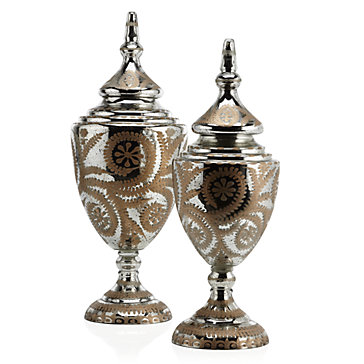 Perfect for a mantelpiece or a console table, so do treat yourself or someone who deserves them to the Camilleri Canisters, $99.95-$129.95 www.zgallerie.com (ship to Europe)

A very stylish way to serve coffee after dinner. The Palio Siver Stripe Espresso Cups & Saucers are sold as a set of 4, £36,00 www.okadirect.com (International shipping)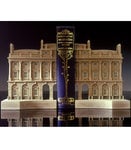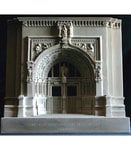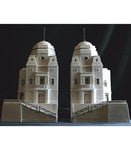 It would be difficult to beat these luxury book-ends for style. From the Victoria Albert Museum to the Twin Towers and Somerset House, they would be a wonderful treat for you or someone very special, www.thepresentfinder.co.u, (ship worldwide including Switzerland)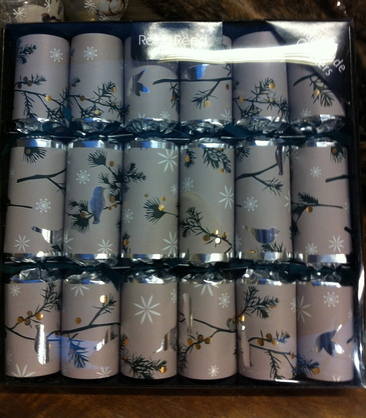 This gorgeous wintery bird/twig design is one of my top choices for decorative table crackers, CHF 34,50 (pack of 6 Crackers), www.schilliger.ch (spotted it at Schilliger in Gland)

The Reeded Bone Ice Bucket is so decorative, you would want to leave it sitting on your side board even without the ice cubes inside, £ 120,00, www.odadirect.com (International shipping)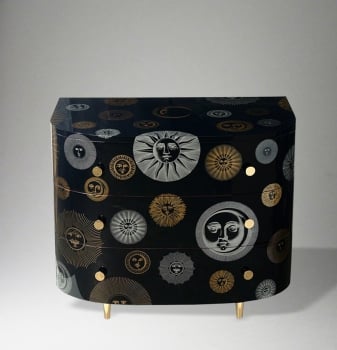 Fornasetti, whose designs are full of imagination, has yet again produced this `Suns & Moons` Chest of Drawers which is not something you would walk past and ignore, www.themesandvariations.com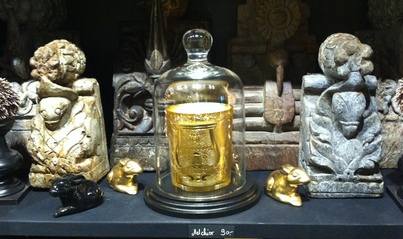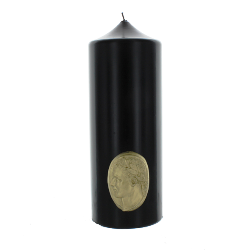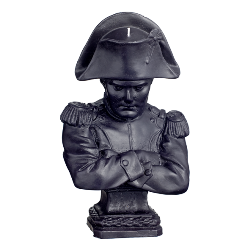 If you are the proud owner of one of these candles you are in vey good company! These stunning candles are part of the Cire Trudon Collection. Cire Trudon has been operating since 1643 and is the oldest and the most prestigious wax manufacturer in the world. Having been the wax provider to King Louis XV and the French Court, it has counted royalty and other famous personalities to its clients over the centuries. You can find a fine collection at Creation Demeter in Rolle, www.creation-demeter.ch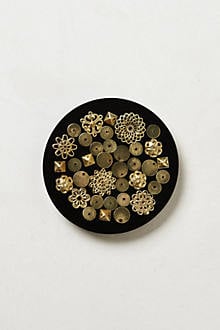 This collection of gold-flecked coasters lends just the right amount of shine to your coffee table, £8,00 www.anthropologie.eu (International Shipping)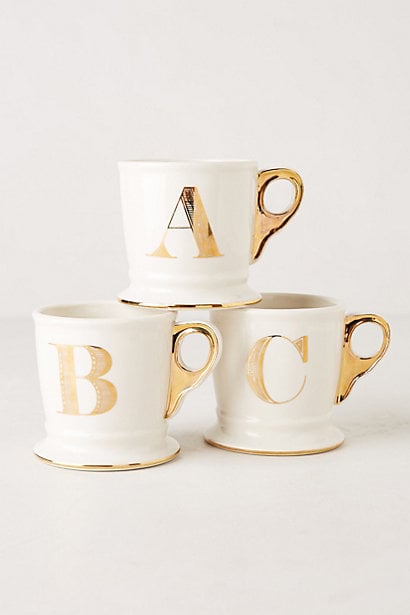 A very festive way to serve tea over and beyond Christmas, Golden Monogram Mugs, £8,00 www.anthropologie.eu (International shipping)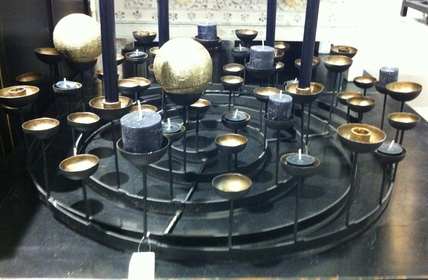 Ideal as a statement coffee table feature, this large Tea Light Candle holder creates a very stylish classic/contemporary focus all year round, CHF 299,00 Globus Department Store Geneva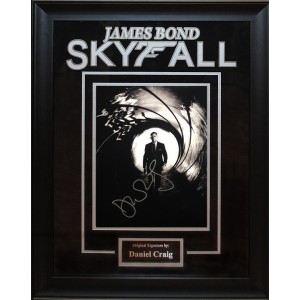 A perfect present for someone who has everything or your cinema room. This James Bond poster starring Daniel Craig, carrys an authentic autograph. EUROS 399,- www.signaturedreams.net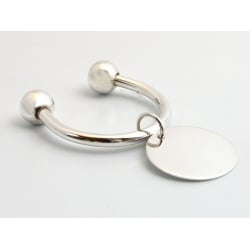 A lovely present, which can be personalised by having the initials engraved on the round pendant. The Keyring is premium silver plated, EUROS 38,00 www.silberwense.de (International shipping)
These antique mirrored glass stars framed in antiqued brass can remain a very decorative feature well beyond the Christmas season, from CHF 94,00 www.potterybarn.com (ship smaller items to Europe)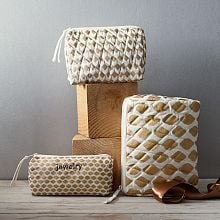 Add a little bit of glamour to your bathroom with these Metallic Ikat Cosmetic Bags. For a very special present you can have it monogramed. from CHF 20.10 www.westelm.com (ship smaller items to Europe)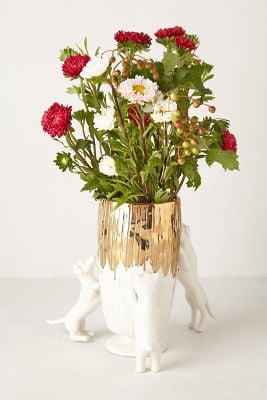 Ideal gift for dog lovers, Best In Show Vase, £68,00 www.anthropologie.eu (International shipping)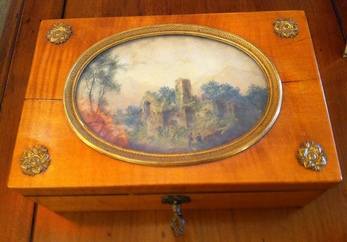 This luxurous and quite unique antique wooden box with its framed aquarell painting in the center, would be perfect for storing jewellery, Moinat, CHF480,00. You can visit the shop in Rolle or take a look at the website on www.moinat.net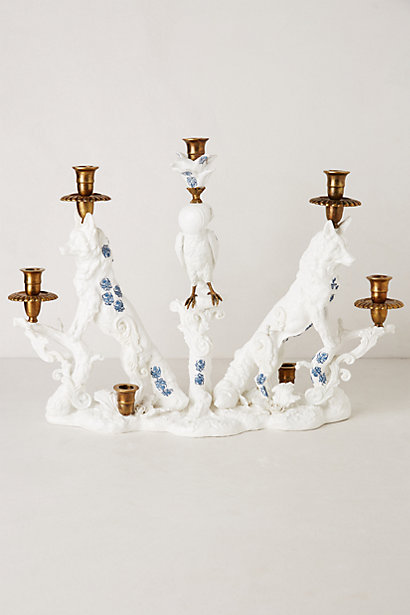 This Enchanted Forest Candle Holder features a snow-capped pair of majestic hounds and a perching owl. This luxury centerpiece does not come cheap but is truly gorgeous, £598,00 www.anthropologie.eu (International shipping)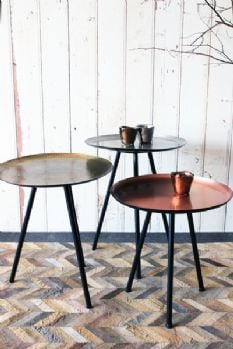 This vintage looking set of three Metallic Side Tables in Silver, Bronze and Copper, represent all the popular metallic shades and look lovely in a contemporary as well as classic interior, £295,00, www.rockettstgeorge.co.uk (International shipping)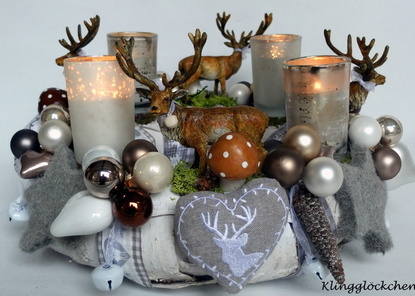 Such a pretty advent wreath which can be used again for many future Christmases to come, EUROS 115,00, www.de.dawanda.com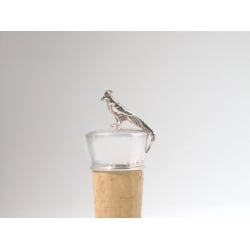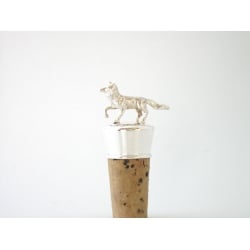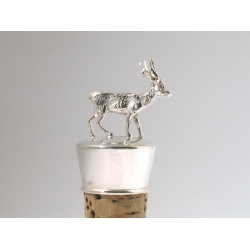 A perfect present for wine lovers. These beautiful Stag and Fox and Phesant bottle corks made of Sterling Silver are available in a lovely choice of animals or designs, EUROS 98,00 www.silberwense.de (international shipping including Switzerland)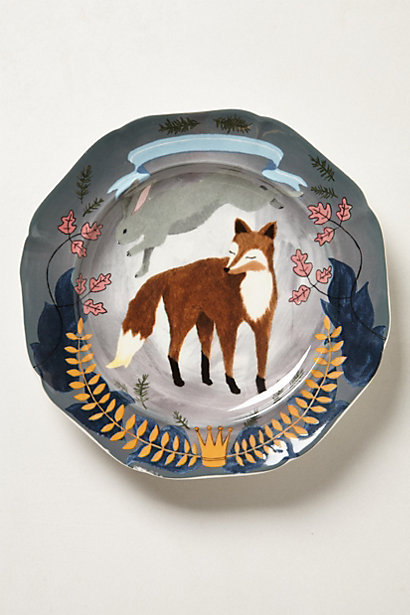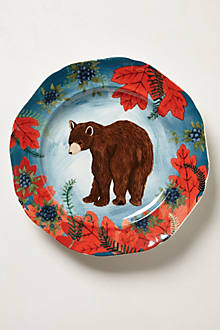 These gorgeous plates designed by American artist Rebecca Rebouche are almost too pretty to use.....you can always put them up as wall decoration, £14.00 each www.anthropologie.eu (International shipping)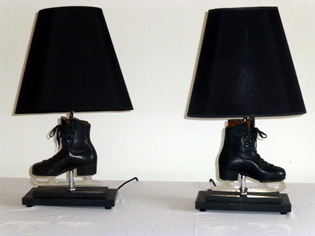 You can be sure that these ca. 1930s Children`s Ice Skate Lamps, will catch your guests' eyes as they are truly unique and wonderfully seasonal, £ 275,00 www.antiquebydesign.co.uk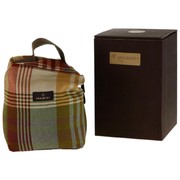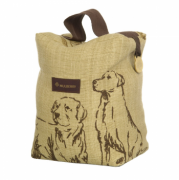 A very stylish way to keep your doors in check. The Ancient Mulberry Tartan and Kennel Club Door Stops are a perfect gift even for those who have just about everything, £64,00 www.amara.com (International shipping including Switzerland)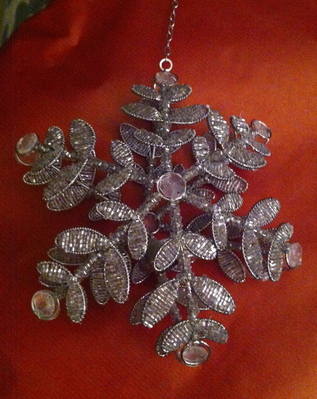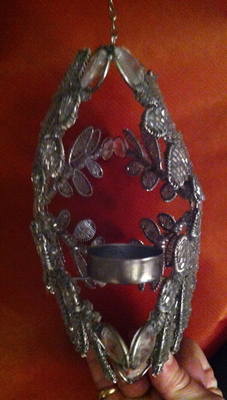 It is not just a pretty bead studded Christmas pendant but a 3D Tea Light holder. It looks very glamorous at a snap of only CHF 14.99 www.interio.ch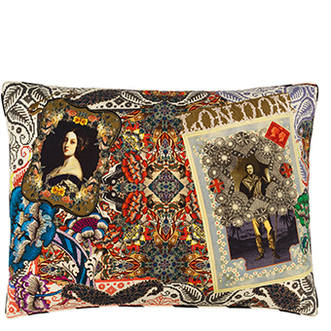 This wonderfully quirky design by Christian Lacroix surely will be the `pillowtalk` of the evening! Christian Lacroix `London Multi Colore cushion` at Designersguild. (For orders please contact me on [email protected])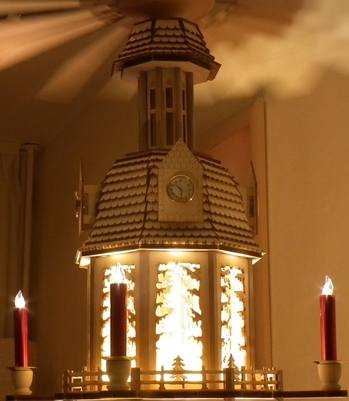 This handmade 3D Christmas Pyramid is pure indulgence and luxury with a large price tag attached, www.dedawanda.com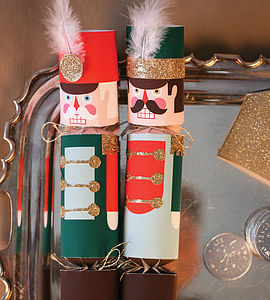 If you are looking for a colourful table decoration, these very jolly Nutcracker Christmas Crackers would be my top choice, www.notonthehighstreet.com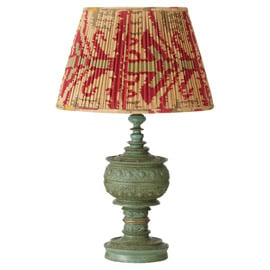 Christmas is your best excuse to move away from an all neutral room interior and treat yourself to something with a bit more colour. This beautiful lamp and shade inject immediate feeling of luxury warmth and cosiness into your home. www.okadirect.com (International shipping)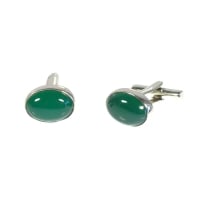 If you are struggling to find that special present for your father, husband, sun or boyfriends, these sterling silver cufflinks with a green onyx stone will certainly come to your rescue; EUROS 69,00 www.silberwense.de (International shipping)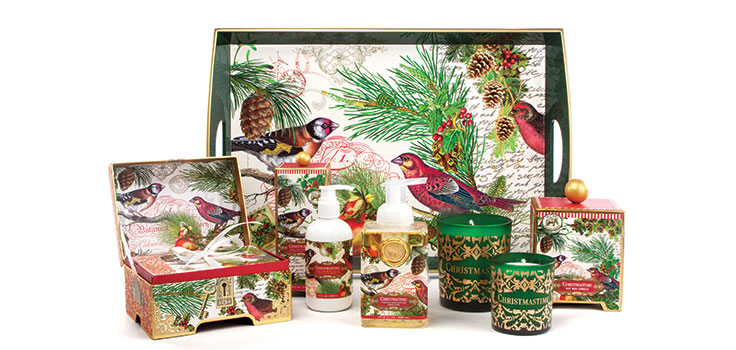 At this time of year you can never go wrong choosing these beautifully designed candles and products which smell absolutely delicious as a present to someone special or treat to yourself, www.jesuisaujardin.ch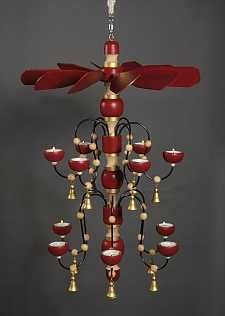 This Red handmade Tea Light Chandelier is a beautiful way to add some atmospheric lighting to your Christmas entertaining. www.de.dawanda.com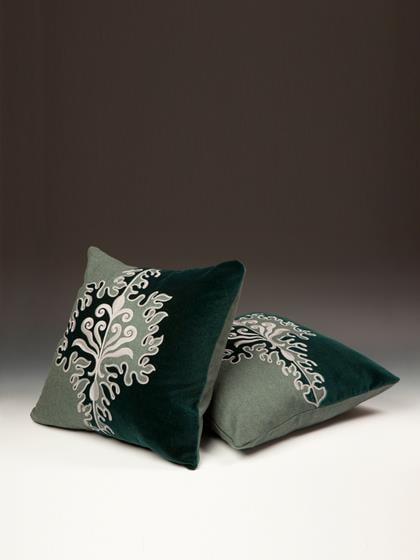 With an almost leafy looking design this luxury cushion with its different green shades from the Holland & Sherry Collection, makes a perfect accessory for your winter and Christmas decoration, for orders please contact me on [email protected]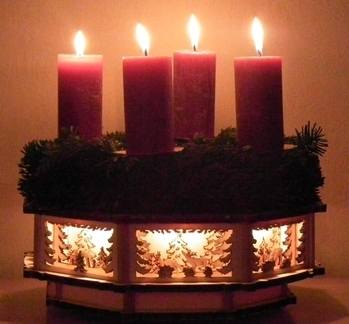 Another stunning handmade Advent and Christmas decoration jewel. The 3D Adventskranzpodest is handmade and beautifully lit.....you almost don`t want to pack it away until the next Christmas, www.de.dewanda.com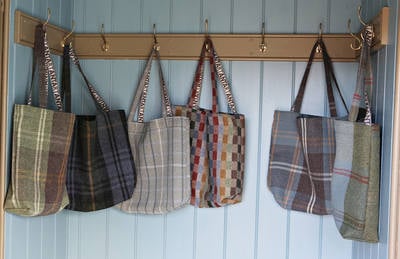 Very useful and nice to look at carpet bags. They come in different shapes and sizes and are truly Scottish! www.anta.co.uk (International shipping)

You can`t file and tidy away your papers and magazine more stylishly than in the collection of Faux Shagreen Magazine holders and Box files. Treat yourself or make someone a beautiful present, From £17.00 www.okadirect.com (International shipping)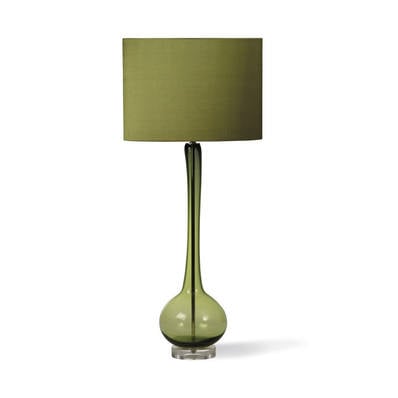 A very sleek and stylish design. This table lamp from Porta Romana has a retro design but mixes well with contemporary and classic furniture. For orders please contact me on [email protected]
Whether you are entertaining at home or in your chalet retreat, tartan is definitely back on the interior menu.... what a stylish way to serve your guests their coffee but even better, it keeps it warm too. www.notonthehighstreet.com (International shipping)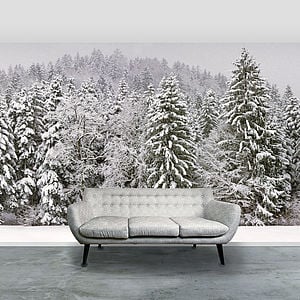 If you are desperate for that snowy atmosphere but can`t spot a single snowflake this winter, this wallpaper might come to your rescue. It is self adhesive and therefore easier to put up, www.notonthehighstreet.com (International shipping)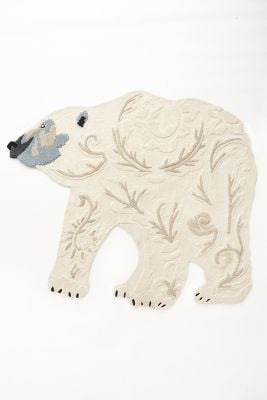 A fun way to give your kids a treat for their bedroom working equally well for girls or boys. The Tufted Ursine Rug shows one of artist Karen Nicol`s intricate animal themed motifs at it`s best. £598,00 www.anthropologie.eu (International shipping)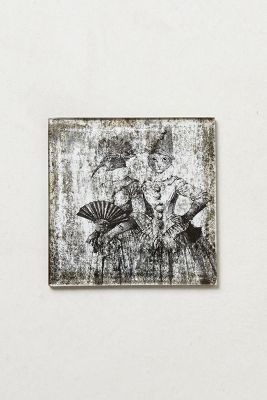 These lovely coasters are designed by American artist Alexa Pulitzer and look beautifully antiqued, www.anthropologie.eu (International shipping)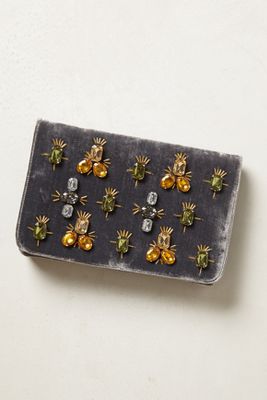 Perfect for partying during the festive season, the Baltic Amber Clutch, £58,00 www.anthropologie.eu (International shipping)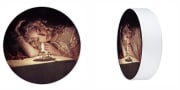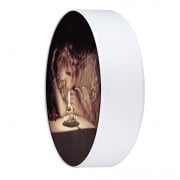 The Renaissance Wall Light features the image of a girl by candle light. The candle frame is cleverly positioned in front of the light source so when lit, the light emanates from the flame. The white fabric sides allow additional diffused light through. Designed by Young & Battaglia with artwork by Himitsuhana, £128,00 www.mineheartstore.com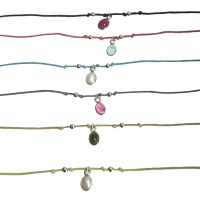 `A girl`s best friend`! These friendship bracelets with pearl or semi precious stone pendants, will be well loved by any girl in her teen`s - a `real`thing which does not break the bank! EUROS 15,00 www.vonderwense.com (International shipping)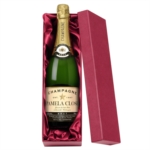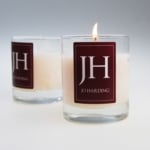 Perfect gift if you are invited to a party and for those who have just about everything. You can have a name printed on the champagne bottle label or choose which initials these stylish candels should carry.......so no agonising anymore over that `special gift`! www.thepresentfinder.co.uk
Festive Interiors To Inspire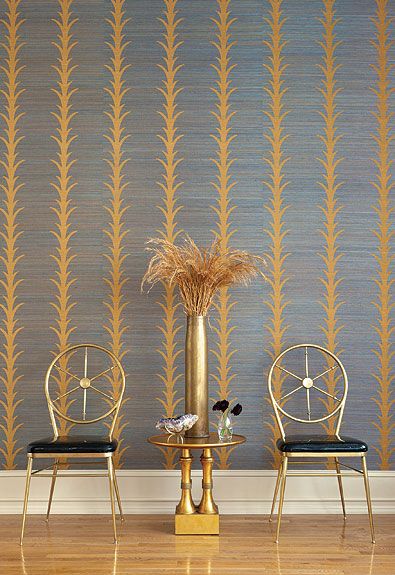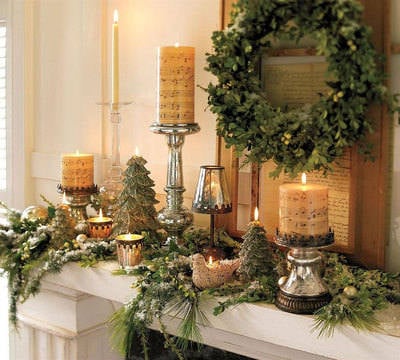 Via www.eugenieamariafendi.blogspot.com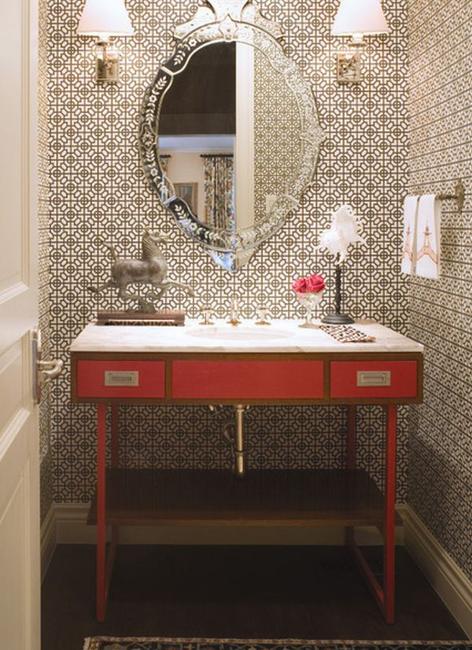 Via www.lushome.com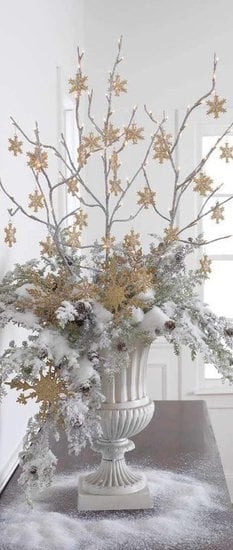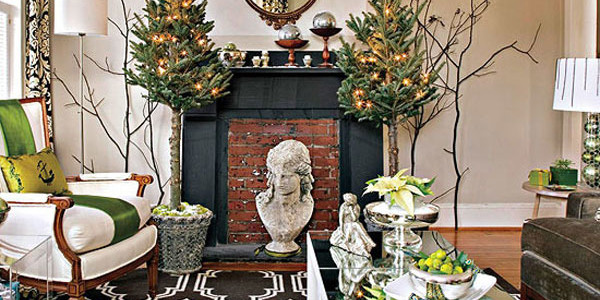 Via www.imagetoy.com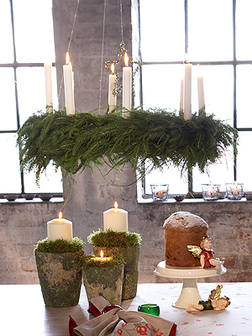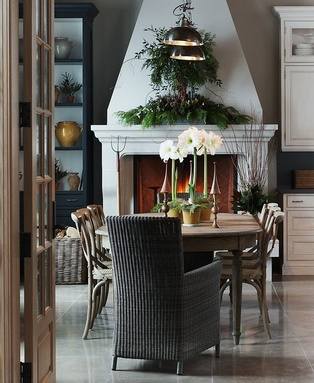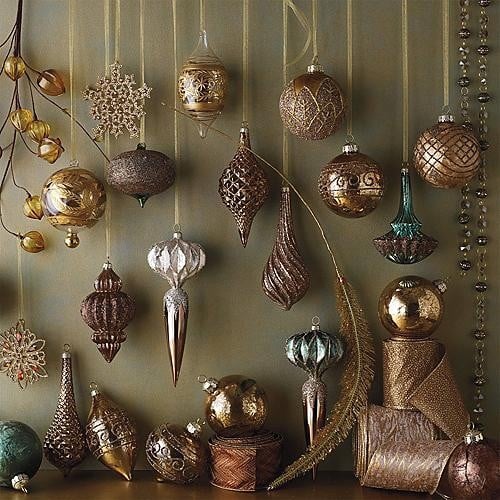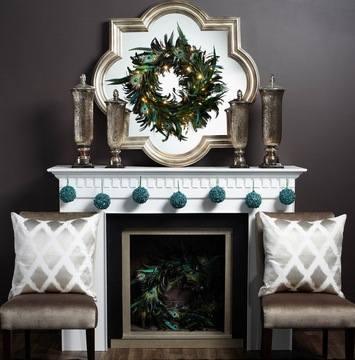 Via www.dailyhomedecorideas.com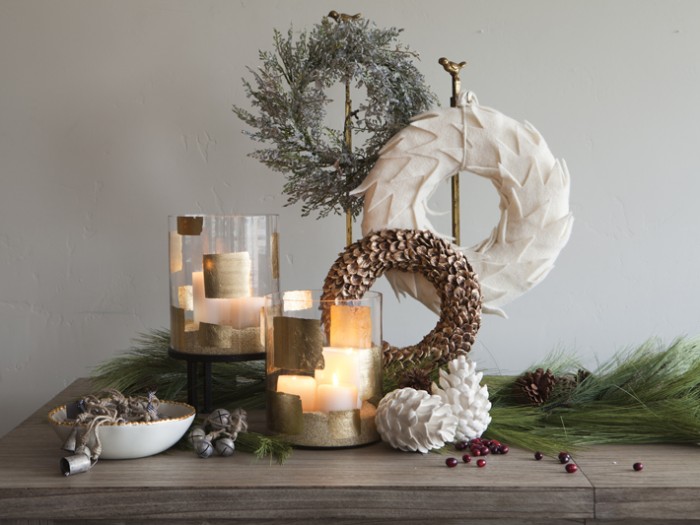 Via www.decoradvisor.net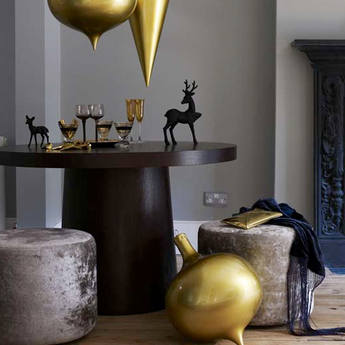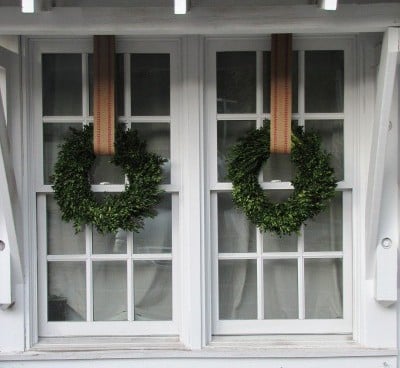 Via www.gahzebo.com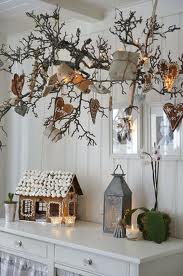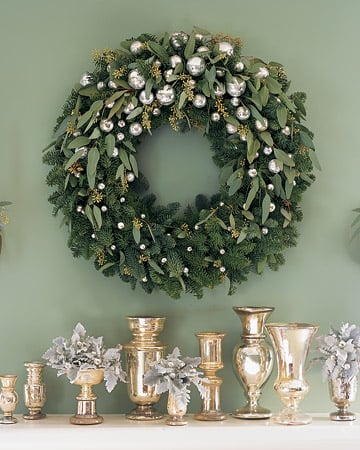 Via www.designmuse.wordpress.com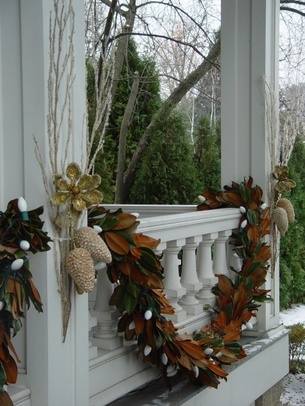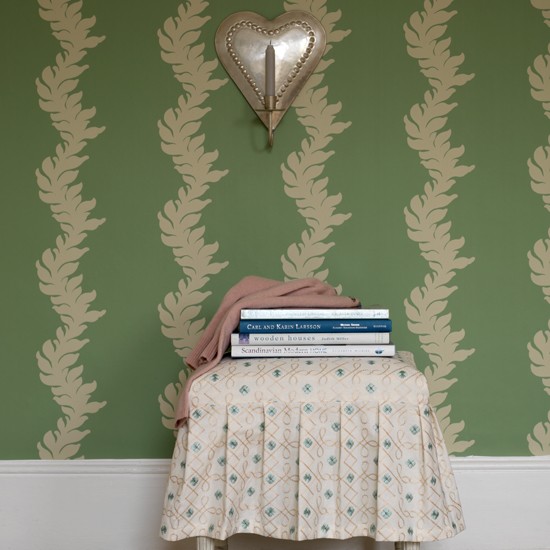 Via www.countryhomesinteriors.com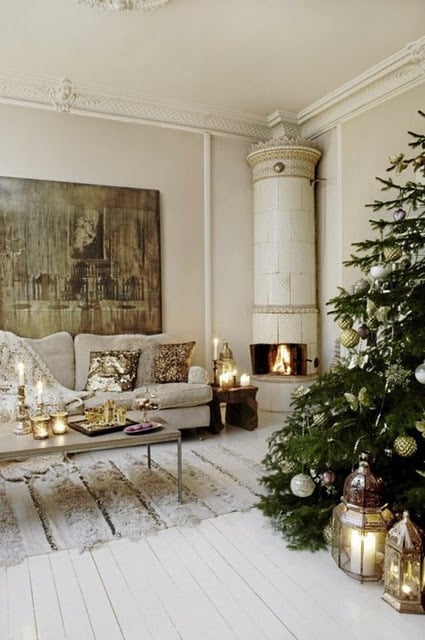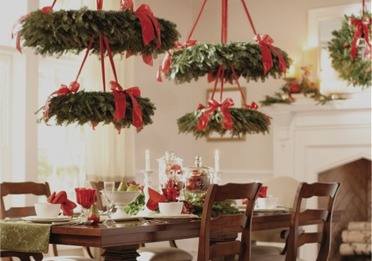 Via www.lushome.com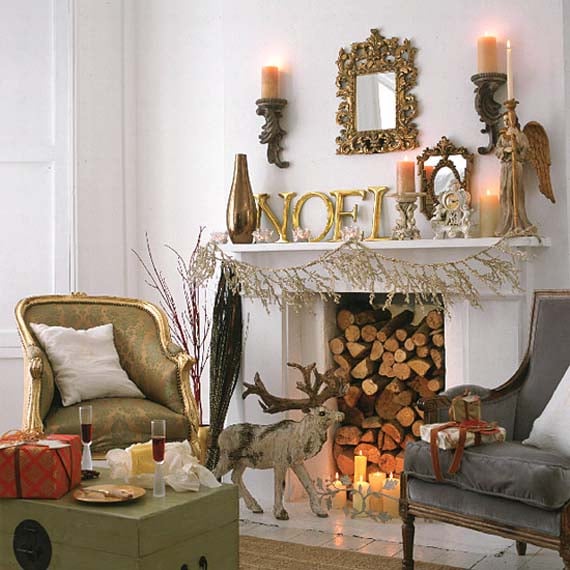 Via www.maidenlux.blogspot.com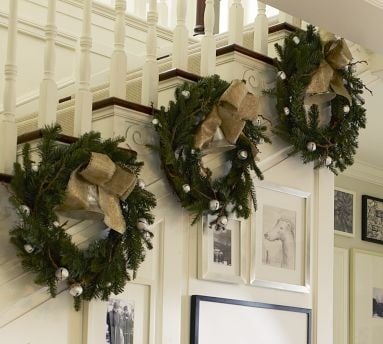 Via www.pinterest.com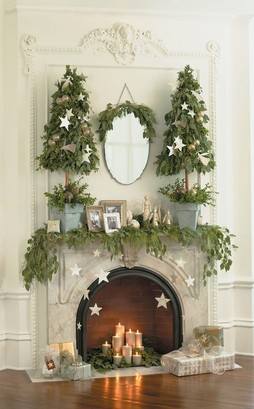 Via www.imtex.org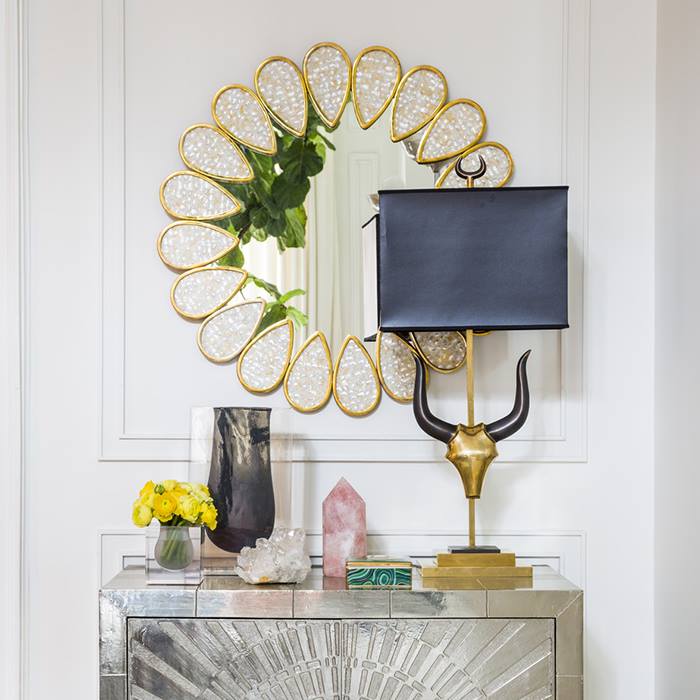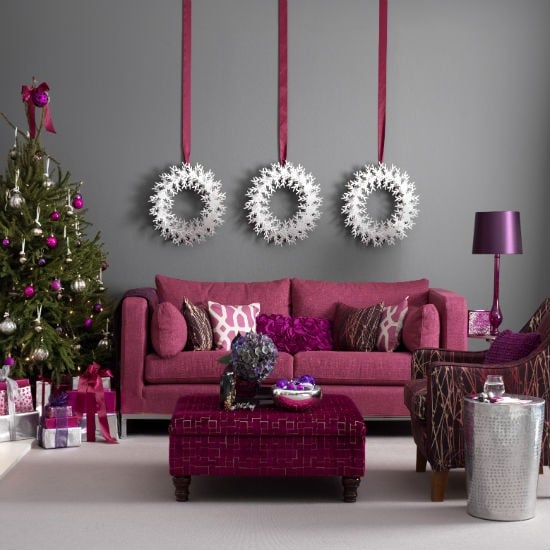 Via www.novavn.com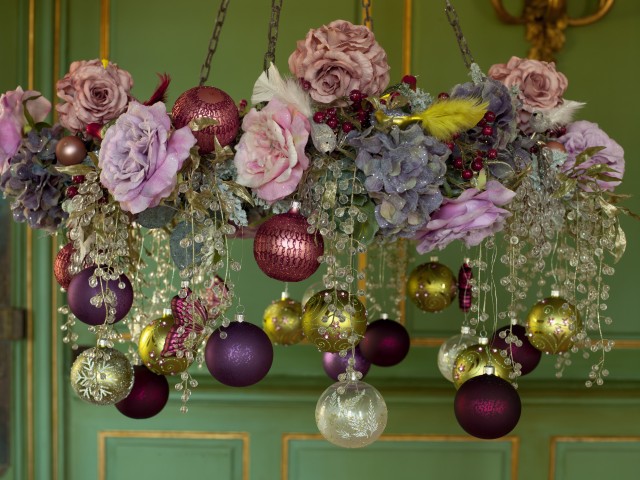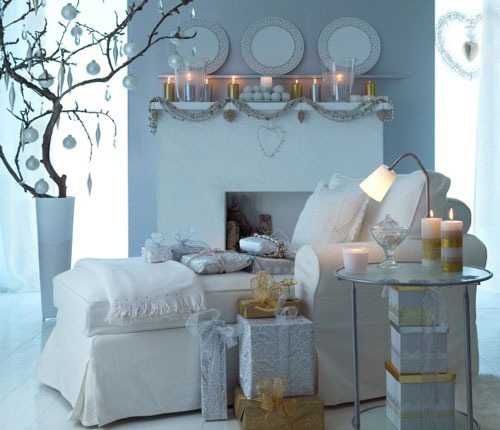 Via www.lushhome.com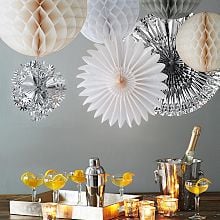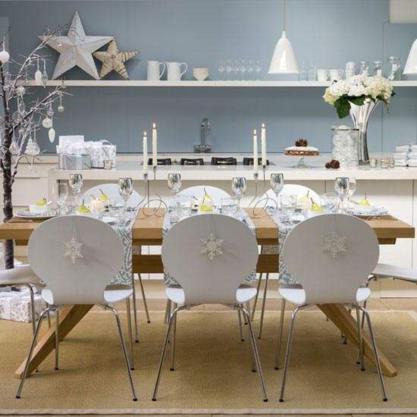 Via: www.curioussofa.blogspot.com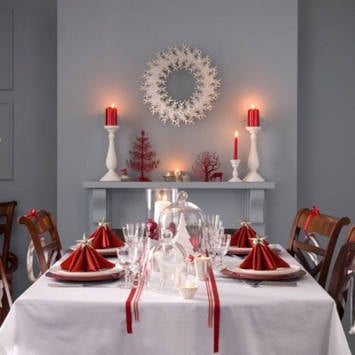 Via www.thedailywishspace.wordpress.com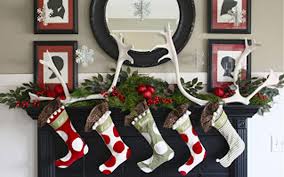 Via www.theyellowapecod.com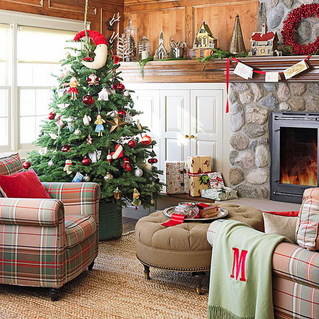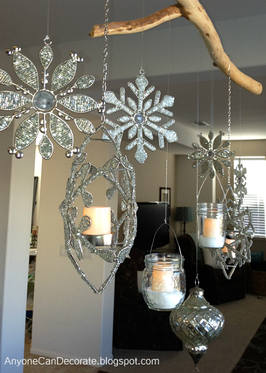 Via www.AnyoneCanDecorate.blogspot.com